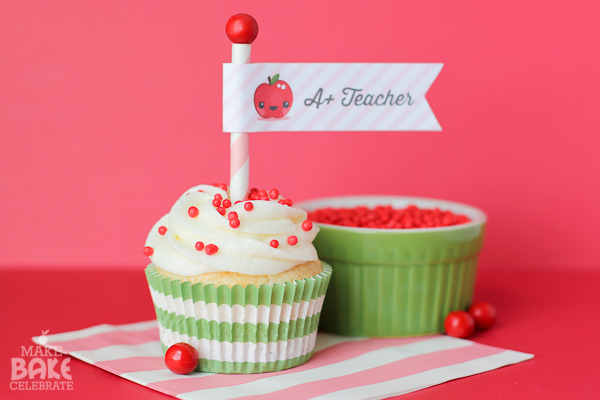 As promised I'm back with another dose of apple cuteness for teacher appreciation week! I have to admit, I'm still kind of in love with these A+ Teacher Apple Cookies but then again I really love cookies especially when they smile while I eat them – makes me feel a little less guilty. But teacher's appreciation is a whole week so were going to be needing more then just cookies right? Or maybe you just don't have the time to frost up little smiling produce, no problem, these cupcakes will do the trick! Along with the A+ Teacher Apple Cookies I also shared several cute coordinating printables from Hello, Cuteness. Did you get yours yet? Hurry on over here, they won't be on sale forever! Then come on back to grab these cute paper flags which Angela has so sweetly offered as an MBC exclusive!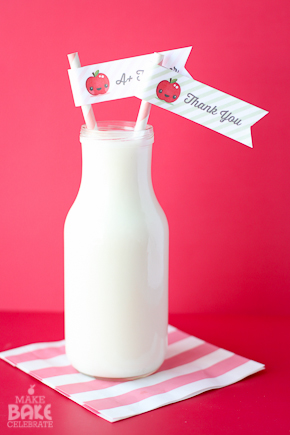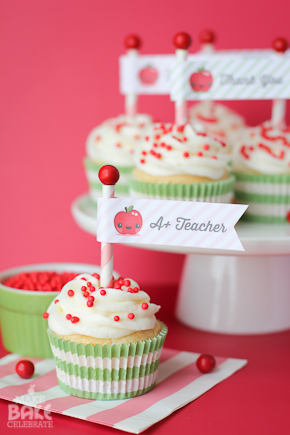 For these cupcakes I baked up my some of my White Cupcakes with a little Vanilla Buttercream keeping it sweet and simple. Then it was time to decorate. These little paper flags are seriously adorable all you have to do is print and cut, and they even come with a space on the back to write a little note (she doesn't miss a tricky does she). While I can think of plenty of little ways to use up these straws I thought they would make a really fun and easy cupcake topper, something that can be pulled together fast and in bulk, we've got lots of teachers to thank! After cutting and folding the straws I simply cut these perfectly coordinating pink straws from Sweets and Treats Boutique in half, wrapped the flag around and glued in from the inside, then just to add a little pizzaz I "glued" some candy Six-lets to the top with icing. And of course for good measure I added some red little sprinkles.
Ready for that printable?!
For personal (non-commercial) use only.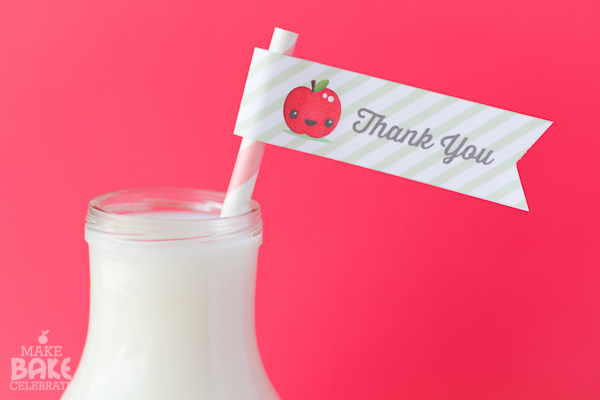 Need even more teacher appreciation ideas?
Teacher Appreciation Printable Box
Yellow Cake Donuts & Printable