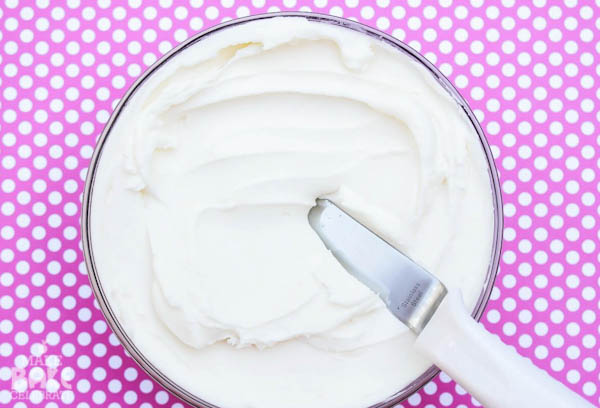 I guess I can no longer put this post off, today we're having the talk. You know…the buttercream talk. Now don't get me wrong here, I love making and working with buttercream. If there's one thing I've got down…it's buttercream. I've made literately hundreds of batches and I'm almost positive I could make it with my eyes closed, it's really that simple.
But for some reason many "seasoned" bakers get up tight about it… like crazy particular and determined their way is the best way. Others simply stress about it. I get buttercream questions all the time from readers wanting to know why theirs is runny, or too sweet, or the wrong color and so on and so on and so on. You can see why I've put this off right?? So let me calm those nerves… buttercream is flexible, there's no one right way. Aside from the powdered sugar literally everything can be swapped out for something else and amounts can even be altered. It's very much a personal preference kind of thing. I can't tell you what's perfect or what will be your favorite way. But I can give your lots of information to help and explain how I do it my way. Good? Ok…so grab your a coffee and get comfy because we have a lot to chat about. :)
What exactly are we talking about here? There are actually several different types of buttercream Italian, Swiss, Meringue, American…and each have their strength and weaknesses.
What I'm going to be talking about today is American buttercream often referred to as just buttercream. Which is an icing made with either all butter or a butter-shortening combo, and sometimes just shortening. This is where the debate comes in…how can it be called buttercream without butter. Thankfully I'm not going to cover that one today so we can just skip that controversy. Icing buttercream…doesn't matter what you call it to me cake is still naked with out it. ;)
So what do I use? 99% of the time I use a combo of butter and shortening, known as decorators buttercream. I use this lots because I am often baking decorated treats. I like the taste of it, it's not to sweet, or too buttery, it's smooth, it crusts well, flexible, and it just really great to work with. I have had many many compliments on this simple recipe…so yes, even with shortening in it…people seem to love it.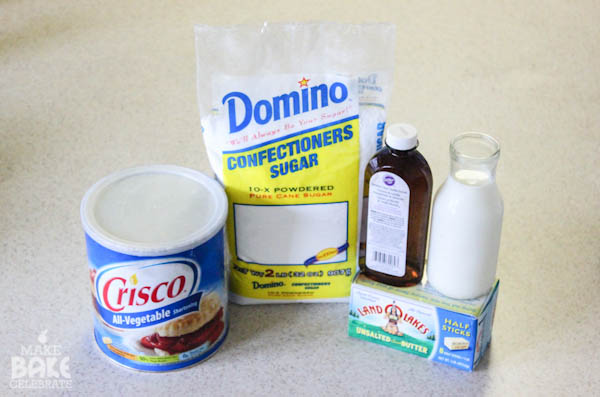 INGREDIENTS
2 sticks unsalted butter (Land O' Lakes)
1 cup Crisco shortening (Crisco)
1 TBS clear vanilla extract (Wilton)
1 2lb bag of powdered sugar (Domino)
4-8 TBS milk (brand varies)
This is a large batch of buttercream and makes about 5 cups of icing. It can easily be cut in half. I make this much because running out of icing is always such a pain, so I'd rather have more and store extras if needed. It will easily ice two 8 inch cakes or 24 cupcakes.
As you see I have listed brands, and that's for a reason. I am very brand loyal, because brands do matter. Like I said have made many batches of buttercream and I always seem to be happiest with this comb. This is my buttercream dream team if you will. I've never had any luck with cheap butters and off brand powdered sugars often have a gritty feel to me. Another big reason for me is that being a military family we move a lot. So I like that these brands are always around pretty much no matter where we are. Nothing stinks more then perfecting a recipe that you can no longer get ingredients for. Which brings me to the Wilton clear vanilla extract. Often people don't realize that the regular vanilla extract they are using is actually darkening your buttercream. Clear vanilla won't tint your buttercream, you can get it as close to white as possible, which is helpful even when your coloring the buttercream. I use Wilton because again it's obtainable…even when were in nowhere's ville. I can pick this up at Wal-Mart. And I have found no slack in the flavor. Many people prefer to use almond flavoring instead, honestly I don't really like almond flavoring at all..but that's just me! The one ingredient I can say I'm not strict about is milk. I'm generally a 1% kinda girl.As I said above all of the ingredients can be be changed around. If you aren't crazy about the thought of  shortening, take it out and double the butter. If you'd like a stronger butter flavor you can actually buy butter extract at your grocery store. If it's to sweet add a pinch or two of salt or you can use salted butter. Of course the flavoring can be switched out (we'll get to that more below) and milk can be changed by preference. The fatter the milk the richer your buttercream will be, you can even use heavy cream instead making it pretty rich. The best way for you to find out what works for you…is to try it out!
CONSISTENCY:
Probably the most important thing about buttercream, other then taste of course, is the consistency. In reality you could really mix up the ingredients however you want,  and as long as it tastes good you've got icing. However, chances are that if your making buttercream most likely you are going to decorate a cake or set of cupcakes. Even if you have made the best tasting buttercream in the world if you can't get it to stay nicely on a cake it's kind of pointless. (oh yes, I've seen cakes fall apart). So really it's a matter of combining the ingredients to get a great taste along with a usable (decorators) buttercream. This is why I use shortening. Shortening makes a much better buttercream for decorating. It allows the buttercream to hold shape, crust over, and even withstand higher temps. Because butter has a lower melting point then shortening. So especially if your creating a treat that's going to be sitting outside your going to want more then just butter. This is actually why many people don't like to use shortening…because it can leave a greasy feel in your mouth. Butter completely melts with your body temp inside your mouth and crisco may not completely melt. Ok I won't bore you with any more scientific details. Bottom line is shortening allows for nice decorating and as for the greasy issue…I've never had one person say they noticed a greasy taste, again personal experience.Milk is the other controlling factor. If I want a very stiff buttercream I put less milk in, if I need a much softer buttercream I add more milk. Did you add way too much milk? Just add a bit more powdered sugar to stiffen it back up a little. When checking your consistency it's important to keep in mind what else you might do to the buttercream such as coloring or flavoring. If you know your making a deep color or your going to use a lot of liquid flavoring…start with a stiffer buttercream. You can always add more milk.The term crusting is referred to a buttercream that develops a thin "crust" on the top of the icing. Crusting allows for a cake that can be smoothed out. Often done using a Viva paper towel and a smoother. Viva brand in particular is used because it's a nice soft surface without the rough indents of other paper towels.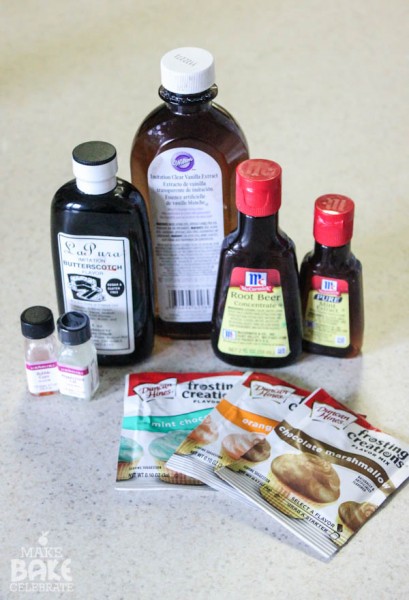 FLAVORING:
Changing the flavor of buttercream is easy, really easy and so much fun!. You can alter your basic buttercream to just about any flavor your would like with just a little experimenting. I have literally used dozens of different things to flavor buttercream. Extracts, candy oils, ice cream syrup, chocolates, fruit, ice cream, coffee creamer, flavor packets…like I said dozens. I can't tell you exactly what will work and what won't so once again the best your can do is get in the kitchen and try it out. And some times I mix two flavors like vanilla + root beer to make root beer float! Start out with the basic recipe and add it in when you add the vanilla. Then try it out before putting in the milk, add more flavoring if you need. If you think you may need a lot of flavoring cut back on the milk as well, because too much of a liquid (like ice cream) will soften your buttercream. Then once you've got the right flavor you can add a little more milk if needed to soften as needed. Consistency is key here, flavorings need to be strong enough to change the flavor with out destroying the consistency.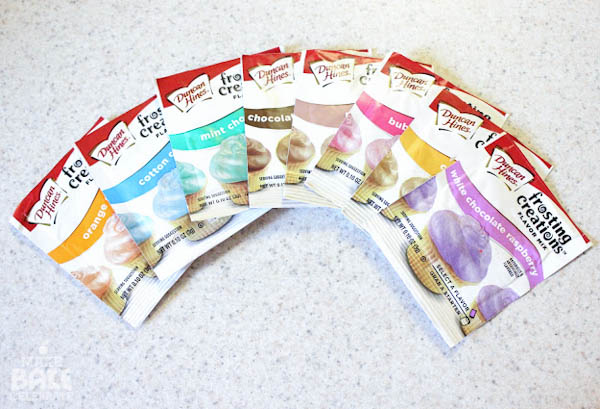 I should also specifically talk about Duncan Hines new flavor creations. After spending a few years experimenting with flavorings these little packets were a game changer. Even though they are specifically made to work with a canned starter icing…I love to use them in my regular buttercream! I use to have a really hard time getting caramel icing but now I just mix in a packet and I have the perfect caramel buttercream. (caramel is really good in cream cheese icing btw)  Easy + yummy = win/win. Winning Duncan Hines national challenge with these guys also helped just a bit ;)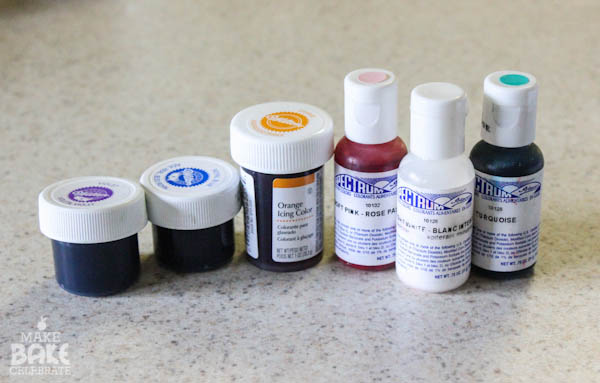 COLORING:
As you probably know, I love color! If we could we would eat pink broccoli and rainbow rice for dinner. I kid. I kid. I love that I can easily color buttercream just about any color I want to match whatever I am working on. When coloring buttercream your going to want to use gel coloring. Why? Because liquid colors are well liquid and too much will make your icing runny and they just don't color well, unless your dying eggs. There are three major coloring brands: Americolor, Spectrum, and Wilton. I honestly use all three. Americolor and Spectrum are known as more professional items and generally have to be bought at specialty baking stores or ordered online. I really like them but often I need a color and can't get to one of those stores and Wilton is available just about everywhere. Wal-Mart, grocery stores, Michael's Joannes..it's really easy to get your hands on some and they have a decent selection of colors.
As you get use to coloring buttercream it's always good to add a small amount, mix then add more as needed. Some colors take just a very small amount. For example..I can't tell you how many times I got bright pink instead of baby pink. It takes a very small amount of pink to get  nice baby shade. Some colors like black or brown take a lot of coloring. But it's important to note that as your icing sits it will develop and most likely get a bit darker. It's helpful to make your buttercream ahead of time if possible so you can give it a chance to show it's true colors :)
The hardest colors to achieve are black, red, and brown. When making these colors or any other dark color that will require a lot of coloring start with a stiffer buttercream (less milk) so you can account for the coloring making your icing softer. I have found that spectrum and Americolor both have fantastic blacks and reds that make it much easier. For red I try to start out with pink first then add in red. For brown if possible the best way is to use a chocolate recipe..but it that's not possible and I'm going for a dark brown I throw in a little black and even other colors of icing if I have some.Grey can also be tricky. Often when you add a small amount of black to make grey it actually turns to a light purple. I found an amazing solution to this one day in a panic…just add a little bit of yellow and bam grey icing. Problem solved.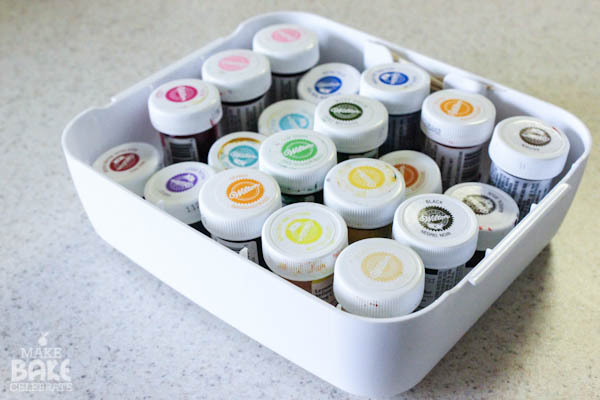 Ok now that your brain is on overload…I'll show you how I make it step by step.
Step 1: Let your butter sit out for awhile to soften. DO NOT put it in the microwave, trust me. If your anything like me and ready to work but forgot about the butter don't stress it. Just cut the butter up into little chunks so your mixer can beat it easily. This trick works really well!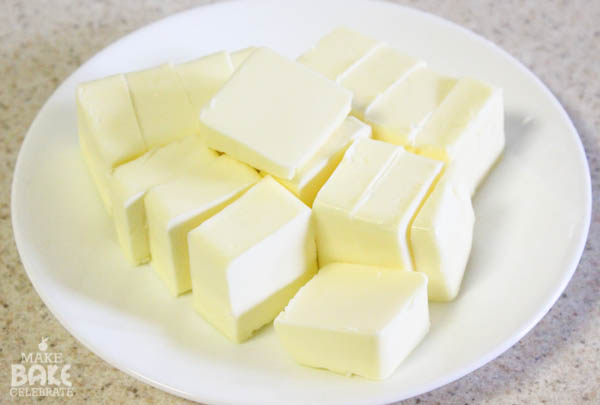 Step 2: Beat the butter until soft and creamy in your mixer. If you don't have a kitchen mixer you can do this with a hand mixer but it's best to go ahead and left your butter soften. I highly recommend a kitchen mixer. But that's a different talk for a different day :).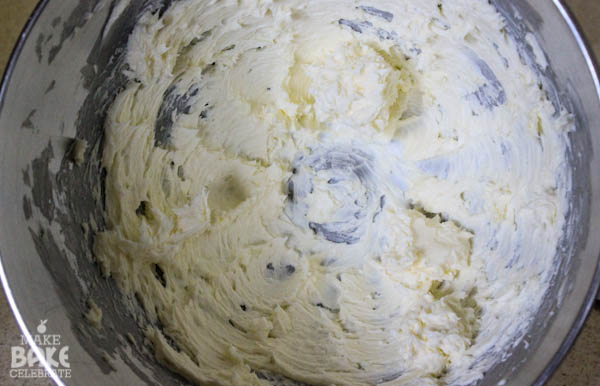 Step 3: Add in shortening, beat again. I like to give mine a few minutes on medium-high…beating it a little longer makes it lighter.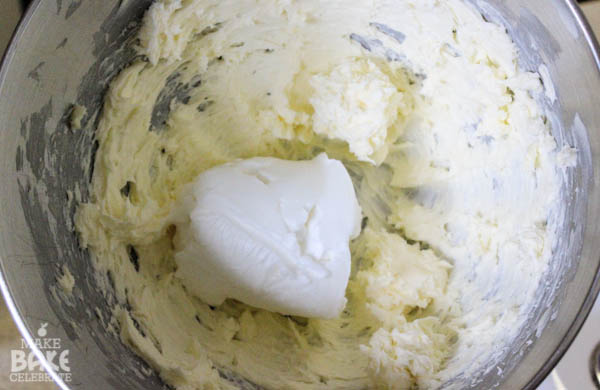 Step 4: Add vanilla and mix well.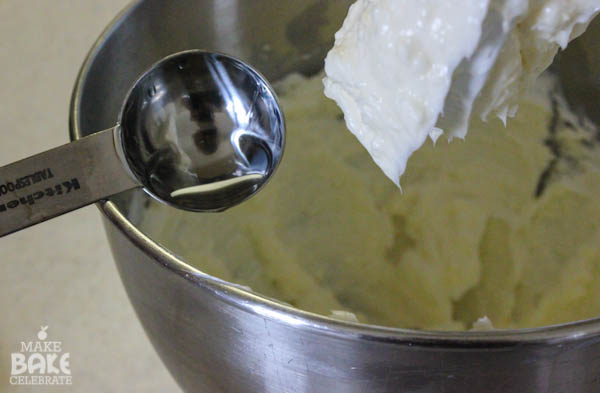 Step 5: Add in the powdered sugar about a cup at a time. One of the best tricks I've ever learned is when mixing a lot of powdered sugar place a piece of plastic wrap around your mixer to help keep the sugar from flying out. My mixer didn't come with a shield..but I've heard even those aren't perfect. This keeps the clean up to a low for me. With this recipe taking a whole bag of powdered sugar it can sugar make a mess, not that I've ever done that or anything ;)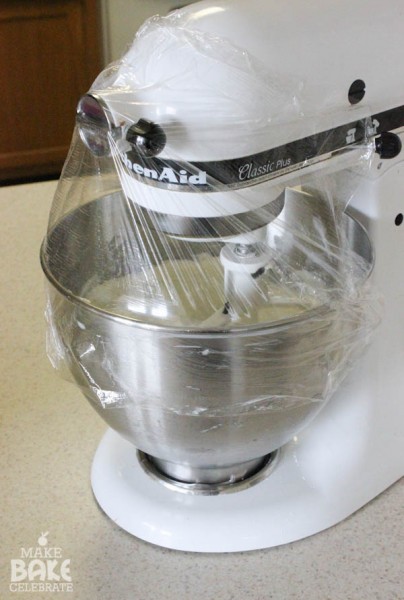 It will be pretty thick here. You may need to scrap down the sides too.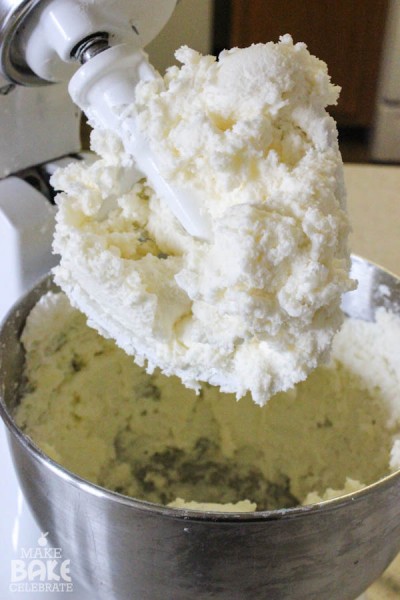 Step 6: Add in milk 1 TBS at a time until you've got your desired consistency.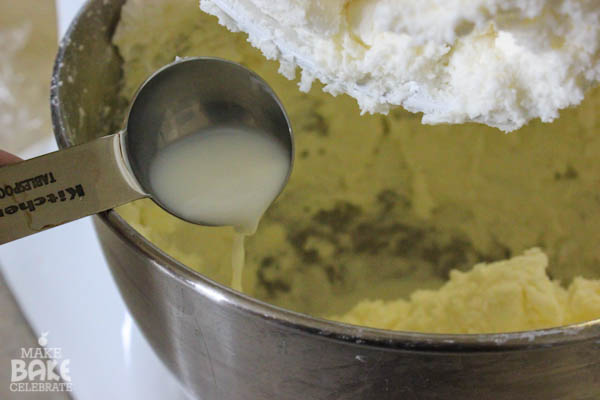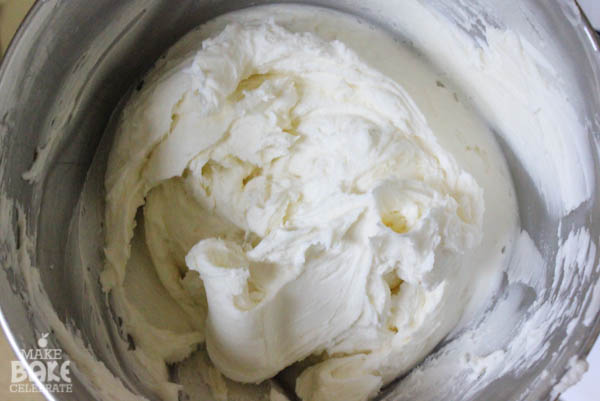 Just a few more facts.
Cover buttercream your not working with, if it's open to air it's going to crust.
Buttercream can left out overnight without refrigerating…the sugar acts as a preservative.
Even though it can be set out I like to store finished cakes and cupcakes in the fridge as it keeps them soft and moist.
Buttercream can be stored airtight in the fridge for up to two weeks, although honestly I always use mine within a few days.
All three brands of coloring make a white coloring which you can add to your buttercream to help it become a little more white.
Ok I think that's it, did anybody count how many times I typed buttercream. I'm not positive but I'm thinking close to 10,000…well at least it felt that way. My brain hurts…and so do my fingers. I think I need a nap……thanks for reading along today and hopefully you learned a little something.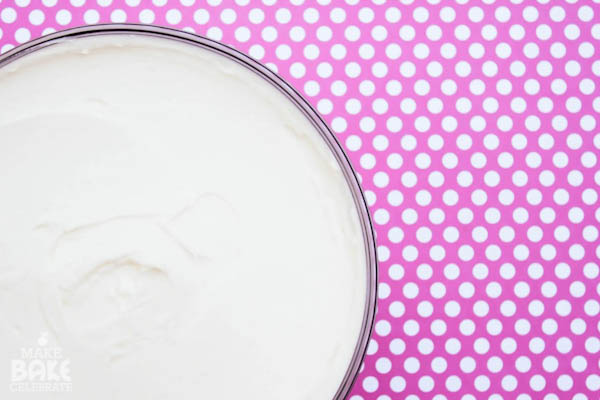 Ingredients
2 sticks unsalted butter
1 cup Crisco shortening
1 TBS clear vanilla extract
1 2lb bag of Domino powdered sugar
4-8 TBS milk
Instructions
Let your butter sit out for awhile to soften. DO NOT put it in the microwave. If you do not have time, cut the butter up in small chunks.
Beat the butter until soft and creamy in your mixer. If you don't have a kitchen mixer you can do this with a hand mixer but it's best to go ahead and left your butter soften.
Add in shortening, beat again. I like to give mine a few minutes on medium high...beating it a little longer makes it lighter.
Add vanilla and mix well.
Add in the powdered sugar about a cup at a time.
Add in milk 1 TBS at a time until you've got your desired consistency.
http://makebakecelebrate.com/lets-talk-about-buttercream/