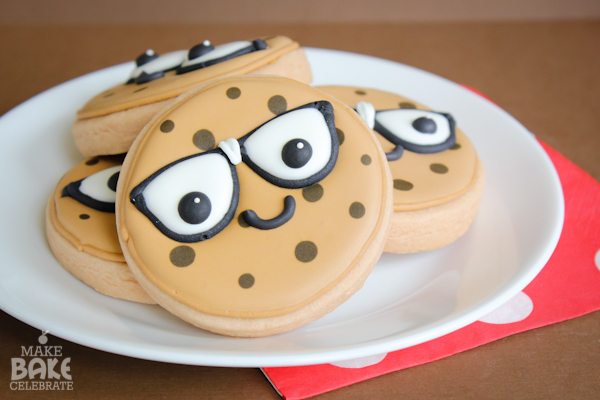 Having a child in school for the first time this year, has finally given real meaning to Teacher's Appreciation Week. Boy do I sure appreciate them and everything they do! We've been blessed with such great leaders in our kiddo's life this year. Not only are they so fantastic with the kiddos, they don't mind enjoying all our extra treats!
Since Teacher's Appreciation Week is near, I thought it was time to bake them something up to say "Thanks!". I've sent quiet a few cupcakes their way, so some cookies were in order. What better cookies to send them then some smart cookies?! Of course, a printable was in order too…these cookies may be smart, but they don't speak for themselves! ;)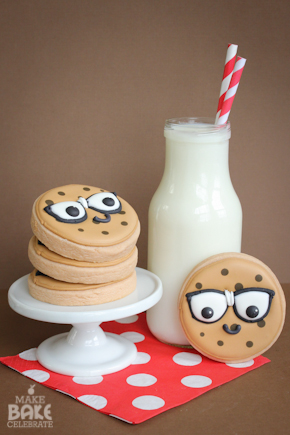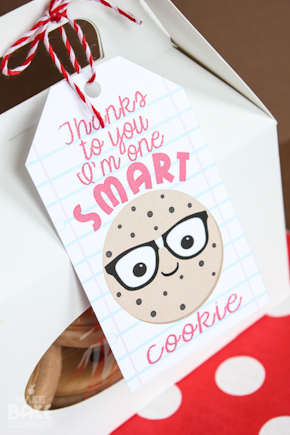 I packaged some of them up in a little gift box and some of them as a single cookie finished with a tag. Either way, they were just as cute! I really love decorating sugar cookies, so I thought a little faux chocolate chip cookie would be fun to make.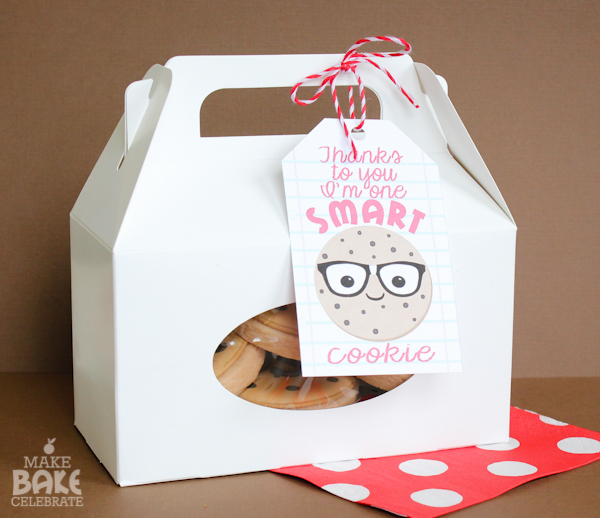 I had already "drawn" up the little cookie design before I made them so I knew exactly how I wanted the real cookie to look like, I just had to decide the easiest way to achieve it. I was super excited when I remembered these adorable Bookworm Cookies by Sugarbelle! She explains how she used a template and some wax paper to pipe the glasses on wax paper, allowed them to dry, then transferred them to the cookies. Genius. Want to make some too? They really aren't very hard, and I even made a Nerdy Glasses Template to share with you!
The template is made to fit 2.5in cookies, so if you need them any smaller or larger you can adjust them by changing the percentage when printing. To bake these cookies I used my normal sugar cookie recipe and method, slightly tinted brown. I also made two half batches of royal icing, one for the glasses the first day and then for the cookies the second day. Which I split into bowls, colored, thinned to consistency, and then placed in either a pipping bag or decorator bottles. If you are new to royal icing, Sugarbelle has an awesome post all about consistency here!
First you will need to make the glasses. They will need to be made 24 hours in advance, giving them proper time to dry, You will need:
Black Piping Icing
White 20 Second Icing
White Piping Icing (optional for "tape")
Wax Paper
Nerdy Glasses Template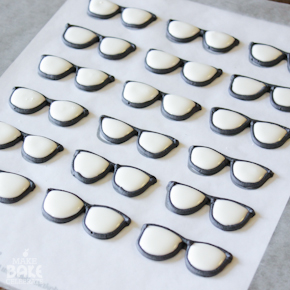 Step 1: On a baking sheet tape down your Nerdy Glasses Template and wax paper over it. Using a small round tip (I used Wilton #5), pipe out the frame of your glasses by tracing over the template. Allow them to dry for an hour or two. (this helps keep the black from bleeding) You may want to pipe out more then you actually need, so you can have extras in case of breakage or misshapen glasses.
Step 2: Using your 20 second white icing fill in the "glass" portion of the glasses. If you would like to add a little "tape" to the glasses you can do so now with some white piping icing and a tiny round tip. Allow them to dry for 24 hours, they will then be able to gently peel off your wax paper.
Now time to decorate the cookies. You will need:
Light Brown Piping Icing
Light Brown Flooding Icing
Dark Brown Flooding Icing
Black 20 Second Icing
Tiny White Sprinkles OR White Pipping Icing (optional)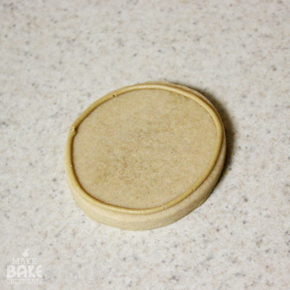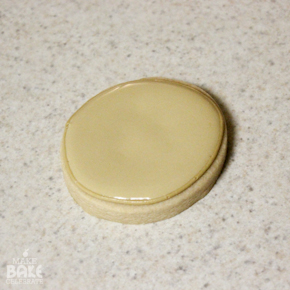 Step 3: Using light brown piping icing and a small round tip, pipe on an outline on your cookie.
Step 4: Flood your cookie with light brown flood icing and a decorator bottle, use a toothpick to fill in any gaps.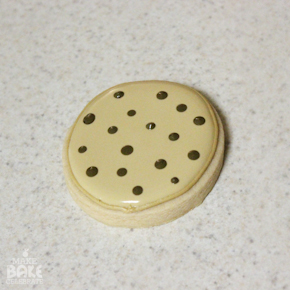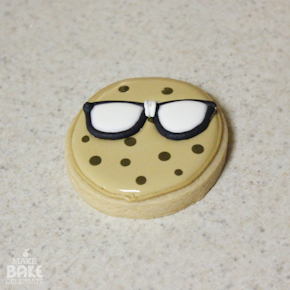 Step 5:
Let settle
for 2-3 minutes, while letting the first settle you can ice the second cookie. Then using your dark brown flooding icing, drop in small spots for the chocolate chip.
Step 6: Gently peel off your glasses and quickly drop them onto your wet icing. You can move them just a bit with a toothpick if needed. A small icing spatula helped me remove and move them easily.
Step 7: Let the cookies set for a few hours or overnight. Then using your Black 20 second icing and a small round tip, pipe on some black dots for eyes and a little smile. I dropped a little white sprinkle on each eye to create a "gleam". You could also wait till the black dries and pipe it on with white icing, or just leave it off all together.
These really we're fun to make. It's hard not to have fun making a cookie that's smiling back at you…with those nerdy big eyes!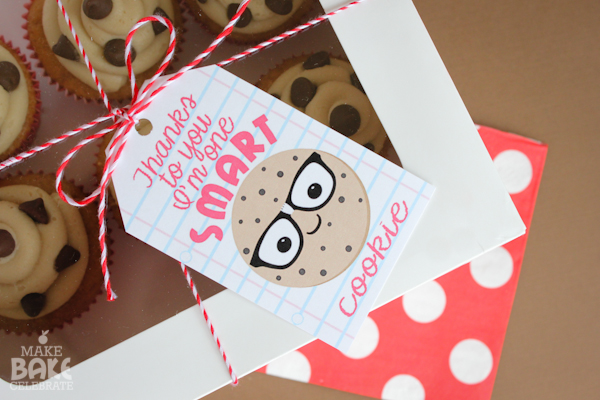 But if decorating cookies is not your thing, these tags would still look super cute with regular chocolate chip cookies! Or what about cupcakes? I also baked up some yummy chocolate chip cookie dough cupcakes last week then boxed and tagged them to give to one of her teacher's at our special lunch date. It's an updated version of my previous recipe which I'll be back to share tomorrow! :)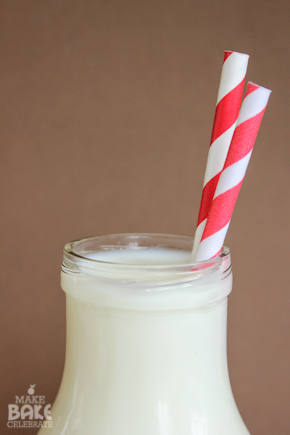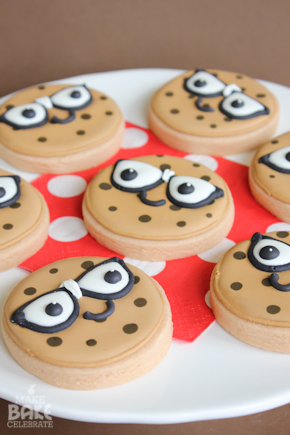 Bust out your cookie cutters…it's time to make some cookies with an IQ and say thanks to a teacher! :)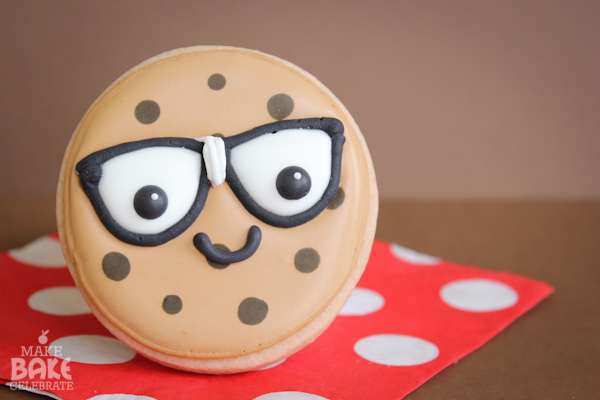 For personal (non-commercial) use only.
Enjoy!