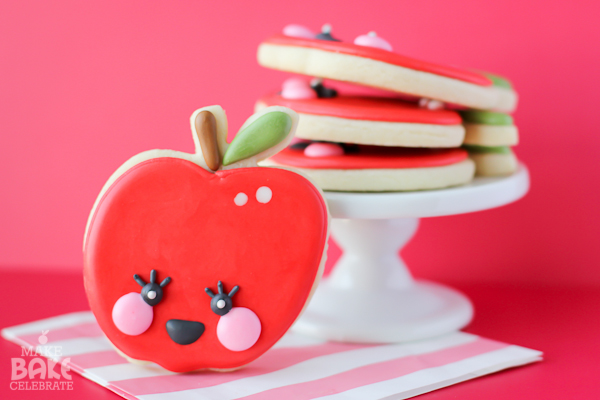 Did you guys know teacher's appreciation week is next week already? It totally snuck up on me this year, but I love whipping up treats and crafts for our kiddo's teacher(s) and I for one am glad it's a whole week long! After all they have our kiddos 7+ hours a day, and not just 1 but like 20 at a time. I've helped out in our kiddos class room a bit and whoa, I'm pretty sure she drinks awesome juice for breakfast because there is no way on earth I could handle those kiddos like she does! This year I'm going to try to reach out to just not her class teacher but also other teachers that are involved with her – gym, music, art an so on! Even the smallest of gifts can mean a ton to those guys, and they deserve every bit.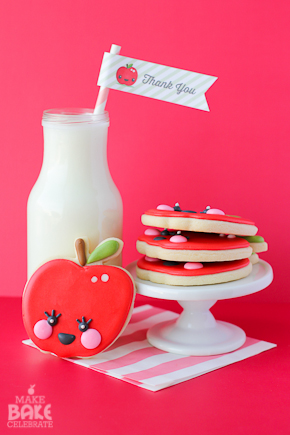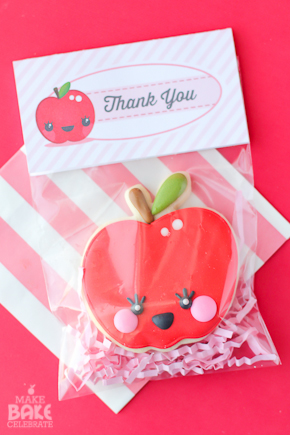 Last year I made these Nerdy Cookies for teacher appreciation, and they were a big hit! This year I wanted to whip up another batch of teacher cookies. But what makes these cookies go from cute cookies to an adorable gift? Printables of course! Once again I teamed up with my graphic guru and master of all things cute Angela over at Hello, Cuteness to bring you guys these ridic smiling teacher thanking apple treats. Angela has a collection of these Apple printables in her shop! Treat Toppers, Tags, Candy Bar Wrappers – and they are on sale ! They really help bring a treat together quickly.
I chose to use these bag toppers to individually package them up, below you can see how I also used the large tags to wrap them up as a set. So wether your wanting to take of these cookies or wrap up some candy bars, they really make gift giving easy and cute! Don't let these cookies fool you though, they were really pretty easy to make, let's take a look.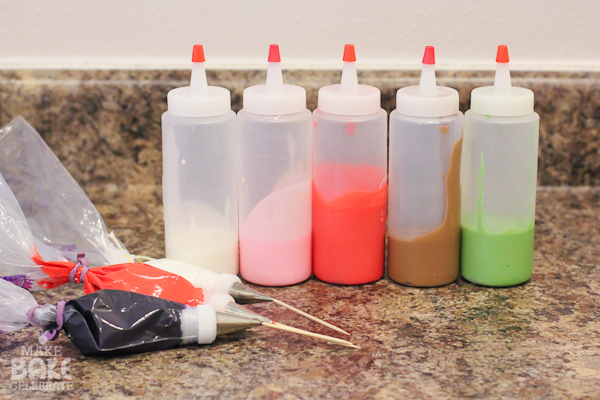 Here's what you're going to need:
Red Outline Icing
Red Flood Icing
Green 15 Second Icing
Brown 15 Second Icing
Black Piping Icing (a little more thin then usual)
White 15 Second Icing (in a bag though)
Pink 15 Second Icing
Apple Cookies
If you need more info on the recipe I used as well as how I bake my sugar cookies check out Rolled Cookies 101. For more info on royal icing, different consistencies, and how to work with royal icing check out Royal Icing 101.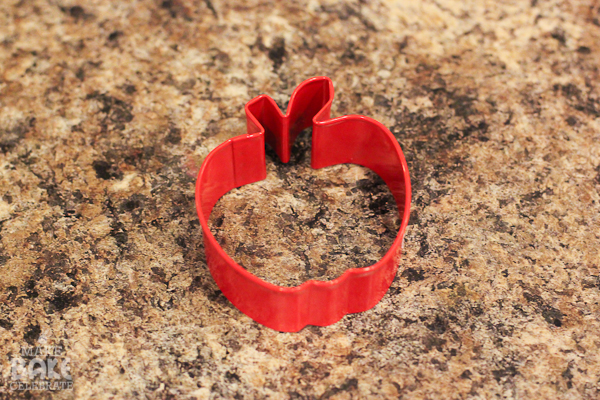 I used this apple cookie cutter that I found at Joann's for a dollar, but I'm sure just about any apple cutter you have will work.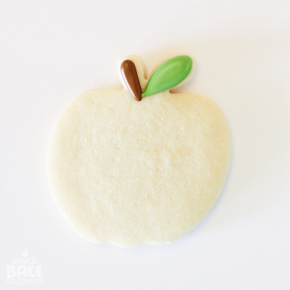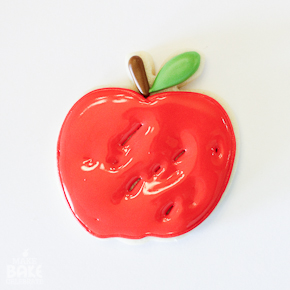 Step 1: Use 15 second icing to pipe on stem and leaves. I found both were easiest to pipe if I started from the top with more pressure then slowly move the tip down and ease up on the pressure to create the taper. You can always use a toothpick to help pull the shape into place a bit.
Step 2: Outline the apple with red outline icing and then fill with red flood icing. Add in a few little "shine" spots with white icing, I did this by applying drops right onto the wet red icing right away. You can also wait and place these spot after the red has dried, or leave them off all together.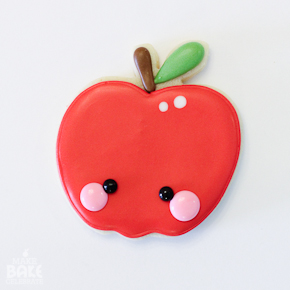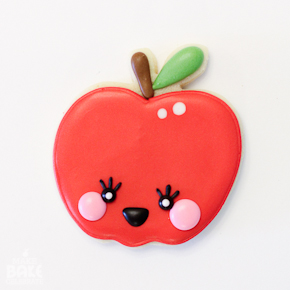 Step 3: Once the red has crusted over a bit use pink 15 second icing to pipe on two round pink cheeks. then use your black piping icing and pipe on two round eyes using a small round tip. Then pipe on the mouth, by piping a circle then gently dragging the shape with a toothpick. I thinned my black icing a little more then normal so it would settle nicely yet still be able to pipe the details.
Step 4: Once you are done piping all the eyes, cheeks, and mouths the first cookies you piped should be crusted over enough to finish up. Switch out the tips on your black and white icing to tiny round tips and then pipe on tiny white specks on the black eyes and black eye lashes. I will be the first to admit details scare me. I get super nervous when I've almost completed a great cookie and then have to add such small details that I'm sure to mess up! This time I conquered my fear and piped eyelashes but feel free to leave the off OR use a black edible food marker to draw them on once the red has completely dried.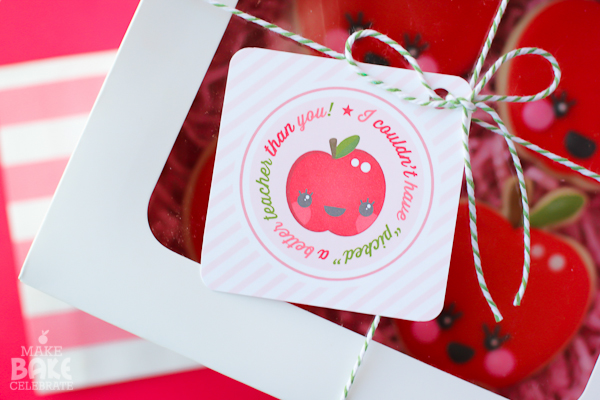 They really aren't that hard at all! If you've decorated a few cookies before and want a little challenge but not TOO much, these are perfect for you! Once you break it down step by steps, these come together pretty easy!
Here's another idea on how to package these cookies using the large tag incase you want to send them as a group and not individuals! Also, I wanted to show you guys the back of the treat toppers I'm using. As always Angela thinks of everything! They have an sweet little spot on back that you can type your own message in. That's all for today's apples but I'm not totally done with these cuties! I'll be back tomorrow with an even easier project with these little guys and a FREE printable to go with! Be sure to hop on over to Hello, Cuteness and check out her apple goodies in the shop.