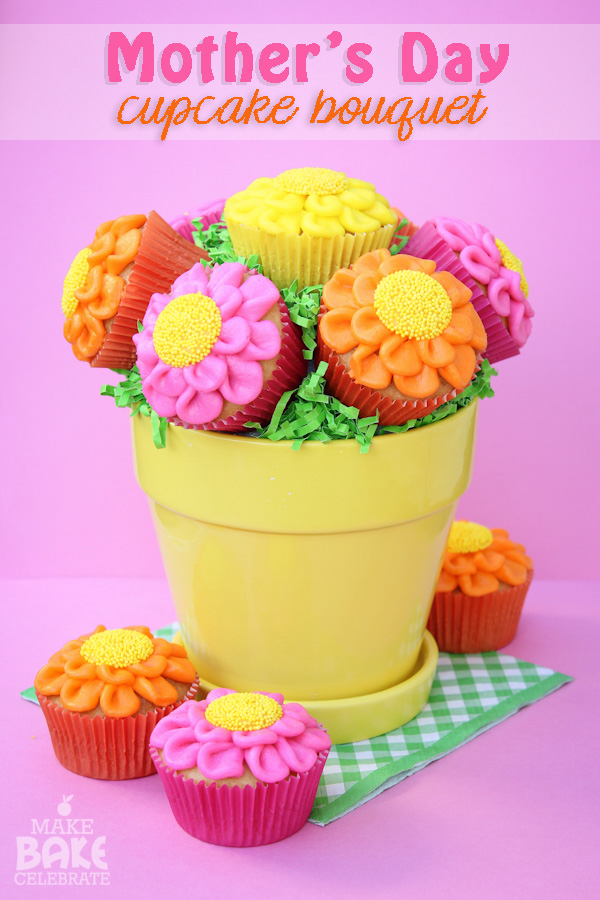 Mother's day is just a few weeks away, and what better way to say "Thanks Mom" then with some flowers? Flowers that just happen to double as cupcakes that is!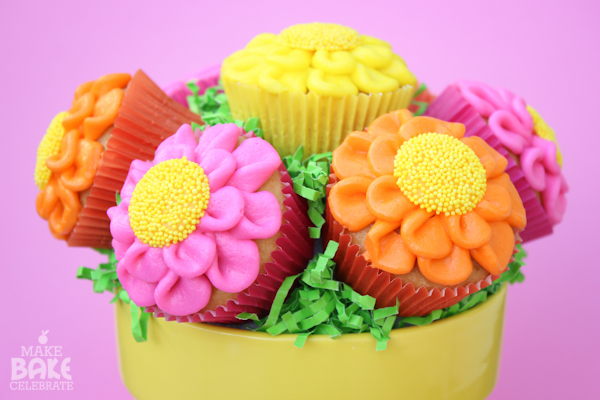 A couple of weeks ago I posted the Pretty As A Daisy Cupcake Tutorial and I received lots of questions wondering how I assembled the cupcakes into a bouquet. So this week I baked up another bright and cheery bouquet so I could show you how to make one for yourself, and just in time for Mother's day! These pretty flowers are made with buttercream petals and sprinkle covered chocolate centers. They are really easy and fun to make!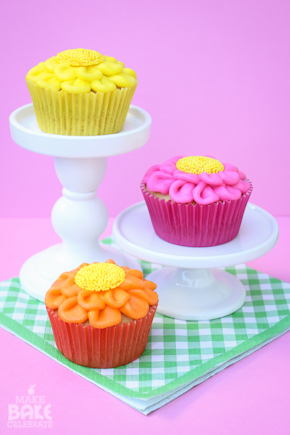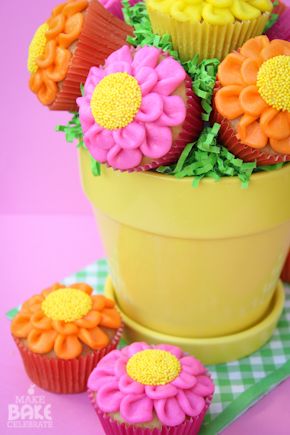 You will need:
Flower Pot/ Pail
Styrofoam Ball (that fits snuggly in pot/pail)
Toothpicks
Cupcakes
Buttercream (colored with gel colorings)
Petal Tip (I used Wilton 104)
Yellow Candy Melts
Yellow Sprinkles
Parchment Paper
Paper Shred OR Tissue Paper
For these cupcakes I used Wilton's Rose, Lemon Yellow, and Orange gel food colorings. The matching greaseproof cupcake wrappers came from Sweets and Treats Boutique!
First you will need to make the sprinkle covered chocolate centers. This is the same technique I used in the Triple White Chocolate Cupcakes, that so many of you have asked about. It's so easy!
Step 1: Preheat your oven to 170 degrees and line a baking sheet with parchment paper.
Step 2: Line the candy melts up on the parchment paper. Place them in the over for a few minutes until they have just begun to melt, they will be shiny. Don't walk away, turn on the oven light and just stay close and watch them. It takes just a few minutes.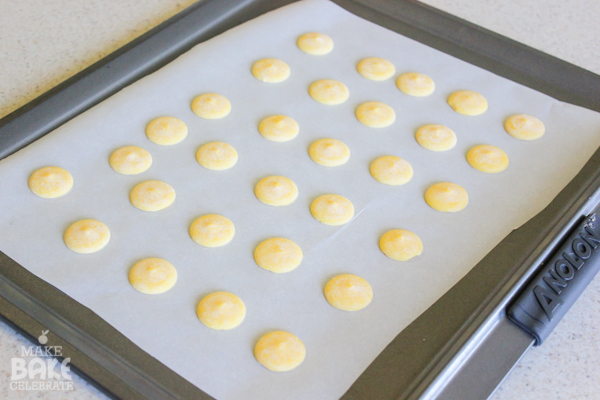 Step 2: Once they have became shiny and just start to get soft on top, pull them out. Quickly cover them with sprinkles. I gently spread the sprinkles out over the entire pan. (Don't worry, you can use the parchment paper to gather the sprinkles back up after!)
Step 3: Either place baking sheet in freezer or set on counter until the candy melts have hardened back up. The freezer will be much quicker of course, you can test them out by pushing one with your finger. If they are hard again they will slide around. Gather your chocolate pieces up and use the parchment paper to pour the sprinkles back in the jar.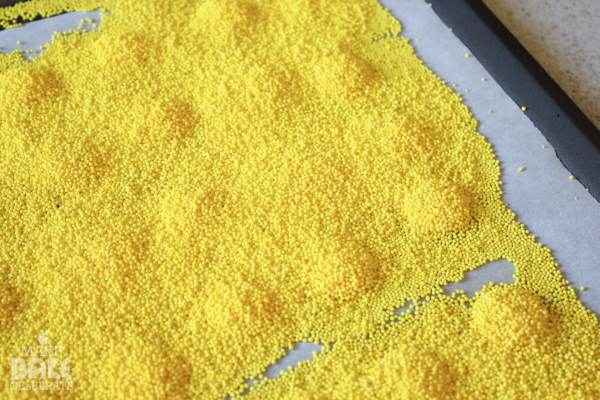 Step 4: Whip up a batch of buttercream at a medium consistency and tint it to your desired colors. For my recipe and more info check out Buttercream 101.
Step 5: Fill up your piping bag with a medium petal tip. I used Wilton 104.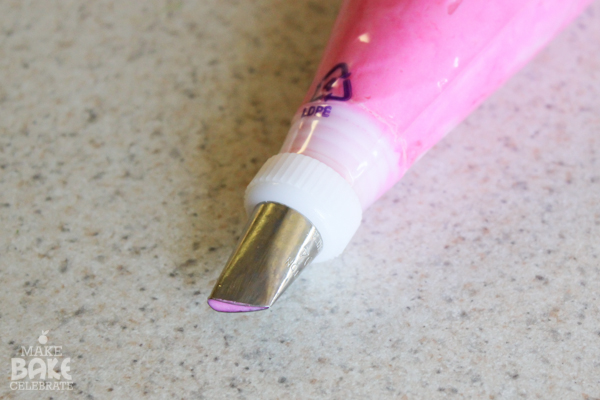 Step 6: Pipe on the first layer or petals. To do so, start with your tip large end out and at a slight angle up. Basically just draw a teardrop shape, starting at your starting point, then going forward around and back to the spot you started. (Like a U with a closed top) It's really easy, you can practice a few times on a piece of wax paper. Then pipe on your second layer of petals.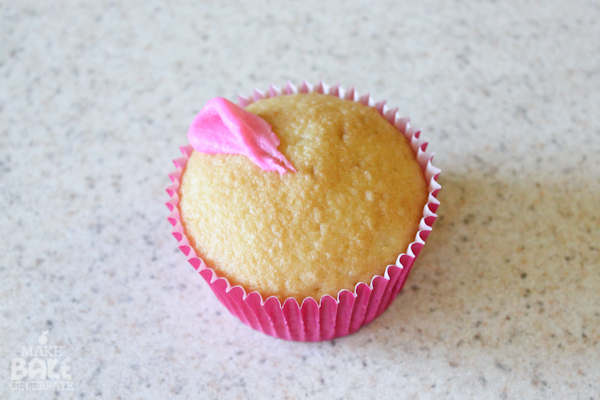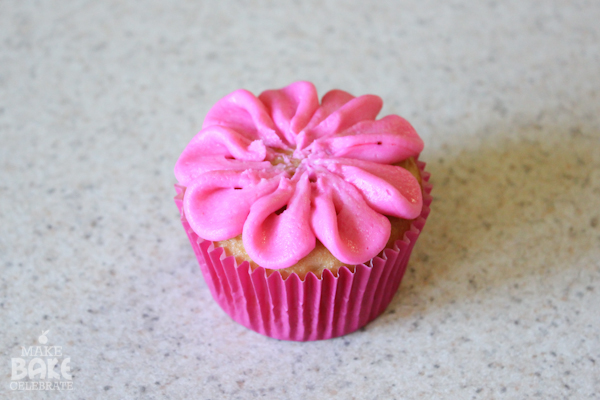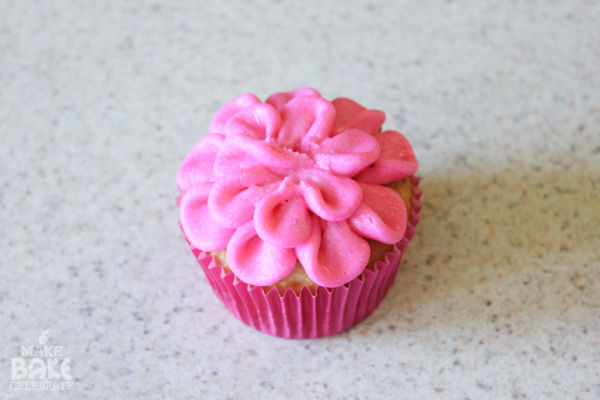 Step 7: Place one of your chocolate sprinkle toppers in the center to finish up.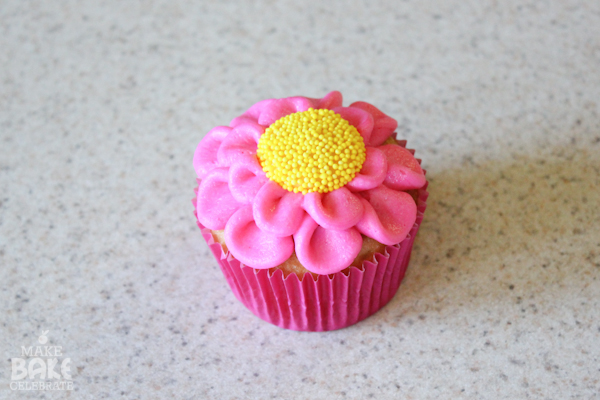 Step 8: Firmly push your styrofoam ball into your flower pot. It's REALLY important to make sure you have picked out a size that fits nice and snug. I recently purchased this glass pot from Michaels and the styrofoam ball was 5in.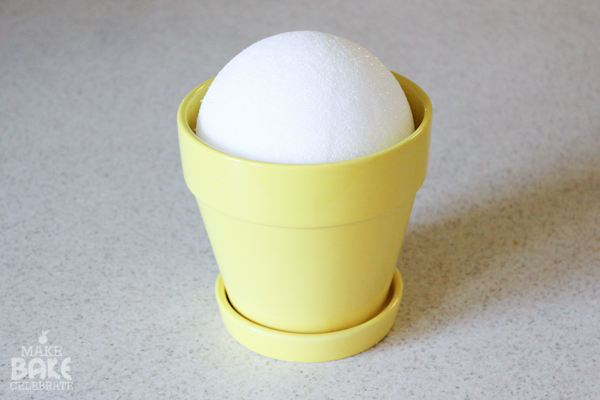 Step 9: Beginning in the center, push a toothpick or two down into the styrofoam and then slide a cupcake over it. I like to use two toothpicks for each cupcake just incase.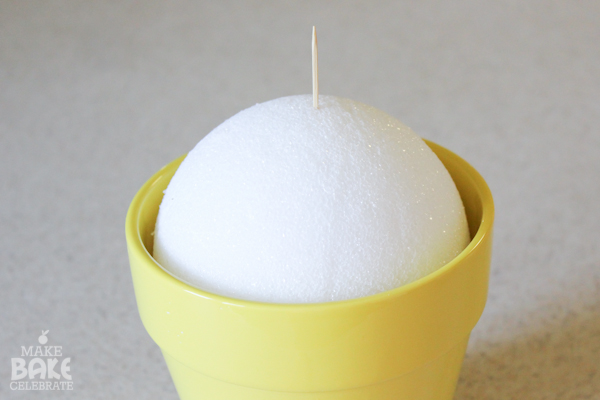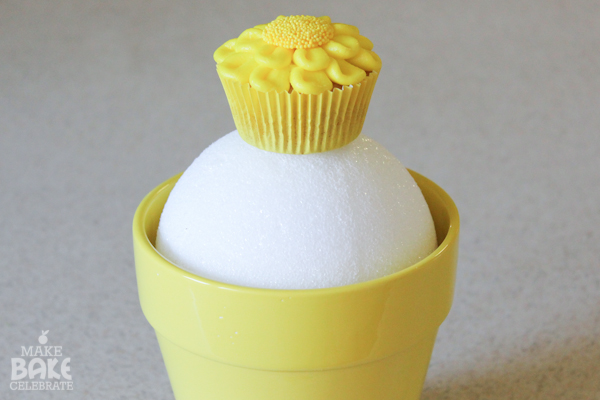 For the sides make sure you have the toothpicks angled up to help hold the cupcakes on. You may have to adjust them a bit to get them just right.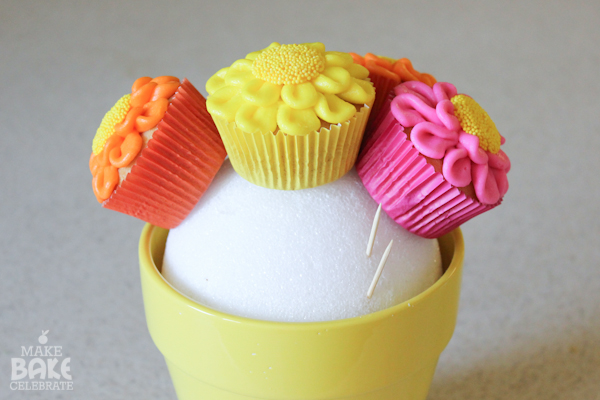 Step 10: Fill in the empty gaps with either green tissue paper or paper shred. Although it's more messy…I like the look of the paper shred!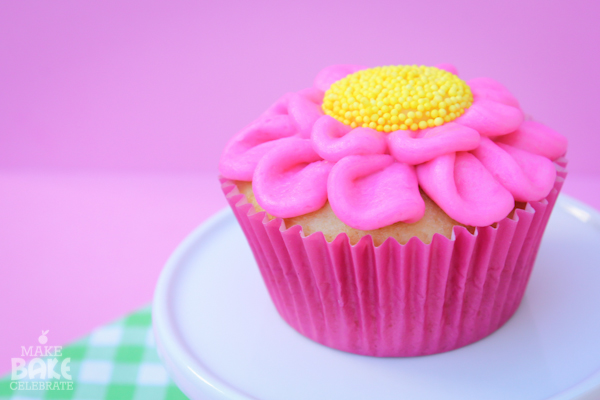 It's that simple! Doesn't your mom deserve some beautiful flowers cupcakes for Mothers's day?!