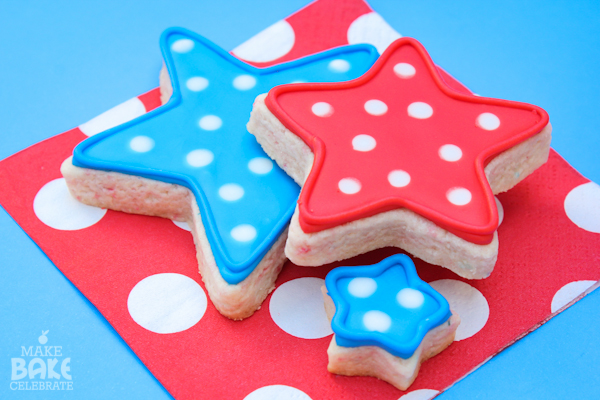 Today I have another baking basics post for you guys, Royal Icing 101! This will be a super helpful post for those of you just starting to decorate cookies or who have always wanted to try! I don't know about you guys…but I could sit and admire beautifully hand decorated cookies for days. But here's the thing – I like to keep my decorated cookies sweet and simple. Cookie decorating can be really time consuming and takes loads of practice, and sometimes even days to create from mixer to tray. While I love decorating cookies with royal icing, I don't always have the extra time or quiet kiddo free hours. (ha! two oxymorons right there) After a few hair-pulling cookie experiences…I figured out I could still create simple cookies without all the fuss, and to coordinate just about any occasion. It's true, you don't have to be a cookie Picasso to create adorably yummy cookies, and you don't even need many tools! But to make even the simplest of cookies look good you need a good understanding of royal icing and how to work with it. There are dozen of ways different bakers make and use royal icing, so today I'm sharing what works for me!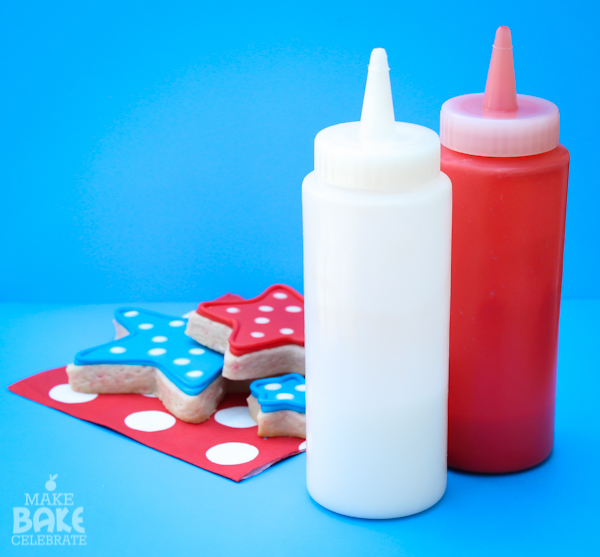 Let's start from the beginning. What exactly is royal icing? Royal icing is a white fluid decorating icing made from the whites of eggs or meringue powder, that hardens with air over time. For cookies, royal icing is mixed and colored then piped onto cookies using different consistencies. Once dry the icing is smooth and hard to the touch. Most often they can be easily stacked, stored, shipped, or packaged as favors and gifts.
CONSISTENCY:
Before we get to actually preparing and mixing the royal icing let's talk about consistency a little bit. Icing consistency is key to decorating even the simplest of cookies. If your icing is too thin, it may run right off the sides of the cookies. If your icing is too thick it won't smooth out over the cookies. Once you've got your icing consistency down you can play around with many different techniques to create some awesome cookies, or you can keep it simple if you'd like.
There are three different consistencies decorators normally use – outline, flooding, and 15 second icing.
Outline/Piping Icing is a toothpaste like consistency used to create a dam around the edge of your cookie that holds in the flooding icing. It is also used for details on a cookie, such as lines, eyes, bows, etc. It is piped onto cookies using a piping bag and most often small round tips (I often used Wilton tip #3).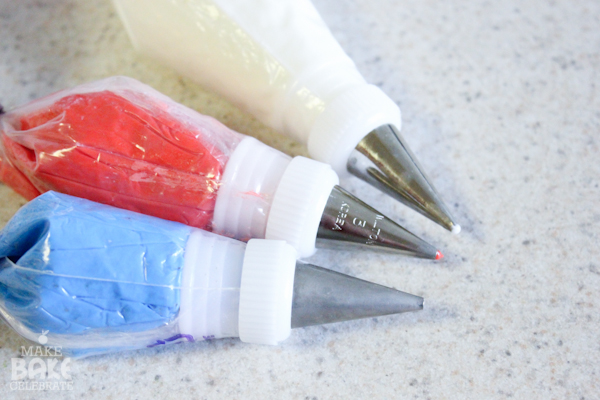 Flooding Icing is a more fluid like icing with a shampoo like consistency that is poured inside the outline icing that smooths itself out and covers the cookie. It is most often piped on with a decorating bottle as it would leak out of a piping tip.
15 Second Icing is an icing with a honey like consistency that is still fluid and spreads but less so then a flooding icing. If made right this can be used to outline and flood a cookie at the same time, cutting down on several steps. Because it thicker it can also be used to create "puffy" details on cookies. It also is poured from a decorating bottle. The down side to this consistency is it's not as easy to control, and small details can not be made with it.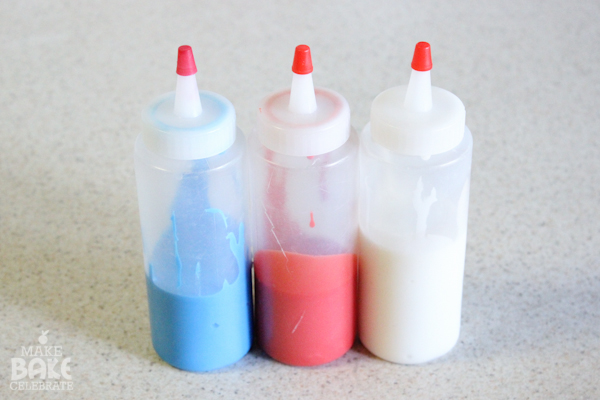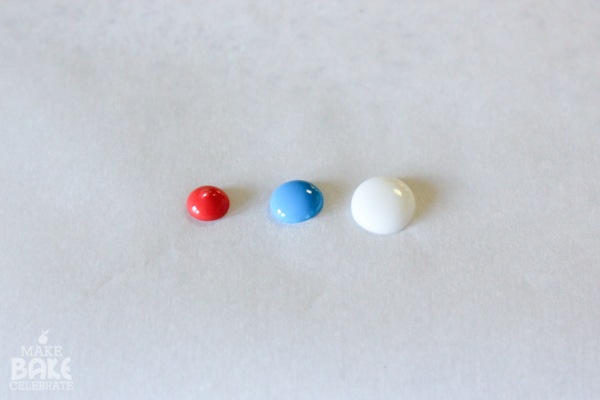 To give you a little understanding of the different consistencies, in this picture I piped out each icing for 1 second with the same amount of pressure in the order of piping, 15 second, and flooding icing. You can see how they are all different sizes because they spread at different rates due to thickness.
TOOLS & INGREDIENTS:
Like I said above, there are many different recipes and even ways to make royal icing. Keeping it simple, I use an easy recipe that has always worked great for me from the beginning. I love it because not only is it easy to make, it's yummy. This icing plus these cookies, are always first to go at a party! Plus it hardens nicely while still staying soft when bit into. Have you ever had one of those wrapped and decorated cookies from a grocery store…you bite into them and OUCH they are hard as a rock? What's a pretty cookie if it's not a yummy cookie?!
Basically I use 1 cup of powdered sugar for every 1 TBS of meringue powder with warm water mixed SLOWLY mixed in until desired consistency. Wilton's meringue powder looks like this and can be bought just about anywhere that carries Wilton. I like to buy it at a craft store where I can bring a 40% off coupon, because it is pricey.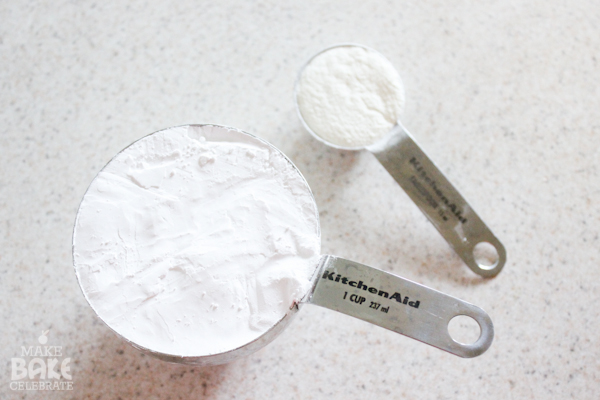 I only use Domino brand powdered sugar. Every single time I have tried to use an off brand powdered sugar, my icing comes out grainy. Feel free to play around to see what works for you, but I stick to Domino.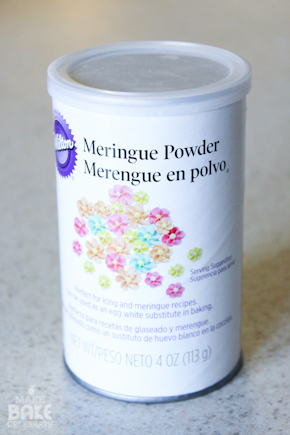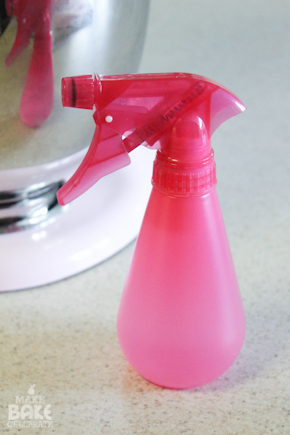 When mixing royal icing I always use a small water bottle filled with warm water. I picked up this trick from Sweet Sugarbelle a few years ago and will be forever thankful! When working with royal icing you want to adjust consistency with tiny amounts of water at a time. Just a little bit of water can change the entire consistency and ruin the icing. Trust me on this one, spare the heartache and use a spray bottle! Best 97 cents I've ever spent. :)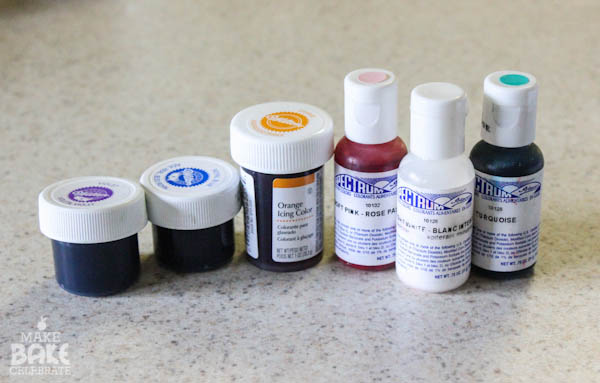 Unless you plan on only making white cookies, you will need some gel food coloring! I get lot's of emails about coloring issues, and almost every single time they are using the food coloring drops. You want to make sure you are using gel food coloring. Wilton colors can be found at almost anyplace that carries Wilton products, and other brands like AmeriColor or Spectrum can be found online or in specialty baking stores. When using difficult colors like black and red, I have had better luck with Americolor and Spectrum.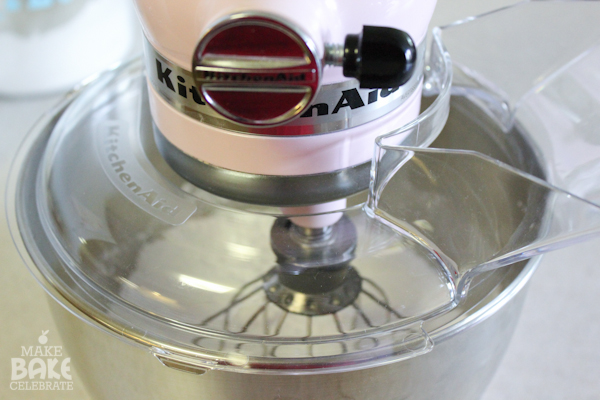 There are a few tools that come in super handy when making royal icing. First of all my Kitchen Aid kitchen mixer. It's not impossible to make royal icing without an electric mixer, but I wouldn't recommend it. I always get the best result by using the a kitchen mixer with the whip attachment. When I've attempted to mix a quick small batch by hand it often left little "clumps" of powder which get clogged in bottles and tips creating decorating chaos. Also helpful is the shield, that keeps the powdered sugar from flying everywhere. But don't worry, if yours doesn't have one. A piece of saran wrap wrapped around the mixer is a quick fix that helps a ton with keeping the powder from getting everywhere. I should add, I've never attempted to make one with an electric hand mixer, but I don't see why it wouldn't work if that's what you have. :)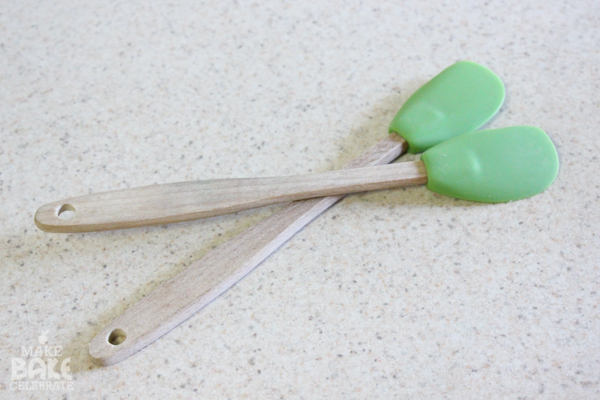 I also keep lots of these little spatulas on hand. I LOVE these little guys and use them for everything. They make coloring small amounts of royal icing and pouring it into bottles so much easier. I often pick up mine at Target in their holiday items. They almost always have a different version for each holiday.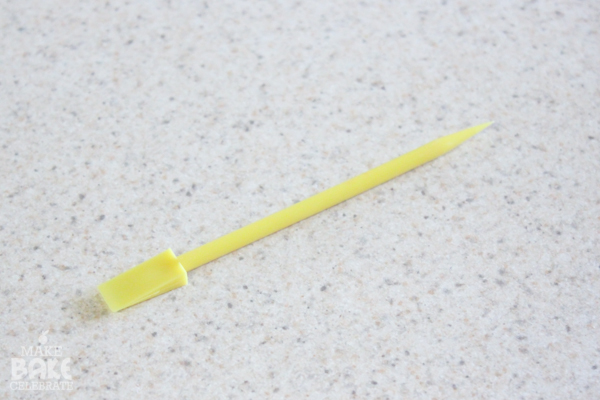 Another simple little tool I keep on hand is these booboo sticks that I found in the food coloring section at Sweetart Country Kitchen. They are so helpful with getting coloring out of a bottle, testing the icing consistency, and scraping off mistakes made on a cookie. I have so many of these little guys! If your really getting into cookie decorating I'd really recommend picking some up, but of course toothpicks will serve the purpose too. :)
Alrighty let's get mixing!
Step 1: In the bowl of an electric mixer, stir together 4 cups of powdered sugar and 4 TBS of meringue powder.
Step 2: Add 4 TBS of warm water to start, turn the mixer on low.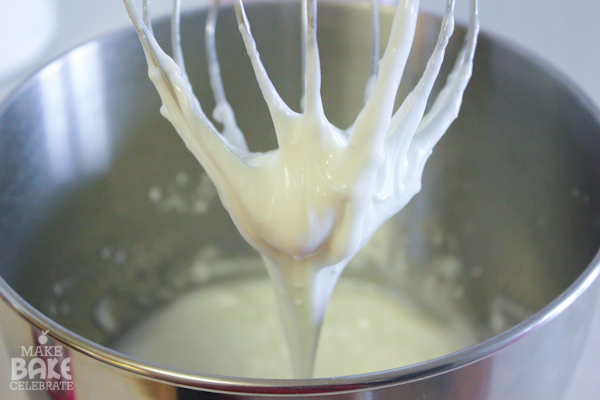 Step 3: Using your spray bottle SLOWLY add sprays of warm water until your icing has become a little thicker then the consistency as tooth paste. It should stick to the beater when pulled up and hold a bit of shape. If you were to take a spoonful and turn it upside down it should slowly drop off the spoon into the bowl, not smoothly run off the spoon. Whip the icing on medium for a few seconds.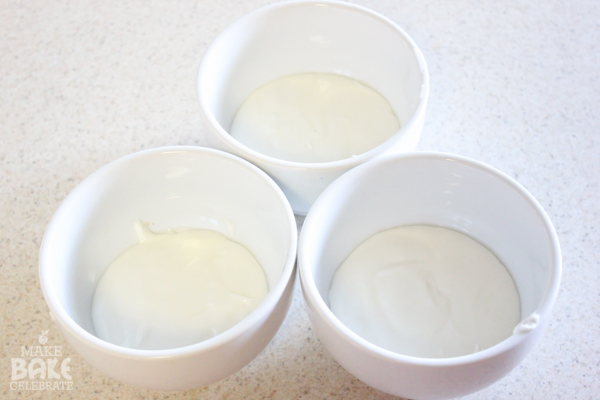 Step 4: Separate your icing into bowls to color.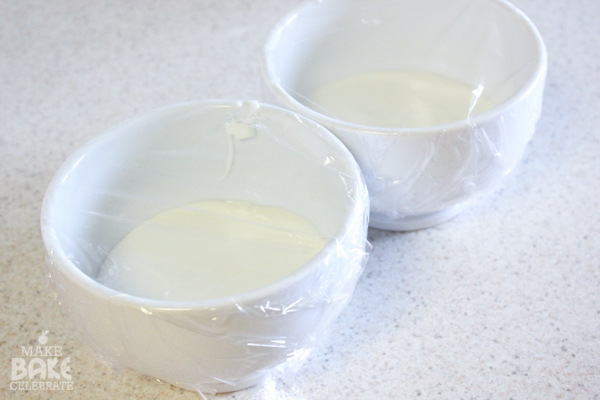 Step 5: While your working with one bowl, keep the other bowls covered in saran wrap. It will begin to crust and harden if left open.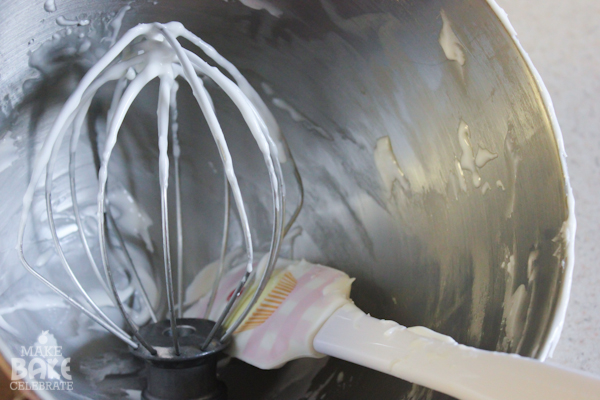 A little helpful tip – once your icing is separated into covered bowls. Grab all of your used tools and put them in the bowl. Run hot water to the top of the bowl and let it sit in the sink while your working. As you dirty more pieces you can toss them in. Keeping it all wet will make clean up easy, dried royal icing is really no fun to scrub!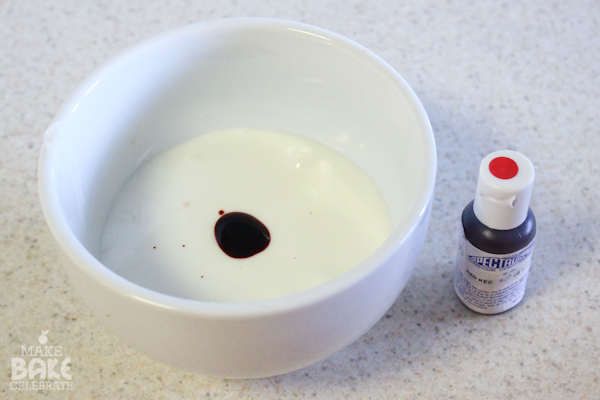 Step 6: Before adjusting your icing's consistency you need to color your icing. The reason why icing is colored first is because coloring can actually make your icing more runny depending on the amount you need to put in especially when dealing with dark colors like black, purple, red, blue, and brown. Add in a few drops of coloring and stir, continuing to do so until you've reached the desired color. Remember your colors will darken a bit as they dry.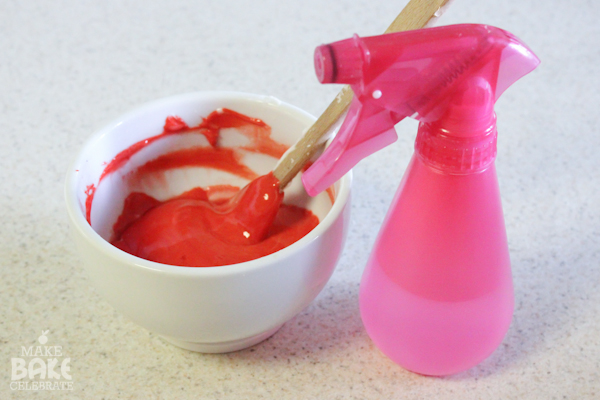 Step 7: Next you will need to adjust the consistency of your icing using warm water. Here's where things get a little bit tricky! Most often when decorating cookies you need an outline and flood icing of EACH color you use. So you will need to first create an outline (thicker) icing, place some in a piping bag, then thin the rest of the icing to a flooding icing and pour that in a decorating bottle.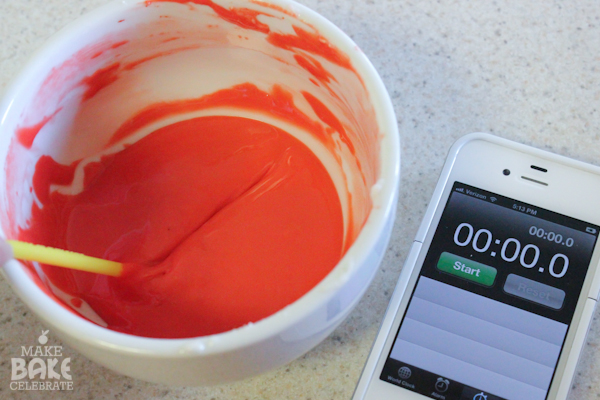 In order to get my icing right every time I bust out my iPhone and time my icing. Even though I've made it 1000 times, I like to be sure of it's consistency. To do this I start by drawing a line in my icing with my booboo stick (knife or toothpick) and press start right away. The icing will being to settle back into itself and the line will disappear. Once the line is gone press stop on the timer. The time the line took to disappear will determine your icing consistency. Neat right?!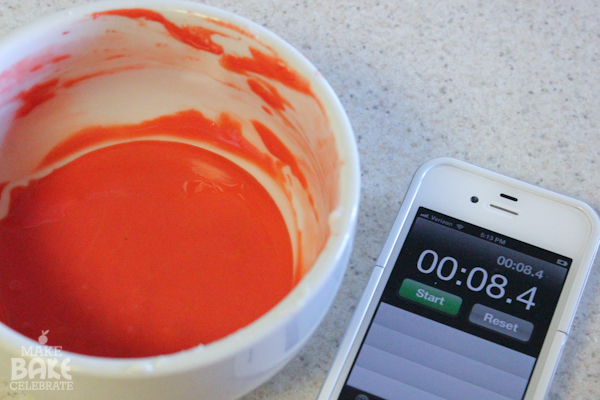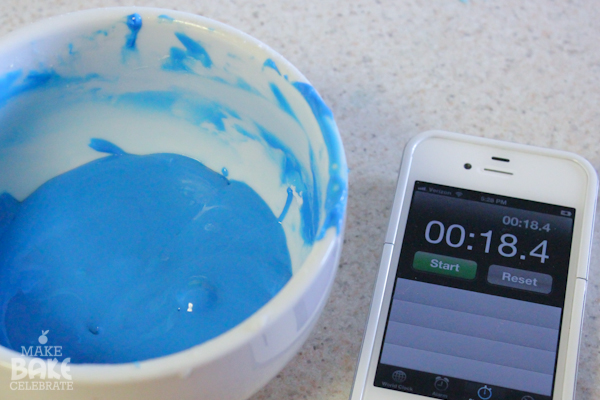 Here's where I like to keep my icing…
Outline/Piping Icing – 25 to 30 seconds.
Flooding Icing – 6-8 seconds.
15 Second "Puffy" Icing – 15-18 seconds.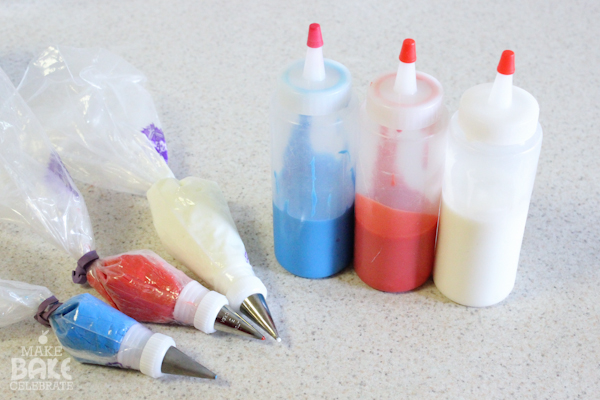 Once your royal icing is all mixed up and ready to decorate here's what you will have to start, a bottle and a pipping bag for every color of icing. UNLESS you are using 15 second icing to flood and fill then you will only need one bottle without the pipping bag.
And I want to share one more little nifty trick with you! I picked this up somewhere when I first starting decorating cakes, one of my favorite little tricks! When using a small amount of icing (or chocolate etc.) I first place the icing on saran wrap, twist shut (by picking up and twirling like a jump rope), place it in a piping bag with a coupler, trim saran wrap, and place tip on. When I'm all done I can easily pull out the bag toss then simply rinse the piping bag! Anybody who's ever washed a piping bag will appreciate this. :)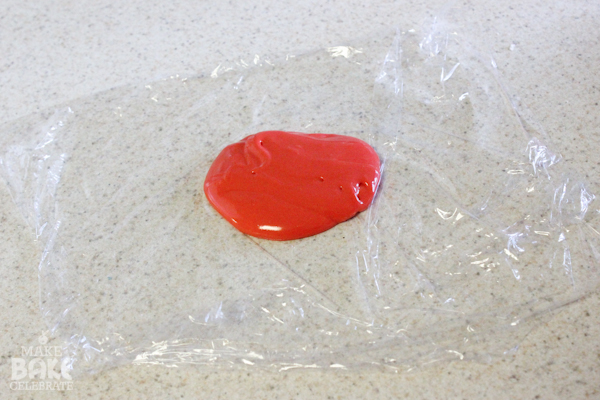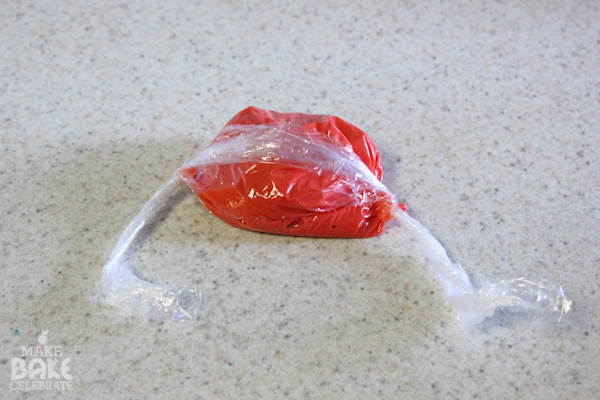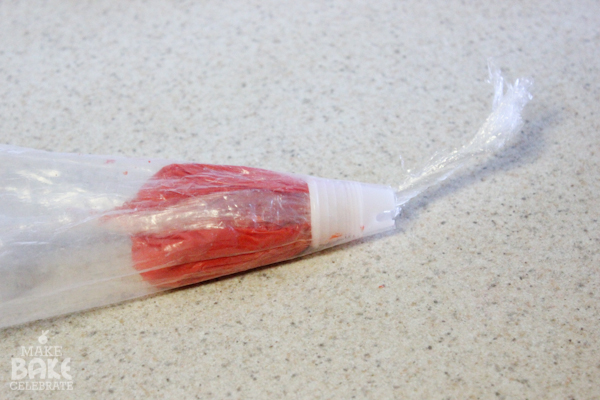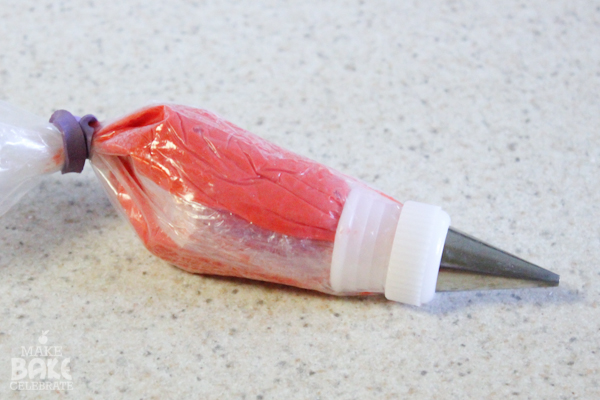 A Few More Helpful Tips:
Outline icing should be able to pipe smoothly without breaking. If breaking it is not moist enough.
The tips of your piping bags will need to be covered. I often stick a toothpick in the tip for a good seal. Without it the icing dries inside the tip.
Oil is the enemy of royal icing. Make sure not to mix or store it in anything where oil residue may be.
I like to use Wilton tip 3 to pipe my outlines.
Royal icing can be stored airtight for several weeks.
Over mixing royal icing can lead to air bubbles left in the icing.
If air bubbles are apparent, tap bowls on the counter several times to help remove bubbles.
Now that you've conquered making the royal icing, it's time to decorate! I'll be back tomorrow with Decorating Cookies 101…easy breezy steps to simple yet impressive cookies!
I hope this post will be helpful to all you future cookie decorators out there :).