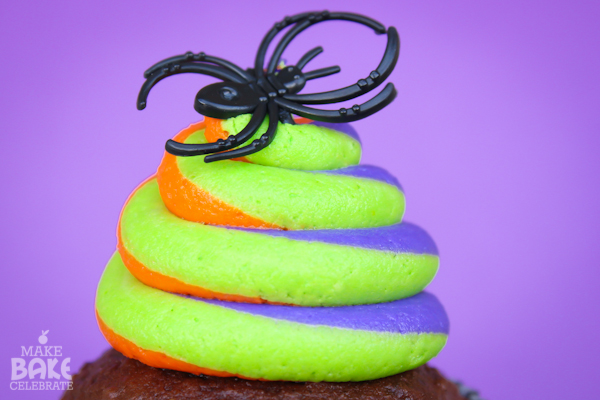 Can you guys believe Halloween is this week?! Gah. I can't even believe it, it doesn't seem real. Especially since we've just moved from a cold climate to a warm climate. BTW for those of you that didn't see on Instagram/Facebook, we've made it to Texas, yay! The bulk of the move is behind us but the downside – we haven't had a single moment to enjoy fall. Zero pumpkins have been carved and Halloween costumes – yea they are coming straight from the dress up bin. It's a good thing I have some princess crazy girls, who won't mind a bit being their favorite princesses this year.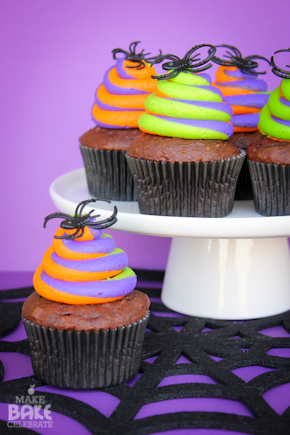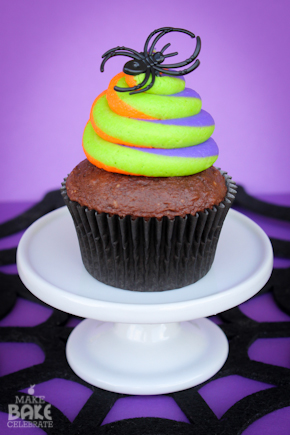 Speaking of costumes and getting settled in, this past week we were invited to our first event here in Texas, a Halloween party for the Hubs office. Since we've only received half of our household goods (thank you not so stellar moving company) I only have about half of my baking items and half of the girls dress up – but we were still able to gather up costumes and whip up some cupcakes.
Which gave me the perfect chance to try some a cupcake idea I've had for awhile now. Every since last year when I made these crazy cool Swirly Halloween Cookies I've been wanting to give them a try on some cupcakes. Originally I was going to rim them with sprinkles as well but I decided it was just a bit much…still I think they came out just as cool! I also decided to leave out the black color and instead use black greaseproof liners. Then I topped them off with creepy little faux black spider rings from Target.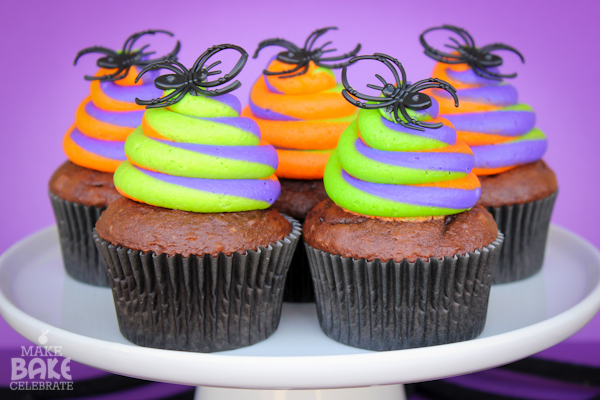 Here's what your going to need:
24 Chocolate Cupcakes Baked In Black Liners
Buttercream
Orange Gel Coloring
Purple Gel Coloring
Lime Gel Coloring (Or Green + Yellow)
1-3 Medium Round Icing Tip(s) (Wilton 2A)
1-3 Piping Bag(s)
Note: Sorry about the kinda crappy pics in this tutorial. Unfortunately the new house has zero natural light in the kitchen, a HUGE change for me, and it's going to take some getting use to.
Step 1: Start off by whipping up a large batch of your favorite buttercream. I used my normal decorators buttercream found here. I actually made a batch and half just to make sure I had a bit of extra to practice/experiment with.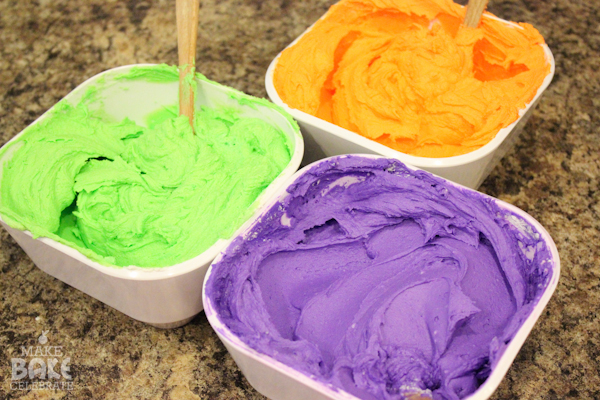 Step 2: Separate into three bowls and dye each bowl orange, green, and purple.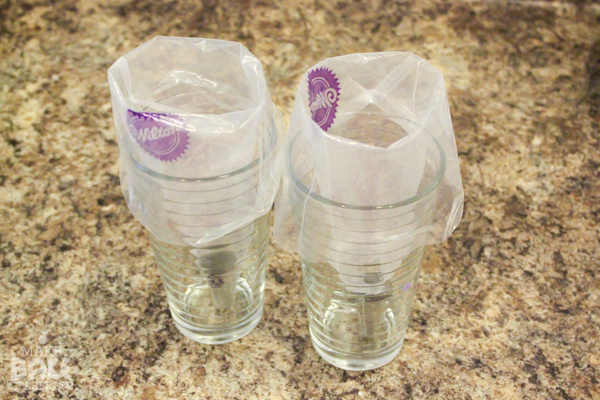 Step 3: Prep your piping bags by placing the tip inside and setting them up in cups so they are ready to go, I used a Wilton tip 2A. Due to the nature of this project you will have to start with a fresh piping bag each time you need to refill. While it's possible to just clean and reuse 1 set, if you have multiples I'd recommend getting them all out and ready to go to make things speed along.
I know it's a pain, but so worth it in the end! If your using disposable liners you will only need to wash the tip. ;)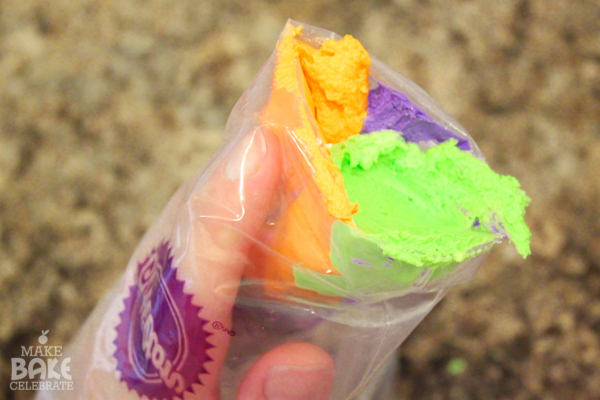 Step 4: Begin by holding your piping bag in your hand and spooning just a little bit of each icing color side by side in the piping bag.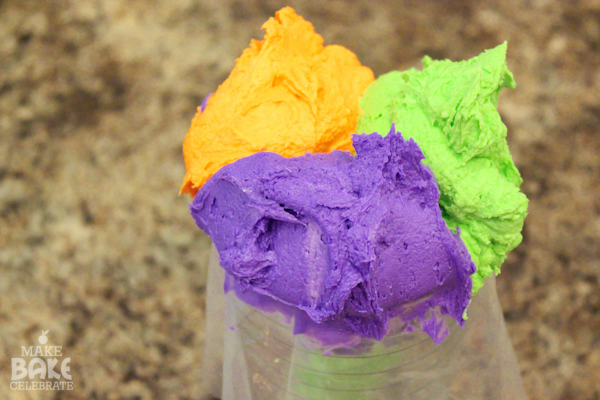 Step 5: Once you've filled the narrow part of the bag, slip it into a cup to fill the rest. This will give you a little more control. I tucked my piping bag over the sides of the cup, filled the icing just about the rim, and then turned the bag bag up.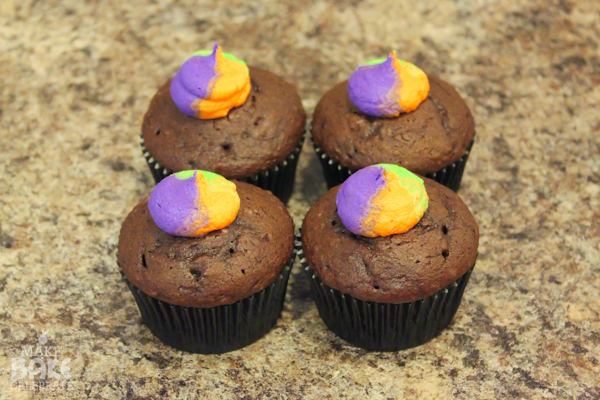 Step 6: You will need to push out a little icing until all three colors start to come out. So I didn't waste mine, I piped my "blobs" on each cupcake first. I always ice each cupcake with a "blob" in the center first, to get more height. Then just finish up by icing the cupcakes like normal and top with a creepy little faux spider if you would like.
If you'd like more info on my "blob" technique (lol) and how I ice my cupcakes you can check out Frosting Cupcakes 101 for details.
And that's it! It's really not as complicated as it looks…or as I make it sounds even! Just three frosting colors, place side by side into bag, then pipe in normal swirls. Although I do have to admit…I think the colors were messing with my focus. I couldn't seem to pipe a straight cupcake to save my life that day! Ha. These were so much fun, weather you make them to compliment your swirly cookies, or they stand alone, I think they make a great Halloween treat!