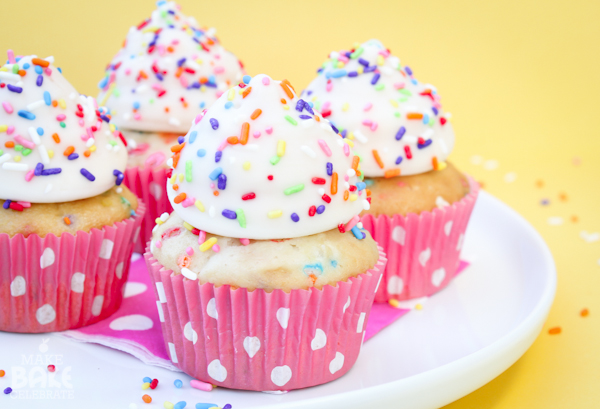 A few months ago I finally got the courage to attempt some high hat cupcakes. While cupcakes dipped in chocolate sound amazing, something about taking the time to create a beautiful cupcake and then turning it upside down and dipping it in hot chocolate, just seemed terrifying to me. Much to my surprise it was way easier then it seemed, and the cupcakes were such a hit! I was pretty much hooked on them and wanted to dip all of my cupcakes. These high hat birthday cake cupcakes were my second try – and I loved them just as much!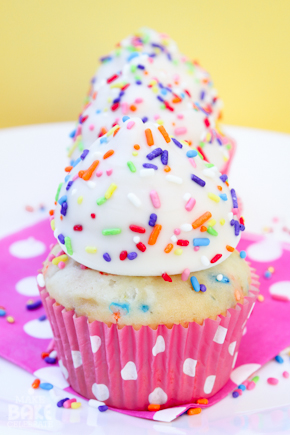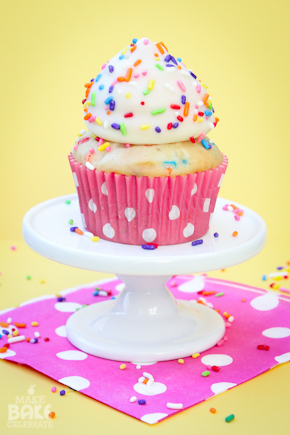 Everybody loves a sprinkle filled cupcake topped with buttercream icing, but what if I were to tell you these little lovelies are dipped in birthday cake flavored melting chocolate! Birthday cake flavored treats are always at the very top of my fav lists so when I found a new birthday cake flavored melting chocolate at the craft store I had to bring home a bag (or like 3). I have also seen these available at Wal-Mart.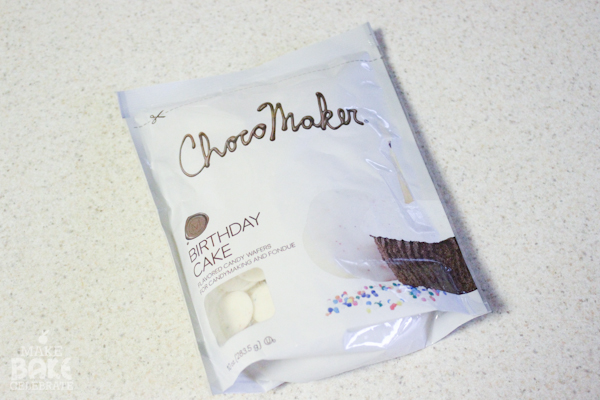 Here's what you're going to need:
1 Box Of White Cake Mix + Ingredients Listed On Box
1/2-3/4 Cup Sprinkles
Buttercream Icing
1 bag Birthday Cake Melting Chocolates
1-2 Tsp Crisco (to thin chocolate)
I did not take step by step pictures for this post, so sorry! If you would like to see pictures of me dipping an cupcake check out this post here.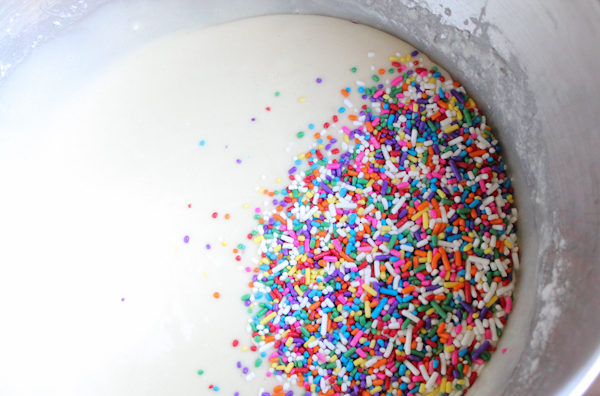 Step 1: Mix white cake mix as instructed on box. Once fully combined add in about 1/3 cup sprinkles, stir gently.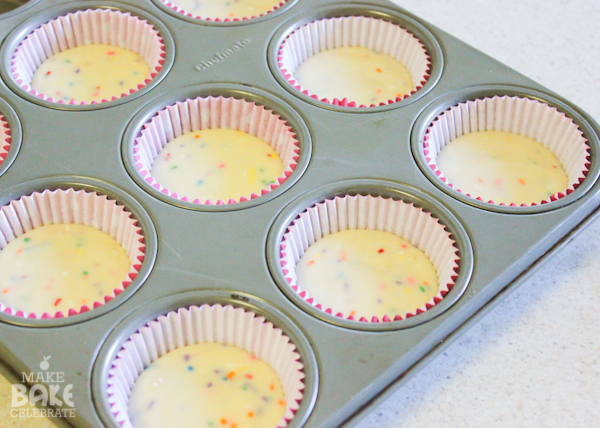 Step 2: Spoon 3Tbs of batter into each cupcake liner and bake at 350 for 16 minutes.
Step 3: Using a large round piping tip, swirl buttercream on cupcake. If you would like to see how I pipe mine check out Frosting Cupcakes 101.
Step 4: Place cupcakes in the fridge to chill about 15 minutes. This will make the icing nice and firm for easy dipping.
Step 5: Melt birthday cake flavored chocolate melts, add about 1-2 Tsp of Crisco to help thin it out a bit if desired. You will need to make sure your using a bowl or melter wide enough for a cupcake but deep enough to dip the top in. Check out Melting Chocolate 101 for more info on how I melt my chocolate and what products I use.
Step 6: Turn cupcakes upside down and gently dip top in chocolate, pull up and turn over. Use remaining sprinkles to top each cupcake as you dip.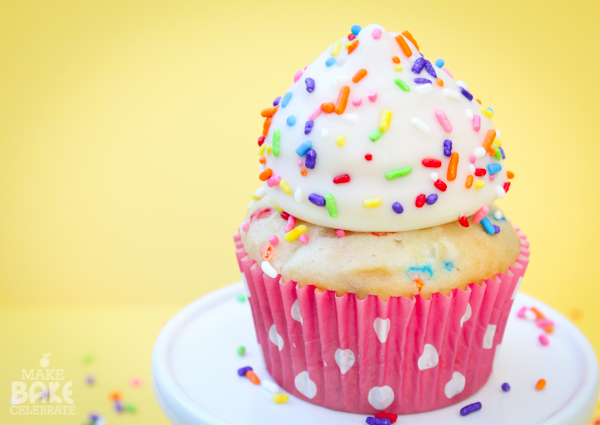 If you haven't tried out a high hat cupcake yet you must do it and let me know how it goes! These are so simple and yet delicious. Perfect for a birthday or to simply brighten up a weekday! I have one more chocolate covered cupcake I will be sharing with you guys pretty soon!