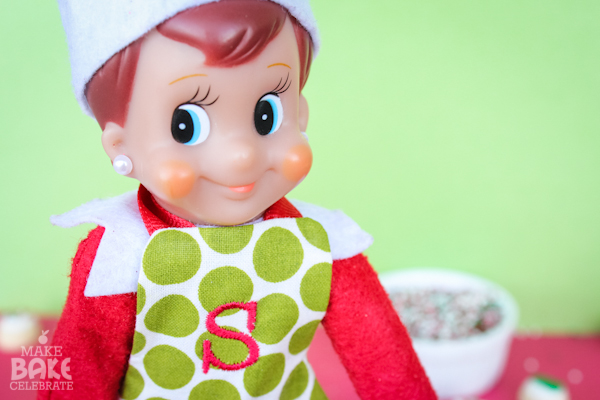 I'm so excited to be bringing you guys day 2 of The Elves' 12 Days of Christmas Cookies, over at Aimee Broussard maker of crazy cute aprons! Sprinkles (our elf) and I popped in and shared our all time favorite Iced Sugar cookie recipe. Aimee and her elf Ella, will be sharing 12 fun elf-approved cookie recipes over the next 12 days, how fun!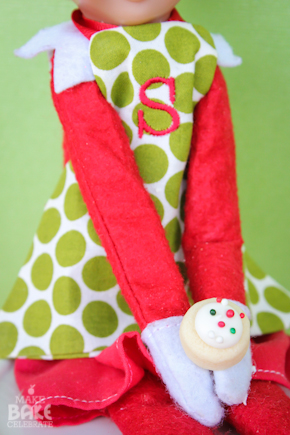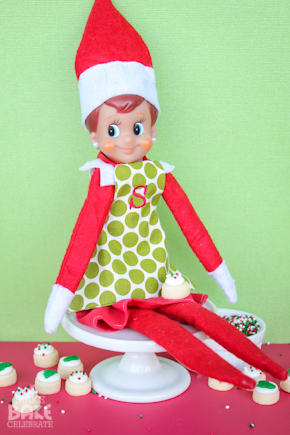 While we were sharing our elf pick over at Aimee's, Sprinkles thought it would be super fun to show you guys how she baked some tiny little "elf sized" cookies of her own. She baked some up last year for our girls and they were such a hit, she thought maybe you and your elves would enjoy surprising the kiddos with some too! Plus, I think she just really wanted to show off her little customized apron Aimee sent her! Since there just isn't eggs small enough to make an "elf sized" batch – I would recommend making some people sized sugar cookies, and setting a little dough and icing aside for the elf to work with. :)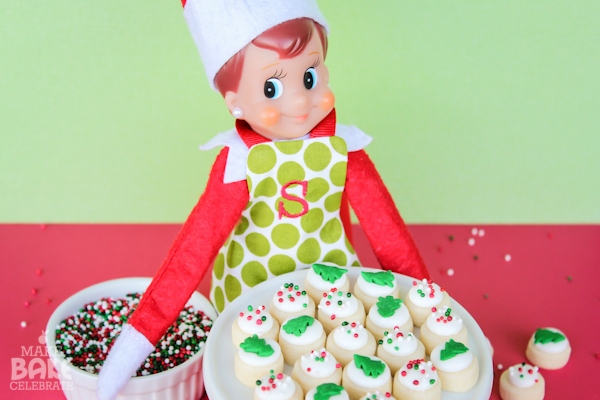 And now I'll let Sprinkles work her "magic"…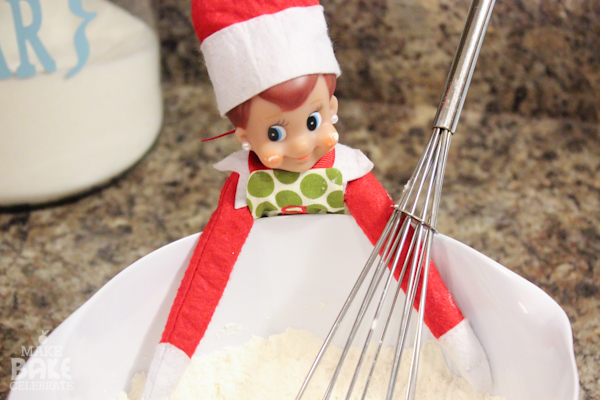 She mixed together flour and baking powder. (we were super glad Sprinkles had her apron on, it got a little messy!)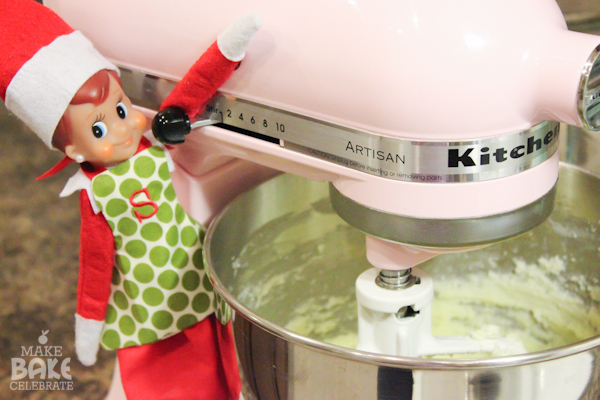 Next she let the KitchenAid do the mixing of the butter and sugar. Once fully combined she added in the egg, mixed, then added vanilla, and mixed until it became a "ball".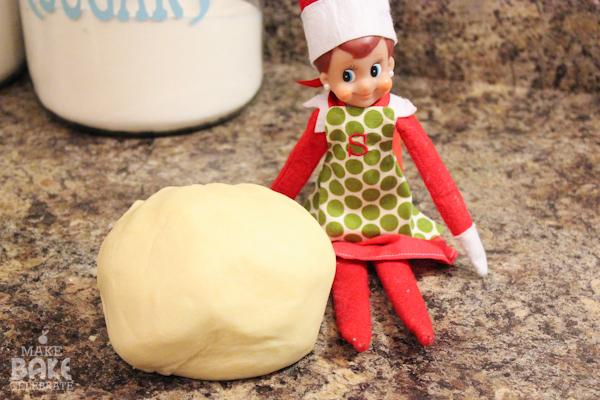 After scraping the dough out onto the counter and working it into a ball, she wrapped it in plastic and let chill in the fridge for 5-20 minutes. (don't let the cookie dough get TOO hard, but if you do just let it sit on the counter for a few moments then begin to work it)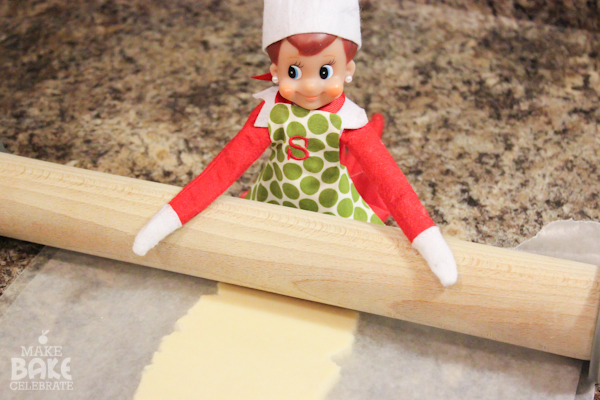 Next she preheated oven to 300 (a little lower then the normal recipe for the cookie size). Then she lined a cookie sheet with parchment paper.
Next up was rolling dough out between two sheets of wax paper at only about 1/4in thick because elves have tiny mouths! (This was quiet the workout for poor sprinkles, but she's still smiling!)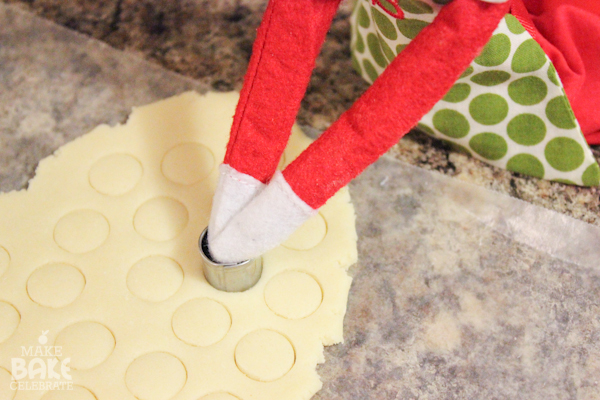 Using a tiny circle cutter she cut out tiny little cookies. You can find tiny circle cutters in the fondant section at most craft stores OR you could use one end of a large round piping tip.
Then she placed them on the parchment lined cookie sheet and baked at 300 degrees for 6 minutes.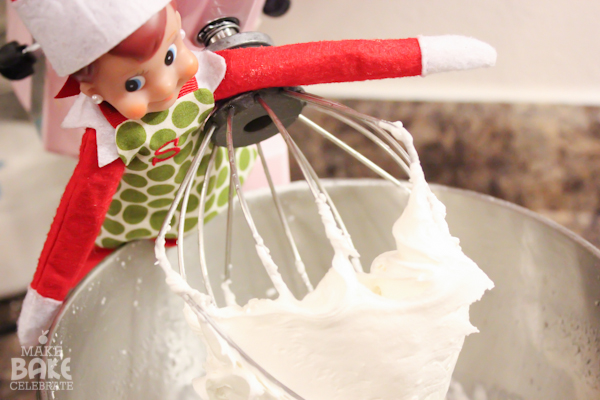 Time for her to make some royal icing!
In the KitchenAid bowl she whisked together the powdered sugar and the meringue, and then slowly added warm water until it came to a 18-20 second icing. (Need more info on royal icing? Check our Royal Icing 101)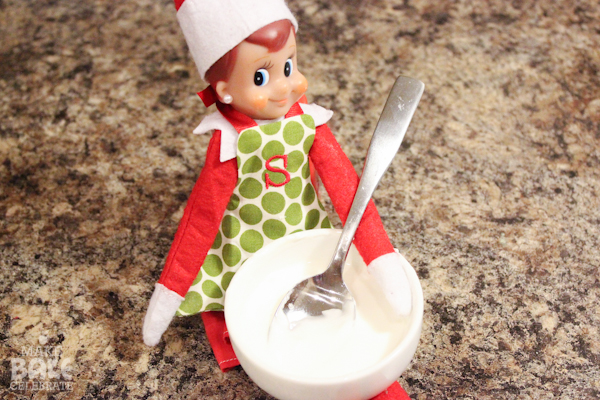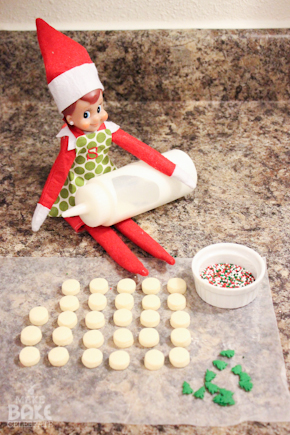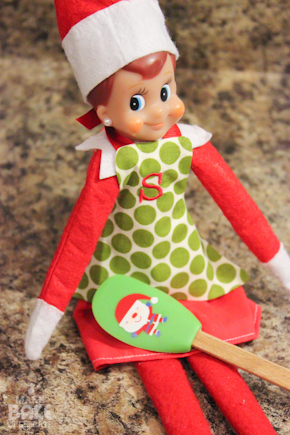 She poured her 18-20 second icing into an icing bottle an was ready to go!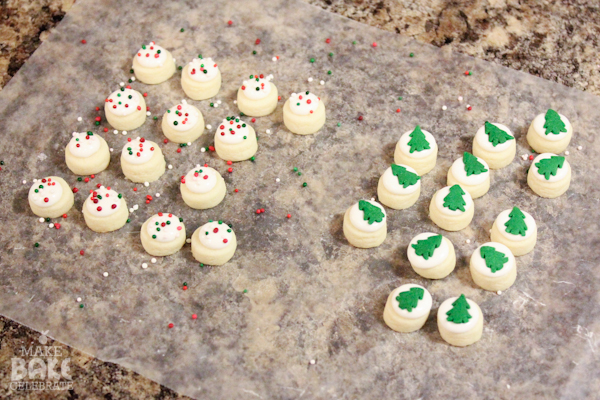 To frost the tiny cookies she simply held the bottle over the cookie center and gave it a little bit of pressure. Remember the icing will settle and spread a bit, so don't icing right to the edge. She added sprinkles to icing while wet, we did about 4 cookies at a time.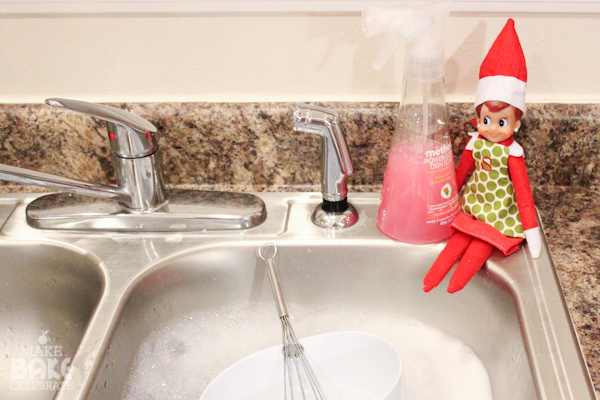 And you better believe Sprinkles was on dish duty...her cookies, her mess!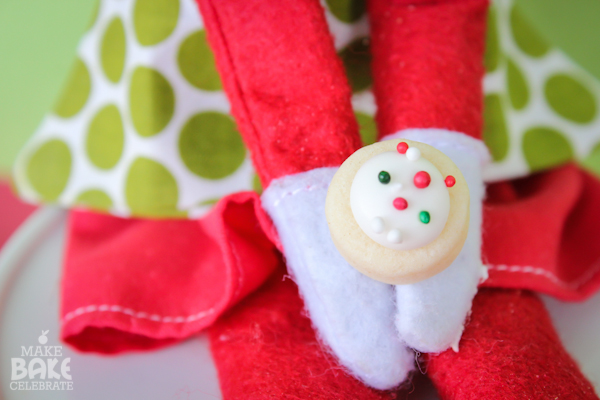 If only I had elves hanging around all year to create adorable little treats, and clean their messes!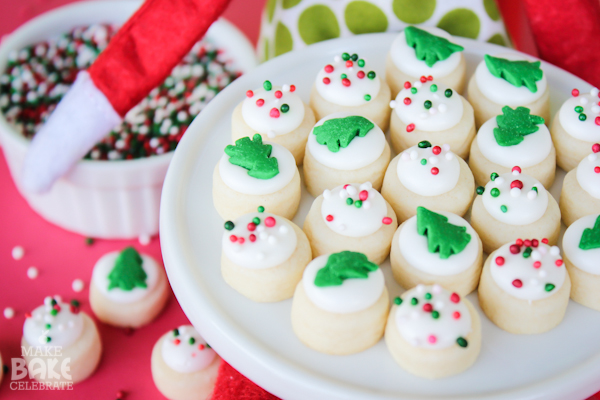 If your would like more information on how I bake my sugar cookies check out Rolled Cookies 101. For more information on Royal Icing check out Royal Icing 101.
Thanks Aimee for her stylish new apron and the fun cookie round up! We had a blast making cookies – now I just have to convince Sprinkles she's going to have to wait until next year to make more :).