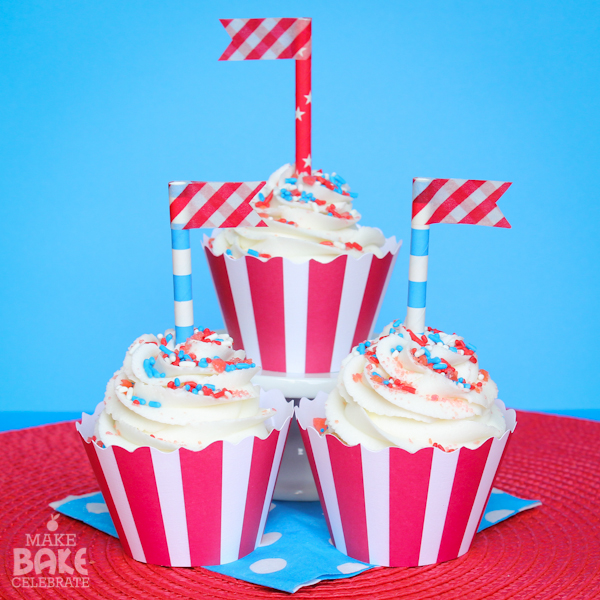 Remember the Cupcake Couture blog party a few weeks ago? Well get ready for more awesome cupcakes and prizes…because once again Bella Cupcake Couture and Java Cupcake has rounded up 24 crazy awesome bloggers for yet another party Sprinkles Will Fly! Bringing you 2 dozen awesome Fourth Of July cupcake ideas!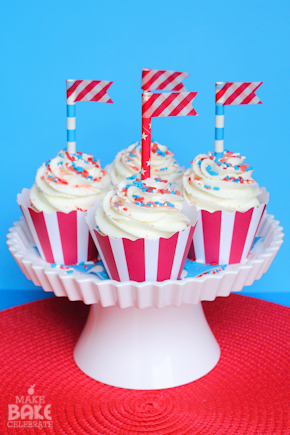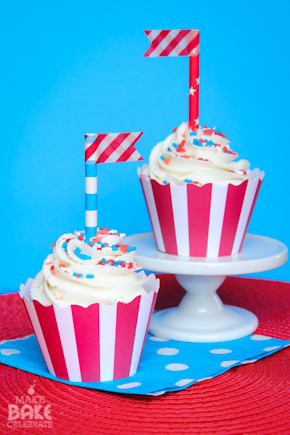 Before I even received my cupcake wrappers, I knew what I wanted to make. I was SO excited when I opened my mail to these awesome red and white striped wrappers, they are perfect! I figured there had to be sprinkles and since everybody loves fireworks, why not add a little explosion to the cupcakes?!? If you take a little closer look you'll notice there's not just sprinkles on these pretty little things…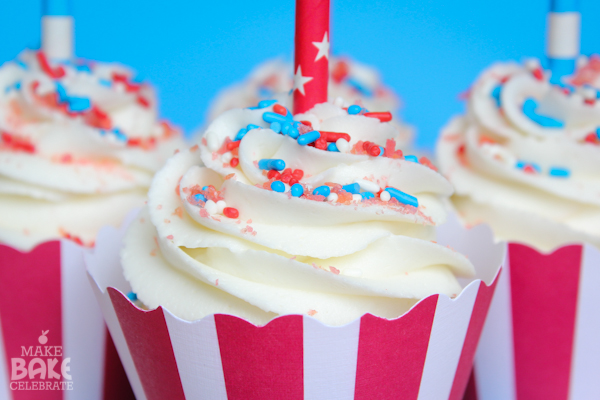 …there's pop rocks! Inside and out! Yep, these cupcake sizzle, crackle, and pop inside your mouth! If you really want these cupcakes to be a blast…don't tell anybody what's in them. Watching them bite into them will be enough entertainment for your BBQ alone. To finish the cupcakes up, I made cute little paper straw and washi tape toppers. Love how simple yet cute they are. :)
Here's what you will need:
Your Favorite White Cupcakes
Buttercream
Cherry Pop Rocks
Red, White, And Blue Sprinkles
Paper Straws
Washi Tape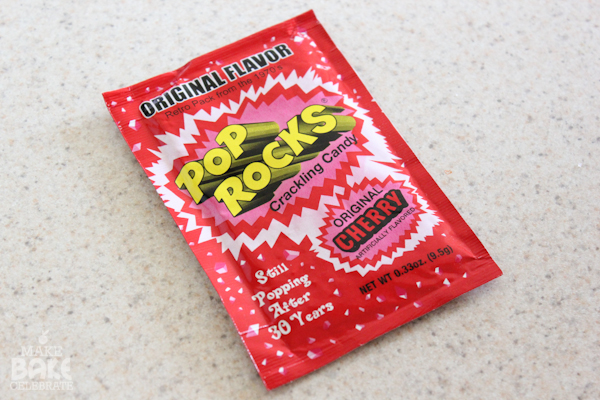 A little hint…I found these red cherry pop rocks at the Dollar Tree 3 for a dollar! Neither our local grocery store nor Wal-Mart carried them!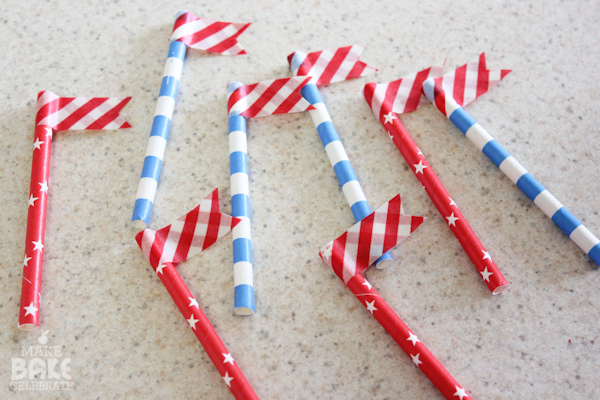 Before baking the cupcakes, you'll want to make some of these cute little toppers! I cut in half some of these and these paper straws from Sweets and Treats Boutique and then wrapped a little piece of red washi tape around and trimmed.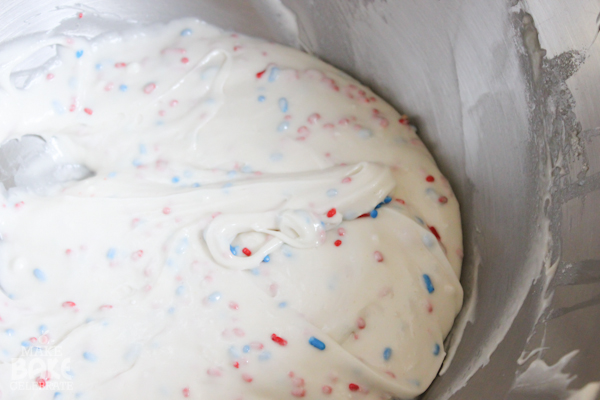 Next whip up some of your favorite white cupcakes! For projects like this I love to use Duncan Hines Classic White cake mix. I also added a few TBS of red and blue sprinkles to carry the theme right down to the cake!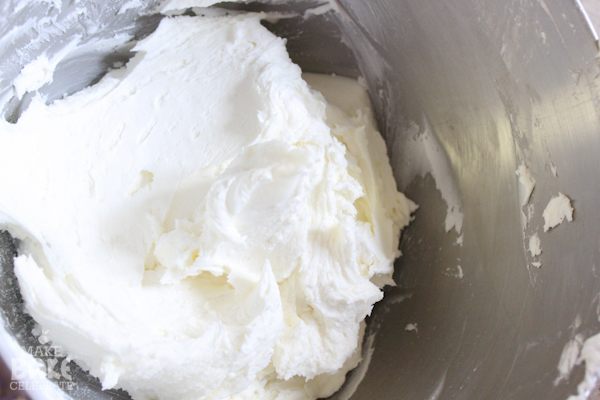 While the cupcakes are baking whip up some buttercream. I used my decorators buttercream found here because it's a great buttercream to hold up in the summer heat.
Now it's time to get cracking…sorry I couldn't resist.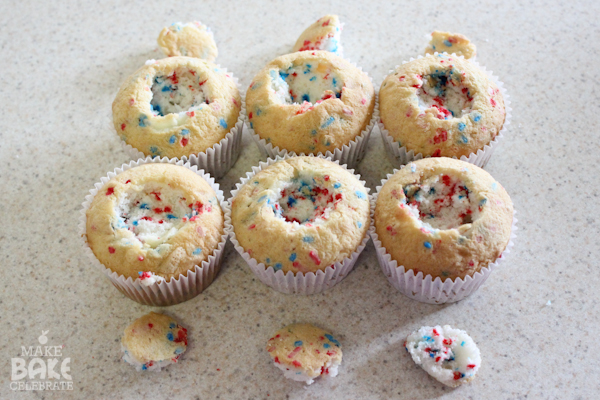 Step 1: Using a 1/2 TSP carve out a little spot for the pop rocks. Be sure to keep the tops!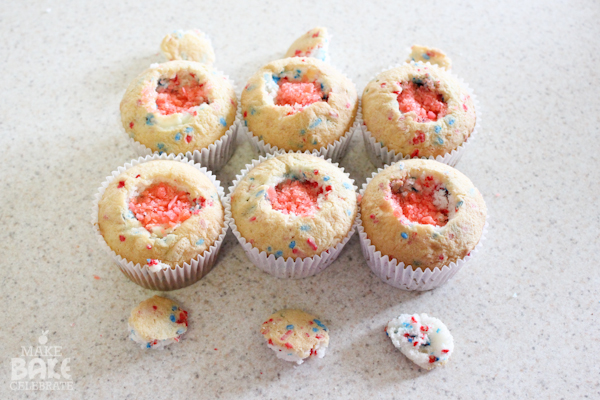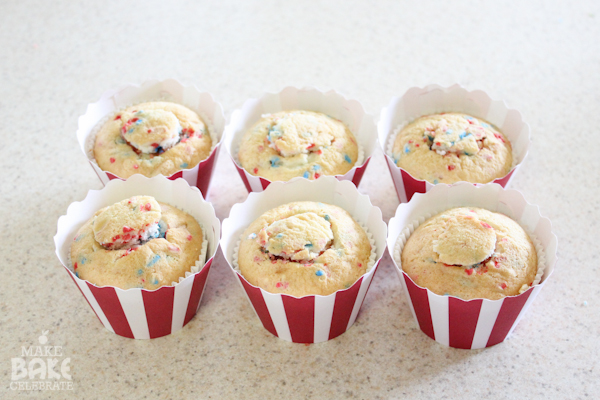 Step 2: Fill each little spot with pop rocks. Then place the cupcake top back on and slip the cupcakes into their cute little wrappers.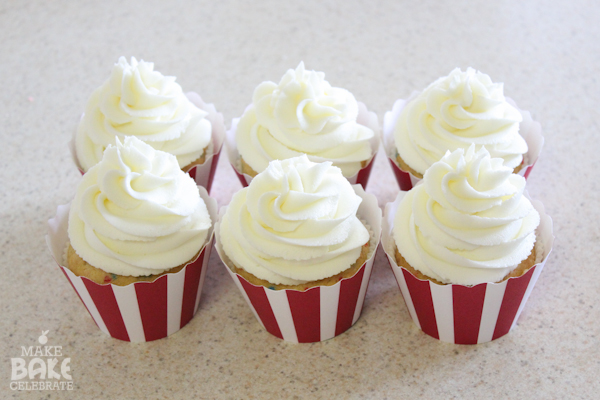 Step 3: Now frost your cupcakes like normal using a piping bag. (Want to learn to pipe cupcake? Check out Frosting Cupcakes 101)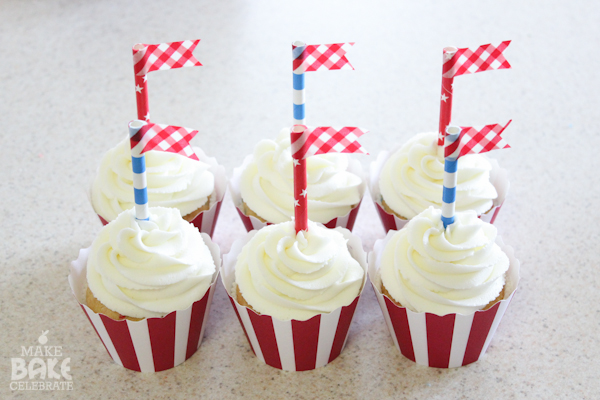 Step 4: Then insert you adorable little washi tape flags!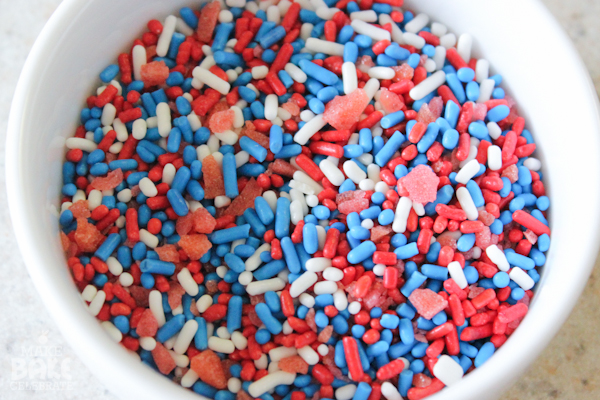 Step 5: Mix together some red, white, and blue sprinkles with your pop rocks. Sprinkle on your cupcakes before serving!
PLEASE NOTE: Pop rocks crackle after coming in contact with moisture. So these cupcakes will need to be served as soon as possible. After doing a bit of testing I found the pop rocks inside the cake will still crackle after several hours and the buttercream well over an hour. But as time goes by they get more weak. So I strongly suggest sprinkling on the sprinkles/pop rocks on the buttercream just before serving for an awesome effect. If you have to make the cupcakes way before serving, you can of course skip filling the cupcakes of course.
Now on to the rest of the party! Prizes and more cupcakes!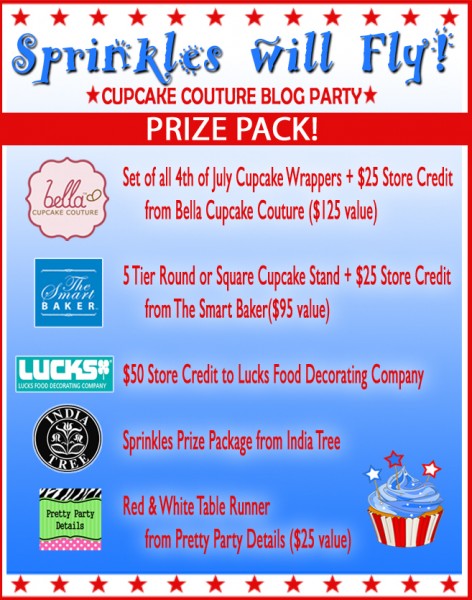 You can enter below to win this crazy awesome prize pack!!!
Thanks to our amazing Prize Pack sponsors for their generous donations! Please, visit their websites to see more of their fabulous products!
Bella Cupcake Couture
The Smart Baker
India Tree
Lucks Food Decorating Company
Pretty Party Details
To enter to WIN this Prize Pack, simply fill out the entry form below.
Contest opens 25June13 at 0700 PST and closes 1Jul13 at 2359 PST. One winner will be chosen and announced within 48 hours of the contest ending. Winner will be contacted via email by betsy@javacupcake.com and will have 48 hours to claim their prize. If they do not respond within 48 hours, another winner will be chosen.
This contest is open to residents worldwide.
a Rafflecopter giveaway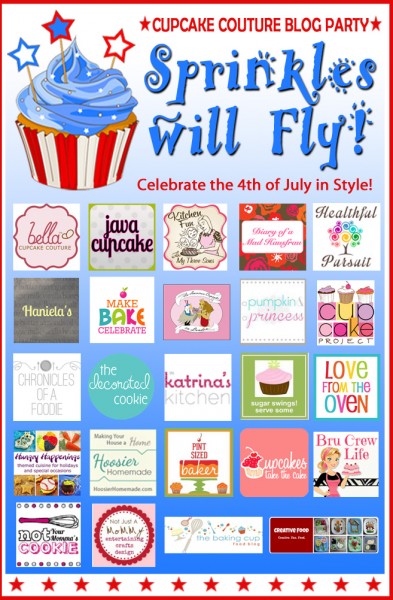 Then head on over and check out some more awesome Fourth Of July Cupcakes!
An American Cupcake in London
Bella Cupcake Couture
Chronicles of a Foodie
Creative Food
Cupcake Project
Cupcakes Take the Cake
Diary of a Mad Hausfrau
Haniela's
Hoosier Homemade
Hungry Happenings
In Katrina's Kitchen
Inside BruCrew Life
Java Cupcake
Kitchen Fun with My 3 Sons
Love From the Oven
Make Bake Celebrate
Not Just a Mommy
Not Your Mommas Cookie
Pint Sized Baker
Sugar Swings! Serve Some
The Baking Cup
The Decorated Cookie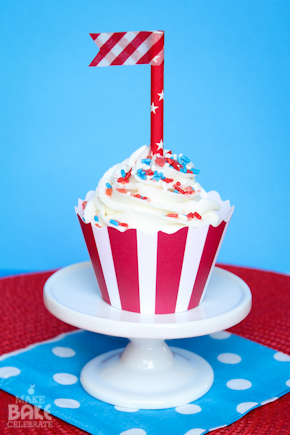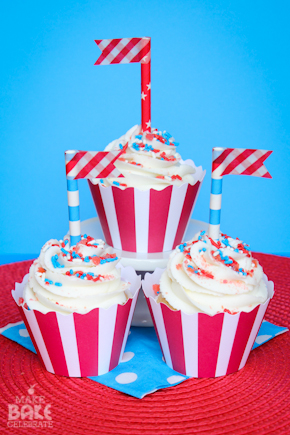 I don't know about you guys but all this red, white, and blue has me ready for the Fourth! :)