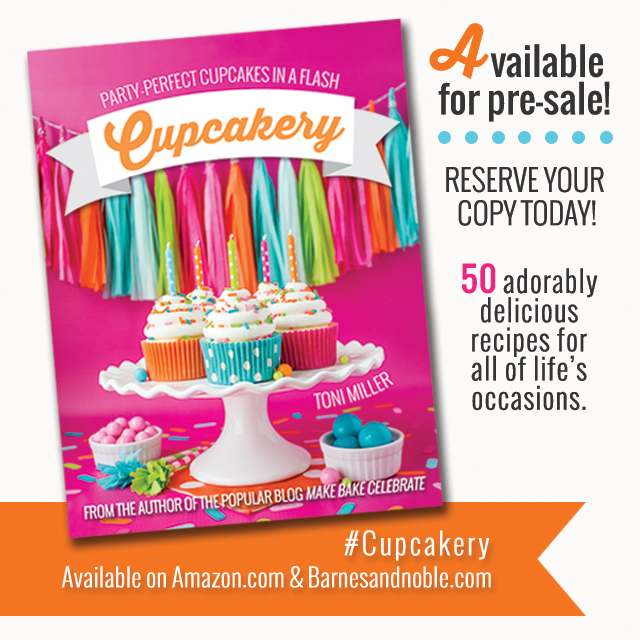 Guess what? It's already time for another sneak inside my new book, Cupcakery! Eek! Who's excited? After keeping all of this sprinkle covered cuteness to myself for months and months, I'm over the moon excited to finally share little bits with you guys. Just incase you missed it, I introduced Cupcakery and gave a first look inside last month. Currently it's available for Pre-sale on both Amazon and Barnes & Noble with a release date of June 9th. In the mean time I'm stopping in once a month until then to show you a little peak inside each of the book's three main chapters.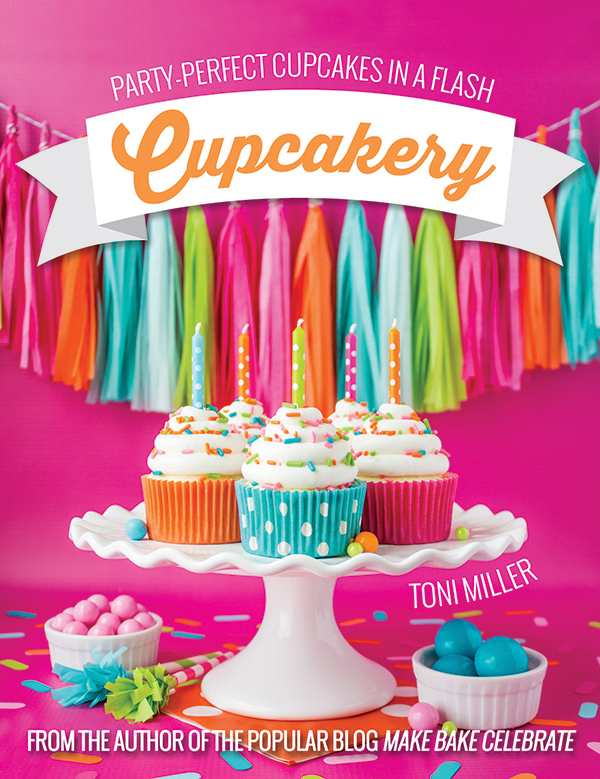 So today, we're diving right into the first main chapter in the book, CUPCAKES 101. Within Cupcakes 101 I'll give you all the information you need to make party-perfect cupcakes in a flash. And I seriously mean all of the information, this section is jammed packed so you won't have to miss a thing! You'll get the sweet scoop on all of my tips, tricks, and process for making adorable, easy, and delicious cupcakes. From choosing the right cupcake liners, picking ingredients, baking party-perfect cupcakes, how to switch up a recipe, making buttercream a breeze, frosting unique cupcakes, getting creative with toppings, and even how to store cupcakes once you're done. It's all there and every little sweet detail in between.
One of my favorite things about the book was styling the photos in this section. Since this chapter isn't recipe specific as the other two are I could really have fun with the photos and really bringing Cupcakery's bright theme to life. From title pages to informational images, it's chalk full of eye candy that will hopefully bring a little cheer to your day and inspire you to get in the kitchen and create!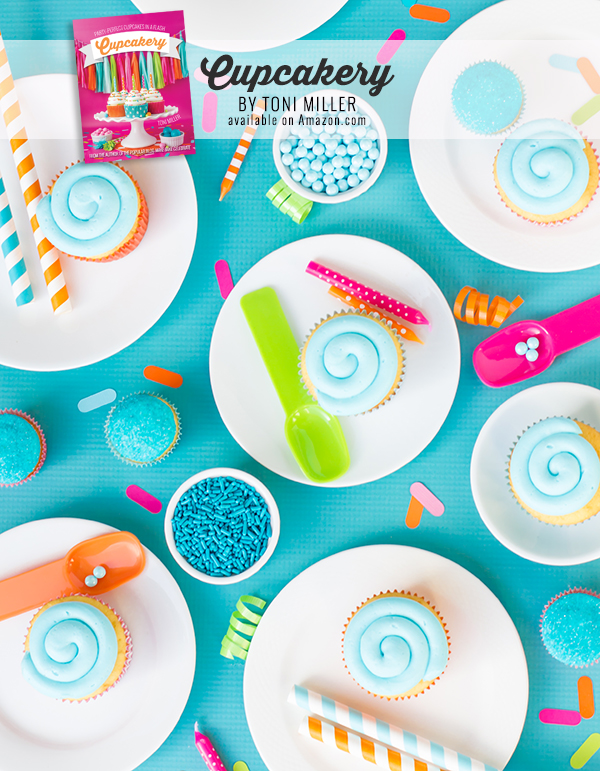 Like this "Table of Contents" shot – which is literally a table of contents…cheesy pun credit goes to the hubs, who wants that on record. Ha! But seriously…can my next 20 birthdays look like this? With a cupcake setup like this… I might not even mind aging!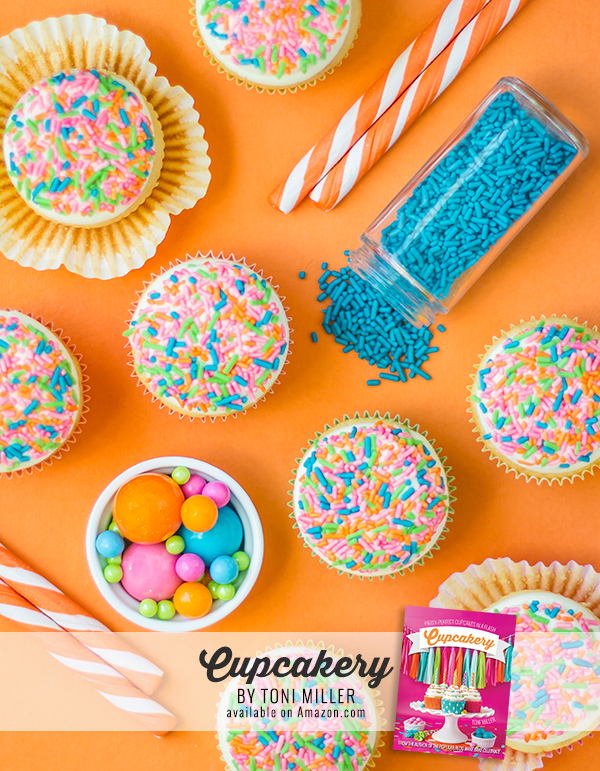 As I promised…there will be no shortage of sprinkles in this section. Orever really.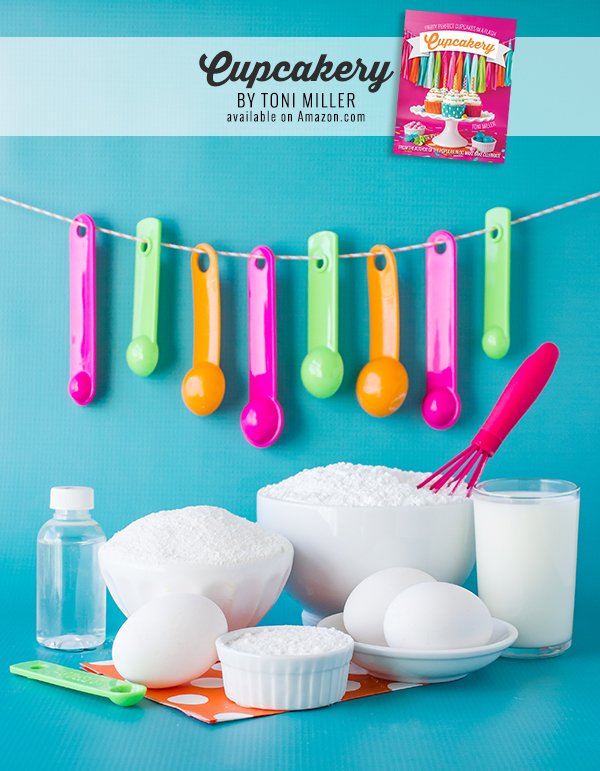 After we've gone over supplies, I'll talk about ingredients. Everything from cake mix, to powdered sugar. I'll go into detail about not only what ingredients I like to use but some substitutions you can try out as well. It's always a good to have proper ingredients, and this section will definitely get you ready to bake with confidence!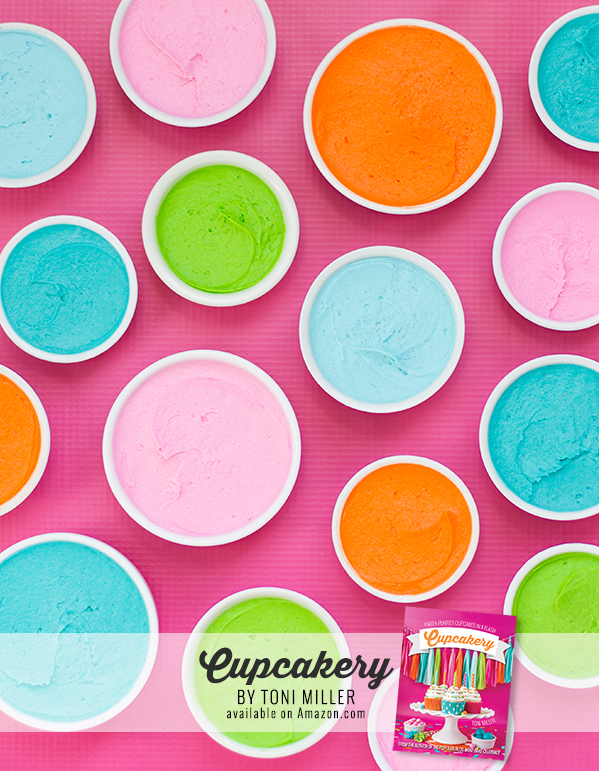 How about the icing on top? I wouldn't dream of forgetting it! In one of Cupcakes 101 subsections "The Icing on Top" I'll go over everything I know and love about frosting. From ingredient temperatures, to mixer speeds, and step by step instructions, storing, coloring and more – it's all in there to get you ready for the 50 recipes inside Cupcakery! My hope is after reading this section you'll feel not only confident to whip up the frosting in the book you'll want to venture out and try a few unique ones of your own!
Here's a just a few more sections you'll find within Cupcakes 101:
TOOLS & SUPPLIES– Thankfully, we don't need a lot of fancy gadgets to whip up yummy cupcakes. I'll go over my favorite supplies and what I recommend you have on hand to make cupcakes a breeze.
SWEET SWIRLS– A how to section of frosting cupcakes. I'll go over how to frost cupcakes from a basic swirl to a ruffle-topped creation!
TIED WITH A BOW– Packaging and transporting cupcakes from home can be a little tricky, believe it or not there are many options you can easily do right at home to package and display just a single cupcake or a few dozen! Because who wouldn't want a pretty little cupcake on their birthday?!
BEFORE YOU BAKE– Additional tips, tricks, and troubleshooting to make sure your cupcakes really are party-perfect.
I'll be back next month to share a little closer look into the first recipe section of the book, Everyday Occasions! Soon I'll be sharing details on book tour locations, sweet giveaways, Cupcakery blog tour, and more! So many fun things to share! Don't forget to click on over and reserve you're copy of Cupcakery today!