Hello hello…tap tap tap…is this thing on? Yes? Good.
So a cupcake and a cake walk into a bakery…the cupcake says to the baker…
Ok you're right I'm delaying. And maybe having a bit of stage fright because today is the big day. After 8 months of working behind the scenes, and pouring my heart and soul (along with and many other ingredients) into this project…after 125 pounds of butter…over 100 pounds of sugar…500 eggs…more sprinkles then man can count…and many many crazy coffee fueled days (and nights!) spent in the kitchen…
It's here. My new bakebook, Cupcakery, is now available for Pre-sale!! Books will begin shipping June 9th, just a few months away, but you can reserve you're copy today! So without further adieu…. introducing Cupcakery!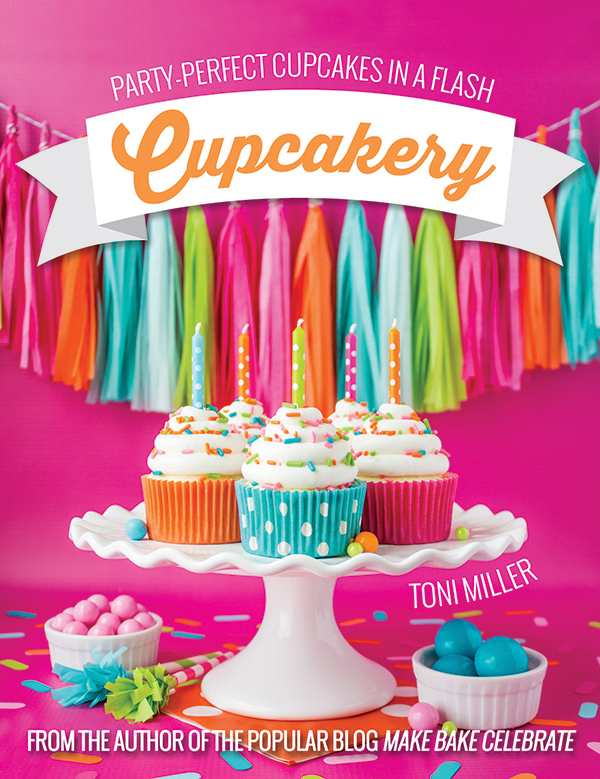 Books are currently available at both Amazon (click here) and Barnes and Noble (click here) But before you order…who wants the sweet scoop?
So what's Cupcakery all about?
Cupcakes of course, party-perfect cupcakes to be exact! Within the book you will find 50 creative yet simple recipes, that start with the comforts of a cake mix! As well as tons of info on how to create party-perfect cupcakes from baking to frosting to topping. Along with all of my sweet sources and tips and tricks to make sure your celebrating in the kitchen.
When I set out to share my love of cupcakes with all of you I had a specific vision for the book. I wanted all of the treats in the book to be delicious, adorable, useful, and of course easy. I really wanted this book to be a useful tool to bakers of any level who could dive right in and create adorably delicious (successful) cupcakes no matter their experience, for all of life's occasions! In addition I wanted the book to be bursting with cuteness, cuteness just isn't an option around here. I wanted to fill the book with bright, colorful, playful and clean eye candy that would inspire you to get right into the kitchen and have a little fun of your own. I truly hope I was able to capture it all for you.
To keep things sweet and simple I've broken the book up into three main sections:
CUPCAKES 101
EVERYDAY OCCASIONS
SEASONAL CELEBRATIONS
Over the next few months, leading up to release, I will be sharing a closer look into each of these sections. But today, I want to share with you guys an overall look into Cupcakery. Ready?! Let's do this!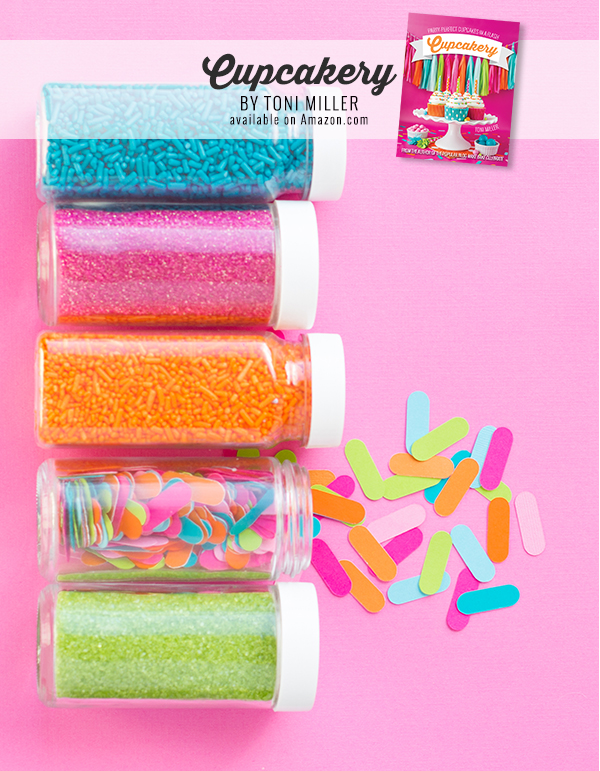 After learning a little bit about my sweet life and baking journey, you'll dive right into CUPCAKES 101. Which is full of information like what ingredients and supplies to use, how to bake uniform cupcakes, and how to frost cupcakes. This section is a great resource to answer all of those cupcake questions and obtain a good cupcake making foundation.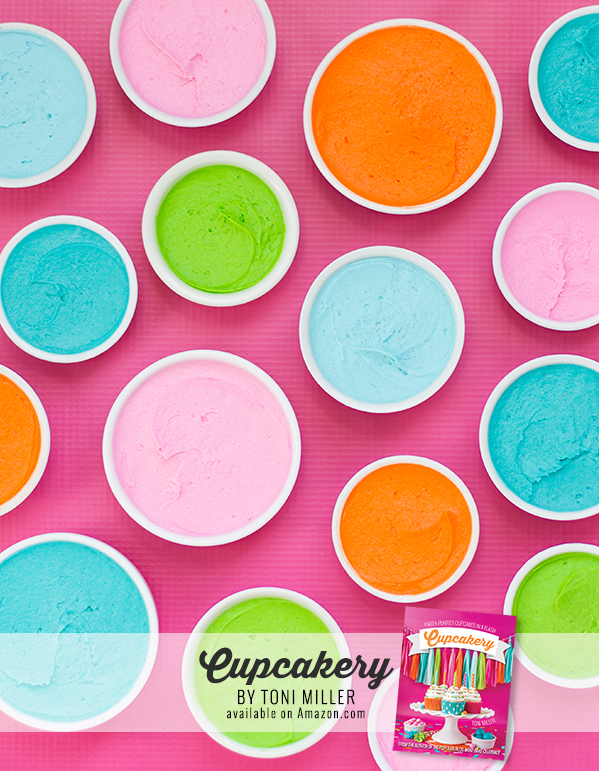 Then we'll move on to find EVERYDAY OCCASIONS which is full of fun and creative recipes to bake throughout the year to celebrate, share, or simply fulfill that sweet tooth! You'll find fun, creative, and even nostalgic recipes like…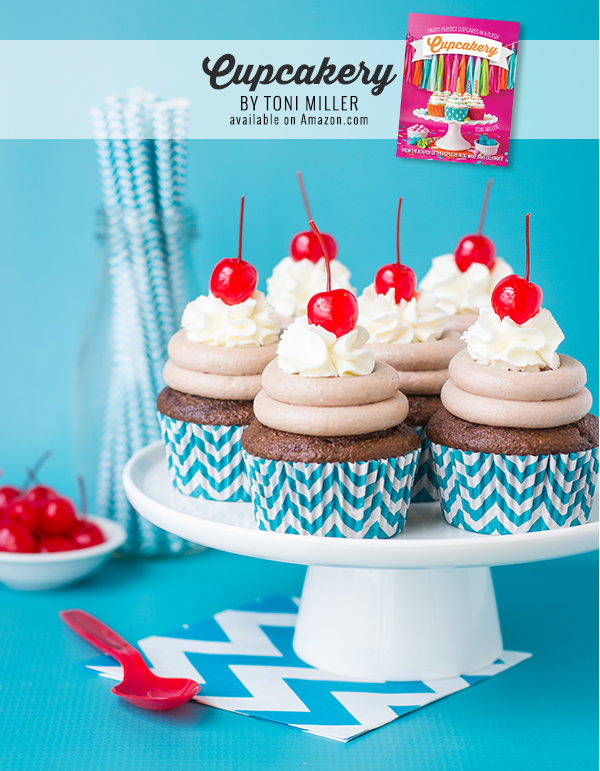 Chocolate Malt Cupcakes!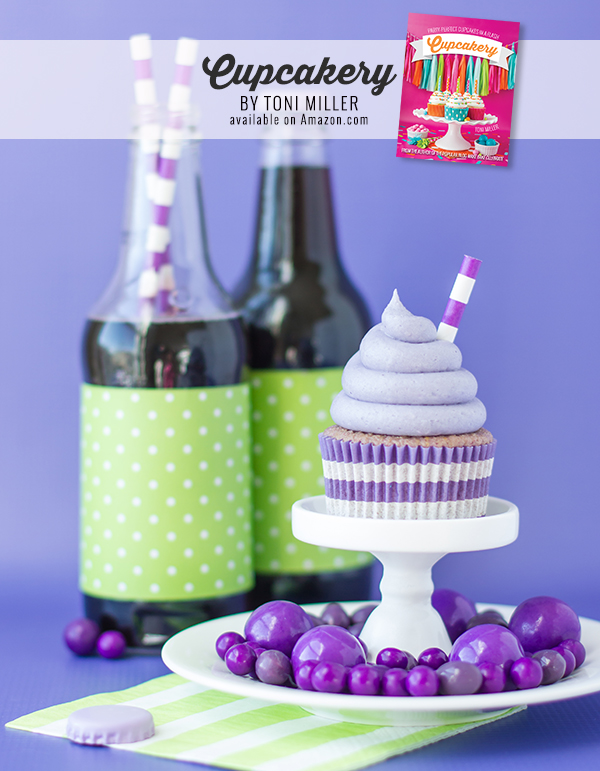 Or these bubbly purple Grape Soda cupcakes.
Then you'll explore SEASONAL CELEBRATIONS, which contains 25 season or holiday specific recipes. As the year goes by you can flip through this section and pick out what flavors you would like to create to share and celebrate with friends and family.
Like these Candy Bar cupcakes for those football fans in the fall…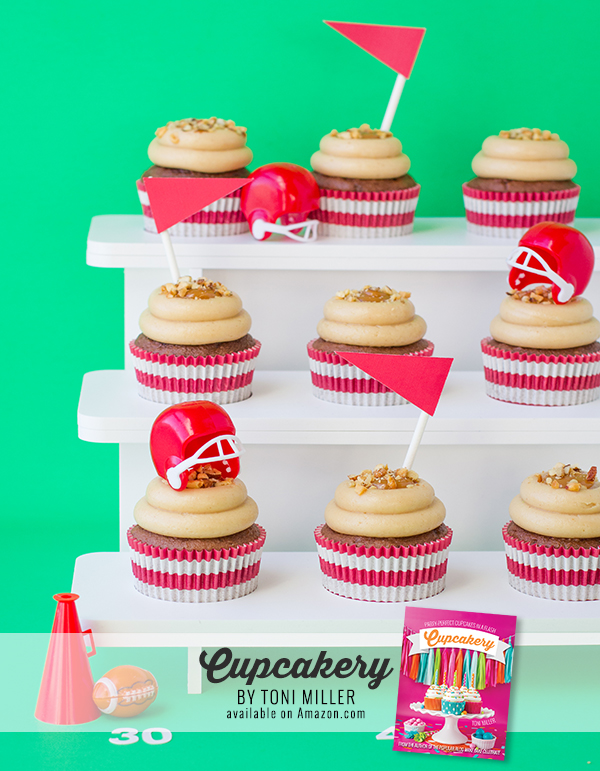 Or Green Velvet Butterscoth when St. Patricks day roll around. Green food is a must, but butterscotch frosting…yes please!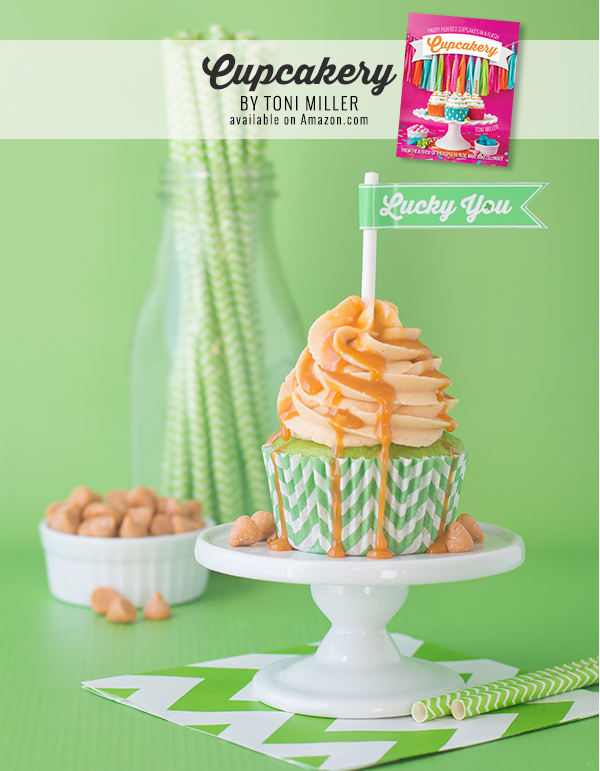 After you've enjoyed all of fun and adorable cupcakes we'll wrap things up with my sweet sources and a little more info to keep the book super handy.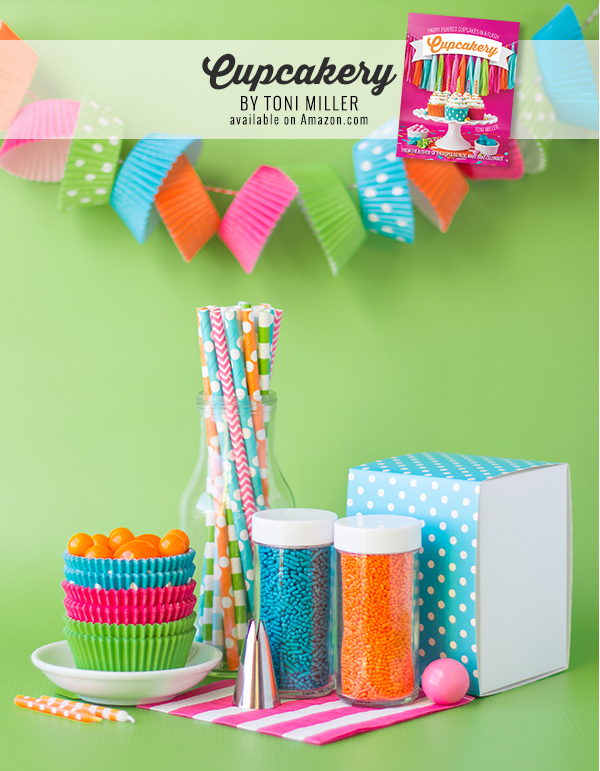 And that, is a quick look into Cupcakery! I truly hope you guys are just as excited as I am. It has been an honor to be blessed with this opportunity. Over the last year I have been overwhelmed with the support and encouragement I have received from all of you during this crazy sweet process, THANK YOU! There simply aren't words to appropriately express my gratitude.
As I said above, I'll be stopping in to show you guys a little more of Cupcakery over the next few months. As well as sharing some fun giveaways and opportunities that you guys will just love. I. Can. Not. Wait. I'll also be sharing info on book signings/tour and events which will be updated on the new "My Book" tab. (info coming soon!)
In the mean time, I would LOVE to hear you're thoughts on Cupcakery below. Along with where you'd like me to visit with the book tour! And don't forget to hop on over to Amazon or Barnes and Noble to reserve your copy today! You won't want to miss out on all the fun, I promise.