What does a witch drink? Witch's BREW obviously! And probably diet coke when its warm out. But that has nothing to do with today's post. So we'll stick to the brew for now. Which brings me right on to these Witch's Brew cookies. Because if you know me in even the smallest way you know I am all about the coffee, sprinkles, and horrible puns.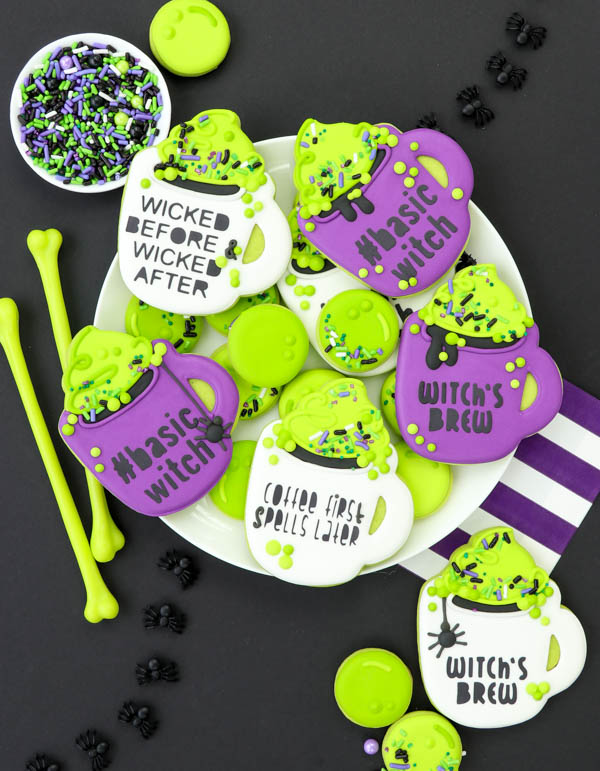 I really made these cookies to practice my cookie stencil making for some up coming projects, and I hadn't intended on sharing a tutorial. But they came out so darn cute, so the least they can do is serve as some Halloween inspiration right? For these cookies I used Sugarbelle's mug cutter and Sweets & Treats Dragon Dreams sprinkle mix. I started by dying my dough Americolor electric green because well, I'm just obsessed with that color. It gave me the green pop where the mug handle is. The same effect could be achieved by adding a little green icing with a spatula prior to decorating.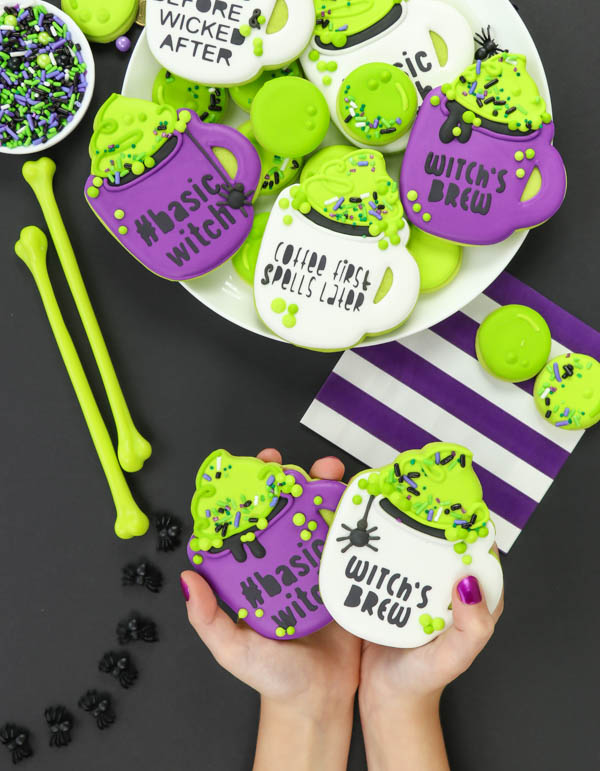 When it came time to decorate I first used the coffee mug stencil that came with the cutter and an edible marker to mark where the coffee line would go. I decorated the mug first, then once the mugs were dry I used my Silhouette portrait to create a few Witch themed funny stencils. (I'll have more on making your own stencils SOON!) After stenciling on the words with black icing I then filled in the coffee and then the whipped topping which I decided to make green. Perhaps it's toad flavored? I added the sprinkles and bubbles of green as well. So easy it's practically magic.
What do you guys think? Toad-ally wicked?
Note: Some of the above link are affiliate links, meaning if you so chose to purchase some of the items I have used and recommended in this post I will receive a small compensation. This helps me bring you even more sweets!