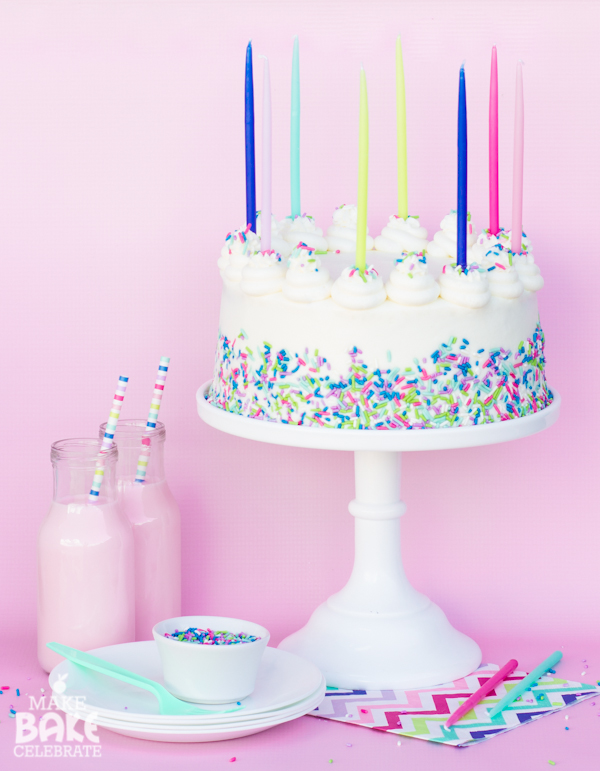 Have I ever told you I have a cake phobia – it's true, I do. Which may seem slightly insane considering my official job title is "sprinkle tosser" or ya know baker, but it's true…I really dislike making cakes or I did. Need proof? Head on over to the cakes page, you might hear a cricket or two. But why the cake phobia? Well…it all started with (cue music and thought bubble)…
My entire sprinkle covered journey started out with cakes. I found my love of all things sweet and cute by trying my hand at cakes and at first I fell head over heels with cakes, I made cakes all. the. time. Before I knew it I was taking orders and baking cakes for friends and friends of friends every week. But the more I caked, the more complex my cakes got, and the less fun I was having. I got crazy requests like Justin Beiber Heads (for reals) and basketball-strawberry-high heel combinations. Having twin babies at the time it just wasn't working. While I loved cakes I was overwhelmed. Somewhere in there I found my love of cupcakes which slowly developed into a art of creating adorably delicious and easy treats and completely left complicated cakes behind. As a matter of fact. As we moved from state to state (military) I tend to avoid the word "cake" at all cost, for fear of making one cake will turn into many. Once you make one 3 tier custom cake for one friend…you've got to make another 3 tier custom cake for another friends.
Clearly, I also have a problem saying no…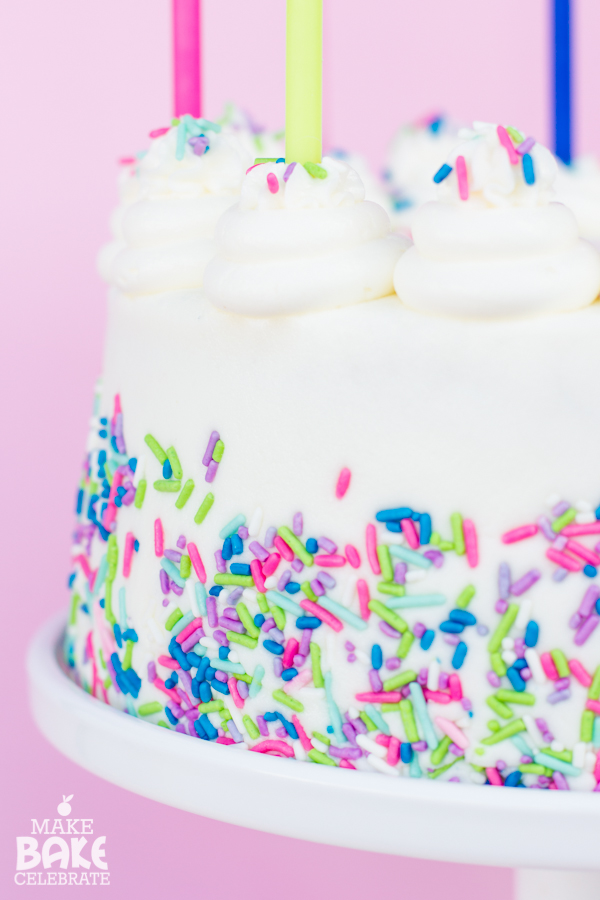 Unfortunately, me and cake have suffered a time of distance but recently I've been closing that gap! I have no idea why, but one day the thought came to me – hey you cakes don't have to be complicated. Cakes can be simple, and adorable, and delicious just like the rest of the things you love to make. DUH! I know, I know it's really nothing new to the world. But for me it was a moment of giving up my cake PTSD and allowing myself to once again enjoy the, much simpler, cake making process! Yay! It just so happened that my twins M&B were turning five soon and guess what they requested, a cake? But this time instead of cringing I was jumping in the kitchen ready to go. I decided to make them my most requested, most treasured, vanilla butter cake.
You guys, this recipe don't play around. It's crazy delicious. I've been using this recipe for years. I don't even remember where the original version came from! But people seem to remember this cake. No matter where I go or what I do people are asking for this recipe, and it's time I share! As a matter of fact just last week I was contacted by somebody who I baked this cake for their wedding several years ago. Appearantly it still remains the best cake they've ever had, and even their guest have still been asking about it! How sweet is that? To some it up, this is the best vanilla cake – hands down. It's sweet, it's buttery, it's just plain awesome.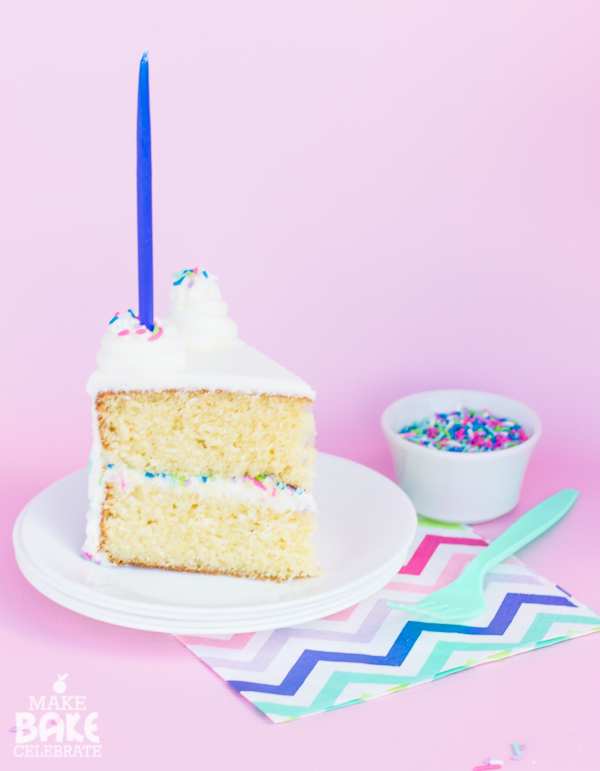 Keeping it simple of course, I frosting the cake with my traditional vanilla buttercream, added sprinkles half way up, and created a little ruffle-topped border inspired by my ruffle-topped cupcakes. The cake was then finished off with giant coordinating candles. The girls, they loved it – and I was super happy I broke my cake making boycott and now I can share one of my FAVORITE recipes with you!
Ingredients
Vanilla Butter Cake

1 1/2 cups unsalted butter
2 cups sugar
5 eggs
1 Tbsp butter extract
1 tsp. vanilla extract
1 tsp. salt
2 3/4 cups flour
1Tbsp baking powder
1 1/4 cups milk (whole is preferred)

Vanilla Buttercream

1 cup unsalted butter
1 cup shortening
1 Tbsp. vanilla extract
8 cup powdered sugar
6-8 Tbsp. Milk
Instructions
Step 1: Preheat oven to 350 degrees F. Grease two 8in baking pans with butter of baking spray and set aside.
Step 2: In a medium mixing bowl, sift together dry ingredients and set aside. In the bowl of a stand mixer (or large mixing bowl) using the paddle attachment, beat together butter and sugar at medium high speed. (this will take several minutes). Add in eggs and beat again. Add in extracts and beat until combined. Add the dry ingredients and beat just until combined. Add milk and beat until combined. Once all ingredients are incorporated, scrape the sides and bottom of the bowl and turn mixer up to medium – high and beat once more for 30 seconds.
Step 3: Separate cake batter into the two greased baking pans. Bake at 350 degrees for 30-35 minutes.
Step 4: While cakes are cooling, prepare frosting. In the bowl of a stand mixer (or large mixing bowl) using the paddle attachment, cream butter at medium speed until soft and smooth. Add shortening and extract and beat until combined. Slowly add in powdered sugar beating slightly between each addition. Add in milk 1 tablespoon at a time beating in between additions until desired consistency. Turn mixer up to medium- high and beat for 1-2 minutes.
Step 5: Once cakes have completely cooled, level, stack, and frost cake.
http://makebakecelebrate.com/vanilla-butter-cake/