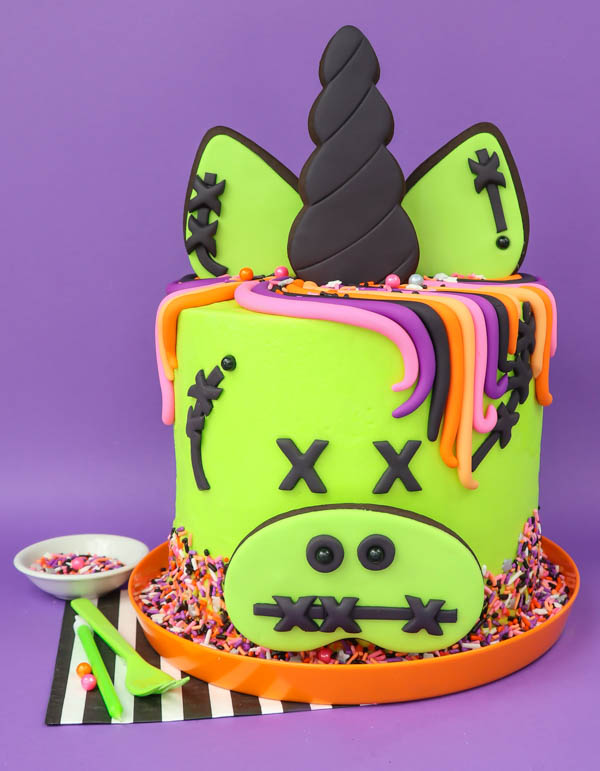 I have a little dilemma. It has occurred to me I pretty much start every post with "you guys I am so excited blah blah blah". I try to switch it up, I really do. But I can't! Because I really am pretty much always excited about sharing whatever sugar covered treat I created. I just really, really love sugar crafting and well sprinkles. I can't even help but be excited.
Today though I am extra excited. I LOVE making Halloween treats and I love playing with new Sweet Sugarbelle cutters! This post has them both plus sprinkles so excitement all around. A few months ago when Callye showed me her newest addition to her incredible cooke cutter line, cookie cutters that were made to go with cakes. Yes cookies and cake married together into one beautifully sugary heaven. When asked if I wanted to try them the answer was yes yes and yes! I've played with cookie cake combos many times and I ALWAYS love them (here and here). So it was a big yes all around. Fast forward a few months and I finally got to bring to life death the idea thats been living dying in my head for awhile now. A Unicorn Zombie Cake!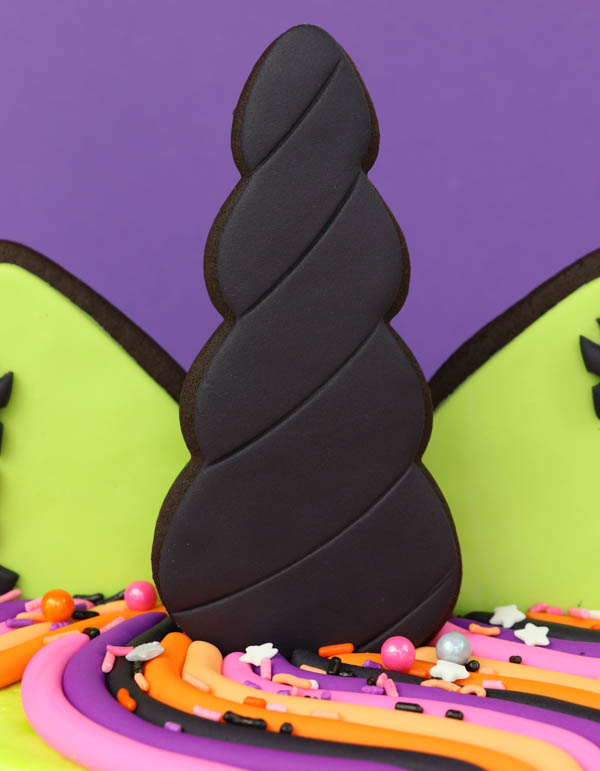 The truth is, I kinda can't even stand the Unicorn trend that's taken over social media. I mean really they are everywhere! But the though of putting a twist (ha! you're gonna have to think hard to get that one) on the trend and make is just a bit crazy made me excited. I love crazy and I really love quirky, as you know! So off I set with my new Sweet Sugarbelle cake top cutters and got to work on this little sassy unicorn lady, a little bit magical and a little bit dead!
The cutters really did make this cake so easy. If you can use a cookie cutter and roll out pla-doh you've got all the skills needed here. First I started by baking and frosting a cake. I used my fav Americolor Electric Green for the icing. Then I rimmed the cake in Sweets & Treats Hocus Pocus sprinkle mix + violet jimmies. After that I set to work on the decorations.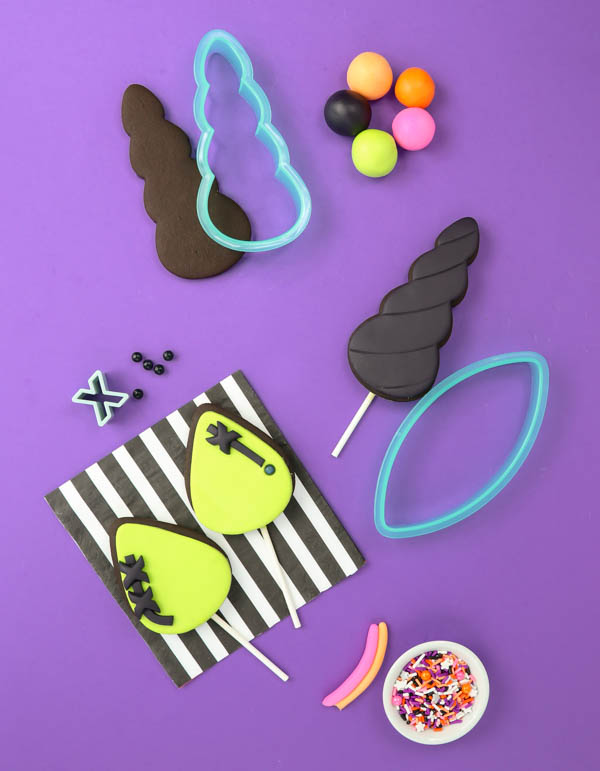 The cookies were made with this recipe. For this cake I used the horn, the ears, and the nose which I now realize I totally left out of the shot oops. Then I colored some fondant in purple, black, pink, and two shades of orange to coordinate with the sprinkles. I rolled out my fondant and cut the same shapes out of fondant as I did the cookies and gently laid the cut outs on top pressing just a bit and smoothing out. My cookies and fondant always stick together but if your fondant won't stick a small amount of corn syrup brushed on to the cookie will glue them together. Just a tad! I also found that the long ear cutter in this set made the perfect marks for the horn!
Next up I used a little left over royal icing, from another cookie set,to glue the ears on sticks. This step is optional. You could probably just push the cookies right into the frosting and prop them up with a little extra icing. But I had some extra icing laying around. However if you don't a bit of melted chocolate will work even better, less drying time. Then I finished up by adding details with fondant. For the stiching I used an x from this cutter set. To pull it all together I just pushed my now decorated cookie pops right into the cake and "glued" the nose on with left over cake frosting. The very last step was hair! Don't be intimidated by those fancy locks, were talking Pla-doh skills here people. Roll out the fondant into coils and just lay it across the cake in whatever hair do you want. So simple but such a great effect. And of course I added just a few more sprinkles to the hair as well.
What do you guys think? Are you ready to try out some cookie cakes of your own?! You can pick up the new Cake Topper Cookie Set at Micheals!
Please note!! This post contains affiliate links to products I use and love. I was provided the product to try out by the company. But the opinions as always are totally amy own.