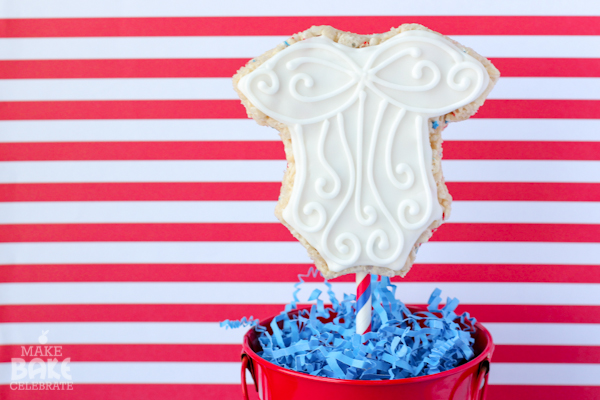 Can you guys believe the 4th of July is this weekend? This weekend! Yea, me either, I've been a total slacker in the red, white, and blue blogging department. Mostly because we'll be spending this year on leave visiting family! I've been prepping the house, 3 kiddos, and 1 doggy for the trip to the north. I can't wait to spend 2 weeks of summer fun kicked back and relaxing with family. Who am I kidding, it's going to be busy and chaotic, but crazy fun!
I had the best of intentions this year, I really did! I have a whole list of 4th of July treats that just didn't make it into reality this year. But I just couldn't skip these Uncle Same Rice Krispie Pops! Remember when I made these Leprechaun Beard Cookie Pops? They were originally inspired by the sweet Sugarbelle's Uncle Sam Beards. To this day they still remain my one of kiddo's absolute favorite treats. They are silly and fun and yummy of course! Recently Sugarbelle and I were chatting about those silly little cookies and I mentioned how much I really wanted to make some more and she came up with the idea of a rice krispie pop version, and even sent me a cutter to help me get started. (she's pretty much awesome like that)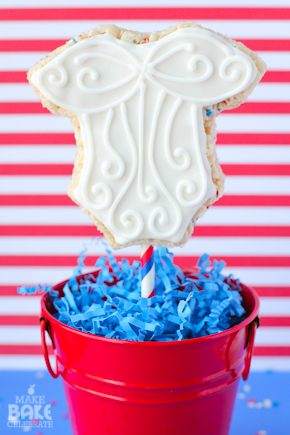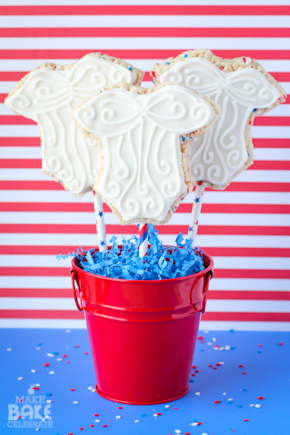 I have to admit I was a little hesitant to try these out. I honestly can't remember the last time I made a rice krispie pop and I've certainly never decorated one like this! I'm sure glad I tried it out though, not only was the rice krispie version quick and easy, I think I had forgotten just how yummy they were! Thanks Callye for the wonderful idea!
To make these I prepared a batch of rice krispies flattened into a cookie sheet about 1 inch thick, of course I mixed in some red white and blue star sprinkles because well they needed a little color and sprinkles ahem. Then I cut out the beard shapes using a large onesie cutter from the fabulous Sugarbelle. The awesome thing about rice krispie treats was I could work the sleeves into a point for the mustaches! Then I simply decorated with white piping and flooding royal icing. I think I completed the whole thing in an hour or less!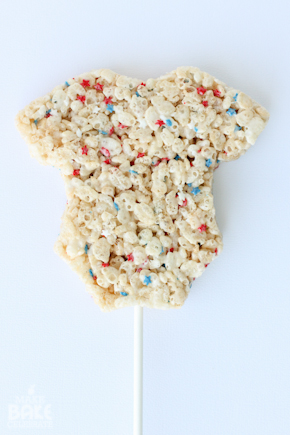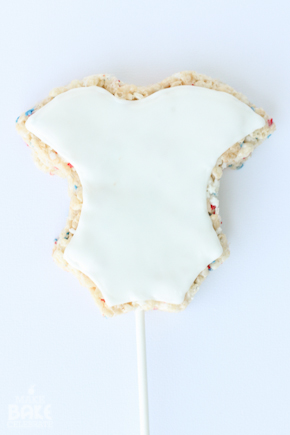 Here's what you're going to need:
6 Cups Rice Krispie Cereal
4 Cups Mini Marshmallows
3 Tbsp. Butter
Red White And Blue Sprinkles (optional)
White Flooding Icing
White Piping Icing
Makes 6 large rice krispie pops.
Note: For the royal icing I used 2 cups of powdered sugar + 2 Tbsp. of meringue powder then thinned to outline consistency with warm water. I placed about 1/4 cup in a bag with a small round tip for the piping, then I thinned the rest to a flooding icing and poured that into a bottle. For more on royal icing check out Royal Icing 101.
Step 1: Measure out rice krispie cereal in a large mixing bowl.
Step 2: Melt butter in a pan on the stove top on low. Once melted add in marshmallows and stir until marshmallows have melted.
Step 3: Pour melted marshmallows and butter over rice crispy cereal, ads sprinkles, mix until combined.
Step 4: Pour into one side of a small parchment paper lined cookie sheet. Beginning at one end press the rice krispies down and flatten out, about 1in thick. Make sure to start at one end and work your way out, you will need to keep the rice krispies thick enough to put on sticks so your rice krispies may not cover the entire pan. (TIP: Use your butter wrapper to flatten and smooth for a mess free process!) Let rice krispies cool and firm before cutting. While your waiting mix up your royal icing.
Step 5: Once cool cut out your beard shapes. I used a large onesie cutter, you could also use an ice cream cone upside down. Place lollipop sticks half way through the "onesie" shapes. Pinch the sleeves together just a bit to create a better mustache shape.
Step 6: Outline and flood pops with royal icing. Let them dry just long enough to crust over and then pipe on your "beard".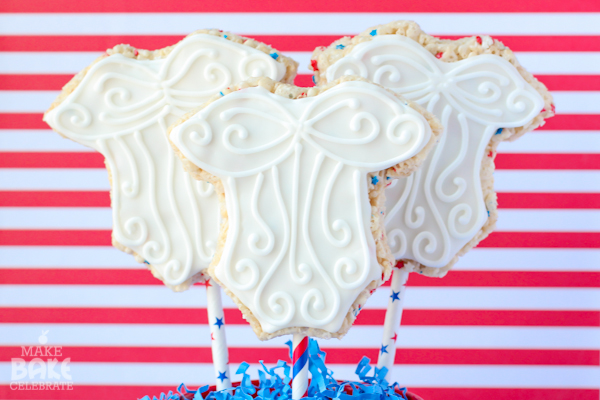 Aren't these pops so much fun? I really can't wait for the kiddos to enjoy these this weekend. I hope you guys have a wonderful and sparkling 4th!
Still looking for more easy 4th Of July Treats? Check out some of these from the past!