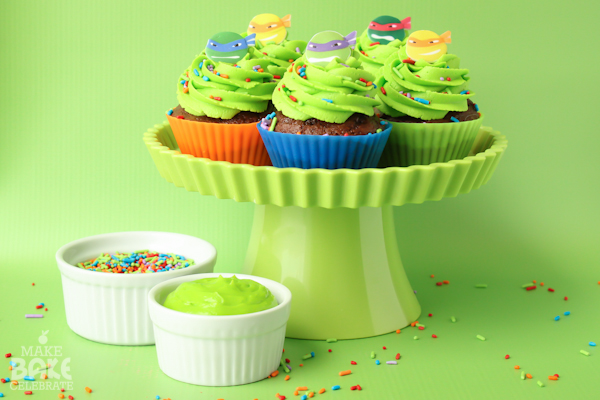 Slime, Teenage Mutant Ninja Turtles, sprinkles, cupcake baking cups, a review, and a giveaway…that's quiet a combo don't you think?! You just never know what your gonna get stopping by MBC do ya? Got to keep you on your toes! Annnnnddd it's Friday, so pretty much anything goes!
So what do all of these things have in common? Awhile back the awesome people over at New York Baking Company asked me if I would like to try out their #1 Rated Silicone Baking Cups. Let's be honest here…would I ever turn down a reason to make cupcakes? Yea probably not. But being able to try out a new (to me) baking product, which happens to match my branding (so cute!), share it here with you guys, and giveaway one to my readers… well that's just the icing on the cupcake! I was eager to receive my New York Baking Company Silicone Baking Cups because I really haven't ever used quality silicone baking cups, I have a long standing relationship with greaseproof cupcake liners and, up until this point, haven't really had the need to try anything new.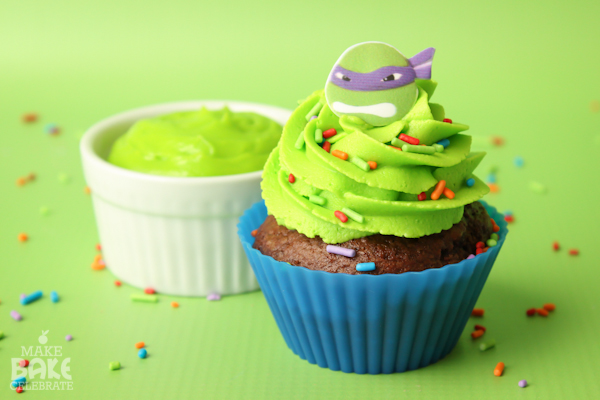 Just after receiving my liners I had the perfect chance to give them a try. A friend and I were throwing a little surprise TMNT birthday bash for another friend of ours, who happens to be an adult and a female, yea we're silly like that! I had these adorable little TMNT cupcakes planned complete with fondant toppers and so on, but you know what they say about the best laid plans…just as I laid everything out and begin working on them for the following day SURPRISE our birthday girl shows up with prepared dinner at my house, knowing I have been really busy and tasked out working on the MBC Book. On one had it so nice to know we have such great friends, on the other hand….crud I couldn't complete the cupcakes for the party she didn't yet know about! Early the next morning I'm trying to figure out a quick solution and I remember the little Wilton TMNT candy toppers I had picked up as a just incase, then I realized my new New York and Company Baking Cups were the perfect colors! Other then pink of course, so I set the pink aside (don't worry you know they will get lots of use later) and baked up some chocolate cupcakes, filled with "slime" (aka green pudding), frosted with a lime green buttercream, and topped with the Wilton TMNT Candy Cupcake Toppers. They were simple and quick and perfect for our little bash!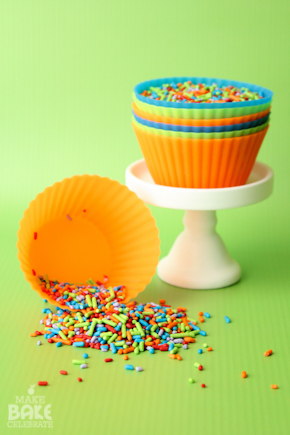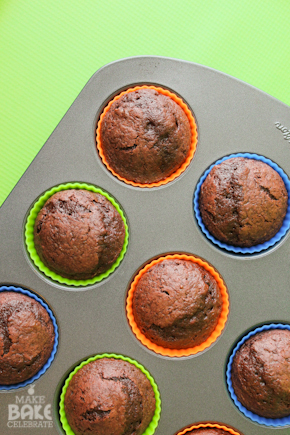 I was pleasantly surprised how well the cupcake liners did coming out of the oven. They held their shape really well and I saw no difference as far as baking goes. Once consumed the liners peeled off just as easy as a normal liner, and they were not hard to wash either. Not only are they really great for displaying cupcakes with a great color, they are really great for cutting back on waste. Although I am not sure they would be a great option for larger parties, because you have to then make sure children do not throw them away, they are a really great option to keep around the house for baking cupcakes and muffins at home. You will never have to worry about being out of liners, or buying more. Although I would suggest to buy two sets because they come in a 12 pack and cupcake recipes often produce 24 cupcakes.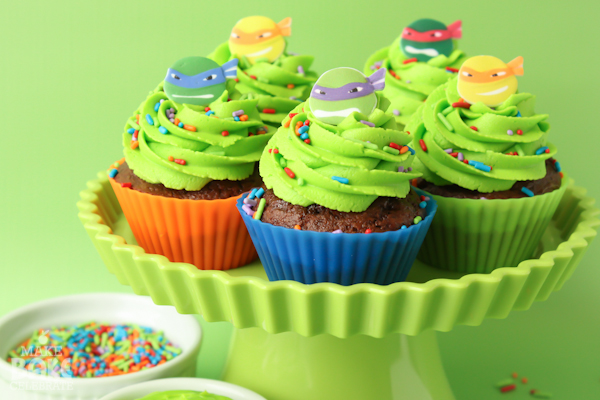 After reading the great reviews on Amazon I wanted to clarify two things, one the liners do not need to be greased and two you do not have to use a muffin tin to bake them. The liners can be placed right on a cookie sheet and placed in the oven, however, using a muffin tin will help them hold their shape creating thinner taller cupcakes.
Who would like to have a set of these, and a reason to bake more cupcakes, of your own?! The New York Baking Supply Company is giving each of you a chance to win one! Simply enter below using the Rafflecopter, the giveaway will end and the winner will be picked at random at 12:01AM on August 22. Good luck guys!