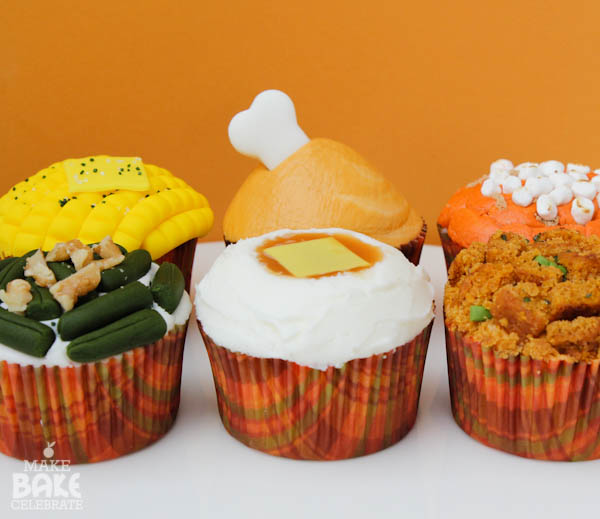 Hey there! Yesterday I shared some pumpkin pie sugar cookies, and today I'm back with the rest of dinner. (dessert should always go first right?) These are definitely some of the most fun cupcakes I've ever made…I think I have a slight major adoration for making foods that look like other foods…weird I know. I actually first made a set of these last year, but I wanted to remake and share them again because not only were they SO much fun…I have had lots of questions about them!< This year I had much more time and was able to change several things, I really love how they came out. I decided not to make pumpkin pies since I already made them in sugar cookies…and I added stuffing and yams. I should warn you though…these little guys tend to cause brain confusion and happiness :) I made them for two different get togethers last year and the reaction was amazing. Seriously, I loved watching people decide which one to have…then sit there and kind of study it and figure out just what it really is. So much more fun then bringing just bringing the yams….
Green bean casserole anybody?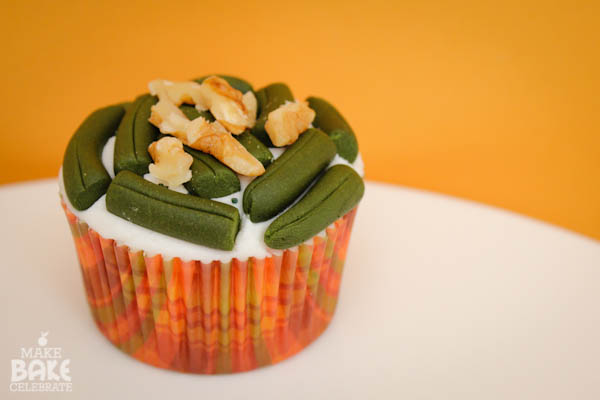 Then maybe a nice turkey leg with yams…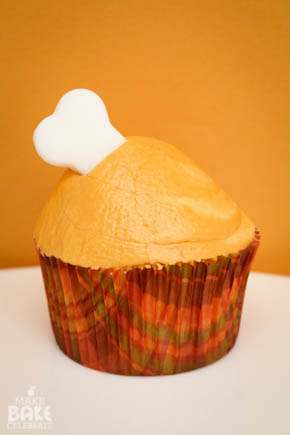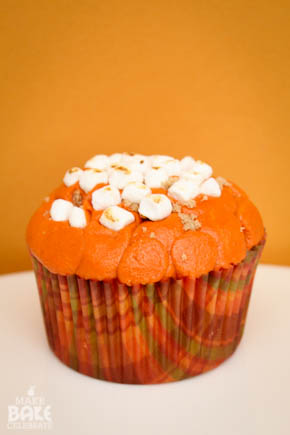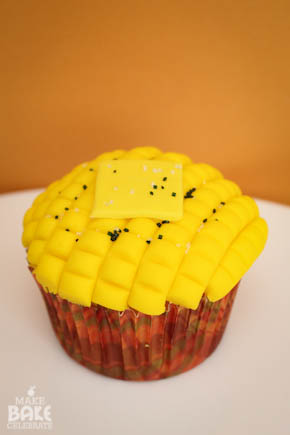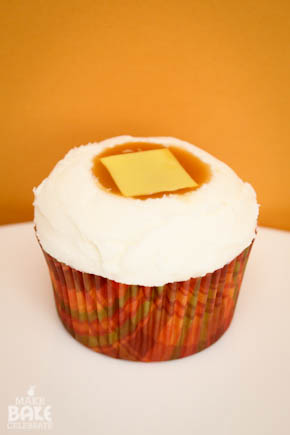 …and Thanksgiving wouldn't be right without corn, mash potatoes and gravy, or stuffing of course.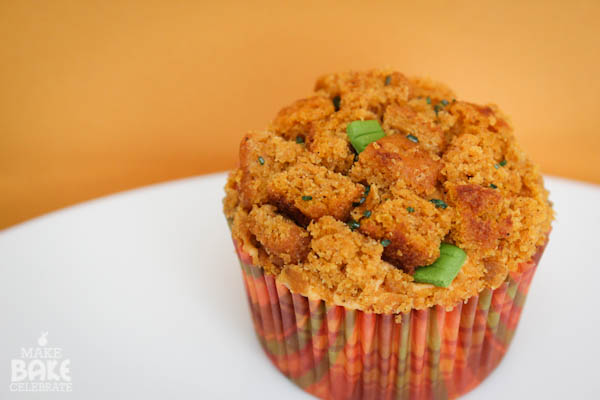 So fun right?
Ok now I will break it down a bit so you can get a good idea of how I made these guys.
I didn't do exact step by step photos because…well it would have been Christmas before I finished…then we would have needed a ham, ha! But I am confident you will be able to get the concept anyway. Just remember to be flexible! You may not have a certain tool or item but that's ok…you can do lots of substituting for what's in your own kitchen. The main items your going to need are cupcakes ( I recommend these pumpkin ones), a batch of buttercream, fondant, yellow, copper, green, and ivory coloring, and caramel. For some of the details I used marshmallow bits, walnuts, and extra pumpkin cupcake, and black and white sanding sugars.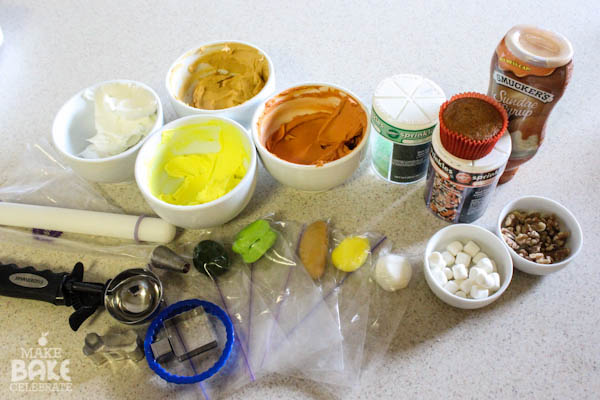 First I made a half batch of buttercream, then separated it into four bowls. A half batch was about enough for a dozen cupcakes. I left one white, dyed one a light yellow, one a yam color (copper + a little brown) , and one a a tannish color (ivory + a little brown). Using Wilton gel food colors.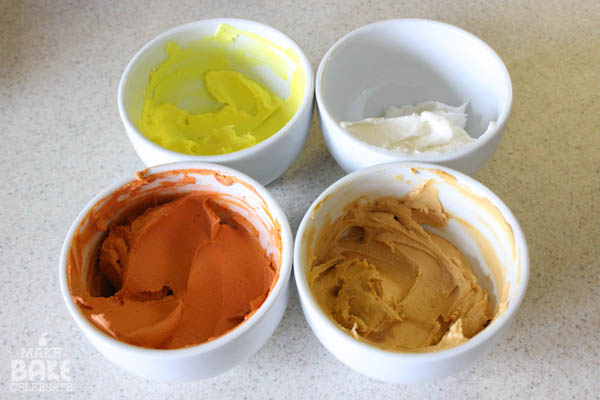 Then I colored my fondant. I only made six cupcakes so I didn't make very much. I made the tan for pumpkin pie…which I later decided not to make. :) A small box of Wilton's fondant will do or you can make a half batch of your own marshmallow fondant.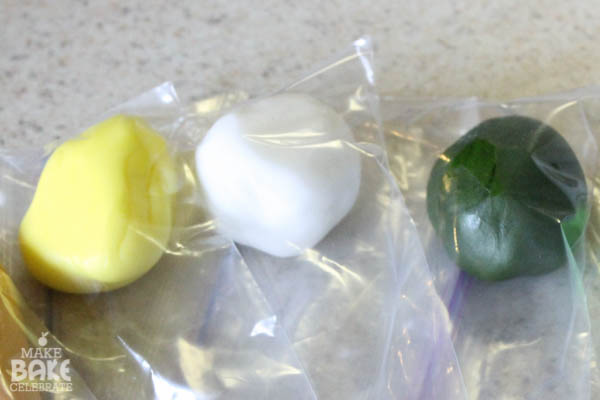 I then did each "food" one cupcake at a time. Here's what I used…
For the mash potatoes I started by using an ice cream scoop to put on a nice large scoop of white buttercream. Then I smoothed it out a bit with a small icing spatula and then used a TSP to push a dent into the center which will nicely hold the caramel. Then I poured some caramel "gravy" into the dent and placed a yellow square of fondant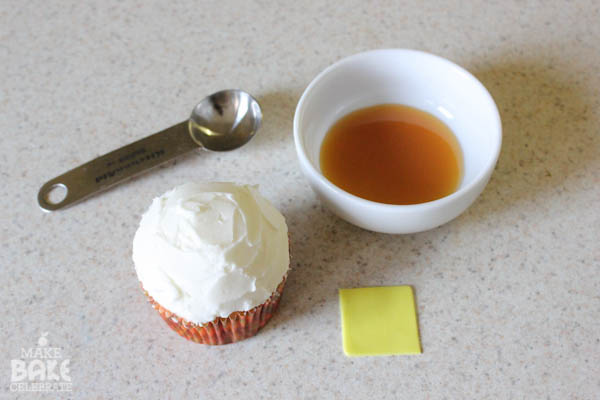 For the green bean casserole I used a large round tip to pipe on a flat swirl of icing on my cupcake then smoothed it out with a Viva towel. I rolled my dark green fondant into coils then cut into small lengths and added a line with a knife. I pushed them into the buttercream and then added sanding sugar "pepper" and walnut "fried onions".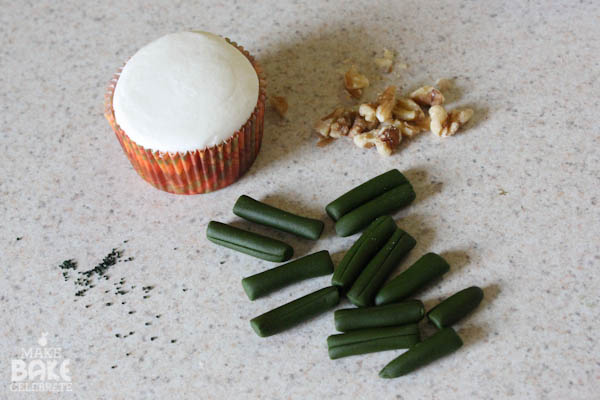 I really switched up the corn this time. Last year I tried using both m&m's and jelly bellies. They came out good but it's a pain in the butt and expensive to get all yellow in either one. So this year I used yellow fondant and rolled it out into long coils about 1/4 inch wide. Then I used a knife and pressed lines all the way up to make rows of corn. To assemble I first I pipped a flat swirl of buttercream on to the cupcake and smoothed with Viva towel. Then starting in the middle I laid the strips of corn on to the buttercream and trimmed each side down. Then a topping of a fondant "butter" square and some "salt and pepper" sanding sugar finished them off.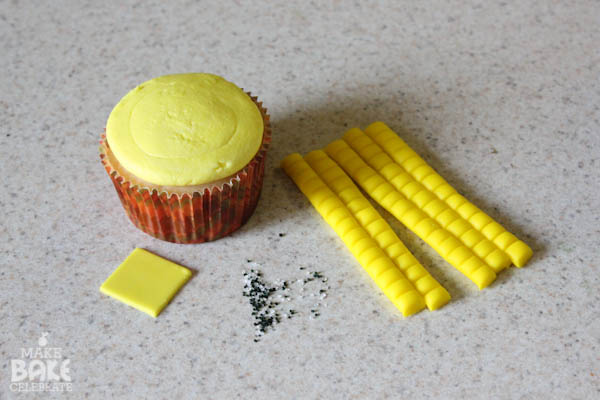 The turkey leg was pretty simple. I  swirled buttercream up slightly off center then smoothed it out with a viva towel as I did here. Then I stuck a fondant bone in the point ( I cut it in half). I bought my little bone cutter at a local baking store…but if you don't have one you could shape one pretty easily or even make a bone out of melted chocolate then cooled.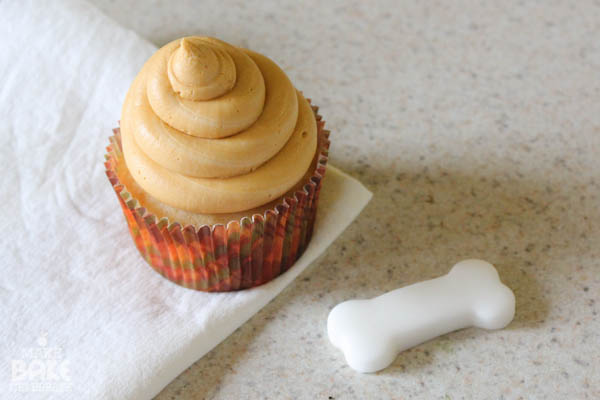 The stuffing really stumped me for a moment..until I realized it looked just like cake! DUH! So I cut up an extra pumpkin cupcake into little chunks to make the stuffing. Which I just pressed into a flat swirl of buttercream using the tiny crumbs to cover the bare icing spots. Then I added a few small fondant "celery" pieces and some green sanding sugar "spices". This is why I recommended making pumpkin cupcakes because this color worked perfect!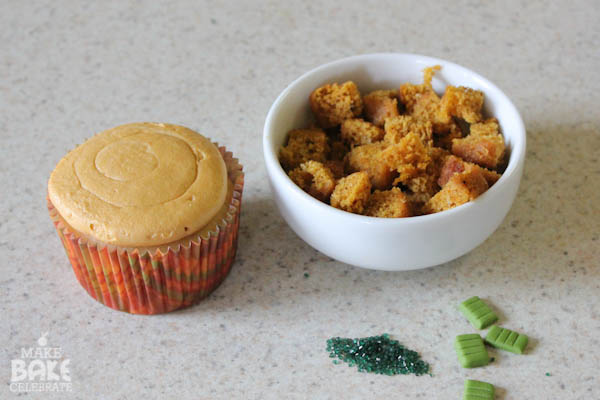 For the yams I used a large round icing tip and pipped on blobs of icing. Then I smoothed out the tips with a Viva towel, sprinkled a bit of brown sugar on top, then some Jet-Puff marshmallow bits. I couldn't help but toast them. Of course mini marshmallows would work just fine.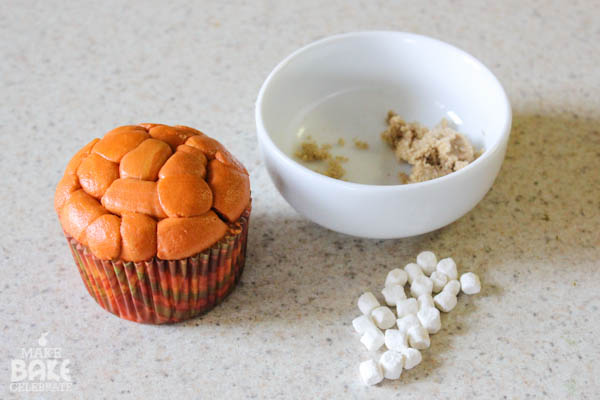 See they really aren't as hard as they look? I really love the "stuffing" which one is your fav? I hope remaking these will help you guys create some awesome Thanksgiving dinner…er...cupcakes for your family!
I don't know about you but now I'm starving…and Thanksgiving is still two weeks away! :)