You guys. You guys. I am SO in love, but not in a mushy husband and wifey way. EW. There's only one kind of love we're taking about here, awesome frosting kind of love obviously. I've been giving you little hints here and there butttttt I have recently fell pretty hard for swiss meringue buttercream. After years of using American buttercream or Decorators Buttercream, I knew it was time to try something else. Don't worry American buttercream will always have a place in my heart, sometimes you just need a good American buttercream. But oh my gosh for decorating simple and smooth cakes, Swiss is my new go to. I've been playing with it for months to make sure I really had it down before I could confidently share all about it with you guys. But that time has come, and soon I'll have an entire post solely dedicated to it, with all you need to know. But for today let's get right to it and talk about this Swiss Meringue Cotton Candy Cake.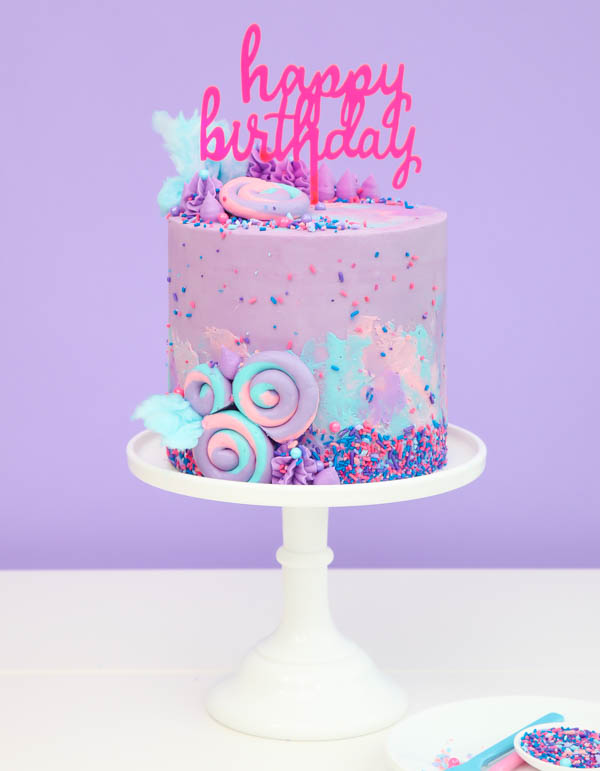 A few months ago you guys might remember I made some Cotton Candy Cupcakes as part of a collaboration with Sweets & Treats. I used my signature multicolored swirl, Sweets & Treats Cotton Candy Sprinkle Mix, and a few fun puffs of cotton candy of course. I had so much fun working on that project, that sprinkle mix is SO pretty and did I mention it has real cotton candy bits in it?! I really loved how they came out, they became a new fav of mine and before they were even done I was dreaming up a cake done in the same exact fashion! So when I got the chance to bake for Sweets & Treats again…this cake was a no brainer.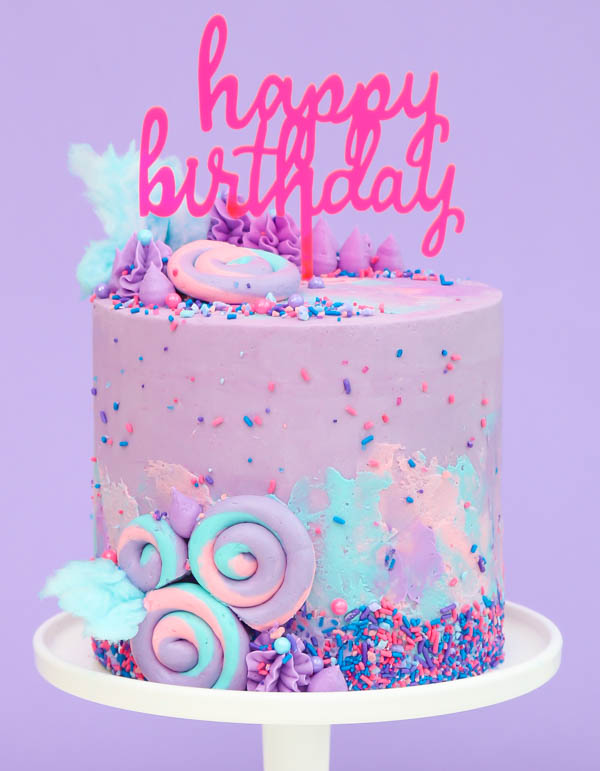 Before we get to the decorating let's talk about them cake guts. For the inside of this cake I actually used white Pilsbury cake mix, because if I'm being completely honest…it's my favorite white cake beating all scratch recipes hands down. Especially because it's naturally so white it colors beautifully. And I knew I wanted ALL the color inside this cake as well. So to start off I baked 3 seven inch cakes 2 blue, 1 pink, one purple. You can adjust your cake size and height however you would like, this one took 3 cake mixes.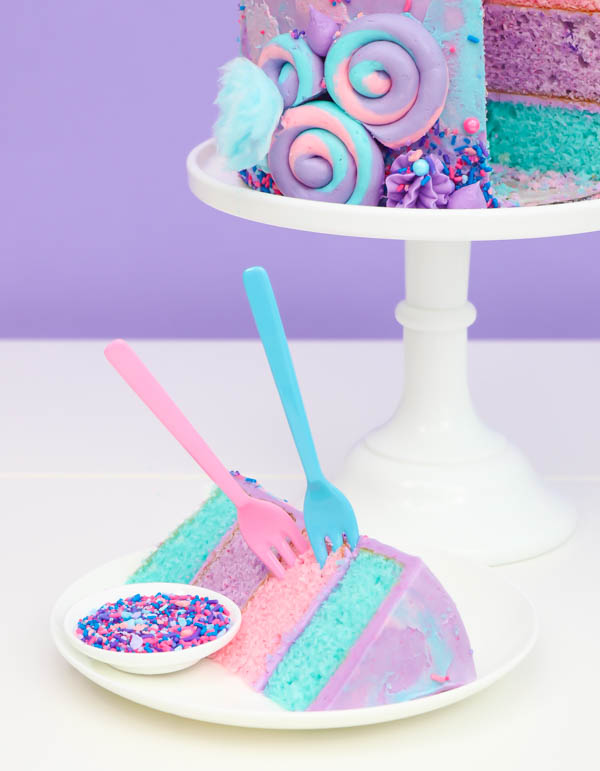 Once they were baked and cooled I made my cotton candy swiss buttercream (recipe below). After it was done I separated 1/3 in one small bowl to color pink, and another 1/3 cup in a second small bowl to color blue. The rest I colored purple. To decorate the cake I frosted the entire thing in purple swiss meringue and chilled for 15 minutes. This lets the purple layer get nice and firm. Then I use a small frosting spatula and placed little spots of pink and blue here and there along the bottom half gently scraping with a cake smoothing tool after to flatter them all out. If any spots need a little more you can add them here as you need before moving on. I also did a little pink and blue to the top as well. I'm not sure what to call this effect! Right after I put the pink and blue buttercream spots on I started adding my Sweets & Treats Cotton Candy sprinkle mix. Isn't is SO pretty! I like to set the cake over a baking sheet first to catch all the sprinkles because we're not waisting any sprinkles around here – no way. Then I fill a cupped hand half full of sprinkles and gently press them onto the fresh icing. Once I've gone all the way around and I feel the main sprinkles are on. I like to have a little fun and "toss" a few sprinkles here and there up to the top. Just a few at a time though!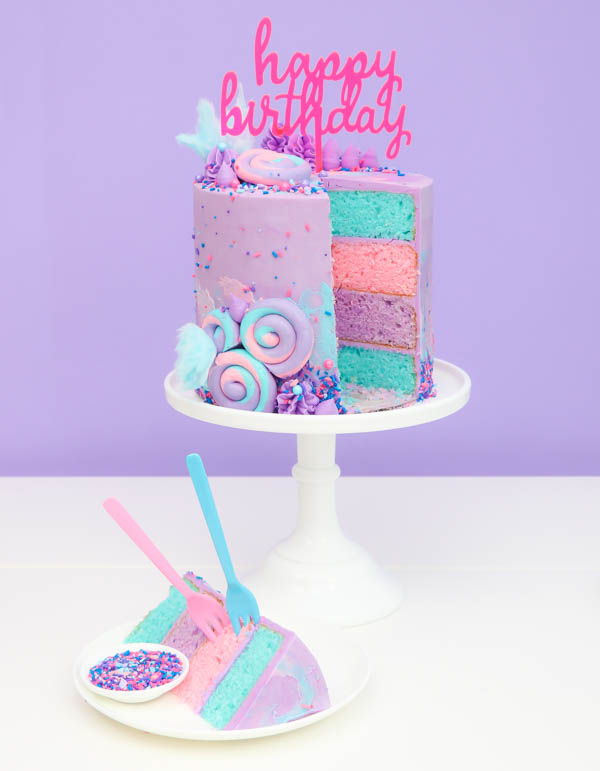 Now comes the buttercream swirls! You might be thinking…how did she pipe those on the side of the cake? The answer is…I didn't! After adding pink, purple, and blue to a piping bag I piped the swirls on a parchment paper lined cookie sheet. And then I froze them! Once they were pretty firm, about 15 minutes, I gently "glued" them on to the sides and the top with some extra frosting from the piping bag. Then it was time to finish the cake. I first added the cake topper, then I used my leftover purple buttercream to make some little buttercream poofs (Wilton tip 2A) and ruffles (Wilton tip 2D) I finished everything off with more Cotton Candy sprinkles and of course…a little cotton candy! Don't forget not only will this cake need to be kept in the refrigerator you will want to wait to add the cotton candy until just before serving so it won't melt.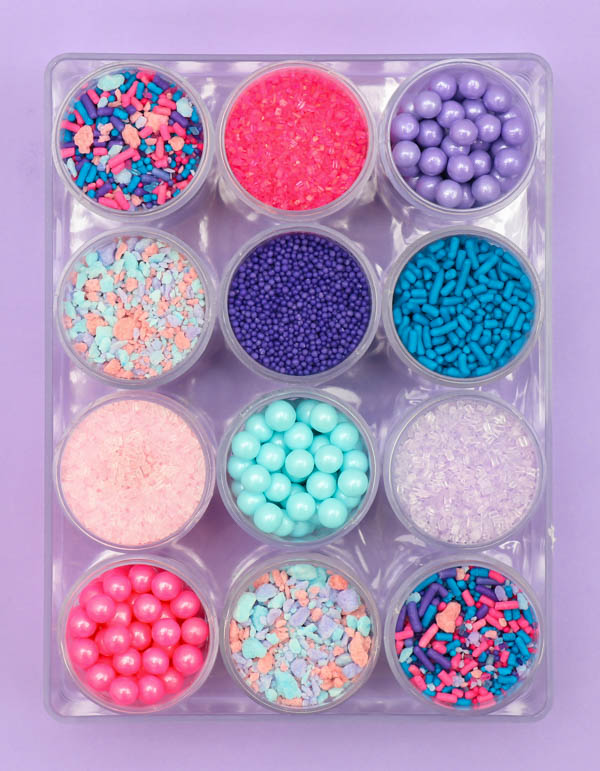 I hope you guys try out your own Cotton Candy cake, but what's that? You'd like some of those gorgeous sprinkles for yourself? Well you're in luck. Im hosting a giveaway over on Instagram to win an EXCLUSIVE cotton candy sprinkle mix from . IT's SO PRETTTTYYYY. The giveaway won't last long – so hurry over and enter! You can also grab your own Cotton Candy sprinkles here OR check out the other sprinkles they offer. Heads up..there are hundreds – grab coffee.
Are you ready to try some swiss meringue buttercream, in cotton candy flavor?!?!
Cotton Candy Swiss Meringue Buttercream
9 large egg whites at room temp
2 cups granulated sugar
4 sticks (1 lb) unsalted butter softened but still cool and cut into small chunks
1 tbsp good quality vanilla
1/4 tsp salt
1-2 drams Cotton Candy flavoring oil (amount will depend on how strong of flavor you would like)
Step 1: Combined the egg whites and the sugar in a metal or glass bowl of an electric mixer. Whisk together until combined. Note: make sure there is NO egg yolk in the egg whites. The fat content in the yolk could possibly ruin the frosting.
Step 2: You'll need to setup a water bath to now heat the egg white/sugar. Add about 1 inch of water to a small pot or saucepan that allows you to sit the mixing bowl on top of it without touching the water. Heat the water to a simmer and sit the mixing bowl on top. Continue slowly whisking the egg whites to be sure the eggs don't begin to cook. After a few moments you'll see the sugar has begun to melt making the mixture smooth. When the mixture is hot to the touch test it by putting a little between your index finger and thumb. If you can no longer feel the grit of the sugar it's done heating. Becareful! Don't let the mixture get TOO hot before testing, ouch!
Step 3: Set the bowl on the mixer, using the whisk attachment, and turn it to medium-high. Set the timer to 15 minutes and let it do it's thing! At 15 minutes check to see if the bowl is now cool and the egg whites have turned into a fluffy stiff meringue. When you pull the whisk out it should have a shiny peak of frosting standing off the top. If it's not quiet there yet turn then mixture on for another 5 minutes and check again. Sometimes my meringue will become stiff before my bowl cools. What I do in this case is place it in the fridge for up to 10 minutes before continuing. You want to pay attention to the cooling part because if it's not cool it will wreck havoc on your butter in the next step.
Step 4: Turn the mixture on medium and begin slowly adding in the butter. Whip it on medium-high again until it has turned into smooth beautiful buttercream. Sometimes the butter can turn the frosting into a runny mess. After whipping for a few minutes if it doesn't turn back into beautiful fluffy buttercream place it in the fridge for 10-15 minutes until cool then rewhip again until it's beautiful fluffy meringue buttercream.
Step 5: Beat in the vanilla, cotton candy flavoring, and salt. Color as needed.
Heads up! To keep those legal gurus of the world happy, I need to inform you that some of the link in this post are affiliate links. In short – I may earn a small commission from the use of said link with no cost to you! But don't worry I only link to stuff I use, love, and know you will too!
I received products and/or commission for this post, however, the thoughts, ideas, and content are totally my own – as always!