Shopping and baking – two of my favorite things. You guys should see me in a baking store, it's like a four year old in a candy factory. If I could, I would live in the sprinkle aisle at Country Kitchen SweetArt. I admit the sight of a new mix of sprinkles or an adorable new cake stand just might stop my heart a little. Growing up I never wanted to get my mom "kitchen stuff" for gifts, because that wasn't really for her. Now, as a mom myself, kitchen stuff is my favorite – especially when it's cute! The truth is with the wonder of the internet I could shop for baking goods for weeks, and create a list miles long. But since we haven't got all day here I've rounded up some of my favorite baking items I am crushing on or already loving in and out of the kitchen, just in time for Mother's Day. Feel free to send this link to the hubs ladies…let's face it, they need a little nudge. Your welcome.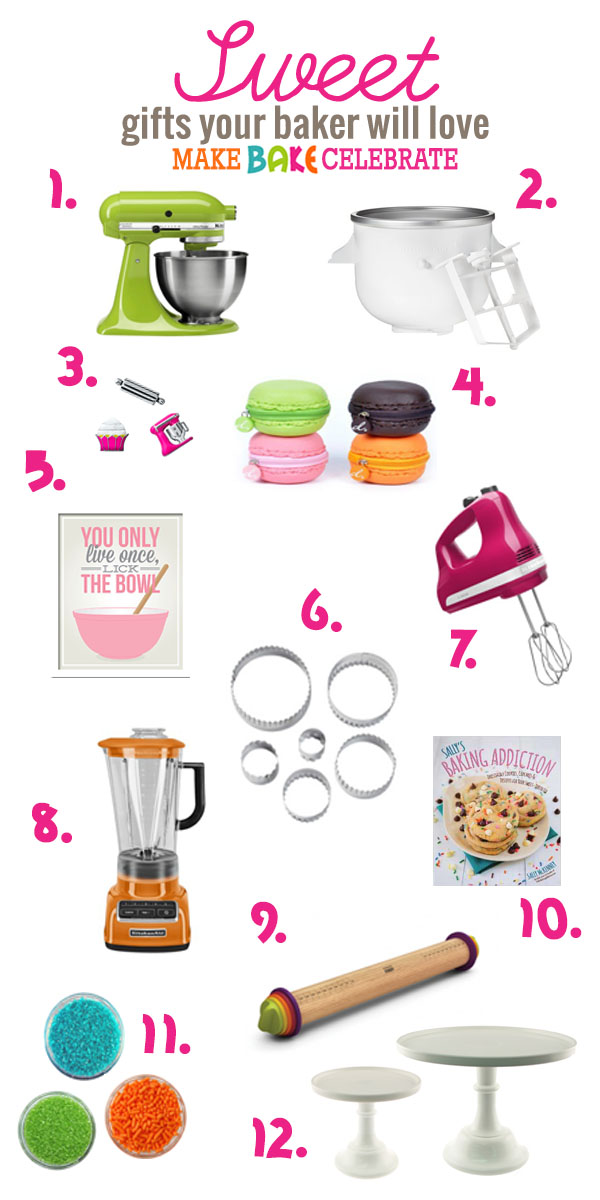 1. Kitchen Aid Stand Mixer – A mixer to a baker is like scissors to a hairstylist. I personally wouldn't trade my Kitchen Aid for the world, and how can you go wrong with all adorable colors they have? To be honest, I've been considering a second one!
2. Kitchen Aid Ice Cream Attachment– This one is for those who already own a Kitchen Aid mixer of course. I am totally crushing on this ice cream attachment for the Kitchen Aid mixer, with summer right around the corner I know we would get lots of use out of it!
3. Origami Owl – I am excited to just have gotten my first Origami Owl necklace! If you haven't heard of them it's a customizable jewelry line that consists of lockets, chains, and charms. They have several adorable baking charms! If your in need of a consultant I used these sweet ladies!
4. Macaron Coin Purses – Seriously, there's no cuter solution to coin storage, oh and did I mention they are scented! I'll take one in every color please!
5. EatSayLove Baking Prints – If you guys haven't checked out her shop yet you must! It's full of adorable and funny baking/kitchen themed prints. I've been dying to order some forever just have to figure out where to put them!
6. Cookie Cutters – Why not get together a cute little basket of fun cookie cutters? If your baker loves to bake cookies trust me on this one, cutters for the win!
7. Kitchen Aid Hand Mixer – Sometimes you just need something a little handy! I was so lucky to receive a pink digital one for Christmas, and I absolutely love it.
8. Kitchen Aid Blender – I'm pretty sure this would look just adorable sitting next to a matching Kitchen Aid stand mixer…dontcha think? Oh yea…and it's super useful for baking too. ;)
9. Adjustable Rolling Pin – You guys have heard me rave about this one before I'm sure. Seriously, it's the best rolling pin I've ever had, it makes keeping things smooth and even effortless.
10. Cook Books – With all the great new cook books coming out, you can't go wrong! I've currently got this one from Sally's Baking Addiction at the top of my wish list.
11. Sprinkles – Seriously, don't underestimate the power of sprinkles. A big basket of colorful sprinkles…you might be their new favorite kid.
12. Cake Stands – I have serious cake stand addiction. I've have my eye on these while milk glass stands for like ever and they range from 6in to 12in!
So let's hear it? What items are you currently crushing on? Is there anything you couldn't live without in your kitchen? Let me know in a comment below! I'd love to check them out – you know, research!