Happy National Pancake Day!!! And if you're reading this and it's no longer national pancake day, then happy pancake day to you anyway! Because seriously, everyday should be pancake day. I mean am I right or am I right…
My kids would fully support me making pancakes everyday. As I've shared many times before, their pretty much pancake nuts. So I'm always looking for a fun new way to mix up pancakes, they're just so easy to get creative with and the perfect staple for breakfast night. Recently I've been itching to try making some homemade strawberry syrup for our pancake adventures. Check and check..delish!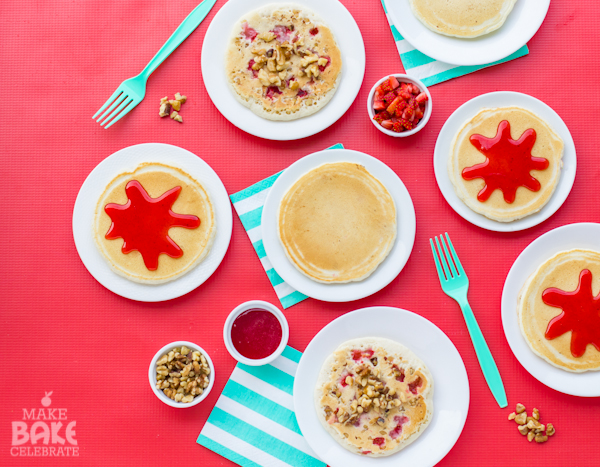 Seriously, if you've never made strawberry syrup before (or even if you have) you just have to try some! This recipe is easy and yummy beyond words. If I had let them the kids would have ate it with a spoon I tell ya! But of course I can't allow that right? All good things in moderation of course, except chocolate. So I whipped up some of our fav Krusteaz buttermilk pancakes and loaded them up with fresh strawberries and walnuts. After a drizzle of strawberry syrup, there was no stopping those guys. You can hop on over to Krusteaz.com to save and print the recipe or dig right in below. While you're over at Krusteaz you may want to take a peak at their other pancake recipes, with all the different combos, you could have pancake week instead!
Strawberry Walnut Pancakes with Strawberry Syrup
Ingredients:
Strawberry Syrup
1½ cups chopped strawberries
1½ cups water
1 cup sugar
Strawberry Walnut Pancakes
2 cups Krusteaz Buttermilk Pancake Mix
1 1/3 cups cold water
½ cup diced strawberries
¼ chopped walnuts
Step 1. For Strawberry Syrup: Place chopped strawberries and water in a small pot and heat until boiling. Once boiling turn down to a simmer and let strawberries continue to cook for about 15 minutes. Once the strawberries have lost most of their color and the water has turned red, place a second small pot on the stove top and using a metal strainer strain the strawberry liquid into the new pot, do not press the strawberry chunks through the strainer. Discard strawberry chunks. Add sugar to the strawberry liquid and bring to a boil, stirring frequently until all sugar has dissolved. Reduce heat to a simmer and allow liquid to continue thickening, stirring frequently about 10 minutes. Once thickened, pour into a glass container to cool.
Step 2: For Strawberry Walnut Pancakes: Preheat nonstick griddle to 375°F. In a medium mixing bowl, mix together pancake mix and water until fully combined. Scoop pancake mix onto griddle 1/4 cup at a time sprinkling diced strawberries and walnut pieces onto the top of each pancake right after pouring it on to the griddle. Let each pancake cook approximately 1½ minutes then flip over to the second side and cook an additional 1½ minutes.
Step 3: Serve warm with butter, strawberry and syrup.
Enjoy those happy bellies and silly smiles! But close the syrup…you can't eat it with a spoon either!
Who's having breakfast for dinner tonight?
*Please note: I was compensated to develop and share this recipe for Krusteaz® all opinions are mine and mine alone as always!*