Are you guys sick of pink yet? I hope not, because if so…you might be reading the wrong blog. I kid, I kid. I know I've been on a bit of a pink kick lately…but to be fair…it is that time of year. But for those of us who can't get enough…#pinkeverything! But seriously you could hate on these pink Strawberry Malt cupcakes with whipped cream ruffle tops and glittery heart rings can you? I mean come on now…glittery heart rings? They are enough to bring out the 5 year old girl in all of us..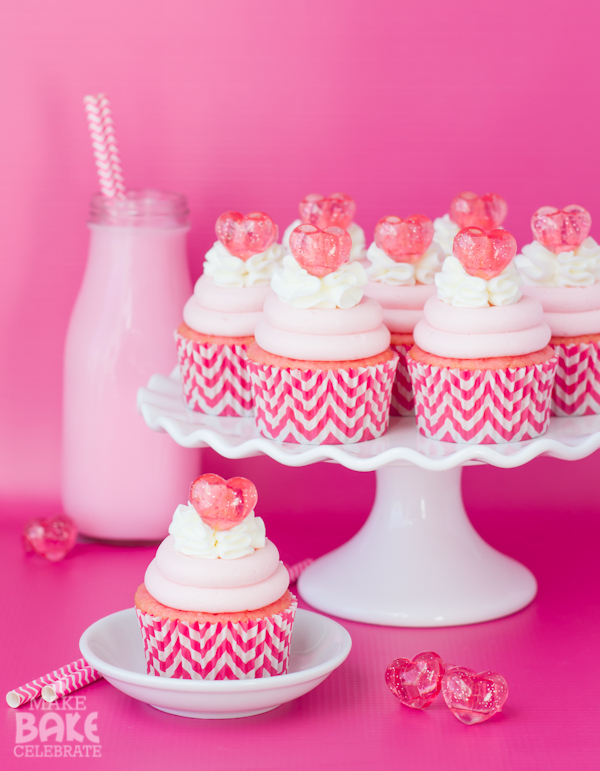 Last week I wanted to make some fun cupcakes for my girls, because they've sat back and watched me bake hundreds thousands of cupcakes over the last year while focusing on my book. They have been so patient and so sweet throughout the process and I wanted to make something a little special just for them. Strawberry malt cupcakes seemed like a perfect combo as their mega fans pink, strawberry, and whipped cream. But the fact that I was able to top them with glittery pink heart rings (found at Target) pretty much won them over.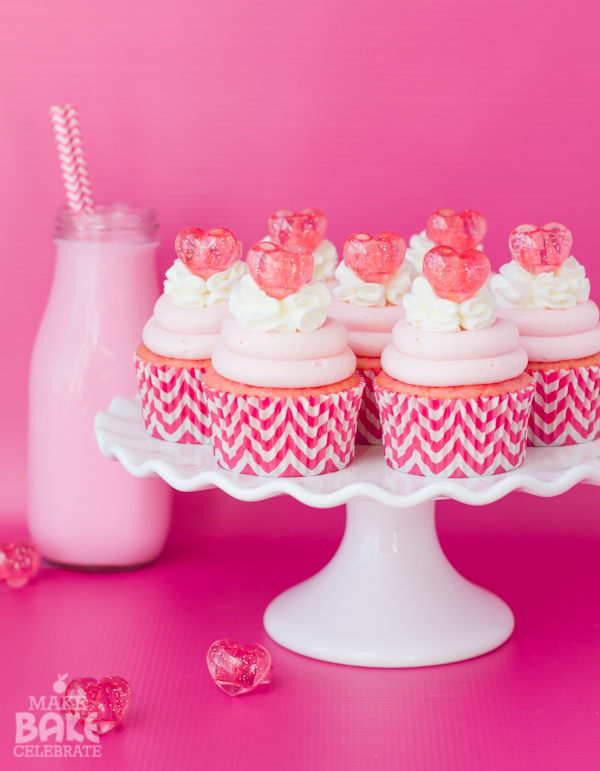 If you love malts and strawberry Whoppers you will love these! The cupcake starts with a simple strawberry creme cake, then frosted with a layer of strawberry malt buttercream, and finished in my ruffle top method with whipped cream. (tutorial coming soon I promise!)
Bring on the Valentines!
Ingredients
MAKES 24–30 CUPCAKES

STRAWBERRY CUPCAKES

1 box Strawberry cake mix
4 Tbsp. instant strawberry creme pudding
4 large eggs
½ cup strawberry yogurt
1 cup milk
¼ cup melted butter (slightly cooled)

STRAWBERRY MALT BUTTERCREAM

1/2 cup malt powder
1 cup unsalted butter
1 cup shortening
2 Tbsp. strawberry extract
8 cups powdered sugar
Pink gel coloring
6–8 Tbsp. milk
TOPPINGS
2 cups heavy whipping cream
4 Tbsp. powdered sugar
Instructions
1. Preheat oven to 350 degrees. Line two 12-cup cupcake pans with cupcake liners and set aside.
2. In a medium mixing bowl, sift together cake mix and pudding and set aside. In the bowl of a stand mixer (or large mixing bowl) using the paddle attachment, beat together eggs, yogurt, and milk at low speed. Add dry ingredients and beat until just combined. Beat in melted butter until just combined. Once all ingredients are incorporated, scrape the sides and bottom of the bowl and turn mixer up to medium and beat once more for 15–20 seconds. Do not overbeat.
3. Spoon three tablespoons of batter into each cupcake liner and bake on middle oven rack for 16–18 minutes, baking up to 24 cupcakes side by side at a time. (For best results, bake cupcakes one pan at a time.) Once a toothpick comes out clean, remove from oven and allow cupcakes to rest in pan for 2–4 minutes before removing and transferring to a cooling rack. Prepare pan and repeat this step with any remaining batter.
4. While cupcakes are cooling, prepare frosting and topping. In a small bowl combine malt powder and four tablespoons of milk and set aside. In the bowl of a stand mixer (or large mixing bowl) using the paddle attachment, cream butter at medium speed until soft and smooth. Add shortening and strawberry extract and beat until combined. Slowly add in powdered sugar, beating slightly between each addition. Pour in dissolved malt and beat until combined. Add small amounts of pink gel coloring until you've reached desired shade. Add additional milk one tablespoon at a time, beating in between additions until desired consistency (you may not need it all). Turn mixer up to medium-high and beat for 1–2 minutes.
5. To prepare whipped topping, chill a large metal mixing bowl and whisk attachment. Once cold, beat heavy whipping cream on medium-high until stiff peaks have formed. Beat in powdered sugar.
6. Once cupcakes have completely cooled, frost cupcakes half way up with strawberry malt butter cream and then top with a ruffle of whipped cream. Keep refrigerated until served.
http://makebakecelebrate.com/strawberry-malt-cupcakes/