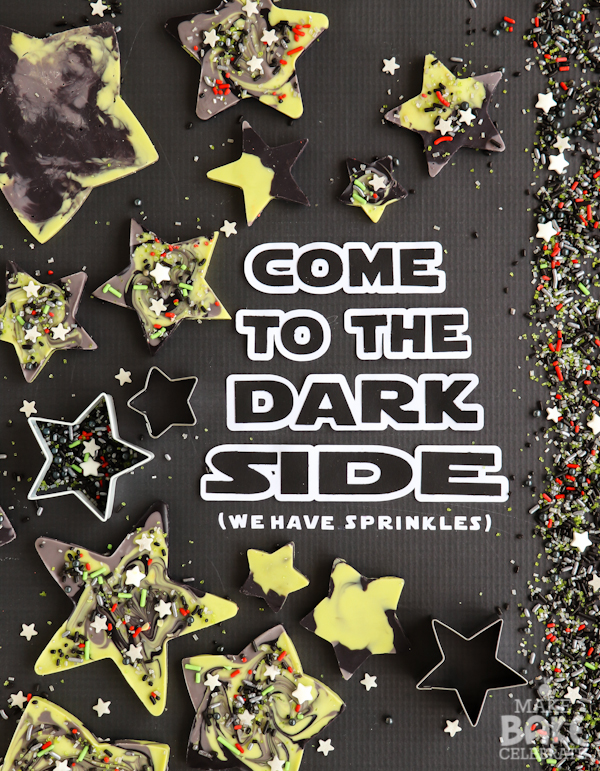 I've never really been a girl to reason with sprinkles…consider me converted.
It's that day of year where all the Star Wars fans come out to play. I'll be honest, I am not exactly one of those people. Maybe that's because the only Star Wars film I've ever seen was last year and I totally didn't get it. But I did see that hilarious video of the mama with the Chewbacca mask, and I'm pretty sure I watched that a million times. So I'm half way there right?
I may not understand why giant blobs are bad guys or why one robot can talk and not the other (for real why?) but I love a good theme, and sprinkles, and chocolate. And my family happens to like Star Wars. So I was thinking about making something quick to share with them and what do you know shows up in my mail box by surprise? Green chocolate! That may say a little about my crazy life…family sends me green chocolate across the ocean. It's not weird…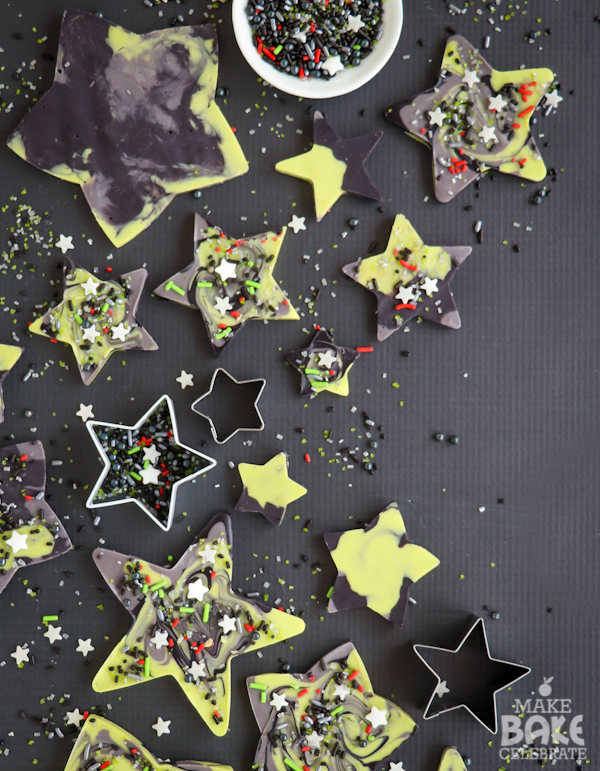 I wanted to try a little something different then just making bark and breaking it up. Turns out I have a lot of star cutters and I was happy to put them to use. If you don't have many star cookie cutters or just want to keep it easy you can turn it into a regular bark instead. But if you really want the star look you can purchase an entire set of star cutters on amazon.
Ready to make some treats from another galaxy?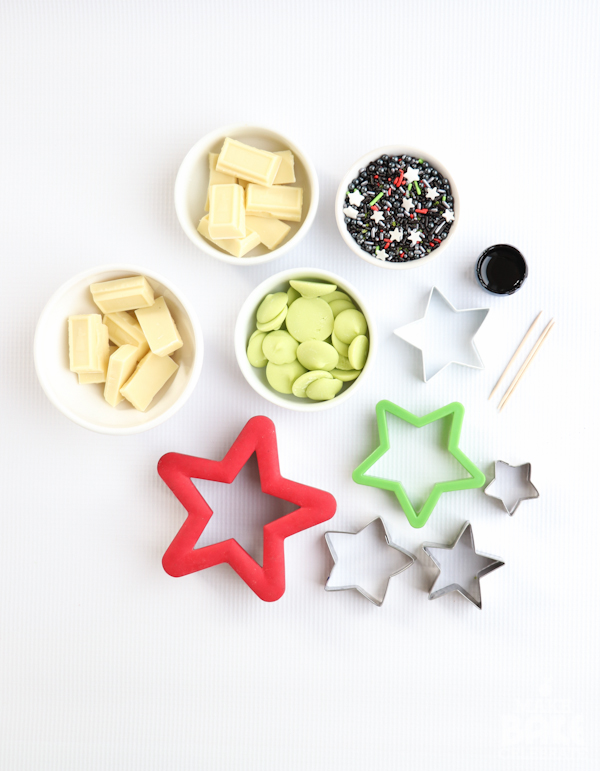 Here's what you going to need:
white melting chocolate
black candy coloring
green candy coloring
OR
green melting chocolate wafers
grey melting chocolate wafers
black melting chocolate wafers
sprinkles
piping bags or ziplock bags
parchment paper
shortening
star cutters
toothpicks
cookie sheet
Step 1: Very lightly grease the edges of the star cutters with shortening. I like to use a food safe paint brush so I can get the tips. Just a tiny bit is needed. Lay the star cutters out on a parchment paper lined baking sheet.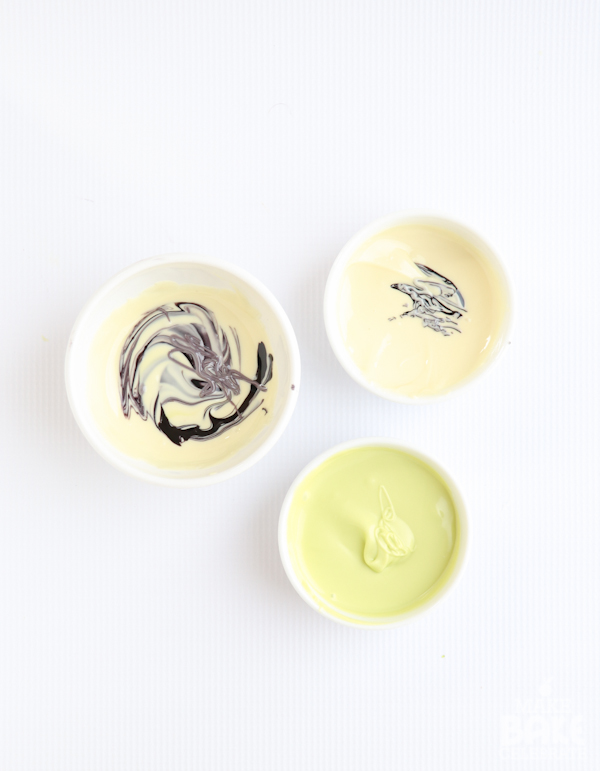 Step 2: Break chocolate into small pieces and divide into separate bowls and microwave just until the chocolate is almost melted. You will be able to see the shapes still but once stirred they melt down. It will continue to melt for a few moments as you stir You don't want to over melt your chocolate or it will begin to harden and burn.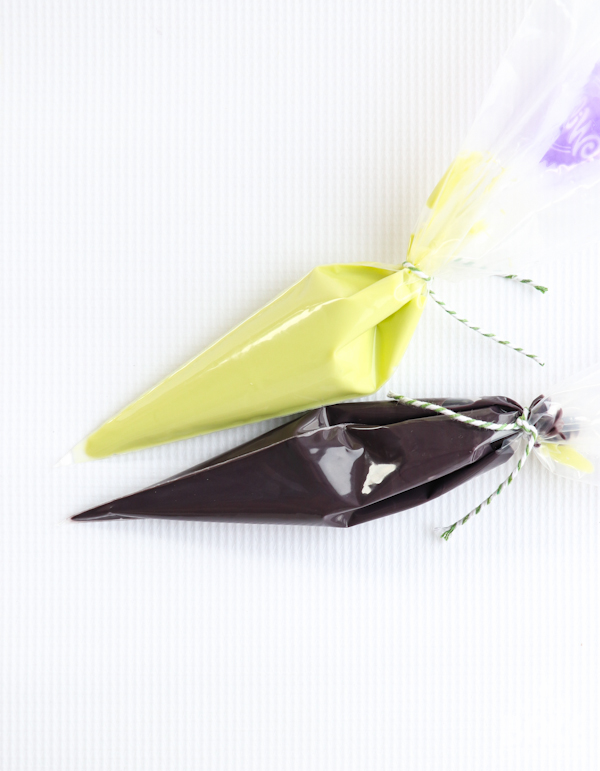 Step 3: As soon as the chocolate comes out color the chocolates with candy coloring IF you need to. If you are using pre-colored chocolate wafers you can skip this part but you will want to add about 1/4 tsp of shortening per had fun of wafers to thin is out.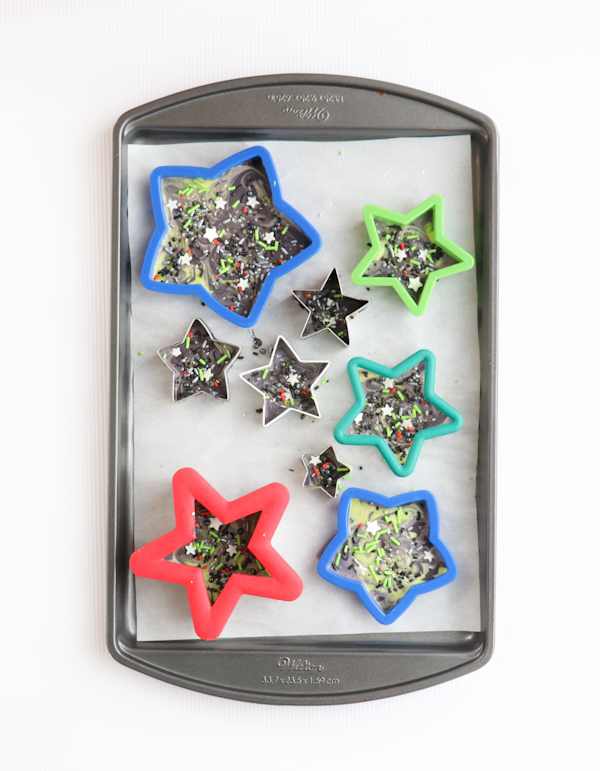 Step 4: Working quickly, pour the chocolates into uncut piping bags and twist shut. Cut the tip of the first bag and begin to quickly and random pipe chocolate into the stars. After each bag is empty take a toothpick and stir up the chocolate just a bit to create a galaxy effect, gently tap the pan on the counter a few times to get the chocolate to smooth and even out. Sprinkle on sprinkles and chill in the freezer for 30-45 minutes. If you see any chocolate that has leaked out take a knife and trim around the edge of the cutter. Then pop the chocolate stars out!
And now you have treats to share with your galaxy!