This weekend I'm enjoying a little blogger away time in Seattle. And next weekend I'll be headed for a little more away time in Salt Lake City. As I was packing for my insanely early Starbucks-is-not-even-open flight it occurred to me, I was going to see fall! FALL! As in the season we have missed while becoming desert dwellers. You guys have heard me ramble on about fall like my lost puppy right? Well…it's here and I'm up north! Even for a few days – score. Except it kinda rains in Seattle as I am sure most of you know and would have been prepared with things like umbrellas and coats. Yea, we're not all that smart here. Me, remembering my wonderful sunny warm weekend in Seattle last year thought I won't even bring that stuff – it was so warm last year. Ah…if only they had invented little weather apps on every electronic possible maybe I could have actually looked at the weather for the city I was traveling too…prior to packing…and prior to arriving. As you may have guessed it's raining here….and minutes into my trip I'm soaked. Next time…I'll stop and look at one of those magical little weather apps because apparently they do exist!
So instead of enjoying a wonderful chocolate tour in Seattle, I'm taking some time to regroup (ahem dry) in my hotel while sipping on hotel room Starbucks (just minutes from the original Starbucks) and taking the time to share some creepy little spiders with you! Yes, all that to get to spiders. If truth be told, me and the bump are enjoying some quiet time working to the sound of the rain. I mean hey, if I hadn't been so unprepared and soaking wet who knows when I would have been able to share these cookies…which I totally love!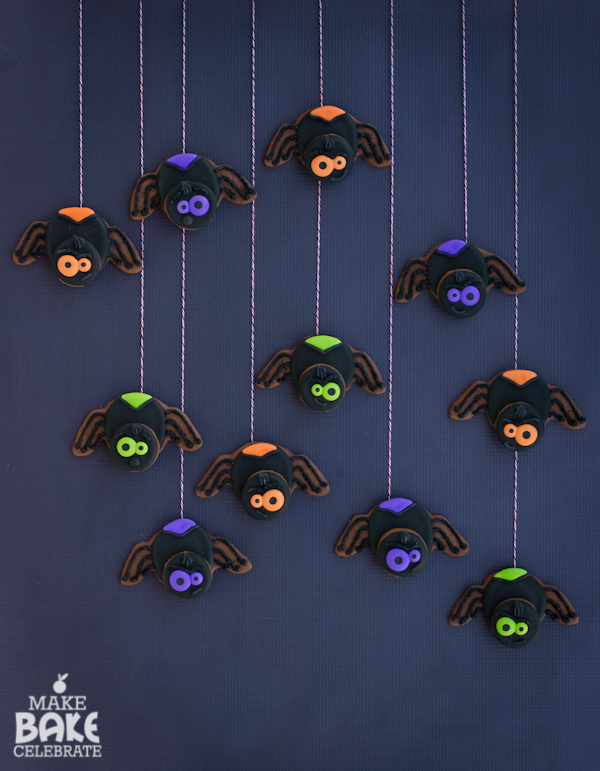 Turns out. Spider cookies really aren't that common. And I can see why…there is just no way around it they are creepy. I really wanted to try and make some cute fun spiders with just a bit of their creep for Halloween this year and I think I did it! Aren't these little guys fun?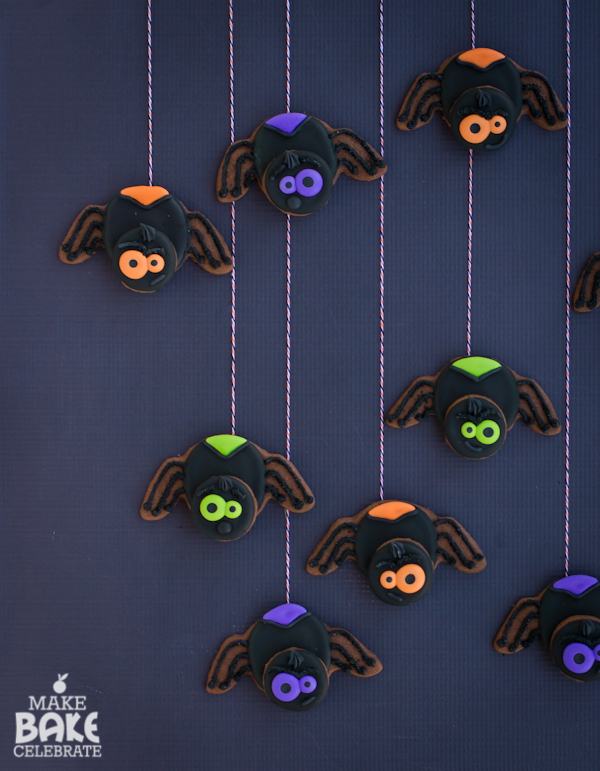 It all started when I received Autumn Carpenter's new books Cookie Creatures. You guys – this book is a cookie book must have! I've seen a few cookie books and even recently a animal cookie book but I knew if Autumn was producing it it had to be good. There was certainly no disappointment on these pages! I couldn't believe how Autumn took cookie books to a fresh new level by combining not only cute designs but different techniques. You read that write, it's not just royal icing! She even included fondant and edible printed paper and so much fun! I was really inspired to bust out of my royal icing mold and try new cookie decorating methods.
One method I loved in the book was how how she layered the heads of animals. Brilliant! It made the little creatures so whimsical and fun – it really brings them to life. I knew I wanted to try out that style soon. But then I saw her little hanging bats and I knew I had to combined the two ideas with my desire to make creepy cute spiders. Wouldn't these little guys be SO much fun to hang up at a Halloween party? I really wanted to hang them with black edible string but our Halloween aisles aren't yet stocked so I settled for "gluing" on twine with royal icing. But if you want some major party points grab some black edible string and hang them up for the kids to pick off and eat – web and all!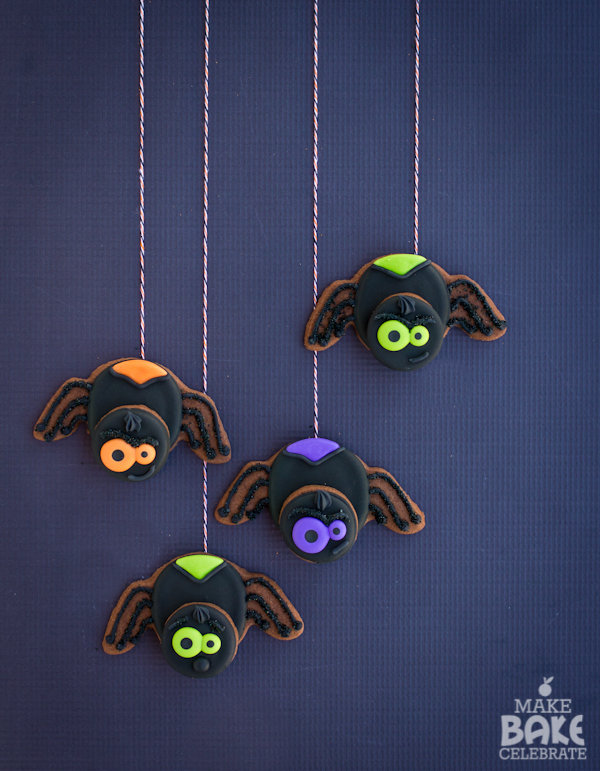 These cookies were super simple to make. I simply used a spider cutter and a small round cutter. I decorated both pieces separately using royal icing and then "glued" them together once they were both dry.
If you need help getting started with royal icing I have lots of information for you! You can begin here and here. Then of course you can grab Autumn's new book Cookie Creatures here! I highly recommend grabbing a copy for yourself – but bewared you're going to be cranking out creatures all year around with this sweet book!