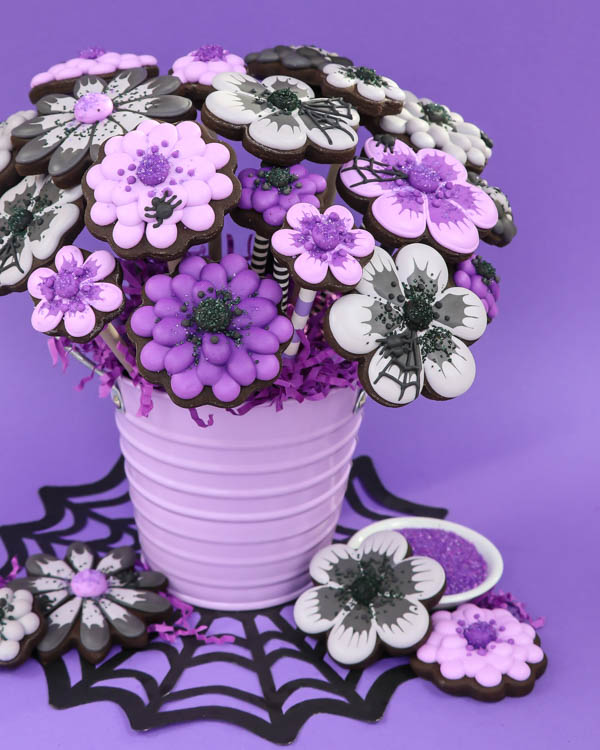 Do you guys remember the cookie bouquets I created in the past? This Daisy Cookie Bouquet is still one of my favorite sweet creations ever. I wanted to create a cookie flower bouquet that could stand like real flowers. To be honest I have no idea why this was so important to me but it totally was. I just knew if I could just figure it out it would change the entire look of a traditional (and kinda boring!) cookie bouquet. Because hey, the world could use a whole lot more edible flower arrangements! Perfect for gifting and the perfect centerpiece for parties.
After the Daisy Cookie Bouquet I created this fall one as well. I had plans on making so many more to share but I just never got around to it. Today that changes with this Spooky Halloween cookie bouquet! Because hey…even the creepy love flowers and cookies. I'm even more excited to share that I've teamed up with Wilton for this fun Halloween tutorial. Ready to get spooky?!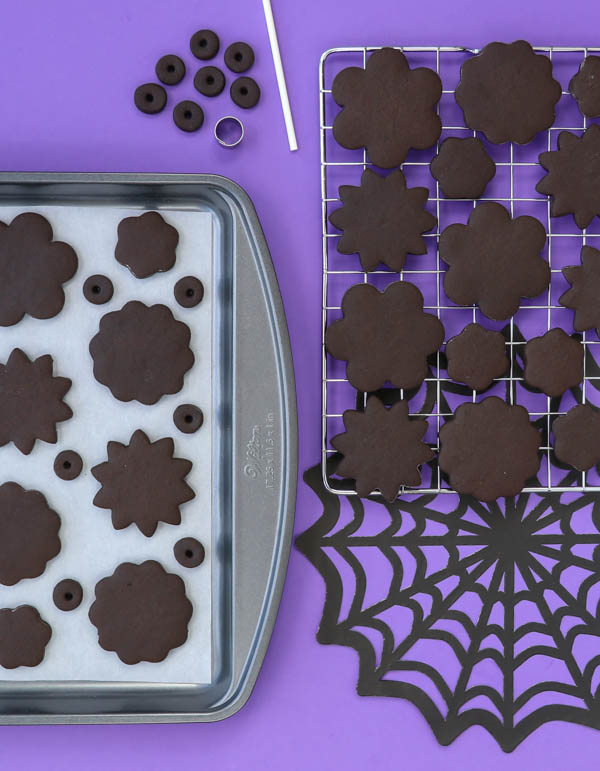 Step 1: Bake flower cookies I used these flower cutters and this chocolate cookie recipe. With your extra dough you will want to make a round cookie base (I used a small circle cutter) for each you will want plus a handful of extras in case any break. Use a lollipop stick to make a hole in the center prior to baking. Push the stick back in each hole while cooling and soft to make sure they still fit.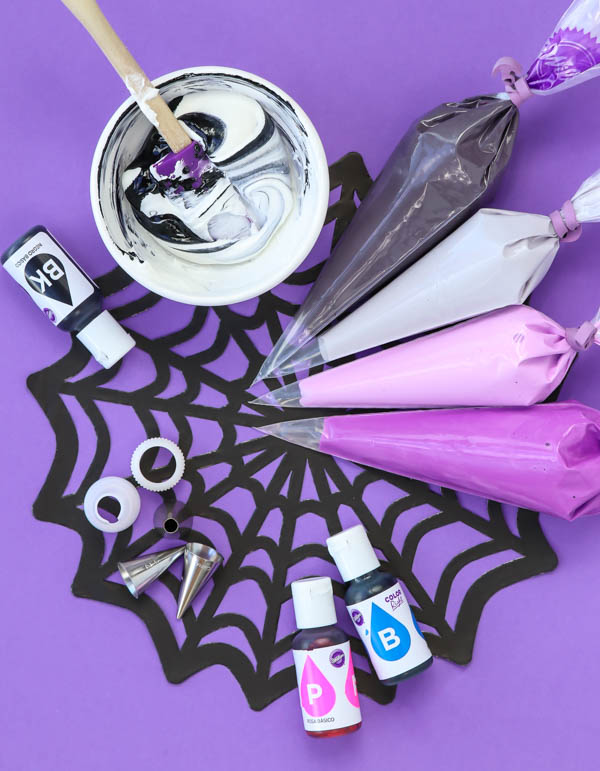 Step 2: Decorate cookies using 20 second royal icing, Color Right colors, and sprinkles. Once the cookies have crusted over at the top and can be handled gently, glue the circle cookie base to the bottom center of the cookie with royal icing and let dry for a few hours.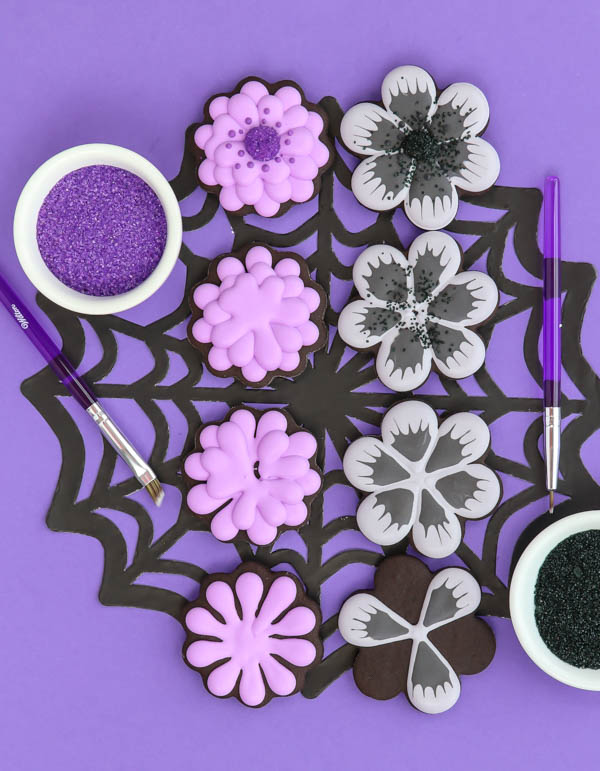 Step 3: Pipe a small amount of royal icing into the center of the cookie base and gently insert the lollipop sticks you may need to gently twist the lollipop stick. Prop up in a treat stand or piece of Styrofoam and dry overnight.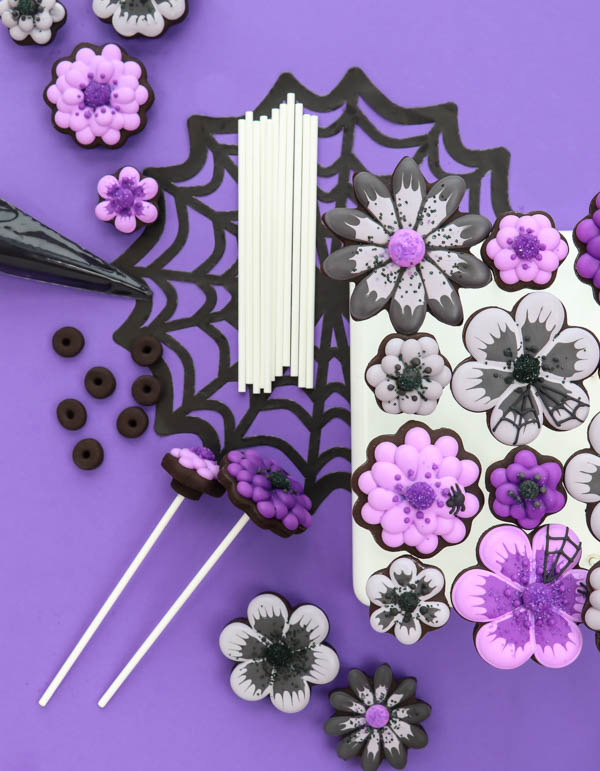 Step 4. Make bouquet by filling a bucket or vase with rice, corn, or styrofoam and positioning the flowers into a bouquet. Add a decorative finish like paper shred or tissue paper.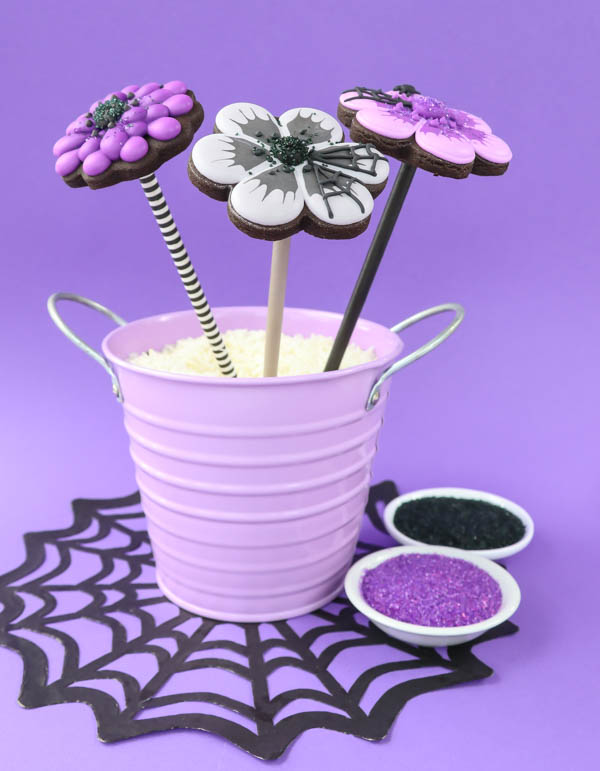 And there you have it, the spookiest of cookie flower! Wouldn't this make such a great center piece for a ghouls night in?