In case you guys were wondering where I've been the past week…I was buried under a pile of Disney world planning, packing, & projects. I've spent countless hours planning a perfectly princess filled trip for out girls, and it's finally here! I now know just a few facts too many about Ariel, Rapunzel, and Cinderella, go ahead quiz me! ;) In just a few short hours were about to make our way to Florida and trade all this snow for palm trees and some sunny weather!  But before we say goodbye to the snowflakes…I have just a few more to share with you today!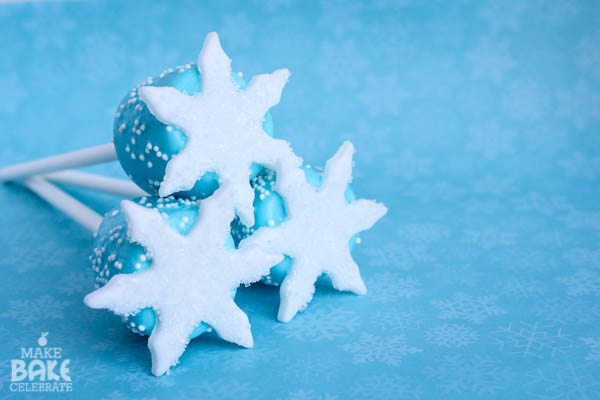 I made these peppermint pops a few weeks back along with the hot cocoa cookies for a friend's birthday party. These are super easy to make and are really fun to use to stir in hot cocoa…especially peppermint flavored! Even though marshmallow pops aren't exactly ground breaking I wanted to share these with you guys because of the snowflake embellishments. The sanding sugar covered toppers were made very easily out of fondant and look really great!
I'm hoping I can encourage some of your to try a little fun with fondant! People often fear fondant, but I wanted to show you how easy to make fondant toppers really could be used for more then just cupcakes. Such a fun way to dress up a treat and they sure beat those awful packaged sugar pieces from the store. (hello dentist) In this case these snowflakes melted right in the hot cocoa but, they could always be pulled of before eaten if desired.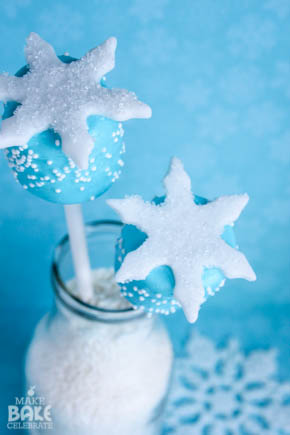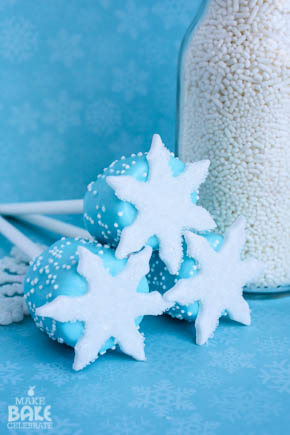 Before I show you my process for making marshmallow pops, here's a mini tutorial on how I made the toppers. Seriously they are so easy you won't need much more then pictures :).
Simply roll out your fondant on wax or parchment paper….and cut your shapes.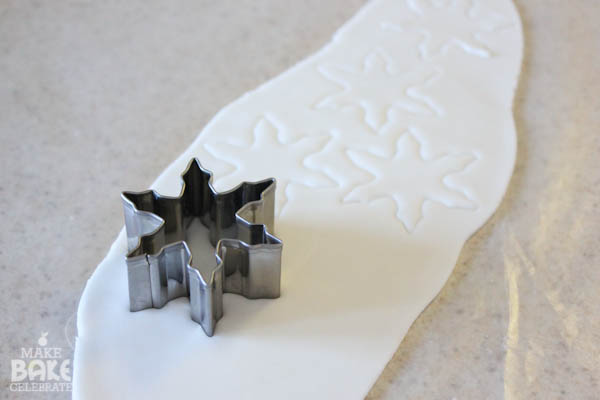 Take a food brush and paint on a light coat of warm water.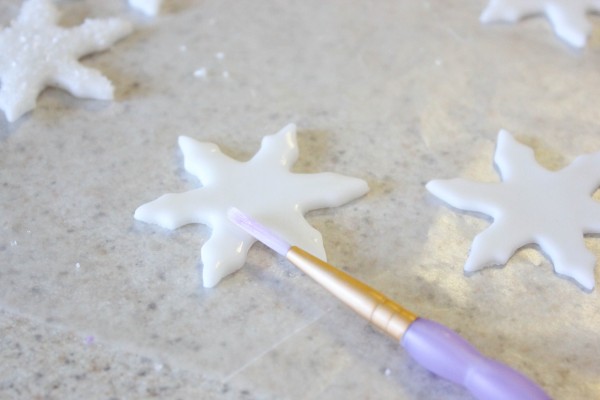 Cover in sanding sugar and let dry for at least several hours until they firm up. You can do this a day or two ahead of time even. Just allow to dry/harden then store in an airtight container.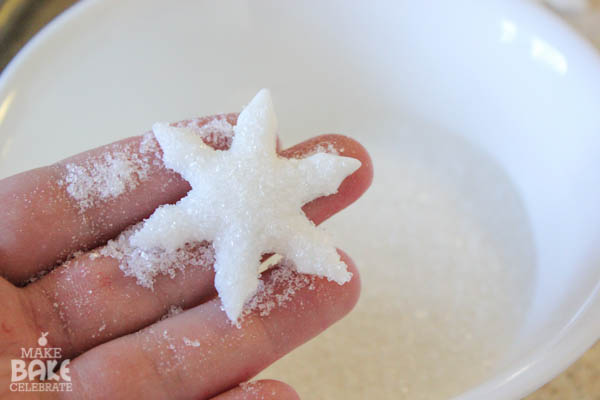 And that's all!
The marshmallow pops are just as simple…here's my process.
You will need:
Bag or Jet-Puffed® Marshmallows
Melting chocolate or candy melts
Lollipop sticks
Sprinkles
Fondant toppers
Candy Oil Flavoring
**The flavoring is optional, I used peppermint but feel free to mix it up! However, since you are working with chocolate I recommend using candy oil not extracts since the candy oil is oil based and will not negatively affect your chocolate or candy melts. Candy oils can be found at most of your baking supply stores and craft stores **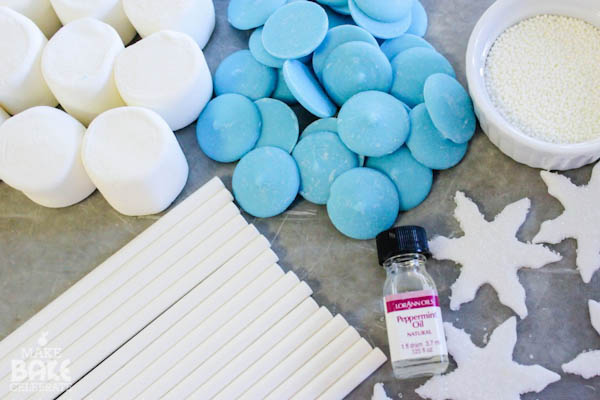 Step 1: Melt your chocolate. If you need some tricks and tips or would like to read how I do it I have a entire post about melting chocolate here. Once it's nice and smooth add in just a drop or two or your flavoring oil. Be careful! This stuff is strong! 2 drops made my entire kitchen smell of peppermint! lol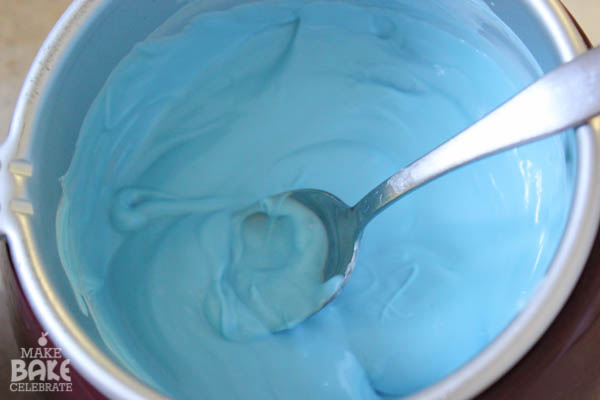 Step 2: Push your stick into your marshmallows.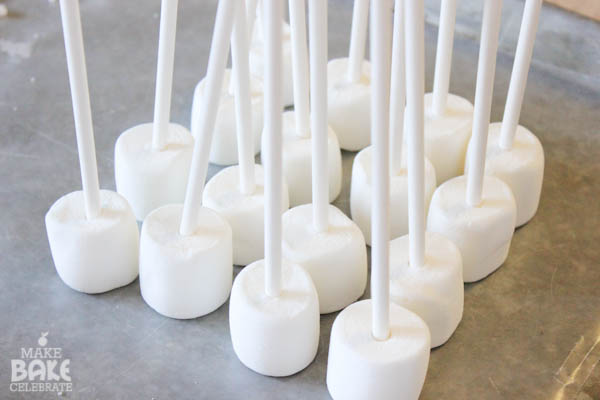 Step 3: Cover in chocolate with a spoon and tap until excess had dripped off. (I don't actually dip my stuff, I use a spoon to gently cover it)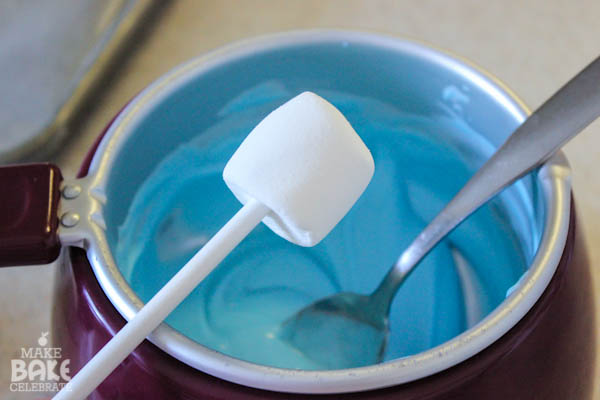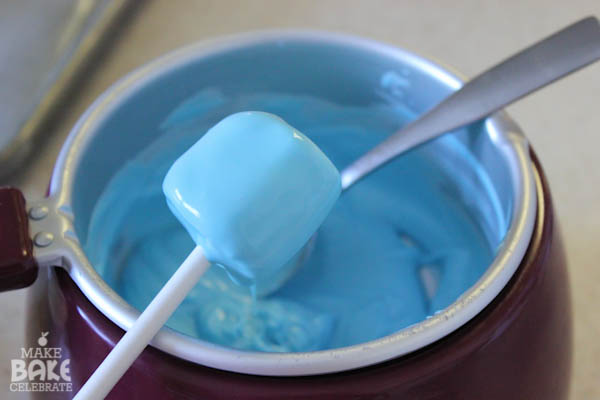 Step 4: Sprinkle, sprinkle, sprinkle.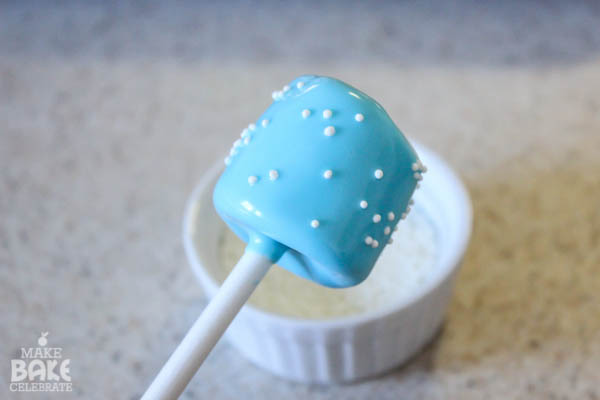 Step 5: Place in a cake pop holder, styrofoam or something like rice/corn. Let it set up for about a minute and THEN place your topper on. I found if I put it on right away it slide a bit. But don't wait too long or your chocolate will be hard! (if that happens spoon a tiny bit on top and place snowflake on then :) )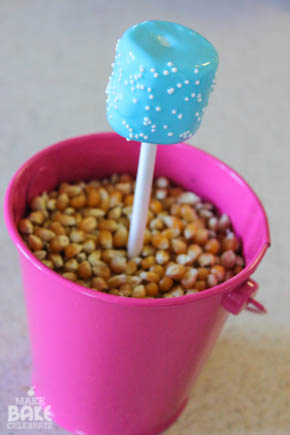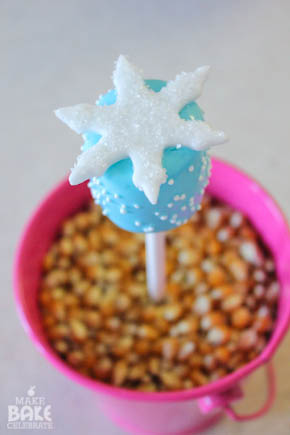 And now you have pretty marshmallow pops, to stir in your warm drink, or just simply enjoy! As simple as these little guys were…I really liked them :).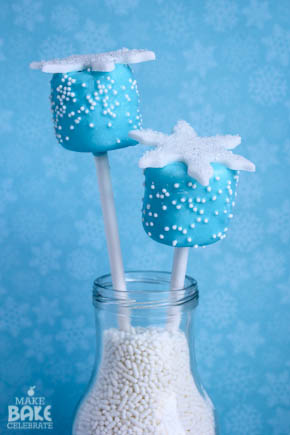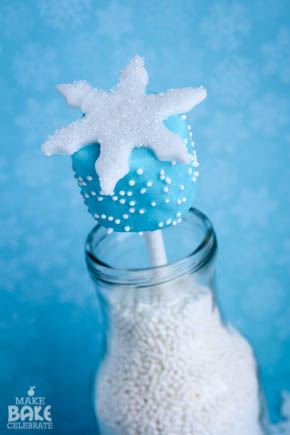 And to show you another way to use simple fondant toppers…check out these matching sugar cookies I made. Again, a really simple concept that looks adorable and very very easy! Since this party was for 10 year olds…I made lots of extra snowflakes so they could decorate their cookies with them. Easy Peasy.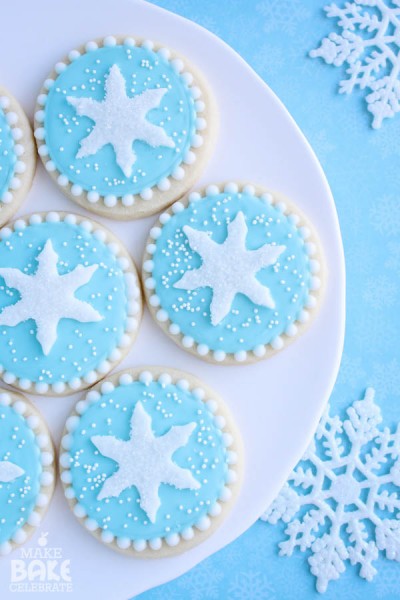 And I promise this will be the last wintery post! lol. Just a tad behind that's all! Maybe when we come back from Florida the snow will finally be gone?! (In my dreams)
Just a reminder that since we will be gone I will not be around much until the 11th to answer comments or emails. I will however be able to share a few more posts I've prearranged to share with you! And when I get back…I've got some BIG news and a couple of  really exciting to share, and maybe even giveaway ;)!