Unfortunately things aren't always sprinkles and fluffy frosting around here, oh how I wish they were but sometimes things get messy, you know life happens. And being a military family, most days I feel like we have an extra dose of crazy always hanging around. In the spirit of keeping it real, I have to be honest and tell you today, is one of those days. We've been challenged to make some big life altering decisions, and all I really want to do it nose dive into these cupcakes. Yesterday morning I had these awesome cupcakes to share and a fuzzy story to go with. Then crazy came aknocking, and I can't hardly think of a word to write. But, I just have to share these cupcakes anyway, because I love them. And they might just be the perfect cupcake to nose dive into after an awful day. Besides, if disaster has to "snowball" right into life sometimes it might as well be fluffy, chocolate, covered in coconut, and PINK. (Yep, even in the worst of moods I still have a cheesy pun for ya, no worries!)
So today, I'll simply leave you this cupcake peep show. And a recipe that you just have to try, especially if life has you needing a little cupcake love…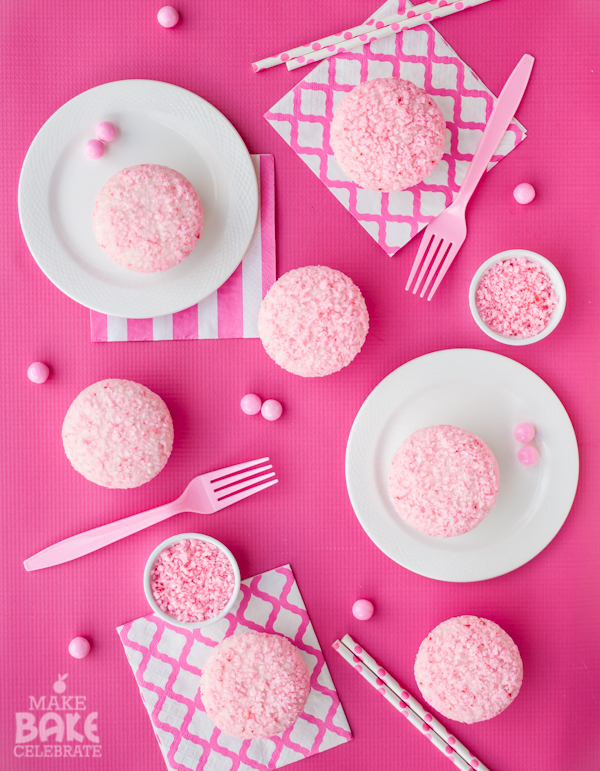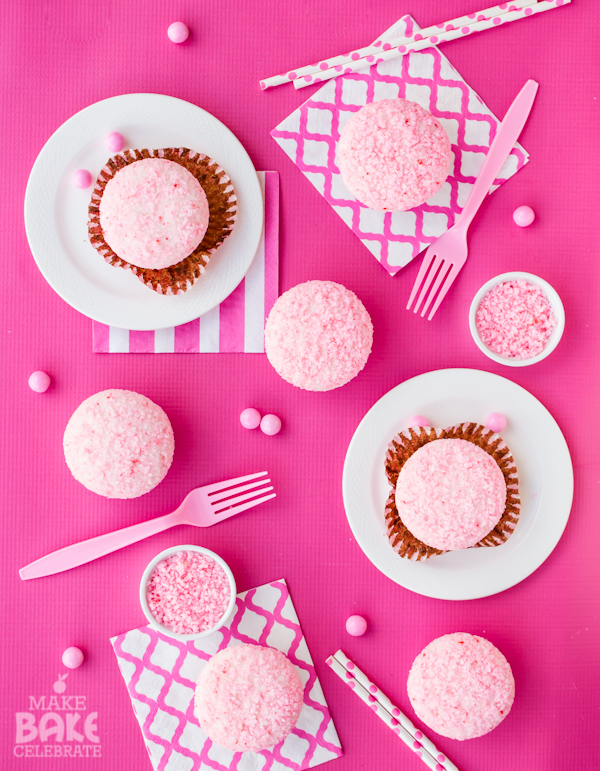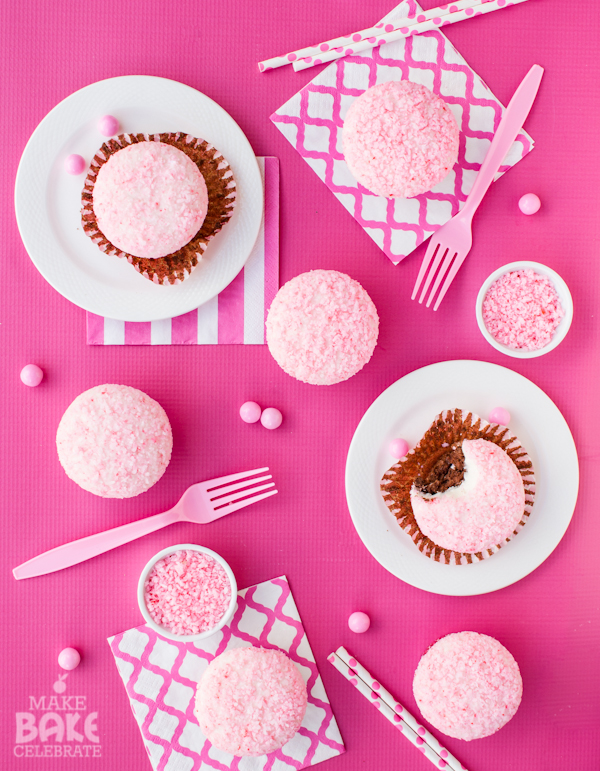 So please go make them, and have like 10 for me ok? My treadmill won't allow it…
Baker's Note: This recipe makes a very large batch of marshmallow frosting! I wanted to make sure you have plenty of fluff to create a true snowball mound and fill with fluffy goodness! If you know you don't need quiet so much, feel free to cut it in half!

Ingredients
Devils Food Cupcakes

1 box devils food cake mix
4 Tbsp. instant chocolate pudding
4 large eggs
½ cup sour cream
1 cup milk
¼ cup melted butter (slightly cooled)

Marshmallow Frosting

1 cup unsalted butter
13 oz. marshmallow fluff
4 tsp. vanilla extract
10 cups powdered sugar
1/2 tsp. salt
4-6 Tbsp. milk
Topping
2 3/4 cup sweetened coconut flakes
PInk gel coloring
Instructions
1. Preheat oven to 350 degrees. Line two 12-cup cupcake pans with cupcake liners and set aside.
2. In a medium mixing bowl, sift together cake mix and pudding and set aside. In the bowl of a stand mixer (or large mixing bowl) using the paddle attachment, beat together eggs, sour cream, and milk at low speed. Add dry ingredients and beat until just combined. Beat in melted butter until just combined. Once all ingredients are incorporated, scrape the sides and bottom of the bowl and turn mixer up to medium and beat once more for 15–20 seconds. Do not overbeat.
3. Spoon three tablespoons of batter into each cupcake liner and bake on middle oven rack for 16–18 minutes, baking up to 24 cupcakes side by side at a time. (For best results, bake cupcakes one pan at a time.) Once a toothpick comes out clean, remove from oven and allow cupcakes to rest in pan for 2–4 minutes before removing and transferring to a cooling rack. Prepare pan and repeat this step with any remaining batter.
Place coconut shred in a blender or food process to chop up even smaller. Transfer into small mixing bowl and add a small amount of pink gel coloring. Mix with fork until pink, set aside.
While cupcakes are cooling, prepare frosting. In the bowl of a stand mixer (or large mixing bowl) using the paddle attachment, cream butter at medium speed until soft and smooth. Add marshmallow fluff and vanilla extract and beat until combined. Slowly add in powdered sugar and salt, beating slightly between each addition. Add milk one tablespoon at a time, beating in between additions until desired consistency. Turn mixer up to medium-high and beat for one minute.
Once cupcakes have completely cooled, core and fill cupcakes with marshmallow frosting. Using a large round piping tip, pipe large mounds of marshmallow frosting onto cupcake. Turn cupcake onto its side and roll in pink coconut flakes.Use a clean hand or paper towel to "shape" cupcake into a nice round snowball.
http://makebakecelebrate.com/snowball-cupcakes/