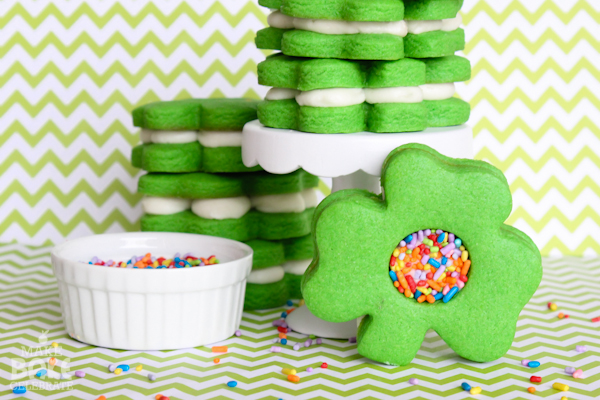 It's Friday! I hope you guys have had a fabulous week, because I have a little St. Patty's excitement to wrap it up! Today I'll be sharing how quick and easy you can make some of these adorable little shamrock cookies sandwiches, with rainbow sprinkle filled centers! All while dishing the details on one of my FAV baking tools!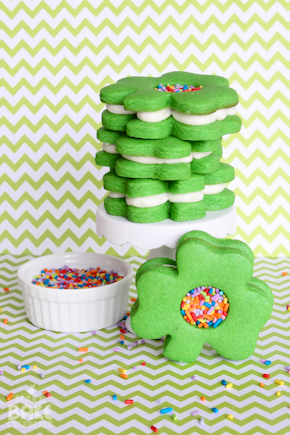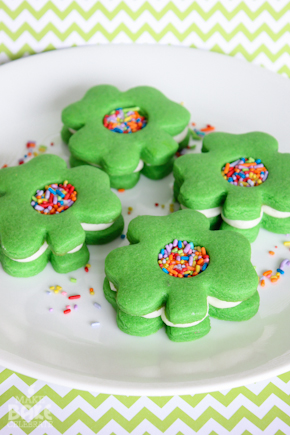 These cookies are seriously easy to pull together, just a little sugar cookie dough dyed green, buttercream, and sprinkles. A perfect treat for those little green cookie snacking leprechauns. However, the real star of today's post is my Joseph Joseph adjustable rolling pin, which really makes these cookies so fast and easy! If you've been around MBC awhile you know this little guy pops up in many of my posts. I use my rolling pin ALL THE TIME, and I kind of love it. You guys seem to share my love as well because I get so many emails and comments asking about it. So today, I'm going to share all about the rolling pin while showing your how I use it to make these shamrock cookie sandwiches, and, ahem, give some away. That's right, our newest sponsor, and my FAV baking supply store, Country Kitchen SweetArt, wants to give not one but two LUCKY readers a rolling pin of your own!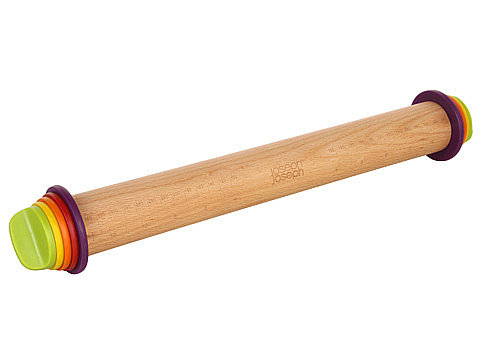 But before I get to the fun stuff, you may notice my guides are all grey and there are only three, this is because I picked up mine a few years ago at Country Kitchen SweetArt, before the lovely rainbow version came out. Our two LUCKY winners will be recieving the new version pictured above! Swoon. Of course it works just the same but I wanted to clarify, and not confuse. And now that I know they have a rainbow version…I'm thinking maybe mine would like a friend? Hehe.
In case your wondering what on earth makes this rolling pin so great, it has different size washers on the ends that you can swap out to keep your dough even! Before this little baby I used to place dowel rods beside my dough to get even rolling. It was such a pain to find and store different size dowel rods and then they often slide beneath to rolling pin causing me to start all over. These sweet little guides however, allow me to chose which depth I want and all of my dough comes out nice and even without any extra effort at all. It's so easy to use and store as well, just simple unscrew the end and slide the washers on and off.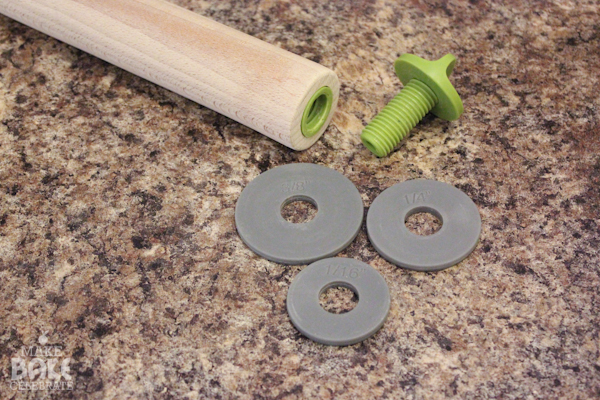 I often use the middle and largest one for rolled cookies, depending on the thickness I want, and the smallest one for things like pie crust.
Ready to see this baby in action and make some shamrock cookie sandwiches of your own?
Here's what you're going to need:
Rolled Sugar Cookie Dough Dyed Green (I used my favorite recipe HERE for minimal spreading)
Buttercream (I used a half batch of THIS recipe)
Rainbow Sprinkles
Guided Rolling Pin
Shamrock Cookie Cutter
Medium Round Piping Tip + Piping Bag
Parchment Paper
Wax Paper
Note: The recipes listed above will result in 18 cookies sandwiches using a 2.5in shamrock cutter.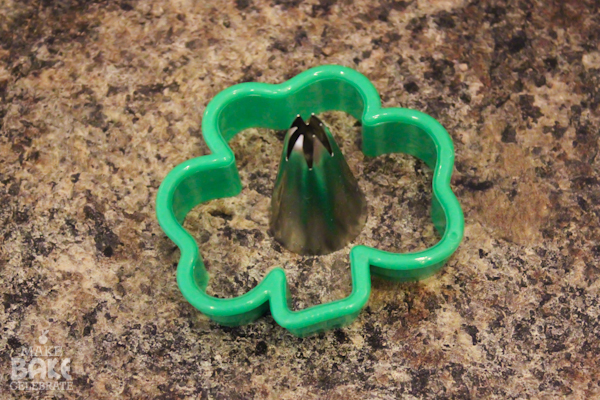 I used a 2.5 in shamrock cutter from a Wilton set I picked up at Wal-Mart. For the center I simply used the bottom of a medium piping tip.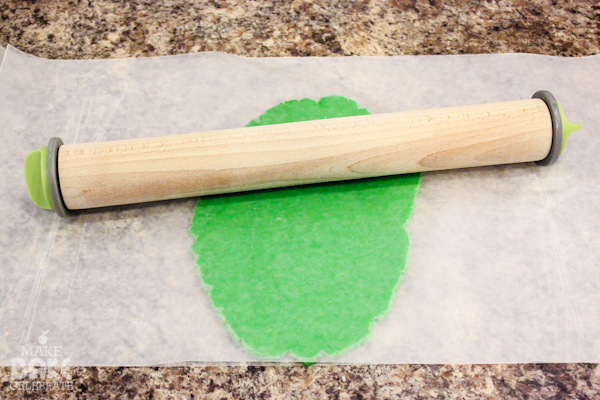 Step 1: Preheat oven to 350 degrees, line two cookie sheets with parchment paper. Place half of your green cookie dough between two pieces of wax paper. (No flour needed!) Using the middle 1/4″ guide, roll out your cookie dough.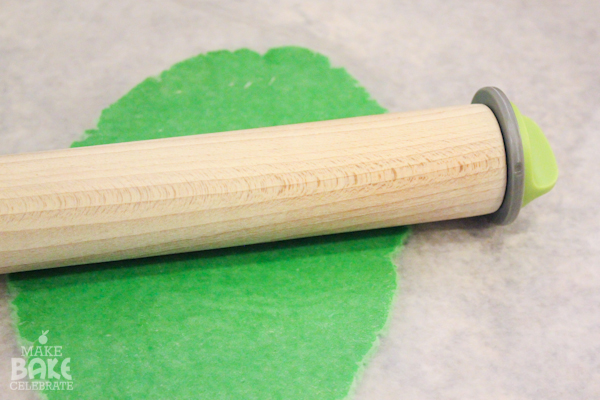 See how easy it makes this process? So nice an even, how can you not love it??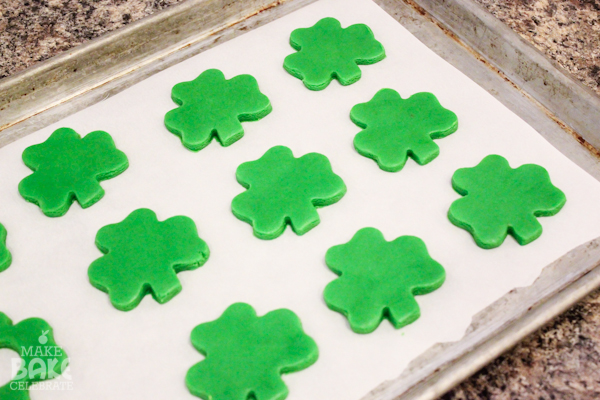 Step 2: Cut out Solid shamrocks. Gently remove the excess dough around the shamrocks, then gently place the cut out shamrocks on the parchment paper lined cookie sheets. Repeat until the first half of your cookie dough is used. Place cookie sheet (s) in freezer for 2 minutes to help keep their shape, then bake for 9-12 minutes. (mine at 2.5 inches were done at 9) CAREFULLY lifts edges of parchment paper off cookie sheet and slide cookies and all onto cooling rack.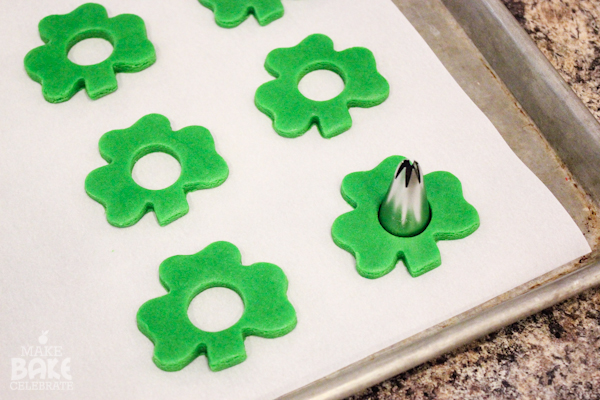 Step 3: Take the remaining half of your cookie dough and roll out, cut shamrocks, and move to parchment paper lined cookies sheets. Once shamrock cut outs have been moved to baking sheets THEN take your circle cutter and cut out the the circle centers. If you cut out the circles before moving to the pan, the dough will be too fragile and end up misshapen. Place these in the freezer for two minutes as well, then bake for 1 minute less then the cookies without the hole. (8 minutes for mine) CAREFULLY lifts edges of parchment paper off cookie sheet and slide cookies and all onto cooling rack.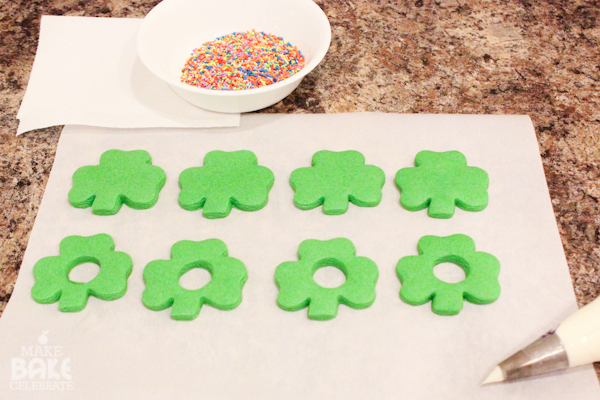 Step 3: Either pipe or spread icing on to each solid shamrock cookies.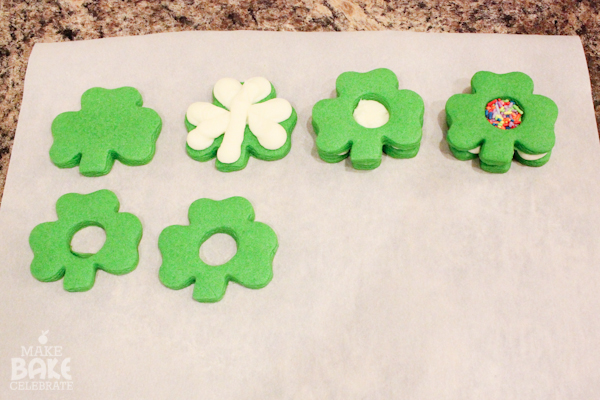 Step 3: Place top shamrock cookie on top, and add sprinkles to the center.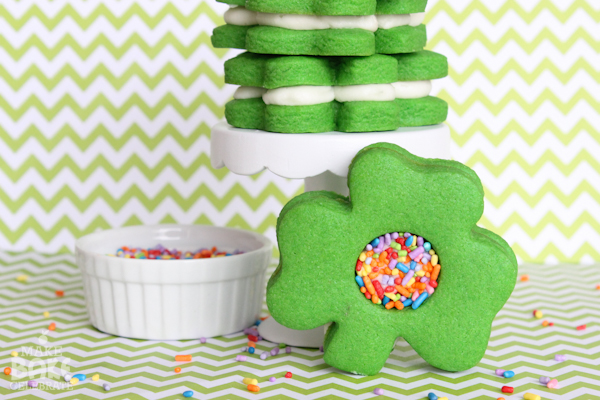 **GIVEAWAY CLOSED**
See how easy they are?! It might look like a lot of text, because I like to give detail, but the entire process was only an hour for me from cookie dough to finish. I really enjoyed making these, and I hope you guys do too. I'm supppeerrrrr excited to finally be sharing some more details of one of my favorite rolling pins that I know you guys are going to love as well. Speaking of, who's ready to see just how LUCKY you are?!? Enter below by liking Country SweetArt Kitchen, Make Bake Celebrate on Facebook, and leaving a comment! The more entries the better your chances are. I will be picking 2 random winners on Friday March 14th!