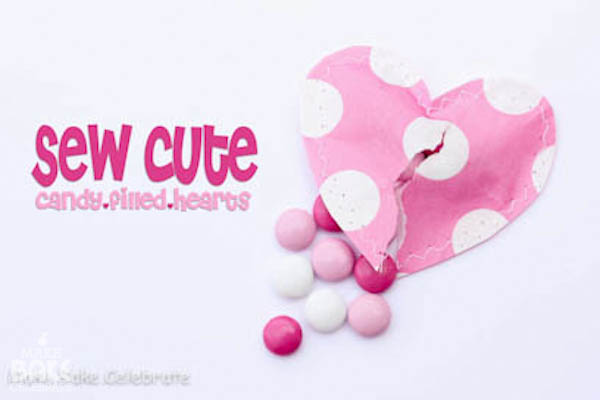 Today, I'm sharing some sew cute Valentines the kiddo and I made a few days ago. I know it's only Jan. 16th, but before you start thinking I'm a total overachiever let me clarify…I'm a really a total procrastinator. No matter how many times I think I'm prepared for something, I'm not. I suffer from major Type A and crafting ADD at the same time, an awful combo. The more my kiddos grow the more I get out of sync.  Long gone are the days even detail of every nook in our house and schedule was systematically ordered including the craft room. (that's now moved to a closet, that more often the not serves as an unfinished project dumping ground, heh) Today it's more like I'm pulling clothes out of the dryer to get the kids out the door and praying I get lucky and find  6 socks and 6  shoes. If not, oh well we're leaving anyway! ;) You want to guess how many times I've been icing cupcakes while the hubs is loading the car….so what does this have to do with Valentines and M&M's???
….because this year I'm really setting my self a goal of staying on schedule, on task, and within my limits (aka reality). No, I can't do it all, but I can do what I do, well. So we made Valentines, because this was something I could do well ahead of time with her. Instead of staying up till 2 am the night before! So what did we make…hearts filled with M&M's  of course!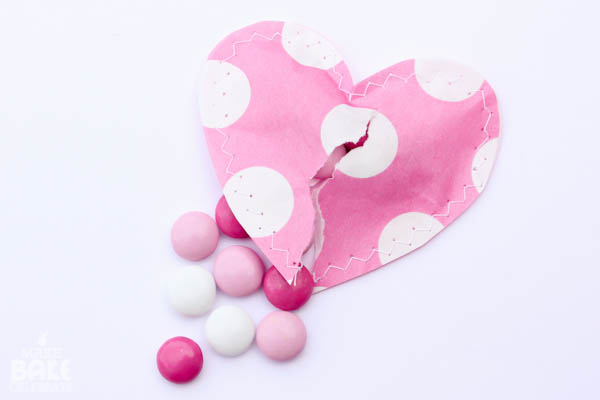 Something my big kiddo loves to do right now is write letters and drawings and seal them up in an envelope. She does this anytime she gets the chance at Pre-K. Then she holds the note hostage all the way home declaring it secret, never making it home before she rips it open for me because she is bursting to show me :). So I thought why  not seal up a surprise for her friends for Valentine's day for them to rip open and enjoy. Awhile back we were given these little stitched paper candy treats and I've always wanted to try to recreate them. After searching for paper it occurred to me I had two packs of polka dot bags from Sweets & Treats in my supply cabinet! Score! Not only were they pink….they are food safe and the perfect sew-able AND rip-able material. Double score!!
Inside I put a little secret message from Cadence. Nothing fancy just simple text created in word. I printed it on card stock so it's wouldn't rip as easy when tore open…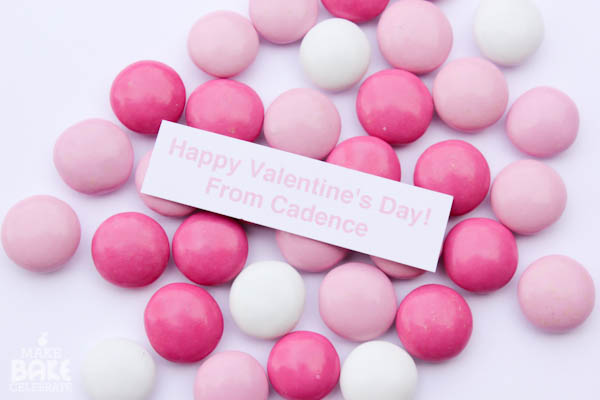 Want to make some perfectly rip-able treats? ;)
Here's what you will need:
Goodie bags (most papers would work, but goodie bags really work so well)
Heart cookie cutter (I used a 3in)
Thread
Sewing machine (or needle if you prefer to sew by hand)
Candy
Little Valentine tags (created in word)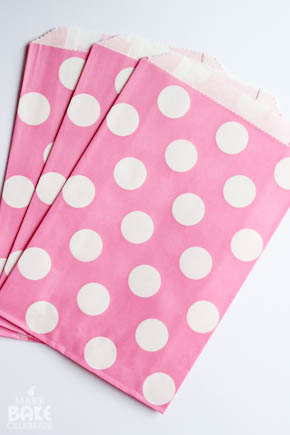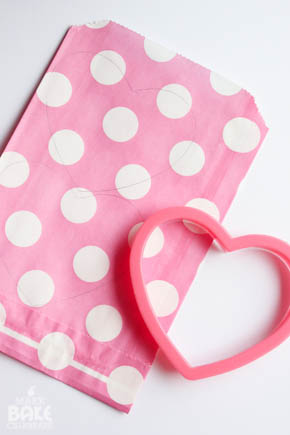 Step 1. Trace heart onto goodie bag. I steered clear of the seams on the one side and the bottom. Another reason why these goodie bags work so well, you will be cutting two hearts out at once, in the perfect direction. Two birds, one stone = less cutting :)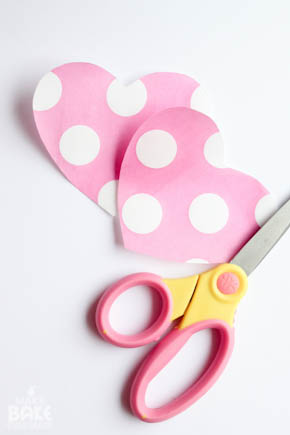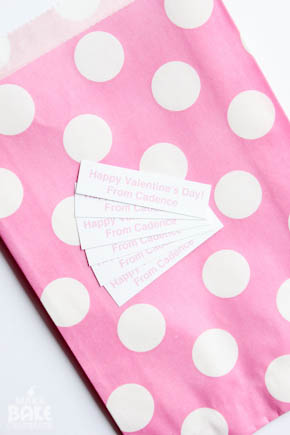 Step 2: Cut out the hearts and name labels.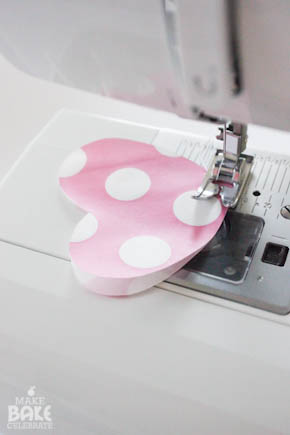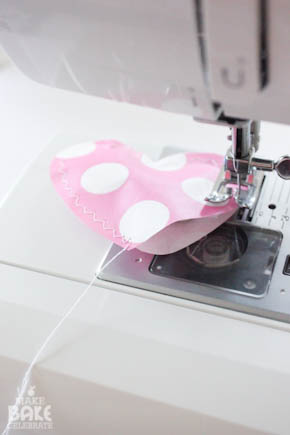 Step 3: Starting at the point of the heart sew the heart sew the edges up until the you finish the second curve. I used zig zag for the look.
Step 4: Once you've got to the second curve, with your needle down, raise the foot. Stuff in note and candy pushing to the back. I was able to stuff about 8-10 M&M's with a toothpick helping to press them back.
Step 5: Push candy into curves and finish sewing shut. I did not even back sew I just stitched right off the heart and they help up well.
And now you have a fun Valentine…just bursting to share it's secrets!
You can switch these up however you would like! Cutting these with zip zag or scalloped scissors would be adorable! And hand stitching would work too, but I am so not patient enough to sew 24 of these!And the best part about these was not only did we get to make them together, they will still be fine a month from now….way ahead of schedule. Awesome.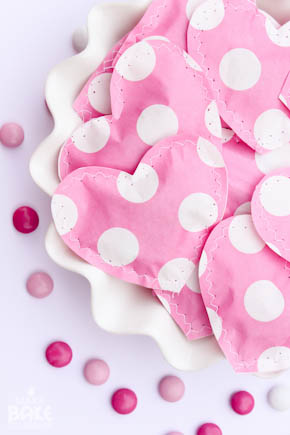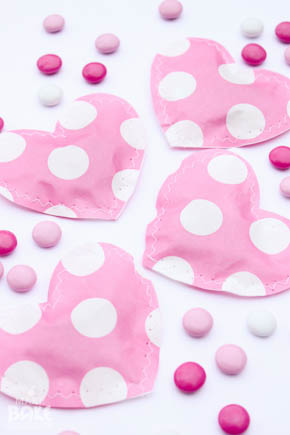 With one pack of goodie bags, one bag of M&M's, and one hour we were able to create 24 of these bad boys. Easy peasy and oh sew cute.