I'm so excited the Halloween is almost here! Eek! Boo! Hooray! I feel like each year this holiday moves up on my favorites list. As I've said many times before Halloween was never a favorite growing up, and I still am not a fan of gory really creep Halloween type things. But I DO love all the silly things that can come along with Halloween, monsters can be adorable as long as their not trying to suck your brains, ah!
Plus, all the things that come along with fall and Halloween…what's not to love? Pretty colors, cool weather, apple cider, adorable kiddos, pumpkin everything…ahem pumpkin everything. If you don't love all the pumpkin treats at fall, just kidding I know there's nobody out there like that….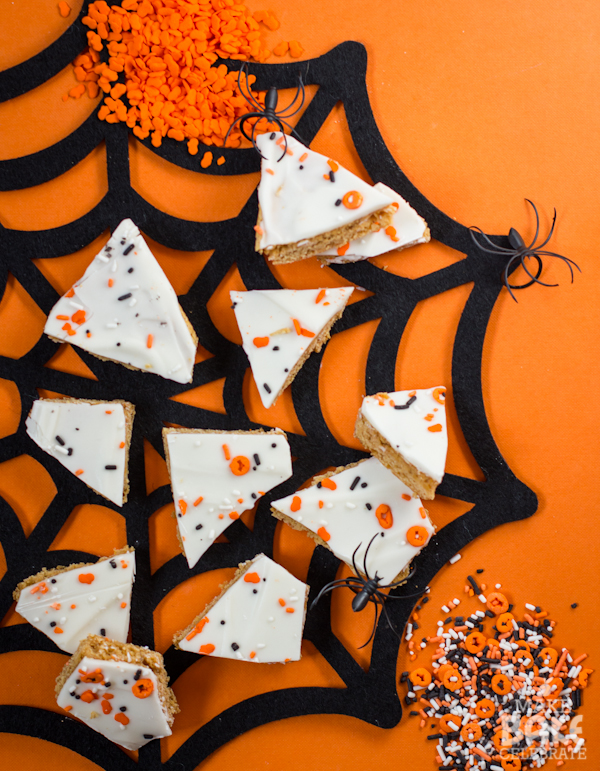 And with that in mind you're going to LOVE the treat I have for you today! While I was brainstorming up my October recipe to share with Krusteaz I knew it HAD to be pumpkin…but I also wanted something a little out of the norm and something completely sharable for all of the festivities! I'm pretty sure this Pumpkin Snickerdoodle hit all the marks!
This cookie bark is SO easy and delicious…you might just find it taking the place of all that Halloween candy this year. The kids will thank me! To make this bark I mixed some pumpkin puree into a Krusteaz Snickerdoodle cookie mix BUT now that fall is in full swing…their Pumpkin Spice cookies are in stores everywhere! So you could easily swap it out for that mix as well. Either way it will be pumpkiny goodness!
Pumpkin Snickerdoodle Cookie Bark
Ingredients
1 package Krusteaz Snickerdoodle Cookie Mix
1 egg
1/3 cup pumpkin puree
12 oz white chocolate
Sprinkles (optional)
Instructions
Heat oven to 350°F. Line cookie sheet with parchment paper.
Mix together cookie mix, included cinnamon packet, egg, and pumpkin puree. Spread dough evenly over parchment paper. Dough will be thin.
Bake 15-20 minutes until edges are firm, and a toothpick comes out clean. Let cool.
Melt white chocolate until smooth, spread evenly over cookie, add sprinkles if desired.
Once chocolate had completely cooled and is firm break bark into pieces.
http://makebakecelebrate.com/pumpkin-snickerdoodle-cookie-bark/