Sometimes I have a brilliant reason to create something sweet. Other times I'm just rolling with whatever random things that POP in my head. These popcorn cookies for instance. I could have made these for an awesome carnival party, movie night, game day bash, sleep over…or literally an endless amount of events at which popcorn is known to hang out. But why did I make these? Because I saw a flower cutter set and said, hey those look like popcorn. And that was that, Popcorn Sugar Cookies were popping out of the oven.
I made these a few months ago, but they got lost in the chaos of the holidays so I'm just now getting around to sharing them. Which I think is pretty cool because wouldn't they make the perfect treat to say "Valentine you make my heart POP!" You know I just can't resist a pun.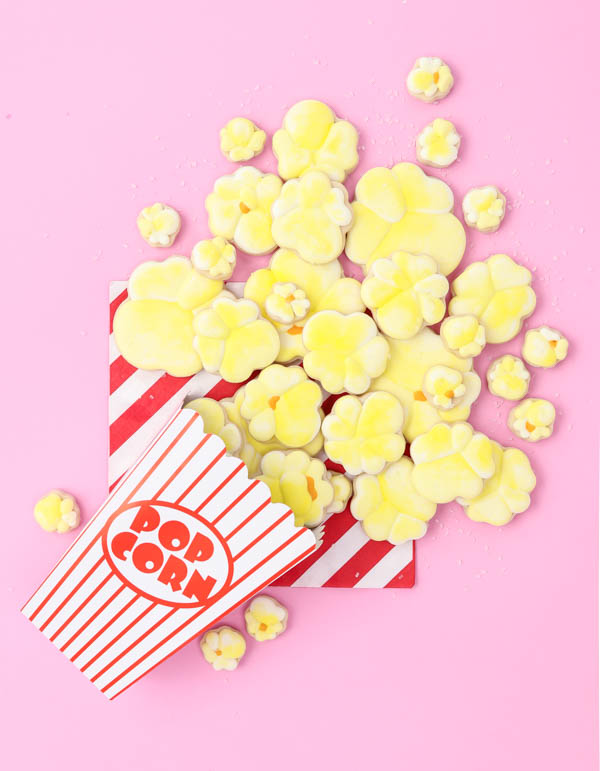 The stacking cutters guilty of forcing me to make these cookies this time were of course Sweet Sugarbelle's nesting flower cutters. (psst! affiliate link) I mean if you really look at them they are totally popcorn cutters all the way.
And since I was making cookies at random (read unprepared) I had to get crafty with this design. I finally drug out my new air brush that's been sitting for almost two years! I knew a little yellow air brush would make the perfect butter effect. Except I had zero air brush colors. Whomp. Whomp. Whomp. So I got to thinking, surely I can make my own airbrush color right? Would it dry right? Would it clog the gun? You guys! It was SO easy. All I did was use a little clear vanilla extract (vodka would work as well, the alcohol evaporates just the same) and a little yellow gel coloring. Mix the two together and easy peasy air brush coloring! It brushed on like a dream and dried so nicely. As a matter of fact…I think I liked it even better then the regular air brush coloring. Anybody else do this? Please tell me I'm not the last cookier on earth to figure this trick out…
Let's take a closer look at how to make these fun cookies.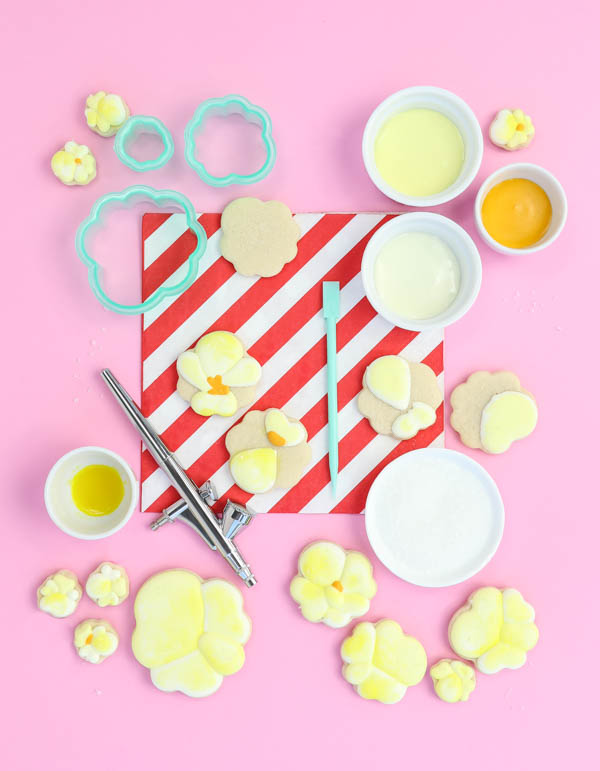 You will need:
popcorn cutters
light yellow, white (slight touch of yellow), and corn kernel yellow 20 second royal icing
sprinkle "salt"
yellow air brush color OR a little clear extract plus yellow gel to mix your own
Note: To make the white color I added just a touch of the pale yellow icing to it and it gave it just a slight buttery tint without making the color actually yellow.
Step 1: Bake your cookies.
Step 2: Begin by frosting two tear drop or heart shapes on each cookie across from one another. I used the colors at random to give it the right look. Some I outlined the shape with the white and then filled with yellow, some were all white spaces, and some were all yellow. Every once in a while I sprinkled on a few sprinkle "salts" while the icing was still wet. I also added a few kernels to the center at this step.
Step 3: Once the first layer has crusted over (about 20 minutes) air brush a little yellow "butter" here and there.
Step 4: Now you can then fill in the opposite spaces and then give a final airbrush at random. Don't over butter your cookies! You want a little white and light yellow to show through.
These cookie were really, poppin. In retrospect if you are looking for a more realistic look it would probably be better to stick with just one size cookie. But I couldn't resist creating a mix!