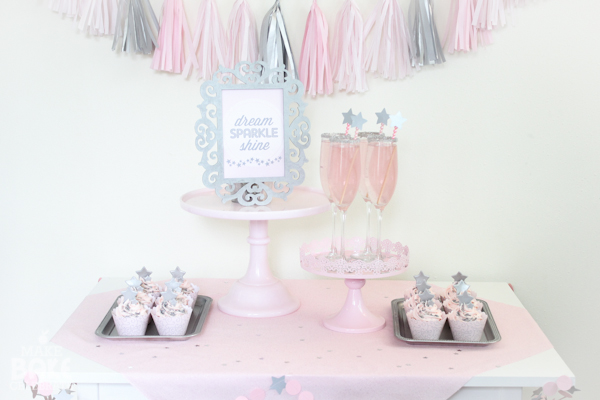 Hello, and welcome to the party! Haven't you heard? The ever so sweet Java Cupcake has gathered up 21 dessert bloggers to throw an incredible Cupcake Couture Blog Party! Here's how it works…each of us was given a random cupcake wrapper from Bella Cupcake Couture, from which we were suppose to create a coordinating cupcake and display using things around our home. Just to show you guys just how easy it is to dress up a cupcake and beautifully display it for any occasion!! Oh, and did I mention there's a little giveaway as well? One lucky winner will be taking home $565.00 worth of cupcake gear to get you well on your way to a beautiful display (ok more like 10 displays!).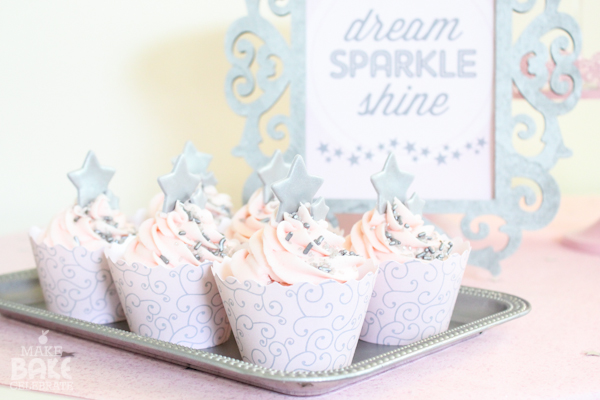 I received these beautiful soft pink and grey swirled cupcake wrappers with scalloped edges. The elegant look of the wrappers gave me the idea to bake pink champagne cupcakes and create a sweet and bubbly celebratory display to go along with. I decided to use matching pink elements and then add in stars to bring out the grey swirls and create a sparkling display that could be used for many different celebrations!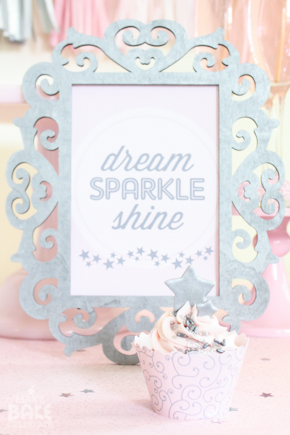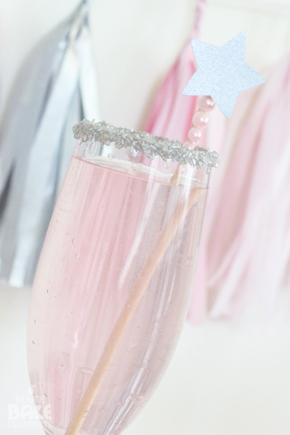 Once I had my theme set, I began to look around the house for items in pink and grey. I was really surprised at how much I already had! I had this perfect wooden frame left over from my
last party
, a splash of silver paint made it just perfect! Then my graphic guru Angela at
Hello, Cuteness
whipped up a quick little printable to go with. For the bubbly beverages, I lined the glasses with silver sprinkles and embellished some cute little stir sticks with pink pearls and silver paper stars, also left over from previous parties!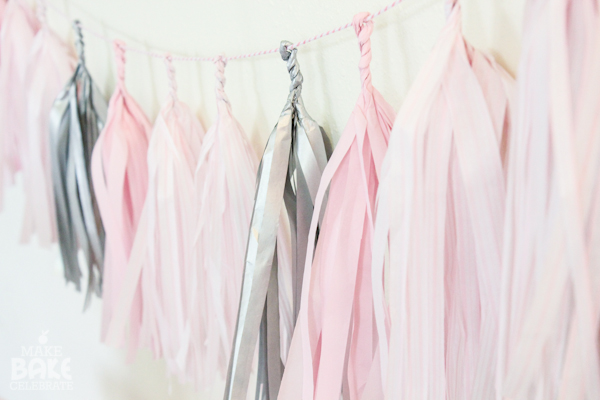 A tissue paper tassel garland turned the display into a celebration! It was easy, quick, cheap…yet oh so cute! I see more tassel garlands in my future.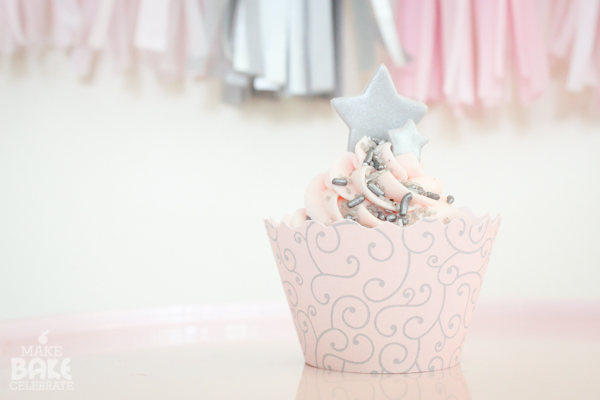 And of course…the cupcakes!!! The cupcake itself is a pink champagne cupcake topped with a pink champagne buttercream. (recipe below) The cake had a nice light flavor too it, and the buttercream tasted like a sweet champagne! They can be easily adapted for a stronger or lighter flavor. Once these little ladies got all dressed up in their pretty little wrappers, I added a silver swirl of sprinkles and a couple of fondant stars. I really love how they came together. So simple, yet so elegant!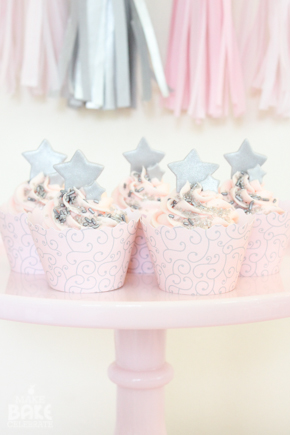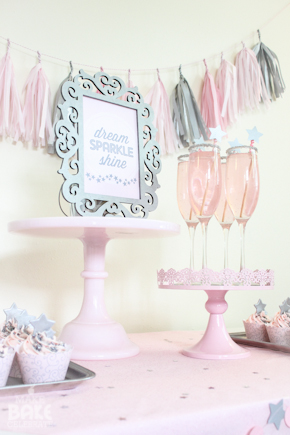 The silver trays that held the cupcakes were something I had in my party box (psst, from Dollar Tree!) and the two pink cake stands are stand I display in my kitchen.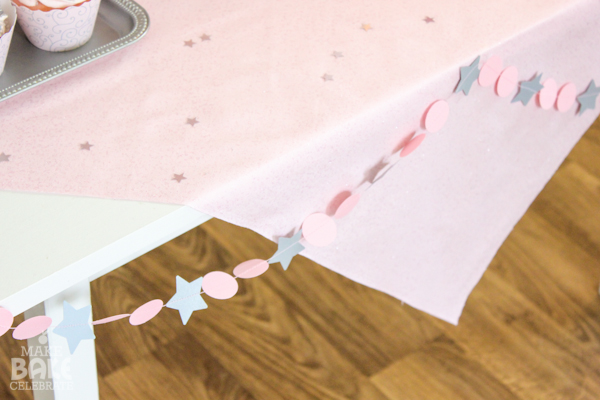 I also used left over fabric from a dress I made as the table linen..which just happened to be perfectly sparkly! The cute little paper garland was made using scrapbook paper from my stash, punched out, and sewn together. One of my fav party decorations to make. :) And of course, a little bit of silver star confetti gave it just a little bit more sparkle!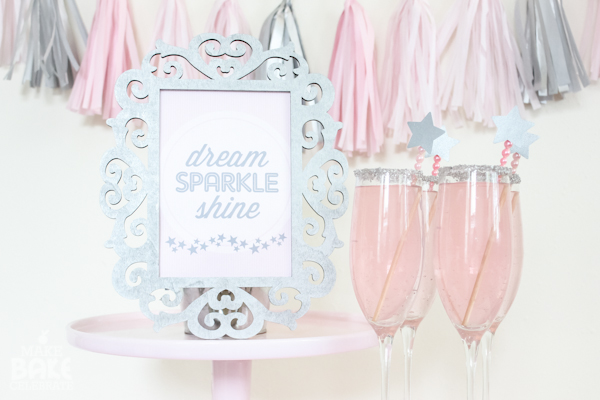 I love how easy and inexpensive it all came together. Since most of the items used we're found right in my home, it cost me less then 20 dollars to put together! Which included a 12 bottle of champagne. Pretty good, I'd say. See, it doesn't have to cost you any limbs to create a display that will WOW your friends!
But wait there's more…each of these bloggers also has a pretty little cupcake display for you today. Follow their links bellow to see what they baked up. But before you get lost in the awesome cupcake displays…scroll down and enter to win!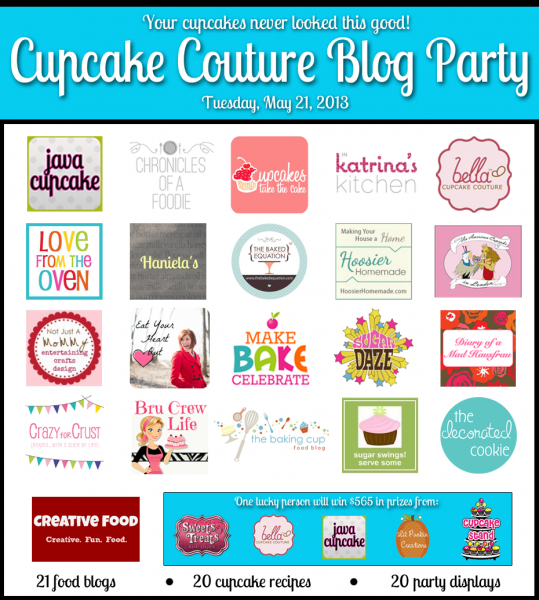 An American Cupcake in London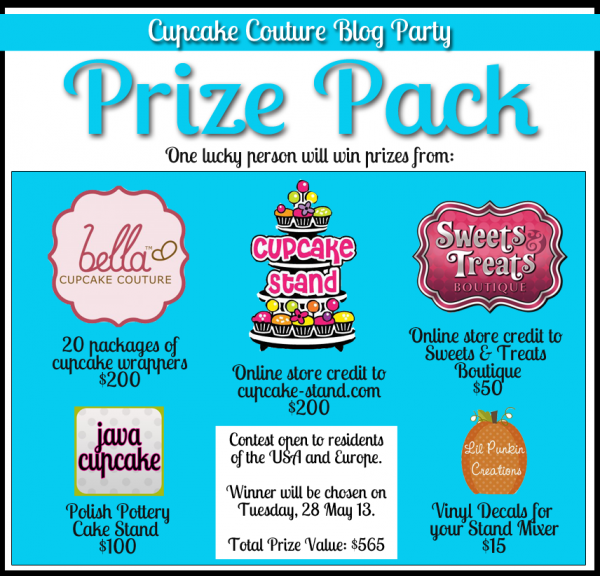 And let's not forget the prizes!
Thanks to our amazing Prize Pack sponsors for their generous donations! Please, visit their websites to see more of their fabulous products!
Bella Cupcake Couture
To enter to WIN this Prize Pack, simply fill out the entry form below.
Contest opens 21May13 at 0700 PST and closes 27May13 at 2359 PST. One winner will be chosen and announced within 24 hours of the contest ending. Winner will be contacted via email to claim their prize.
This contest is open to residents of the USA and Europe only.
a Rafflecopter giveaway
Whew. That was a LOT of fun. Just like any other party…I'm beat! Hope you guys had fun as well as picked up a few new ideas for your next celebration!
Ingredients
Pink Champagne Cake

1 Box Duncan Hines White Cake Mix
3 Egg Whites
1 Cup Pink Champagne
1/4 Cup Oil
1/4 Cup Sour Cream

Pink Champagne Buttercream

1 Cup Unsalted butter
4 Cups Powdered Sugar
1 TBS Vanilla
6-9 TBS Pink Champagne
1-2 TBS Milk
Instructions
Mix together cake mix, wine, egg whites, sour cream, and oil.
Fill each cupcake liner with 3 TBS of batter, then bake at 350 for 15-16 minutes. Let cool.
In a large mixing bowl or the bowl of an electric mixer, beat butter until soft and fluffy.
Add in vanilla.
Slowly mix in powdered sugar one cup at a time.
Add in 1 TBS of milk, then begin adding in champagne one TBS at a time until desired flavor strength and consistency are achieved. If you would like a soft champagne flavor but your buttercream is still too dry, add in more milk 1 TBS at a time until desired consistency.
http://makebakecelebrate.com/pink-champagne-cupcakes-cupcake-couture-blog-party/