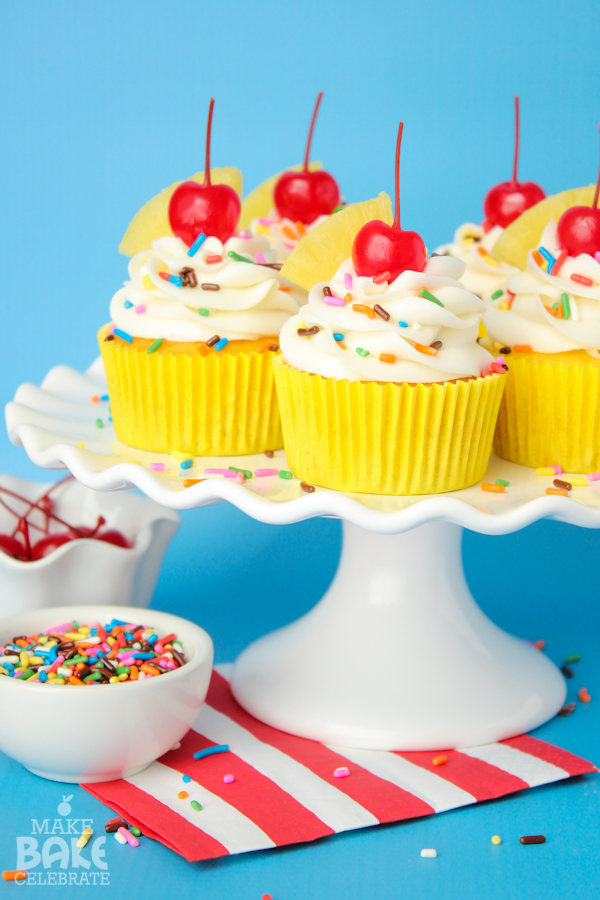 Aloha! It's that time of year again, Luau time! Time to bust out the grass skirts and coconut bras and celebrate the end of summer. I have to admit, I can't hardly visit a party store at this time of year without wanting to plan a great big luau. It must be all those adorable pink flamingos and pineapples! Who could resist?
But of course if you're planning a luau your going to need some pina coladas, and naturally dessert…why not combined the two and serve up these easy peasy Pina Colada cupcakes, eh? These cupcakes are so easy peasy you'll be out of the kitchen and enjoying the summer bash before you know it.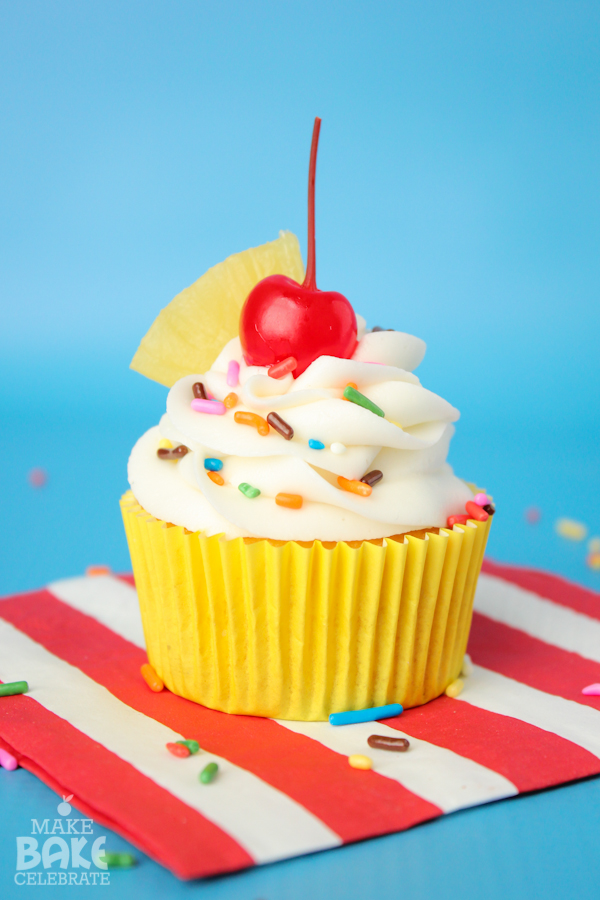 These cupcakes start with a Duncan Hines Pineapple cake mix, spruced up with some real pineapple, iced with a coconut buttercream, and topped with a little pineapple and cherry. While these cupcakes don't contain any rum like a traditional Pina Colada, you can jazz it up with a little rum or rum extract if you'd like!
Ingredients
Pineapple Cupcakes

1 Duncan Hines Pineapple Cake Mix
2/3 Cup Pineapple Juice (From Can 20oz. Can Of Pineapple Slices)
1/3 Cup Milk
1/2 Cup Sour Cream
4 Eggs
1 Cup Small Pineapple Chunks (Cut From Slices)

Coconut Buttercream

1 Cup Unsalted Butter
1 Cup Shortening
1 Tsp. Vanilla Extract
1 Tsp. Coconut Extract
8 Cups Of Powdered Sugar
6-8 Tbsp. Milk
Pineapple Chunks + Cherries For Topping
Makes approx. 36 Cupcakes.
Instructions
Step 1: Preheat oven to 350 degrees. Strain juice from canned pineapple. Cut up 1 cup of pineapple sliced into tiny chunks. Place remaining pineapple chunks in a bowl and set covered in fridge for later.
Step 2: In a large bowl, mix together cake mix, pineapple juice, milk, sour cream, and eggs until combined. Stir in 1 cup of small pineapple chunks.
Step 3: Spoon just a little more then 3 Tbsp. of cake batter into each cupcake liner, bake from 15-18 minutes at 350 degrees.
While cooling you can prepare your buttercream.
Step 4: In a large mixing bowl, beat butter until soft and creamy. Add in shortening and beat again until combined. Add in vanilla and coconut extracts and mix until combined. Slowly add in powered sugar one cup at a time, stirring in between. Add in 6-8 Tbsp. of milk 1 Tbsp. at a time until you reach desired consistency.
http://makebakecelebrate.com/pina-colada-cupcakes/