I simply can not wrap my head around the fact that Christmas is just days way. Days! It seems like no matter how hard I try, there is just never enough time at Christmas time. My "to do" list is always twice as long as the hours in the day, especially this year. Normally I have all sorts of goodies stored up in the freezer to easily pull out and serve at events as they come and go. Just has not happened this year! If you and your schedule is anything like me, you are going to love these cookies. Heck, you're going to love them even if you have all the time in the world! No need to spend hours of decorating with these, they are simple, quick, and delicious.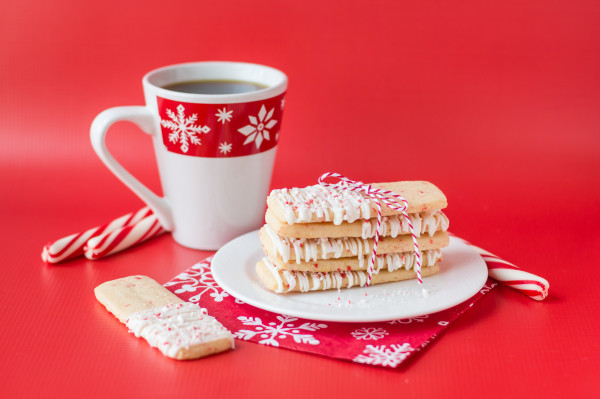 The cookies start with a Krusteaz Sugar Cookie Mix, with peppermint pieces baked in, rolled and cut into bars, drizzled in white chocolate, and sprinkled with more peppermint. You just can't get a whole lot more Christmas then that! Find the recipe below, and head over to Krusteaz.com for even more Christmas treats!
Peppermint Crunch Cookie Sticks
1 package Krusteaz Sugar Cookie Mix
1 egg
1/2 cup butter, softened
1/2 cup flour
1/2 cup crushed peppermint
6 ounces white melting chocolate
Step 1: Preheat oven to 350°F.
Step 2: Stir together egg and butter. Add cookie mix and flour and stir until dough forms. On clean surface, knead dough until completely combined, then knead in 1/3 cup crushed peppermint. Roll dough into ball and wrap in plastic wrap, place in fridge to chill for 10 minutes.
Step 3: Once chilled, flatted ball into a disk and roll out to ¼ in thick between two pieces of parchment paper. Cut dough into 3/4 x 3-inch strips. Transfer cut pieces to parchment paper lined cookie sheet 1 ½ in apart. Place entire cookie sheet(s) in freezer for 2 minutes. Remove from freezer and bake for 7-8 minutes.
Step 4: Once removed from oven, let cookies rest on pan for two minutes and then transfer to cooling rack. Once cookies are cool, melt chocolate and drizzle on white melting chocolate. Immediately sprinkle with remaining crushed peppermint.
Now that you're ready to get your Christmas baking on, I have TWO fun events to share with you! Today at 4-5 EST you're invited to join Krusteaz and the Baker's Dozen in our #SeizeTheKrusteaz holiday baking twitter party! We're going to be talking holiday baking and giving you a chance to win some Krusteaz mixes of your own! Make sure to follow both Krusteaz and MBC to join in!
Krustez: Krustez
MBC: ToniMillerMBC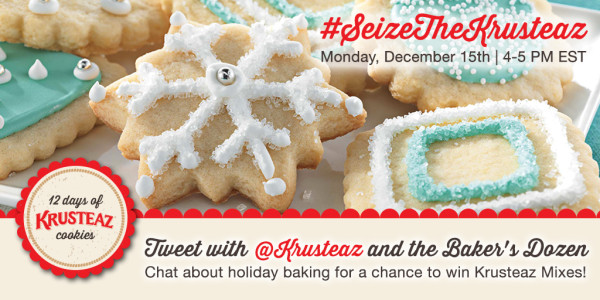 In addition, Krusteaz culinary specialist Malia Hasegawa will host a live holiday baking chat on the Krusteaz Facebook page. Malia will answer participants' holiday baking questions and share ideas for festive foodie gifts. You don't want to miss this – Malia is incredible!
I sure hope you join me and my friends the Baker's dozen! It's time to bake a little Christmas!