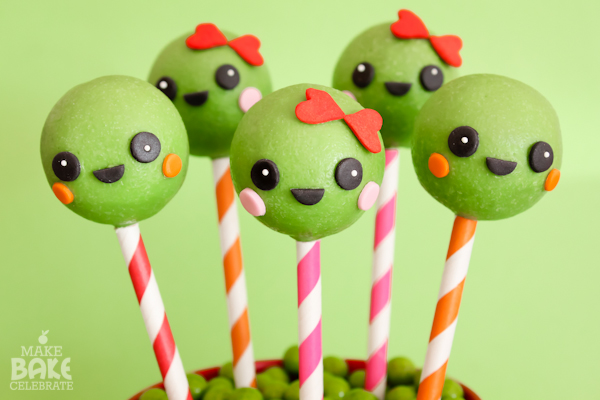 I have the cutest Valentine's day treats to share with you guys today! Once again I've teamed up with the cuteness queen Angela from Hello, Cuteness! to bring you guys a fun and unique Valentines treat and printable(s). A few weeks ago I had this crazy idea to make cute little peas for Valentine's day to say "Peas Be My Valentine". I know veggies for Valentine's day?? But Angela didn't even blink at my crazy idea and went to work. Of course she delivered with the cutest little peas ever.
We put these little peas to work, because today I have not one but two Valentines ideas to share with you! First up are these sweet little veggie impersonator cake pops complete with a free printable tag! If you're looking for a creative treat to make for the kiddos these are a perfect bite size option. For once, my kiddos were begging to eat their peas!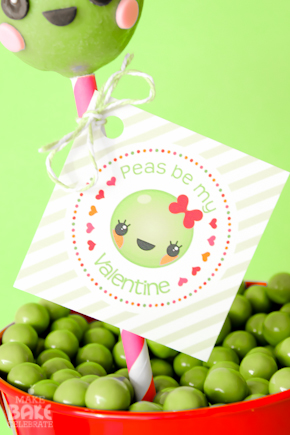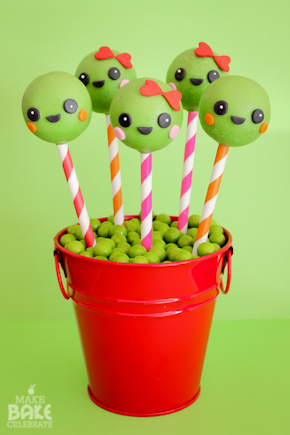 The second Valentine treat is super simple and yet adorable! You can find these crazy cute treat bag toppers in the Hello, Cuteness shop, here. The printable has both boy and girl pea options, so the little men can enjoy them without the bows ;) I filled my treat bags with some pea colored Sixlets from Party City, green M&M's, or gumballs would work too! I completely forgot to photograph the back (arg!) but there's a cute little from spot on there with editable text – love it!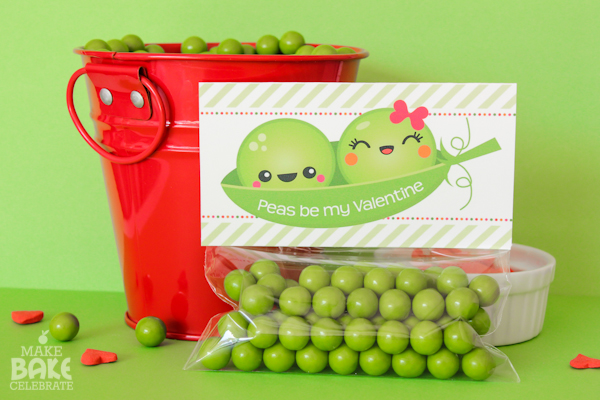 I'll be the first to admit, cake popping is not my forte! As I've said before, it's just so much work for one little bite! These little guys however weren't too bad at all. It's really a matter of a few simple shapes in the right place. I started with baked cake pops from my baby cakes cake pop maker – I like the taste vs. rolled cake pops, but of course you can do either! The bows and tiny white specks on the eyes are sprinkles, and the rest are cut from fondant. I like using fondant vs. sprinkles on cake pops because you don't even notice it while your eating it – unlike sprinkles/candy that crunch so if possible I use fondant. Once the cake pops were complete I dressed them up in paper straws from Sweets and Treats boutique to make them even more festive.
Here's what you're going to need:
Cake Pops (baked or rolled)
Cake Pop Sticks
Green Candy Melts
Green Candy Coloring
Black Fondant
Tiny White Sprinkles (or white fondant for spots on eyes)
Pink Fondant
Orange fondant
Jumbo Heart Sprinkles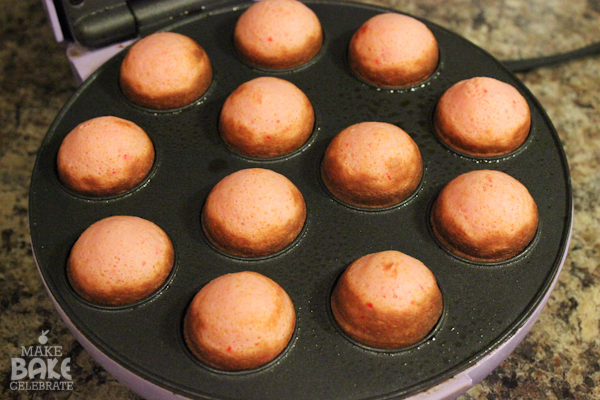 Step 1: Bake your cake pops. (or bake, destroy, and roll if you're using the original method)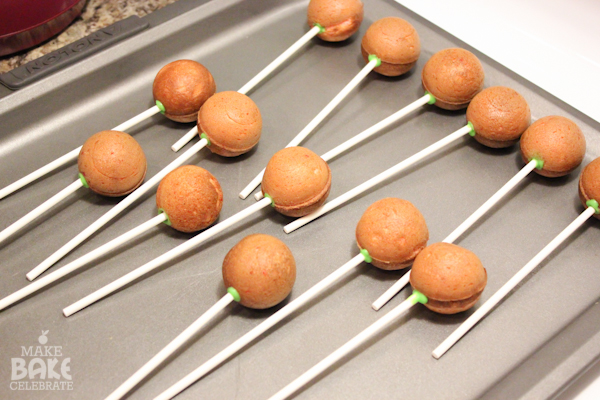 Step 2: Melt a little bit of green candy melts, dip 1/4 inch of cake pop stick into chocolate and then place 3/4 the way into cake pop ball. Lay on cookies sheet, place in freezer to firm once all sticks have been inserted.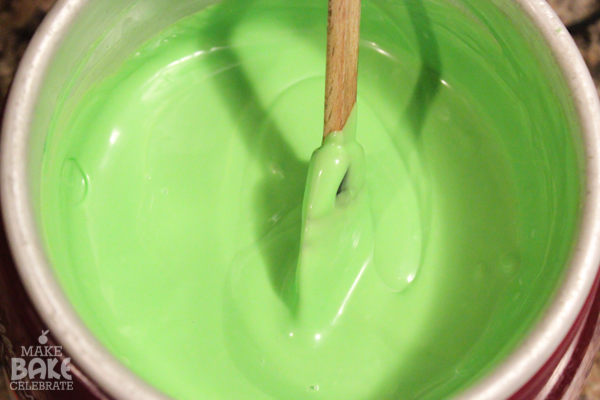 Step 3: While cake pops are firming begin melting your candy melts. It is best to do this with a chocolate melter, you can read more info on that here. I started with Wilton's lime green candy melts and added green candy coloring to it until I got a nice shade of pea green. Once your color is good and chocolate is melted place warmer on "warm".
Step 4: Pull the cake pops out of the freezer and begin covering them in chocolate by dipping and gently tapping. Place them in a cake pop stand to harden.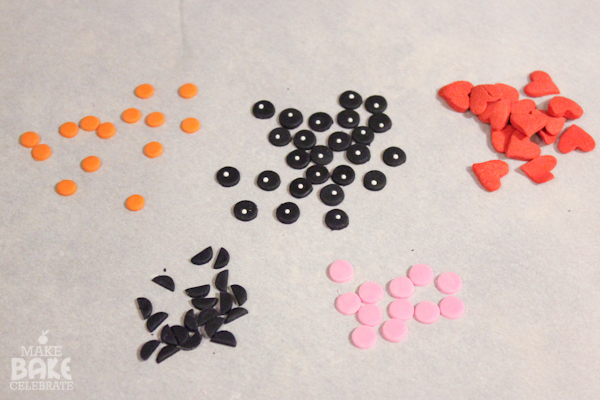 Step 5: While you're cake pops are firming up, begin making your little pieces for the eyes, mouth, and cheeks. I used a tiny little fondant circle cutter, you could also use a straw. I pressed a little white sprinkle in the eyes, and cut some in half to make mouths. I used orange cheeks for the boys and pink for the girls. Remember you will need 2 eyes and 2 cheeks for each cake pop your making, but only half as many mouths. Once all little pieces have been cut set aside to harden a bit.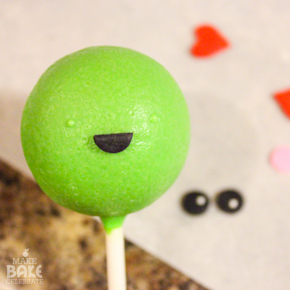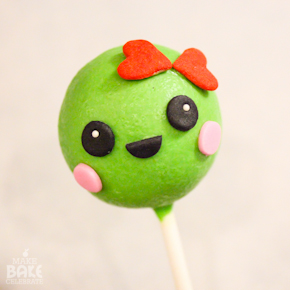 Step 6: Once the green has hardened on the cake pops, use a tooth pick and green candy melts to "glue" on the face pieces and bows. Simply dip the tooth pick in the candy melts (melting chocolate) and apply a small dot on the cake pop where you would like each piece to go.
Step 7: If you would like to add paper straws to the sticks for even more cuteness, simply dip the end of the straw into the green candy melts and slip over the cake pop stick. You may need to trim the straw.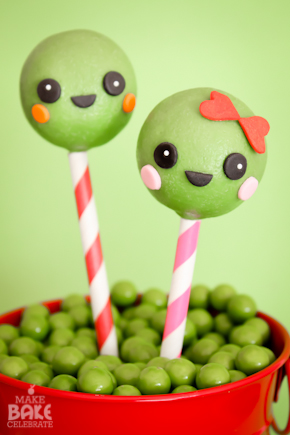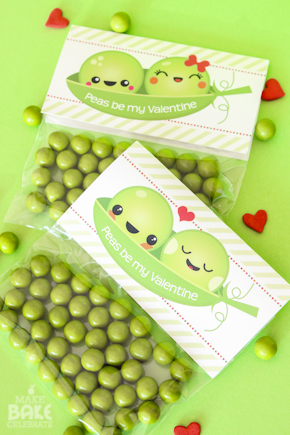 Download your FREE printable cake pop tag below then head over here to pick up a treat topper in the Hello, Cuteness shop! Your kids will just LOVE handing these little peas out.
I hope you guys loved these treats just as much as me! See, vegetables CAN be a part of Valentines day…if they are made of chocolate!