It's peanut butter jelly time! Peanut butter jelly time!
I get a little pumped when it comes to peanut butter and jelly, I meant who doesn't? It's the ultimate kid flavor combo, and the easiest way to please when it comes to kiddo lunches. This time of year I'm a peanut butter and jelly factory as the kiddos head back to school, yay! I make sure to incorporate other foods, but if I let them they would eating peanut butter and jelly sandwiches every single day.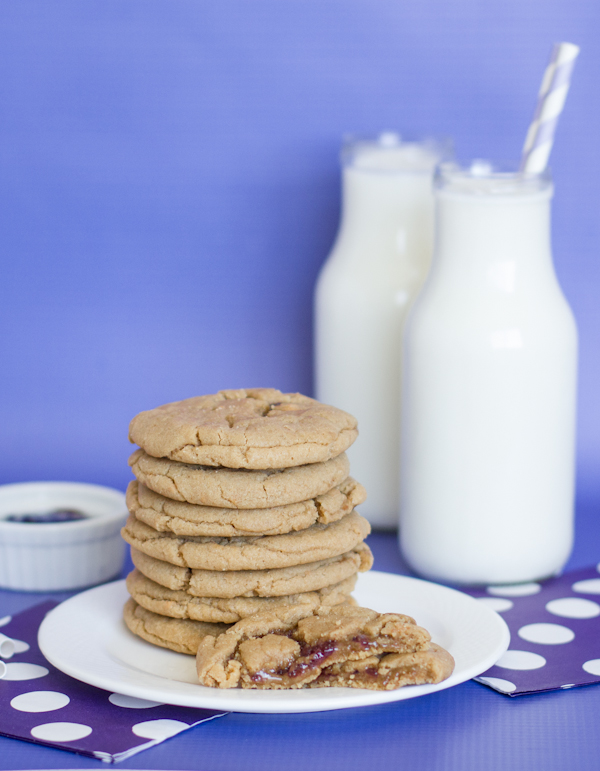 So when I teamed up with my friends at Krusteaz to create a fun and simple back to school treat, I know I had to stick to this classic combo. So for our official back to school snack (those kiddos are hungry monsters that first week!) I baked some of Krusteaz's double peanut butter (yes double!) cookies and then stuffed them full with grape jelly! So easy, so yummy! Chewy peanut butter goodness on the outside, smooth grape on the inside. I can hardly wait to bake some more – want to bake some too?
I'm sharing the recipe on Krusteaz.com, you can find the recipe right here. Simple, quick, and fills those knowledge hungry tummies! You'll have them fresh out of the oven and in time for the school bus. Talk about a smart cookie.