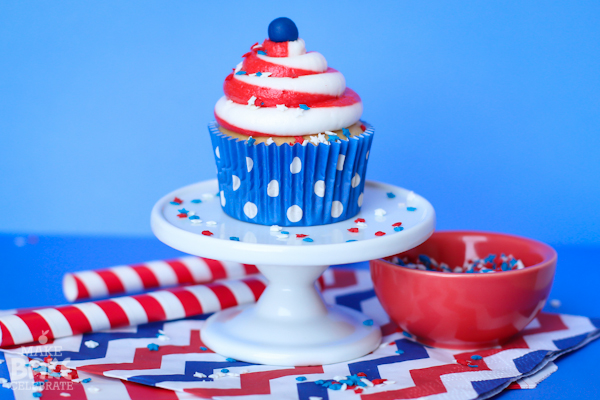 I've decided to call these cupcakes Patriotic Swirl Cupcakes instead of "______ Of July Cupcakes". Yea – I'm avoiding that holiday right now and pretending it's not really just two weeks out. It's not that I don't enjoy the "______ Of July", in fact I love it! We're just now completing our first full week of summer break and I can not express how much I've really enjoyed it. It's amazing what happens when you toss out all the routine school brings. Despite the fact that's it's like 110 out, everything is so much cooler. I enjoy more sleep, the kiddos live in swim suits and PJ's, popsicles and ice cream have become a food group, and rubber band bracelets have become the "to do" thing around here.
So even though I'm totally aware that holiday is 2 weeks from today, I'd rather not admit it. We're taking leave the first two weeks in July which I know will fly by. Soon after the hubs is off on another assignment and if I blink too many times I know we'll be making school uniform lists picking our lunch boxes, and preparing for the chaos to begin – sans the hubs once again. Sigh, why can't we sip tea, eat Pink Lemonade cupcakes, and lounge in our yoga pants all year around.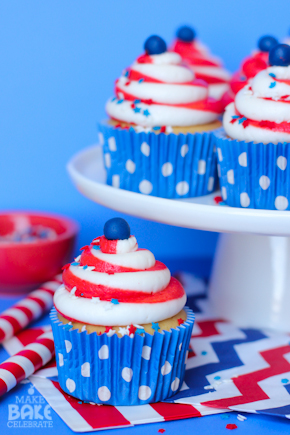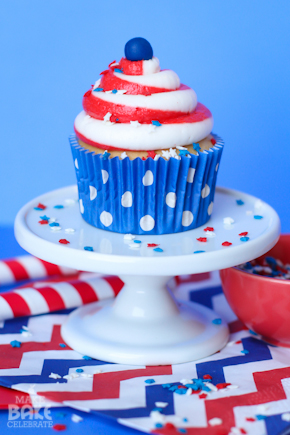 Since I can't exactly stop time I've been playing with Red, White, and Blue treats anyway cause you know they're patriotic and all. But just incase you are already planning and looking forward to the "______" then you will love these cupcakes! Have you ever tried two toned icing? If not you really should it's so much fun and I'm not sure it could get anymore perfect then red and white stripes! In the past I've showed you guys how to load up those bags with multiple colors like in these Swirly Halloween Cupcakes. Today I'm going to show you a way to do it a little differently using three piping bags. This way works much better when your working with only two colors.
We'll keep this short and sweet so we can get back to things like pink lemonade, and time in the sun!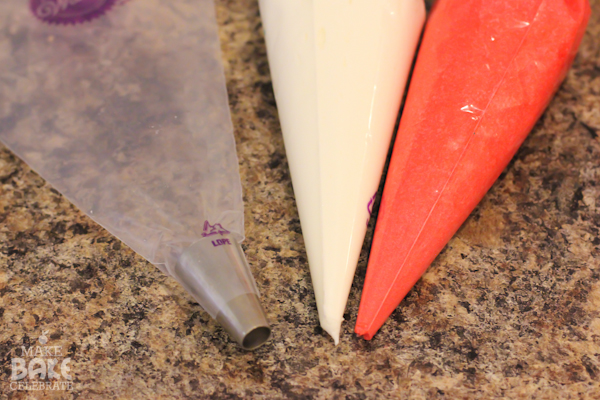 After you've made your icing split it in two and color one half red with red gel coloring. Place white and red icing in it's own piping bag filling each only 1/3 full, less then you normally would.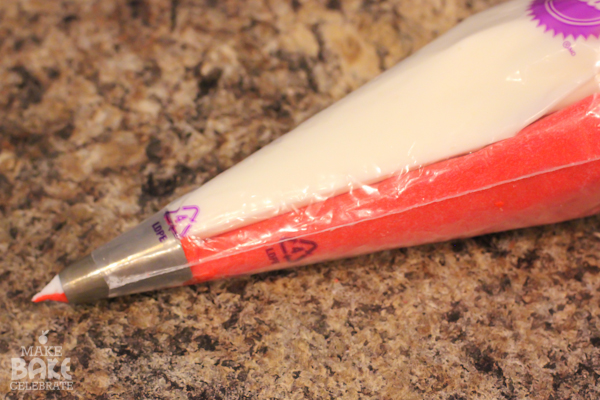 Then prepare another piping bag (larger if you have one on hand) and tip. If your able to use a coupler this works even better, I am not using one here because I'm using a large tip and I can't stand big couplers. Once your tip is secure inside the piping bag, cut off the ends of the piping tip at about 1/4 in wide. Gently slide one piping bag down inside the tip then repeat with the second. Be careful not to touch the sides of the bag with the open tip and gently wiggle them down till they are both settled inside the tip. This is where it becomes important that you did not fill you piping bag too full. If you notice they are not fitting together well, pull them out and squeeze a little back into the bowl.
If you are using a smaller tip with a coupler it's even easier. You can wait to cut the tip until after you've pulled the bags through the inside coupler piece and have them nice and snug. Then trim the piping bag tip and place the piping tip and coupler ring back on.
Then just squeeze a little into a bowl to get the colors started and start frosting those cupcakes! If you want to learn how I frost my cupcakes like I did so in these check out Frosting Cupcakes 101. These would look pretty cool with many different frosting techniques!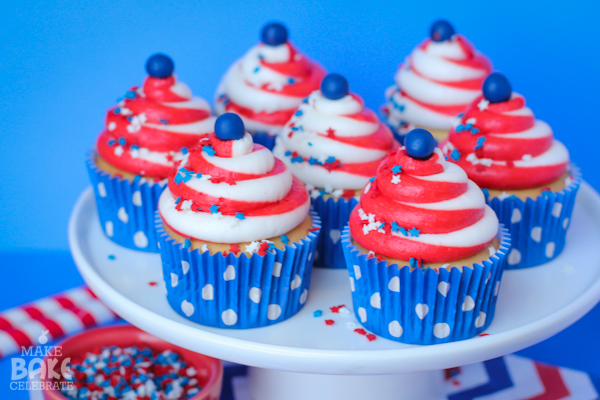 These cupcakes of course wouldn't be complete without these polka dot blue greaseproof liners, tiny star sprinkles, and little blue fondant balls to top! You could always swap the little blue balls out for candy or even little flags.
Now it's time to kick back and enjoy the summer a little more! But don't worry I'll be back next week with more of the cool treats we've been enjoying and yes, more red, white, and blue!