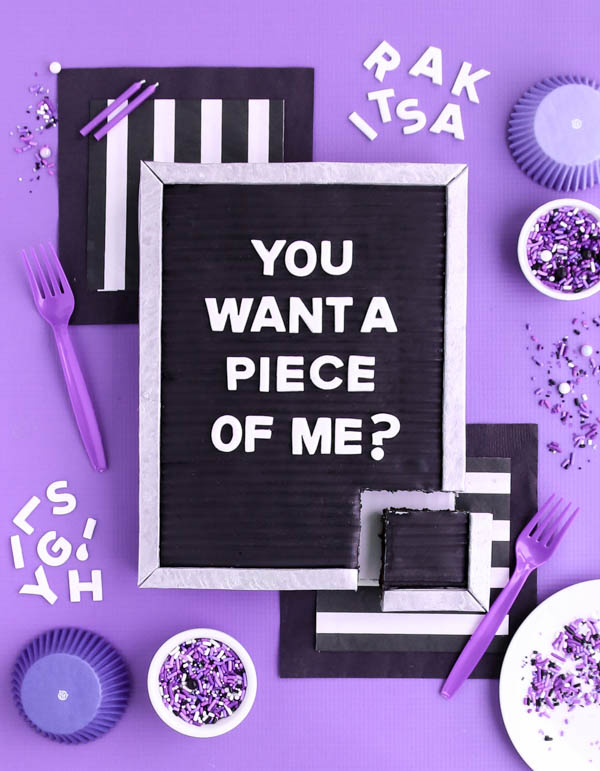 You guys, I've finally solved my issue of my lack of ability to write in frosting. Heck my handwriting with a pencil is just plain terrible. From now on to heck with icing, I'll just stay it with a letter board.
If your anywhere near the wonderful world of social media, you've definitely noticed the trending letter boards. What use to be a plain boring tool for businesses to convey a simple message has turned into a huge stylish trend. Letter boards are no longer just for waiting rooms, if you take a peek around Instagram you'll find them filled with the funniest of messages, styled with the trendiest of props, and my fav, of course, surrounded by sprinkles! It's become a fun tool to communicate in a stylish way with online followers. Now you all know I'm kinda a late bloomer when it comes to trends. I don't like to hop on just any bandwagon and when I do it takes me a bit of convincing before I jump all in. I'm a little old school like that! But cake, I am always behind a cake. And I mean always.
Seriously, how fun is this cake? Wouldn't this be fun for a modern birthday party? You could could literally write whatever you want on it. Or maybe leave some letters out to entertain the party guests. You know I'm always one to encourage playing with your food! I had a little too much fun playing around with all the things I wanted my cake to say, but I have to admit " You want a piece of me?" Was def a favorite. I guess I like a little cake with tween like sass, more reason to eat it after all.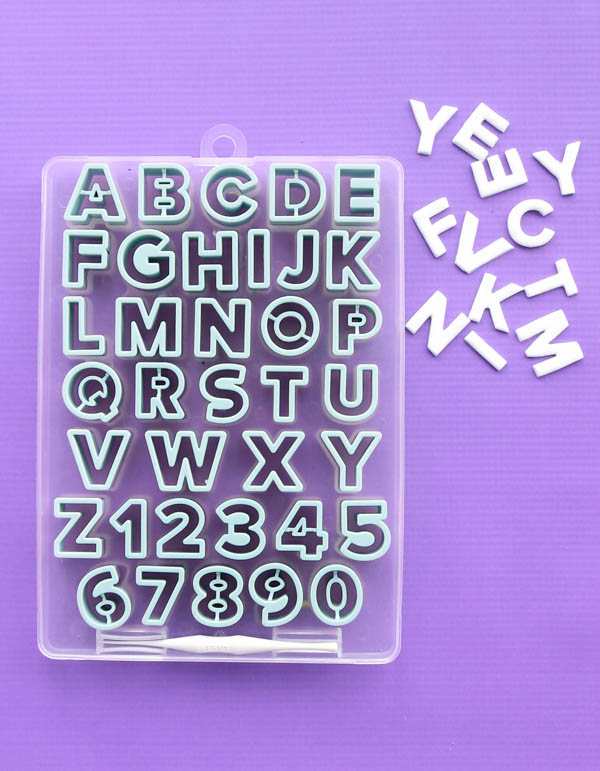 I'm really happy to say this cake is actually pretty easy to make, even for a beginner. It is a fondant cake but don't worry anybody could make it! Let's talk about a few things that made this cake come together. First your going to need some fondant letters to write out all those punny messages. I found this Sweet Creations letter set a couple years ago at Country SweetArt Kitchen. Unfortunately I'm having trouble locating them there right now but I did find some on Amazon here. These letters are about 1 in tall. Now in reality they are a little big for a true letter board ratio, but I wasn't exactly going for a realistic look. I like a little whimsical feel to my creations. They worked perfectly for me!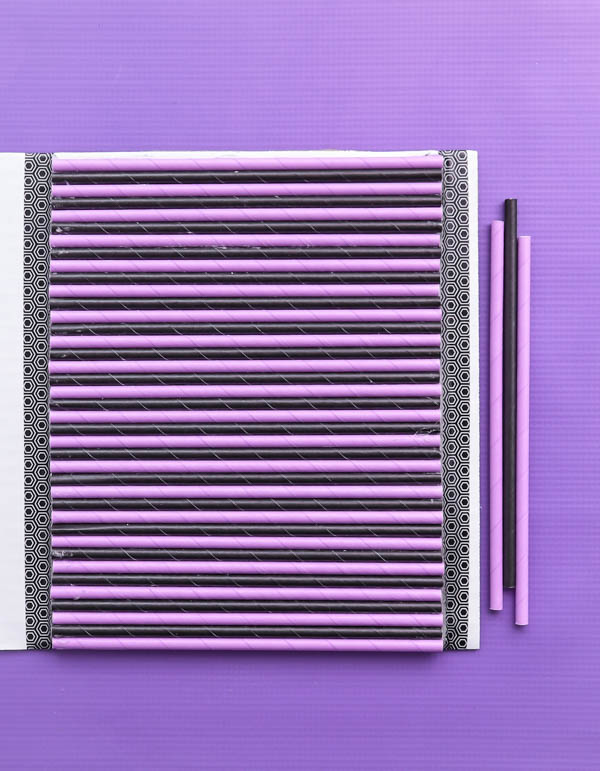 Now here's the other big guy in this cake, a DIY impression mat. In order to form the fondant into a letter board texture I made a little DIY impression mat out of paper party straws from Sweets & Treats! I have to say, it's possible there is some fancy shmancy impression mat that is made to do this exact same thing. Honestly I didn't even look, because that would require ordering a super specific tool that I would never use again and my guess is you wouldn't either! Soo DIY impression mat it is! Basically, all I did was hot glue the paper straws to a 10in cake board then use a little washi tape to smooth out the edges so fondant wouldn't get pressed inside. I should note that you definitely want to use a firm straw, regular thin plastic straws would probably cave under the weight and not leave the impression you want.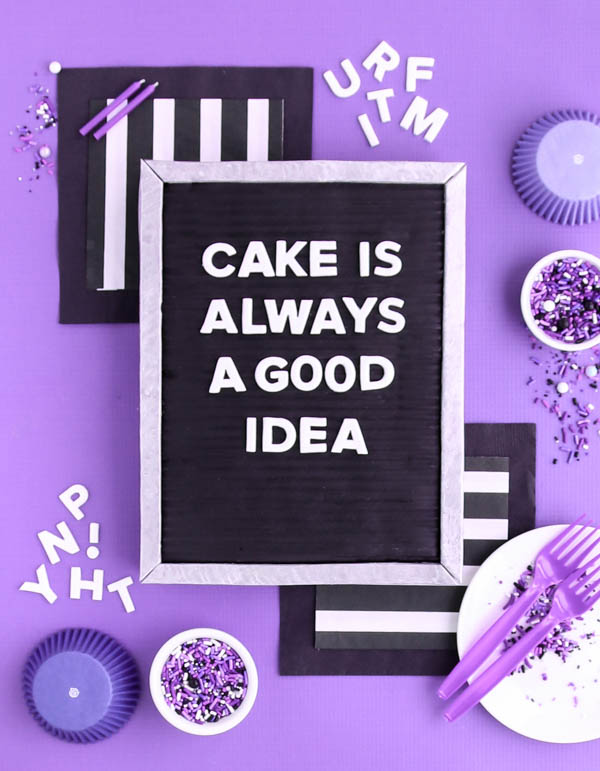 NOTE! Due to the nature of this cake it will need to be completed over the course of two days. The initial fondant work will need to dry overnight or atleast for several hours so it can be moved without stretching.
Here's what your going to need:
letter cutter set
paper straws
hot glue
2 10in cake boards
tape
small food safe paint brush
8. oz white fondant
8oz. black fondant
wax paper
powdered sugar for dusting
silver luster dust (optional)
vanilla extract
buttercream frosting (about 2.5 cups)
10X10 cake (you will be trimming it down a little)
ruler
Step 1: First you will want to make your impression mat. This will set the size of your cake. I lined them up on a 10in cake board using 39 straws (2 packs). This brought the dimensions to 9 3/4in X 7 3/4in.
Step 2: To make the black part of the letter board first roll out your black fondant on a sheet of wax paper about 1/8in thick. (It's best to use a guided rolling pin.) Make sure you've rolled your fondant big enough to cover the entire straw board. Dust the top of your DIY impression mat with a VERY LITTLE powdered sugar to keep it from sticking and then gently lay the black fondant over it. Before removing the wax paper gently rub the wax paper with your hand or even better a fondant smoother. You want to press the fondant down into the straws. I even took a straw and gently rolled it along the wax paper to emphasis the crevices of the straws. Once you can see the shape forming through the wax paper gently remove it. You don't want to press too much with the wax paper on or it will stick to the paper when you pull it off. Trim off the excess black fondant around the straws and place in a ziplock bag for storage. Your letter board will need to sit overnight to let dry.
Step 3: Next you will need to make your fondant letters. Just roll the white fondant about about 1/8in thick and cut them with the letter cutters. Sometimes if the fondant is a little too sticky still some of them will stick to the cutters. In order to help with this I like to roll out the fondant and let it sit out for about 5 minutes before I actually start cutting the letters, this lets it dry up a little. The set also came with a handy little tool to help push the letters out. You may need to gently reshape the letters a bit, then lay them on the wax paper to dry overnight with the letter board.
Step 4: After you've finished the black and the white pieces you can mix a little of your black and the rest of the white to make grey for the trim of the letterboard. On wax paper, roll to strips of grey fondant. Cut 4 stripes of fondant 10in long by 1/2in long. Gently make sure they are straight and then leave them alone to dry as well. You can cut the angles later. (It never hurts to cut a few extra pieces just in case of breakage!)
THE NEXT DAY!
Step 5: Trim your cake so it's level on top. Then take 1 1/4in off one side. This will leave you with a cake that is 10in X 8 3/4in. Now gently place the cake on the cake board, if you would like you can first trim the cake board down as well. Or just have a little extra on the sides sticking out. Frost the entire cake in a crumb coat of buttercream. (New to buttercream? Find my recipe HERE!) Place your cake in the fridge to chill for about 20 minutes.
Step 6: You can't see this part of the cake in the pictures but I actually covered the sides on the cake in grey fondant as well. To do this simply measure the height of you cake and each side and cut 4 strips on fondant to make the same dimensions. Let them dry for just a little bit (or they will stretch) and they gently press them to the sides of the cake.
Step 7: Now for the fun part! First you want to fit your board and your frame together to make sure it's the correct size before placing it on the cake. Gently slide your frame pieces around your black letter board. You will need to lift the grey pieces just a little to lay them over one another at the corners. Don't cut just yet! Take a final measurement of the entire frame and make sure that it's just slightly larger then the cake. No more then a total of 1/4in larger or the frame will fall off! The size should be pretty close but depending on how much frosting and how accurately you measured you may need to trim a little off the black part to get it to the size you need. (Because I'm super type A, I actually cut a piece of paper to the exact same size as my frosted cake and cut the pieces while on top of the paper just to be sure.) Once your confident your letter board and frame will fit on the cake you can now cut the corners of the frame. To do so lay them in the exact position they will be on the cake, overlapping at the corner and simply cut straight down with a knife. Gently transfer each piece from the wax paper to the cake. (Sliding off is best!) After the black main piece is centered you can place the frame on and gently press into place.
Step 8: Now this is the fun part but totally optional. If you would like the grey frame and sides to be silver, take a little bit of luster dust and a tiny bit of vanilla extract and mix it in a tiny bowl with a food safe paint brush. This will make a silver paint. Your paint should NOT be runny. If it is let is sit for a bit until some of the extract evaporates. Paint silver all over the frame and sides. To create a galvanized look take a clean paper towel and very gently dab the paint after a few minutes. If your scared of getting this all over the black you can also take the time to paint the silver on the frame before it goes on the cake. I'm a risk taker what can I say?
Step 9: Now all that's left is to add a whitty little saying, and eat that cake! To permanently adhered the letters to the cake you can brush the back of the little letters with a tiny bit of water or a tiny bit of corn syrup.
TIPFUL! Is your black fondant looking dusty? Maybe a little powdered sugar left on it? In order to get that black fondant shining take a regular household steamer and place if a few feet away from the fondant cake. Let a very small amount of steam hit the cake just until the shine comes back!