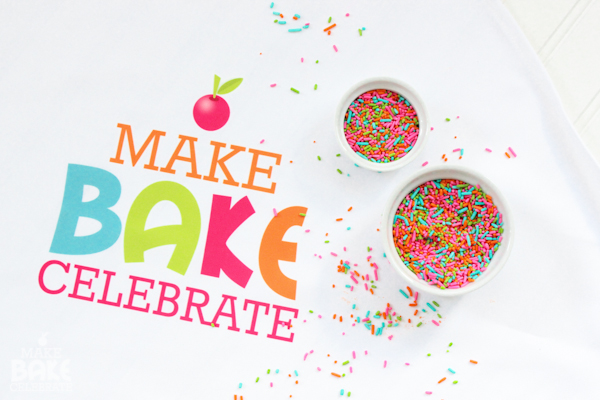 I hope you guys have had as much fun as I have had this week! A special thanks to our sponsors Sweets and Treats Boutique, KC Bakes, and The Twinery! A big congrats to our first 3 winners Becky Nelson (Day 1), Alicia Hansen (Day 2), and Patty London (Day 3)!
But wait, it's not over yet. There's one more day and one more prize to wrap this party up! Tomorrow, Day 4 I'll be giving to one lucky winner a Make Bake Celebrate apron!!! I just recently ordered some aprons with MBC's logo on it and I lovvveee them. Pretty exciting right?! Oh and one more thing, you guys know how much I like these right…….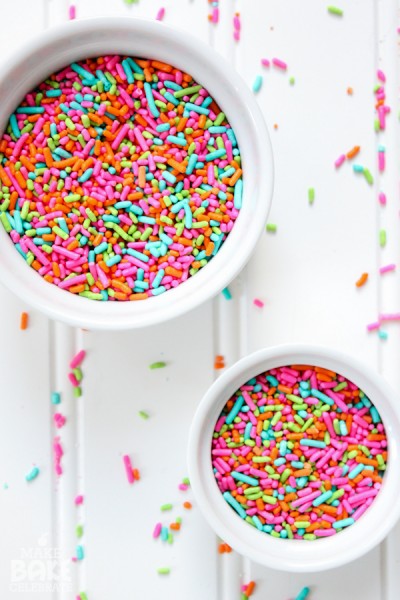 …well I can't thing of anything else to give away better then sprinkles!! So along with the MBC apron I will be giving a $50.00 gift card to one of my favorite sprinkle suppliers Country Kitchen Sweetart!!!!
It's no secret I have a slight obsession with sprinkles. I just can't stop buying them, they make everything more fun. I really love shopping for them at Country Sweetart Kitchen because they have an insane collection of sprinkles at a pretty awesome price. To give you an example…I often buy their 1lb solid color jimmies for $4.00 yes an entire pound for $4.00!! Most stores sell small jars of sprinkles with just a few oz for the same price! Incredible savings when your using sprinkles up like I do! Imagine my delight one day when I realized they are an hour from my home town! I actually had the chance to visit the store last trip home. Amazing store, I was in heaven and I'm pretty sure I could have lived in the sprinkle asile.Counting the days till my next trip!
But don't worry if your not a crazy sprinkle hoarder like me…they have plenty (1000's) of other baking items to choose from!
So if you're not already, make sure you're following MBC on Facebook. Tomorrow at any random time I will post on our Facebook wall a sprinkles graphic to let you know the hunt is on! All you have to do is come here to MBC and find that same sprinkles graphic within one dessert photo in a post, then report back to that same status with the post title. First one wins!