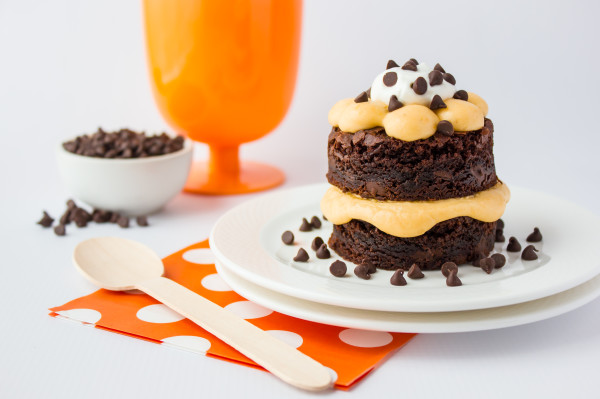 Who's up for some brownies covered in pumpkin frosting, stacked in twos, and totally gluten free? Oh and did I mention crazy easy?
Let me start off by being totally honest, the words "gluten free" makes the baker in me slightly cringe. Not to get all sciency on you here, but when baking, gluten is a huge player in the chemical reaction process. Although you don't need an abundance of it in sweet baked goods vs. yeasty baked goods like breads…it's still a key player. It's what keeps help form the structure and texture of the end result and so on…so I get a little cranky when I think about all the complications that can occur when baking gluten free. But the facts remain, more and more American's are removing or at least cutting back gluten from their diets. Up until recently I haven't had a whole lot of experince with gluten free baking, but we have a few gluten free friends and I've been wanting to add a few recipes to my arsenal to make sure I have treats from them too when needed.
So when I got the chance to try out some of Krusteaz's new gluten free mixes with the Baker's Dozen I was totally pumped! I knew baking from a mix would help curb my gluten free fears, especially from a brand I love and trust! Naturally, the Gluten Free Double Chocolate Brownie Mix jumped right into my hands! As a gluten free newbie I decided to follow their directions in preparing the brownies, then I added my own fun twist by making a cream cheese pumpkin frosting and stacking them up in fun little festive treats! I'm currently in a major chocolate and pumpkin kick, I just love the combo! I was really impressed with the brownies, I really couldn't tell they were gluten free at all! They have a fudgy rich chocolate taste with a chewy soft texture, you definitely need to give them a try!
These would make a great any time treat, or a great gluten free addition to the Thanksgiving table! Head on over to their site and find the easy recipe and directions here!
Krusteaz Gluten Free Pumpkin Brownie Stacks
Ingredients
Gluten Free Pumpkin Brownie Stacks
Prep time: 18 Minutes
Total Time: 1 Hour
Effort: Easy
Servings: 8 (using 2-inch brownies)
Ingredients:
1 package Krusteaz Gluten Free Double Chocolate Brownie Mix
1/3 cup water
1/3 cup oil
1 egg
Pumpkin Cream Cheese Frosting
4 ounces cream cheese (softened)
1/2 cup unsalted butter
1/4 cup pumpkin puree
1/2 teaspoon pumpkin pie spice
2 1/2 cups powdered sugar
Whip cream and chocolate chips (optional)
Instructions
Preheat oven to 325°F and lightly grease an 8x8x2 inch baking pan. Stir together brownie mix, water, oil and egg until combined. Spoon batter into lightly greased baking pan and spread evenly. Bake at 325°F for 48-52 minutes. Once brownies are done, remove from oven and allow to cool completely. Cut into 16 2x2 inch squares or 2 inch circles (using a cookie cutter).
For the Pumpkin Cream Cheese Frosting: Beat together cream cheese and butter until smooth and fluffy. Next, mix in pumpkin puree and pumpkin pie spice. Then beat in powdered sugar and beat once more until combined.
Remove 16 cut brownie pieces from pan and place separated on a large cookie sheet. Using a piping bag or spatula cover each brownie square with pumpkin frosting. Stack frosted brownies in sets of two, top with whip cream and chocolate chips if desired.
http://makebakecelebrate.com/krusteaz-gluten-free-pumpkin-brownie-stacks/