Gosh, I just can't believe it's already (almost) mid December, and most of us are already in full swing "baking" mode. If you're anything like me, your enjoying the season baking up treats to share with others at different events or as gifts. There's just something special about the gift of a little handmade treat to say "Merry Christmas" to those around us.
Looking for a way to enjoy this season even more?! Well guess what, Krusteaz and Weelicious blogger Catherine McCord will be hosting a Virtual Holiday Baking Party on Saturday December 14th from 1-3PM (EST) taking place at www.krusteaz.com/holidays, to help you enjoy your holiday baking just a little bit more!. Krusteaz would like to encourage families to get together for their own baking party to really make the most of your holiday season! Durning the virtual event Catherine McCord will be sharing baking tips and gifting ideas right from her own kitchen! You will even be able to join in and ask questions or post comments during the event #KruzteazHolidays. Does that not sounds like fun?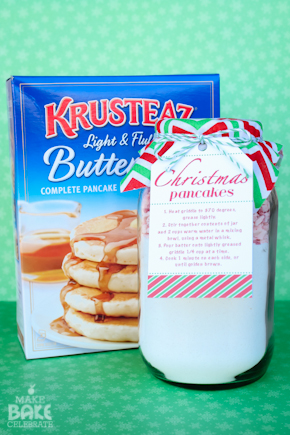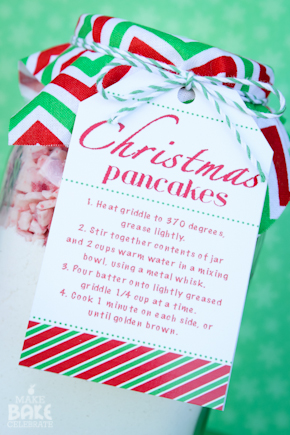 Krusteaz was so kind to send me over a few items so I could prepare to host a few friends over myself. (hello Molten Deep Dish Cookie Mix) Within that box was a little jar of "pancake mixins" to create my own fun pancake creation. I was absolutely in love with this idea! What a fantastic gift, Christmas Pancakes in a Jar! Weather you need something very quick, or you just really want to break away from the average "cookie tin" gift – these are perfect! They can use the pancakes right away, enjoy on Christmas morning, or store away for later!
For my pancakes in a jar I decided peppermint was the way to go! I simply added Krusteaz pancake mix and then peppermint baking chips to a large mason jar, then wrapped it up in some cute Christmas fabric, a little bakers twine, and a recipe tag! To make sure you guys can whip these up just as fast, I'm sharing the tag with you today as well! Even though my jars are peppermint, I didn't specifically label the tags "peppermint pancakes" so you could change them up if you would like! Chocolate chips, craisins, sprinkles, mint chips…what would you mix in?
Here's what you will need:
1 Box Krusteaz Pancake Mix
1 10oz. Andes Peppermint Baking Chips (or mix ins of your choice)
2 Mason Jars
Twine/Ribbon
Small Piece of Fabric
Printable Recipe Tags
Step 1: Gently pour 3 cups dry pancake mix into each jar. (I used wax paper to make a funnel for easy pouring)
Step 2: Layer 1/2 bag of peppermint baking chips on top of the pancake mix in both jars. (This will be about 1 1/4 cup)
Step 3: Seal jar with lid, and then wrap fabric and twin on top. Add tag.
Seriously, it doesn't get any easier (or cuter) then that! I just love the idea of providing and easy (yet super yummy) breakfast to our friends on Christmas morning!
Makes 2 gift jars.
For personal (non-commercial) use only.
Enjoy!