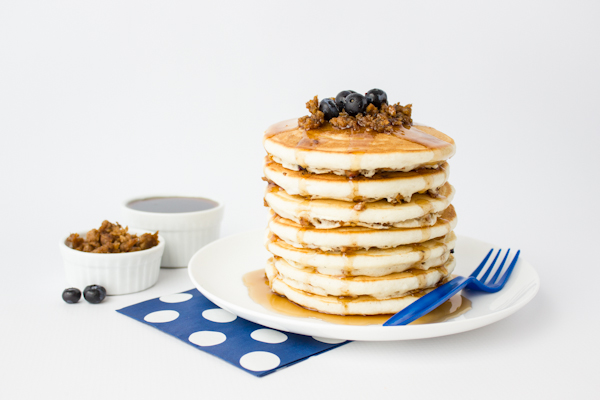 Today I'm sharing with you guys the first recipe I've created for Krusteaz! It has been so much fun working with them and I can't wait to share more, but for now let's talk about breakfast for dinner. Breakfast for dinner around here aka "brannier" (it's totally a thing) is a family favorite. Actually it might be the favorite. I've told you guys before how my kiddos consume pancakes like liquid, kid you not they like to see who eats the most. Not only do the kiddos love it but pancakes for dinner are my total go to on a rough chaotic day…you know those days it's 5 o'clock and you forgot to lay out meat, yep those are brinner days around here.
We generally stick the Krusteaz buttermilk pancakes but they are never the same. I like to change it up for the kids and add in whatever mix ins we can find! Sprinkles, blueberries, strawberries, nuts, chocolate chips…you name it I've put it in a pancake! This time for breakfast for dinner I thought…why not mix in the meat as well? So I grabbed a bag of precooked sausage crumbles (oh my easy and yummy) and tossed in a few blueberries and created and easy easy dinner with fruit, meat, and pancakes of course. Our family really loved these and I hope you guys do too! You can find the recipe below, or here at Krusteaz.com along with many other fun breakfast for dinner ideas!
Krusteaz Blueberry Sausage Pancakes
Ingredients
2 cups Krusteaz Buttermilk Pancake Mix
1 1/3 cups cold water
3/4 cup precooked sausage crumbles (can be found precooked in the sausage section)
1/2 cup blueberries
Syrup & butter
Instructions
Preheat nonstick griddle to 375°F.
In a medium mixing bowl, mix together pancake mix and water until fully combined. In a separate small bowl mix together sausage crumbles and blueberries.
Scoop pancake mix onto griddle 1/4 cup at a time sprinkling sausage crumbs and blueberries onto the top of each pancake right after pouring it on to the griddle (approximately 2 tablespoons onto each pancake). Let each pancake cook approximately 1½ minutes then flip over to the second side and cook an additional 1½ minutes.
Serve warm topped with butter, syrup, and additional blueberries and sausage if desired.
http://makebakecelebrate.com/krusteaz-blueberry-sausage-pancakes/