Every once in awhile I take a little break from all things sprinkled and share with you guys a little bit of the sweet life, today is one of those days! If you follow me on Instagram you may have noticed I took a fun blog related trip to Seattle. Krusteaz invited their entire Baker's Dozen Bloggers to come up to Seattle and tour their facility, meet the Krusteaz family, and attend the International Food Blogging Conference (IFBC). It was such a great trip. From meeting the staff behind the Krusteaz team, to tasting incredible food, exploring local shops, learning new blogging insights, and of course spending time with new and old friends.
I've been on my share of blog related trips and I have have learned what works and what doesn't for me. This time I wanted to really focus on engaging with others around me, and taking a little time to reset as I have been completely maxed out with work and life at home. One of the things I chose to simplify this trip is to not bring my trusty DSLR, which means all the photos I'll be sharing with you today were quickly shot using my iPhone. Conferences tend to be fast paced and crammed with events leaving little time for good photography so I apologize for the sub par photos, but I think you guys will get the jigst anyway. ;)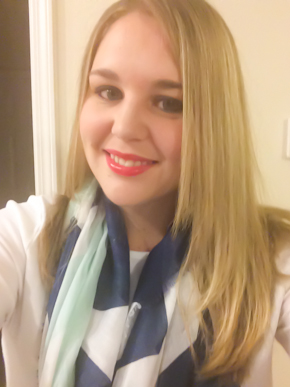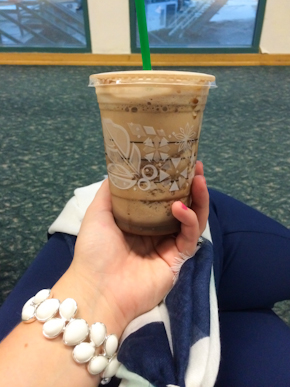 I kicked off this 4 day trip by getting not only myself but all three kiddos ready and out the door before 6AM. Let's just say that's not one easy task. 1. I don't fully begin to function till 9AM. 2. I stink at braiding hair, let along X3. 3. I was up till 2AM packing and finishing up work. The hubs was still in another state as well, so this selfie was sent to let him know I'm alive, packed, and headed out the door on time. Then of course there's the mandatory "celebrate my morning success with a skinny mocha" Starbucks shot while I realized I had 1.5 hours to sit in peace! Upgraded to a grande that day because, well see reason 1.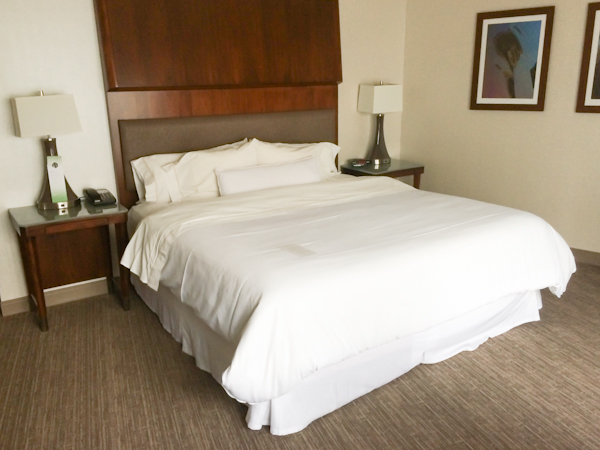 After a stop through Phoenix, a bonus 2 hour delay, and a driver who apparently had three firsts names, I made it to Seattle! I was thankful for a few hours of down time to unwind a bit in my room. I have to say I was impressed with the Westin Seattle. The hotel was very accommodating to the conference, and the rooms were perfect.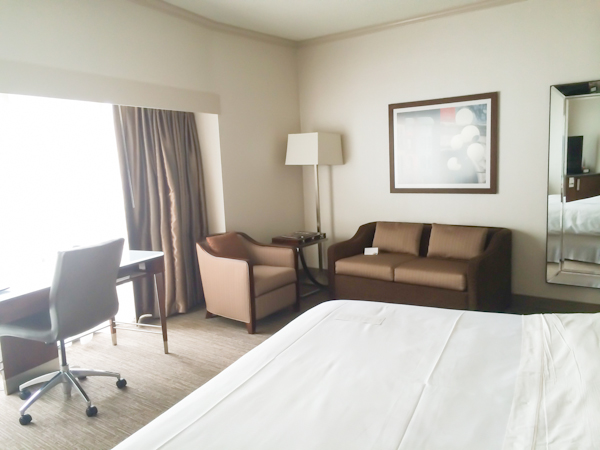 One large super comfy bed, desk with a view, couch, nice bathroom, closet, Starbucks in the coffee maker, view of the city, and ZERO kiddos to wake me up through the night. Ahh…bliss.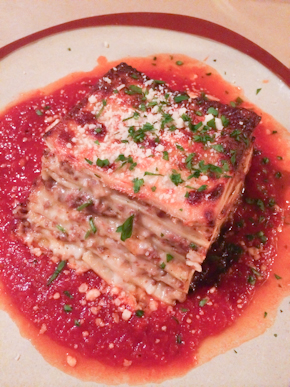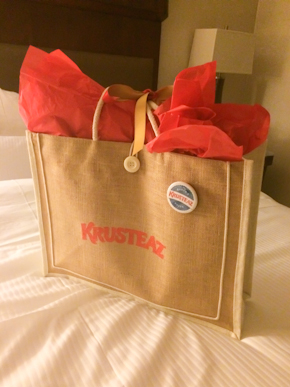 After a few hours of down time we met up with our Bakers 13 team and headed out to have dinner at Cuoco. Dinner was absolutely delsih, I had the lasagna, which I just might have to make another trip back to Seattle for! And the dessert, oh man, that coconut cream pie put even my sweet tooth to a challenge – delish! The dinner conversation, couldn't have been better. It was so nice to see some familiar faces, finally meet some bloggers I've been following along with, and to discover some new gems as well!
We arrived back at the hotel to a fun gift basket from our Krusteaz team filled with all sorts of goodies for our stay in Seattle.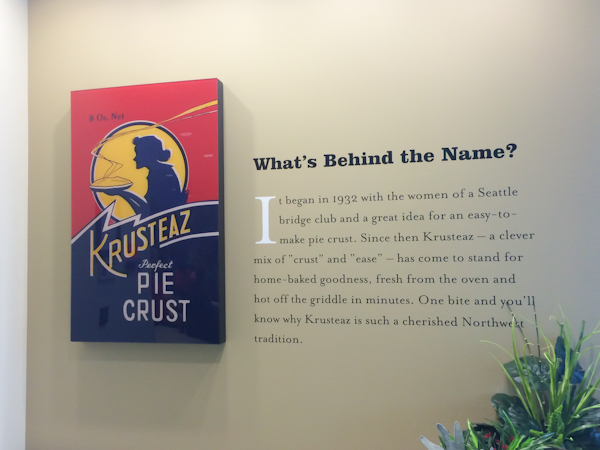 The next morning we were up and at 'em early as we headed over to explore the Krusteaz HQ. We were welcomed by the owner of Krusteaz, which really is a family company, being started by his grandfather. We were able to explore the behind the scenes at Krusteaz and get a little taste for how they develop their products there from idea to product. They really are such a great close knit team. After getting a little breakfast in our tummies and introducing one another we were off to the development team.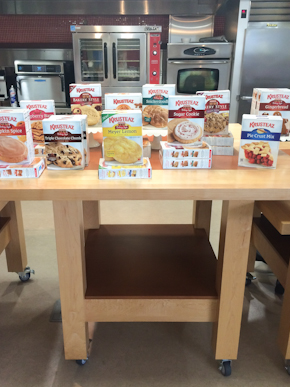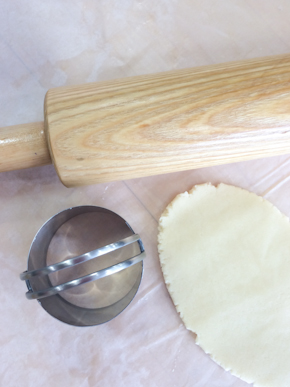 What we didn't know was they had a little surprise for us! We were paired into teams of two and given a timed challenge, create and package a seasonal cookie out of ingredients and supplies set out for us. While seasonal cookies and cute packaging are right up my ally, I have to admit I was slightly terrified. I'm a blogger, I work from my home, by myself, and I am not good under pressure, I totally cave! But thankful I was given a great partner Lindsay from Lindsay Ann Bakes. With the two of us together it was made clear from the start, there must be pink!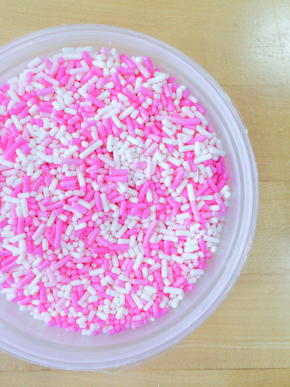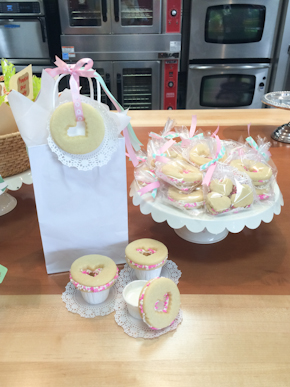 Unfortunately pink wasn't exactly abundant in the supplies given but we made it work! I spotted some pink sprinkles (you're shocked right?) and we knew Valentines sugar cookies were the way to go! As quick as we could we whipped up some cut out Sugar cookies from Krusteaz sugar cookie mix, some chocolate and strawberry frosting, then filled and rolled in sprinkles. In the end, it was really fun to see everybody's creations!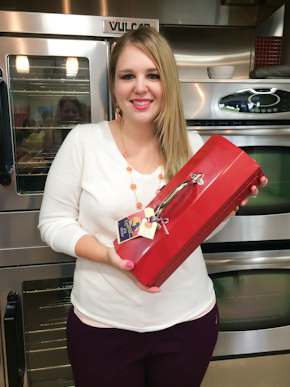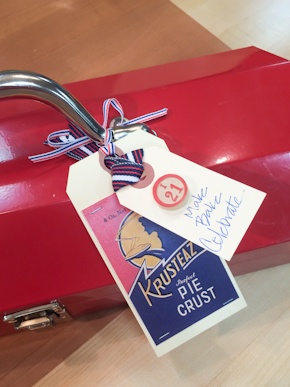 Afterwards we were all given a tool box full of some favorite "Baker's Tools" and sat down to enjoy a yummy lunch before headed back to the Westin to kick off the conference.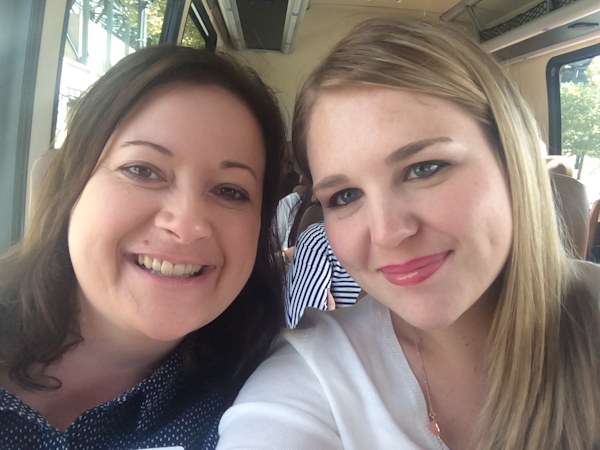 Look who I found! My sweet friend Jennifer from Bake or Break! I was SO excited to find out she'd be headed to Seattle with me. Before the conference started a small group of us decided to make a quick trip to Pike's Market and explore a bit. So bummed I didn't get a group shot. :(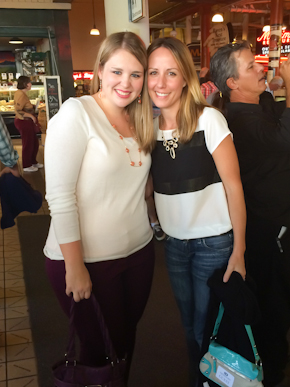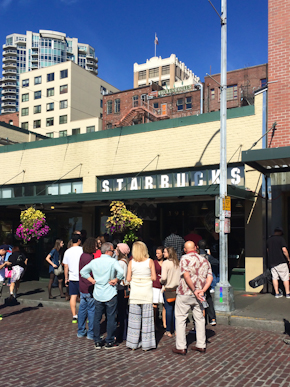 I spent much of my time exploring with the incredible Jenn from Hostess With The Mostess. We had so much fun seeing the sights of all the local and famous vendors. But our favorite was the amazing flowers, these flowers were fresh and absolutely beautiful from a very small price, maybe a 10th of what you would pay for them here in the desert! We also had a chance to visit the original Starbucks! Check out this fun shot, people gathering, a musician getting ready to play, people enjoying the beautiful city Seattle is, I think that pretty much sums up my experience!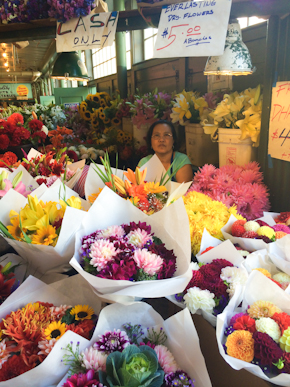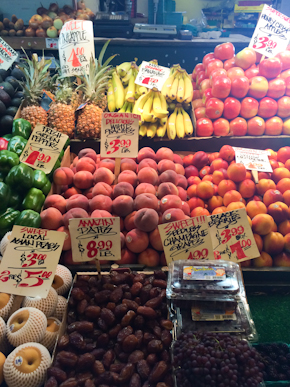 Aren't these flowers beautiful?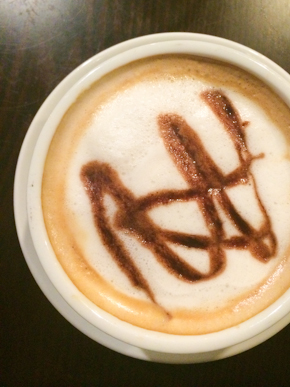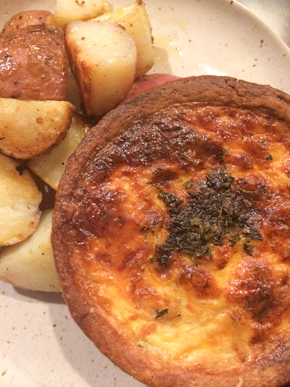 The evening filled with convention activities and great conversation! Although they have SO much food at the convention, were food bloggers! We couldn't help but venture out and enjoy some of Seattle's famous flavors. That night I was able to enjoy some incredibly pizza from Serious Pie with several blogger friends. (so mad at myself for not taking more pictures!)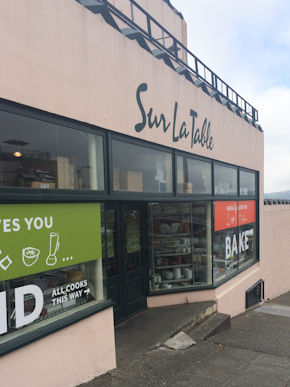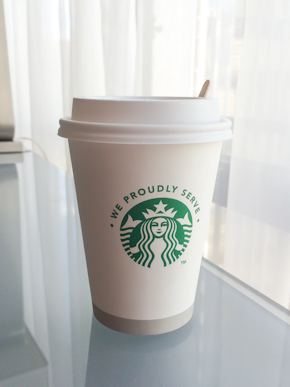 The next morning we explored a little more of Pike's Market. I joined a few friends and had brunch in the basement of a jam packed little bistro, visited the original Sur La Table, and enjoyed a little shopping.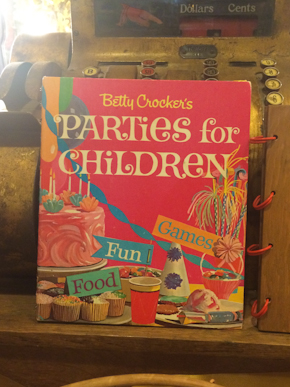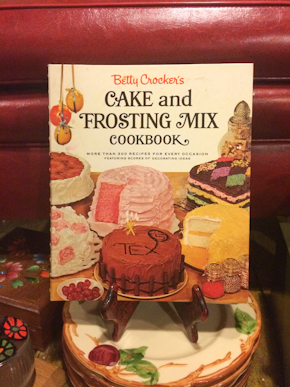 This, this is how you antique! Aren't these books not incredible, the one of the left looks like something I would create! Afterwards I was able to grab an hour to myself to recap and reset with a little hotel Starbucks before heading down to the Krusteaz educational session.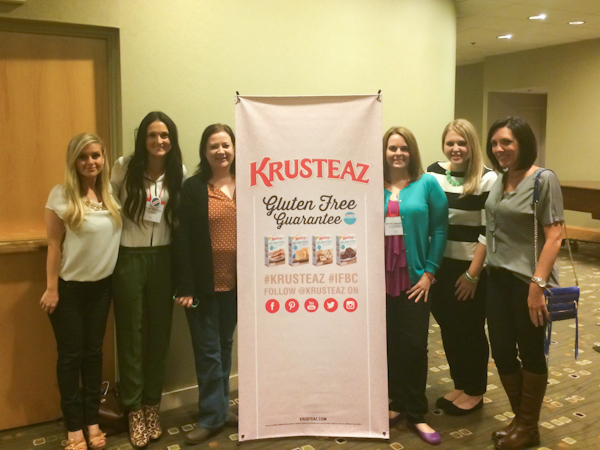 A fun shot of a few of the Krusteaz Bakers 13. From left to right: Lindsay from Lindsay Ann Bakes, Scarlett from Made It Ate It Loved It, Jennifer from Bake Or Break, Christ from Love From The Oven, Me, and Jo-lynne from Mussing Of A Housewife. This is one fun group!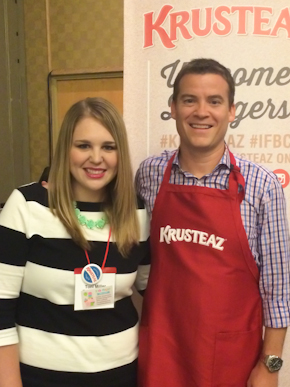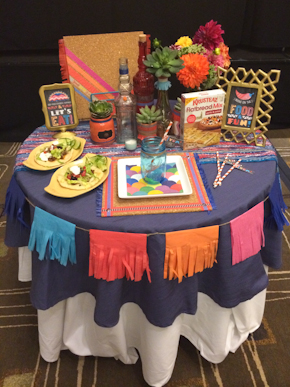 The Krusteaz educational session was the best session for me, and I think a lot of others as well. They showed us several different treats perfect for entertaining as well as showing us some ideas on how to style simple little tables for many different occasions. This little fiesta party styled by Jenn from Hostess With The Mostess was my favorite. Hello Taco Tuesday! I picked up so many new little tips like using scarfs for table runners, who would have thought?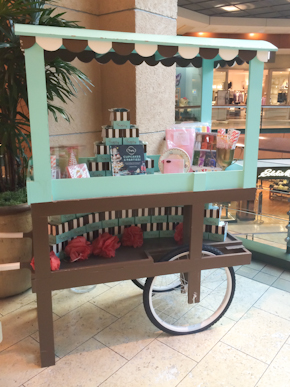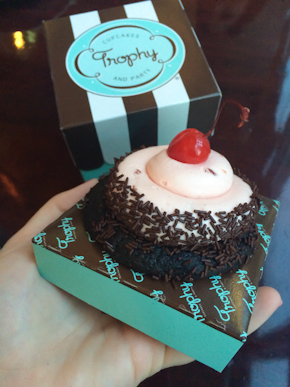 Before the evening gourmet fair I had to make one stop. I was not leaving Seatlle without trying some Trophy Cupcakes! Unfortunetly the main stores were a little too far so Beth from Hungry Happenings, Kim from the Partioligst, and me set out to find a little Kisok set up at the mall down the road. They were absolutely delis, and worth the hunt! I took back several different flavors and shared with some friends before heading to the gourmet fair. (Side note, can I just say how THRILLED I was to find out I'd be meeting Beth and Kim at IFBC14!)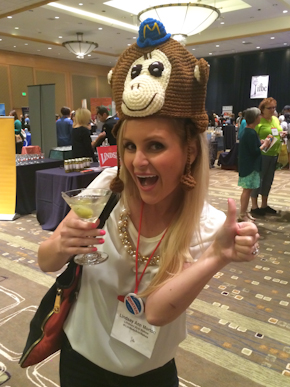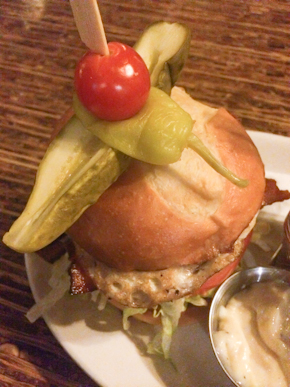 The gourmet fair was really incredible. The grand room was changed into a festival of foods, drinks, brand booths, and bloggers! We were able to walk around and try incredible flavors, connect with brands of all sorts, and once again converse with fellow bloggers. Lindsay Ann found this adorable little monkey hat, and I couldn't resist a picture!
Even though there was food in abundance at the gourmet fair many of us Bakers 13 wanted to find a little spot to enjoy a meal and each other's company before we all split in the morning. Thankfully the hotel restaurant was completely empty and we were able to grab some incredible burgers! Our small group grew and grew and so did the conversation. It was a great ending to an awesome trip!
Afterwards it was back to pack and get some rest before flying out in the morning!
My experience in Seattle was definitely a great one. The convention was good, the Krusteaz team was a blast, the food was incredibly, and the company amazing! I can not wait to see Seattle once again. Thanks Krusteaz from the WONDERFUL trip!