Is anybody else secretly counting the days to Thanksgiving? Not because of the Turkey and all the amazing food of course, because of what comes after Thanksgiving. No, not the crazy American tradition of wandering around as food stuffed zombies at all hours of the night to buy things things at crazy low prices either. We're talking about that time when it's finally totally socially acceptable to play Christmas songs and put up those Christmas trees. Officially CHRISTMAS TIME!
It's six days in case your counting…
So maybe I should wait until after the Turkey makes his big debut to start posting Christmas posts . Maybe, but it is my blog…and we're getting this Holiday party started today! With cupcakes of course, because that's how you get any party started.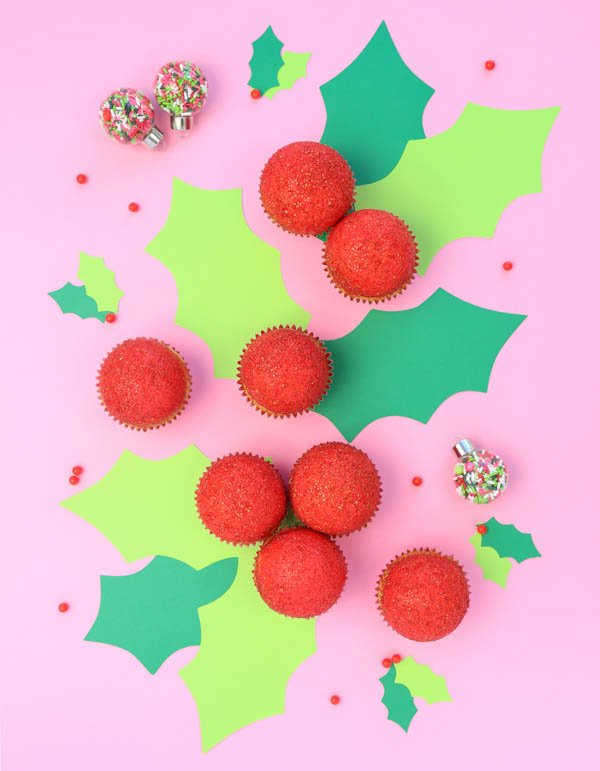 Are these not SO much fun! I made these cupcakes to feature in Sweets & Treats' Holly Jolly Sweetscape. (Be sure to check it out, we had so much fun with it!) And I am just so in love with them! So easy yet so darn cute. The tops are just rounded red frosting shaped and rolled in red chunky sugar crystals. Then I placed them on paper holly leaves for display cut from a Silhouette machine (affiliate link!). Eeek I can hardly take the cutest! Talk about an easy Christmas display. They would be so cute as a wreath!
Let's take a look at how easy they are to make.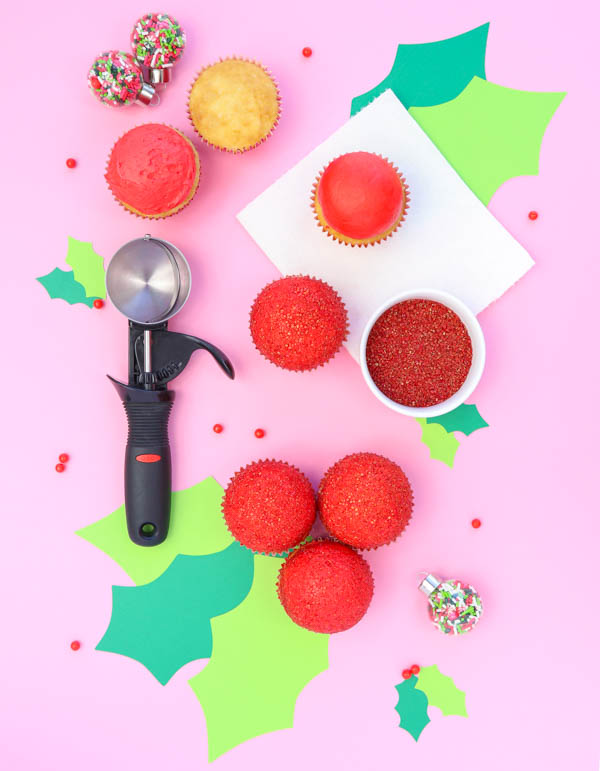 Here's what you'll need:
cupcakes
red buttercream frosting
large round ice cream scoop
paper towel (a smooth towel like viva works best)
red chunky sugar crystal sprinkles
Step 1: Scoop red buttercream on top of cupcakes. Place in fridge to chill for about 10 minutes. You want it to firm up a bit but not be stiff.
Step 2: Once buttercream has chilled, shape and smooth buttercream with a clean smooth paper towel.
Step 3: Roll cupcake in sprinkles then shape a little more with paper towel if needed.
So easy right guys? The key here is to keep them chilled enough to work with them but not so cold then won't shape and the sprinkles won't stick. If you over chill them just let them sit out a little bit to soften. And can I let you guys in on a little secret? These could totally be Rudolph noses OR with a small addition, Christmas bulbs! So fun right?