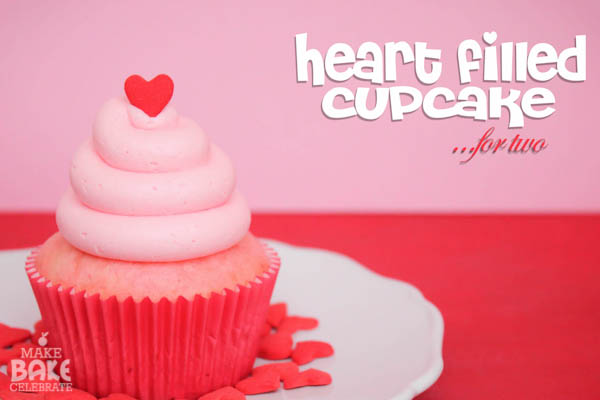 Are  you guys ready for some love filled posts? ♥ I know I am! Speaking of love…I really love Pinterest. I know, so does every other women on the internet. I mean why not it's full of great recipes, crafts, inspirations…not that I have to convince you or anything. But sometimes it's kind of a love/hate relationship for me. Not only do I spend way too much time pinning things to my list of things I'll never really get around to doing….it's a total creative bubble popper! Like when I have this fun idea, which I execute, photograph, adore…..and then see it on Pinterest. Not once, but twice, from different origins, the very same day. Sigh. I love you Pinterest I really do, but sometimes…
Don't these cupcakes just make you want to go….awwww. The bold red cupcake liner, baby pink tower of swirled icing, and a simple pop of a jumbo heart sprinkle on top  makes for a sweet and simple treat fit for just about any Valentines day celebration. But it's what's inside that's really fun, there's something special baked inside….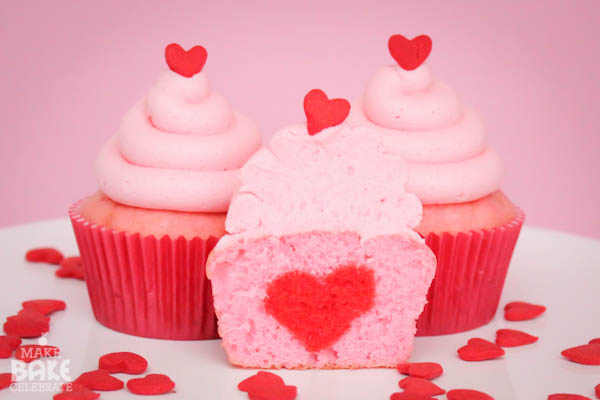 …a heart! So cute right?! In the past I've seen some really fun shapes baked into cakes, and always wanted to give it a try. But my love of cupcakes make me think hey, why not try it in a cupcake! Even though, my creative bubbled was totally Pinterest popped. I decided to share them anyway. They were really too cute to go unshared, and after reading how others did it…I liked my process a bit better! And…I think the pink cake vs. white cake made all the difference in these little guys :)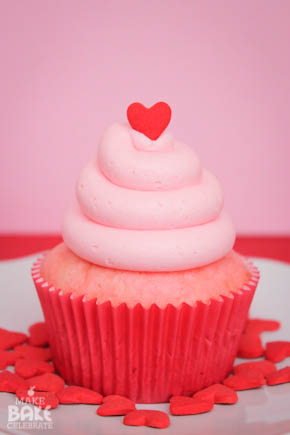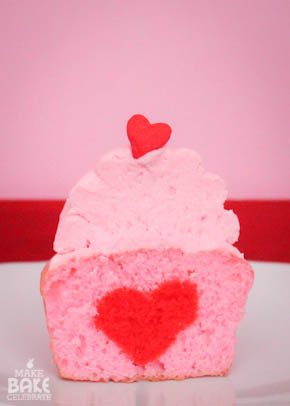 Here what you will need:
1 white OR strawberry cake mix +  ingredients listed on back
red gel coloring
pink gel coloring (you can skip this if your using strawberry cake)
small heart cutter OR flower cutter (see below)
cupcake liners
small and jumbo heart sprinkles
These red greaseproof cupcake liners were from Sweets & Treats Boutique of course. The little heart sprinkles can be found just about anywhere around V-day and jumbo hearts can often be found at baker's stores, and craft store, or online at various places. Of course the jumbo hearts could always be swapped out for a candy or even a small fondant heart.
**I was able to make 12 cupcakes with this method, but did have quite a bit of scrap red left**
Step 1: Preheat oven to 350 degrees F.
Step 2: Mix your cake batter as directed on box.
Step 3: IF you're using white cake mix, add in pink gel coloring until you get a nice pastel pink. Remember pink get's really bright really quick so be careful, and the color will darken once baked.
Also if your wondering why I used white cake instead of strawberry….well quiet honestly I just didn't feel like making strawberry cupcakes! And maybe my type A wanted complete control of the shade of pink…maybe.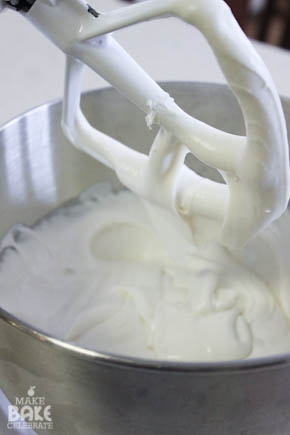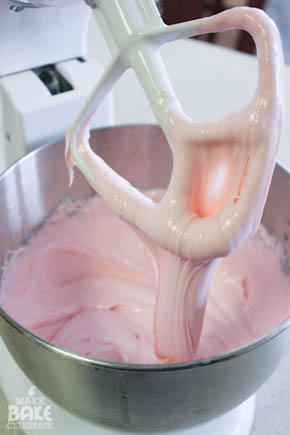 Step 4: Separate 2 cups of the pink (or strawberry!) cake batter from the rest. Stir in some red gel coloring until you get a nice vibrant red color. I used Red Red Americolor.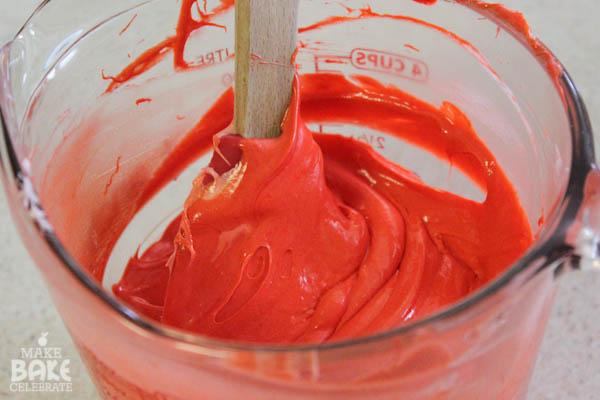 Step 5: Grease a small cake pan with oil and flour. I used an 8inX8in square pan. But anything close will do the trick. You just don't want you cake to be too tall.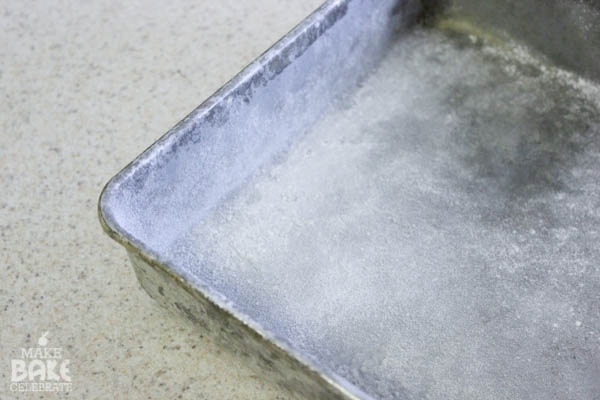 Step 6: Pour in red cake batter and smooth out. Tap gently to help decrease air pockets.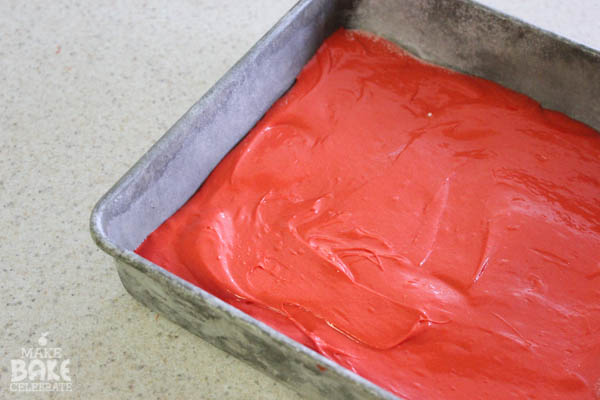 Step 7: Bake at 350. For about 18-22 minutes, you will see the sides just starting to turn brown and a toothpick will come out clean. Let cool.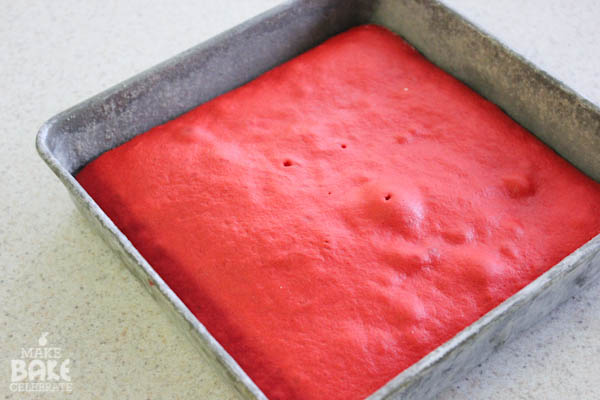 Step 8: Once cool remove cake on parchment paper then flip over right side up. My cake was just a bit too thick and lumpy (I sub'd oil that's why) so I trimmed the top off. You will want it to be no more then a half inch thick. Is't that red cake gorgeous? Note: If your cake if smooth and a good height you can skip this step, and the hearts will come out even better as the baked part is easer to work with.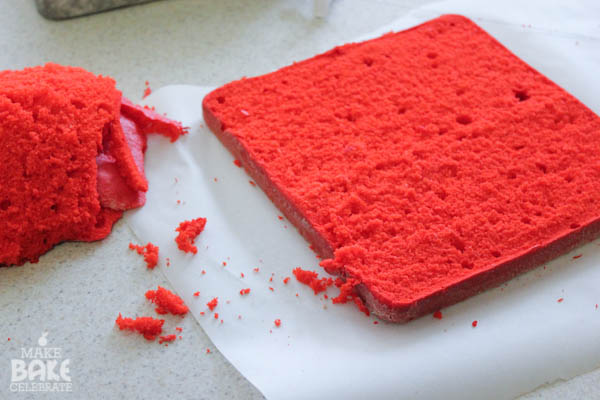 Step 9: Now time for the fun part! If you have a small heart cutter great! If not…look around for a flower that will do. I found I didn't have a small enough heart, but I could easily make one out of this flower, with a little trim. My hearts were about 1 in. By spacing them well I was able to get twice as many hearts then I needed. (save your scraps for cake pops!)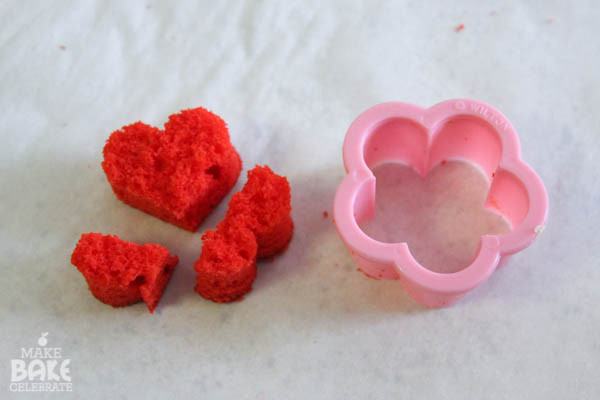 Now it's time to pull it all together! Because it would be just about impossible to bake a 3D heart to put inside, you will have to remember which way you baked it. Otherwise once cut you'll end up with a funny shape and not a heart.  I'll show you how I did that in a moment, but just a thought to remember as your making these!
Step 10: Line a cupcake pan with your cupcake liners. Spoon in 1 TBS of pink cake batter into the liners.  Then gently push your heart cake into the batter, center and facing flat to the front…like so.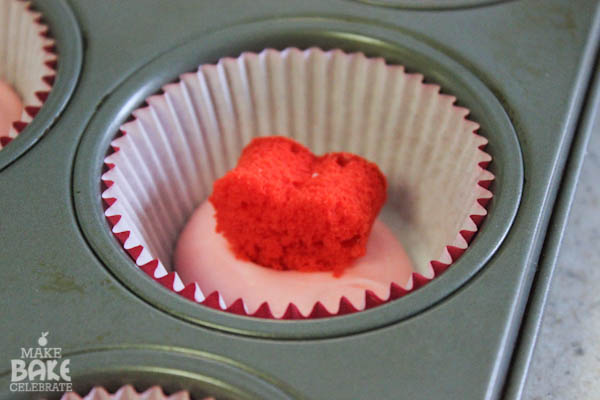 Step 11: Now gently spoon two more TBS of pink cake batter over top of the heart, one near the front and one near the back. It's important to make sure your batter is OVER the heart, or your going to end up with heart popping cupcakes! Which really isn't SO bad I guess :).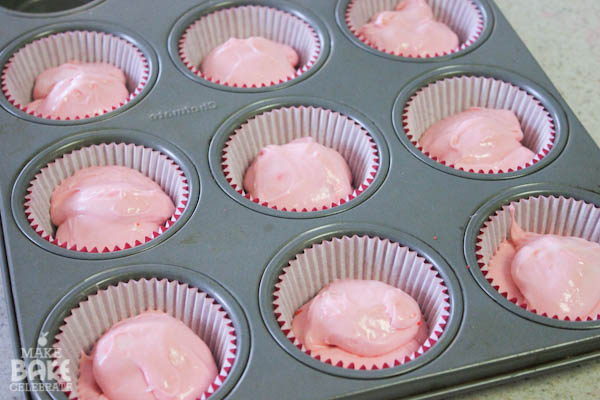 Step 12: Now here's the key part. To guarantee I knew the cupcakes were facing the right way, I placed a small heart sprinkle on top of the batter, flat to the front and directly over the heart. Easy right?! The pin I saw on Pinterest mentioned using a marker to make a dot on the front of the cupcake liner before using. I like this idea much much better, in my opinion!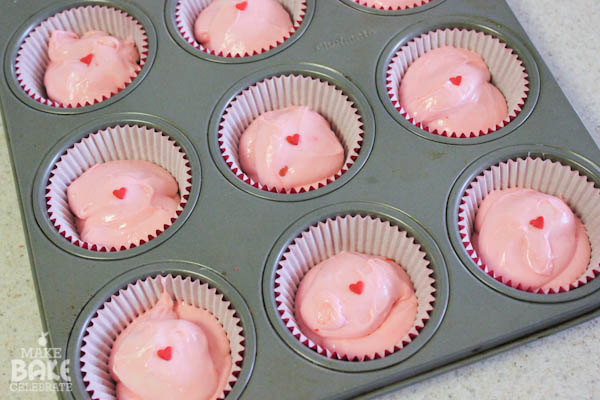 Step 11: Bake at 350 for about 14-16 minutes. I pulled them out as soon as I noticed small spots of brown on the top and the cake sprang back when poked. See how the hearts are still in perfect place, I was impressed!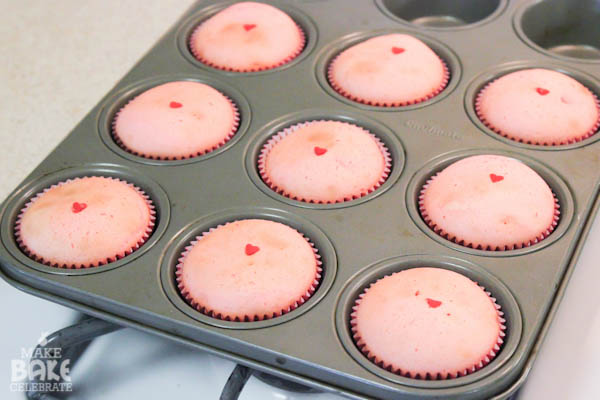 Now you can pull them out and let them cool before icing. Before icing…line them all up just like they were in the pan, because when you pipe on your swirl you will want to start in the back lined up with the sprinkle. This will give allow you to still be able to still tell the front once iced! Before moving the cupcake, place a jumbo heart sprinkle on top facing forward and you're all set to go!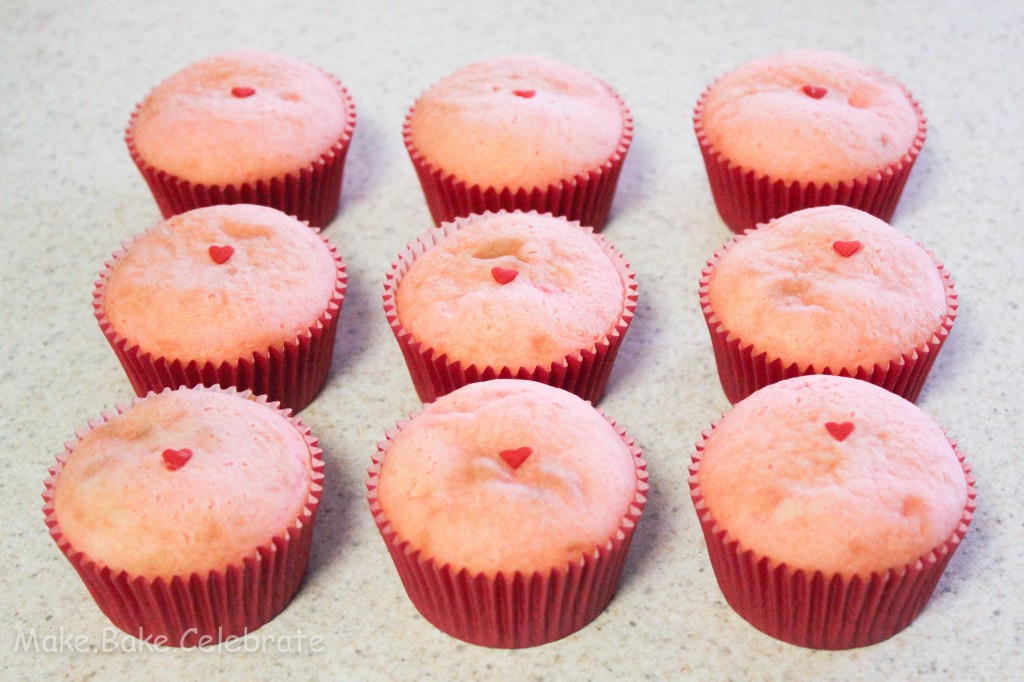 Really not that complicated huh?!?! I was really surprised how easy it was! Now I can't wait to bake something else into a cupcake.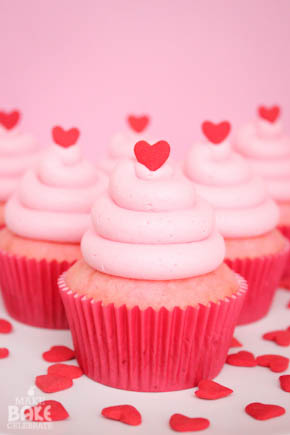 Just remember when cutting to slice right down behind the heart sprinkle and you'll wow your valentine. I think these would be a really fun treat for the kids, or a simple romantic cupcake for two ♥.