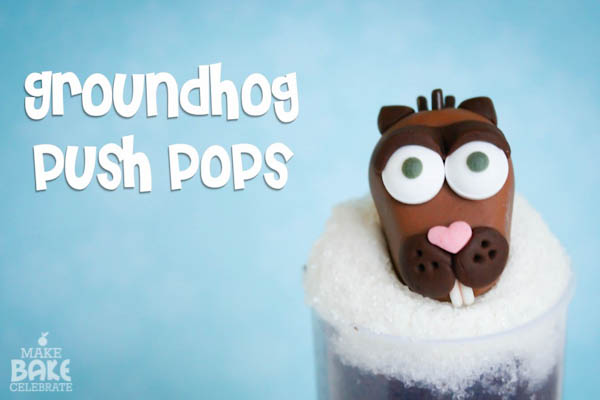 It's true, you just never know what you're going to get when you visit MBC. It could be a yummy cupcake, a baking tutorial, or maybe a rodent weather prediction. Now normally, I would recommend you keep rodents a great distance from your desserts, but today we're going to allow this guy to chill right down in our buttercream. Because it just so happens this guy is kinda special, he has his own national holiday, Ground hogs day. Just in case you like under a massive rock, on Ground hogs day it is said that when I ground hog emerges from his burrow on Feb. 2nd of each year if he sees his shadow, he will retreat back to his burrow and and winter will continue for yet another 6 weeks.
You might you might be wondering why on earth I would make ground hog anything…I mean really it's not like we throw parties and gather around the TV to see this little guy arise from his slumber. Well this year, we are rooting for that little guy to pop out of his little snow covered burrow and see the beautiful sunshine…without a shadow. Because up here in upstate almost Canada, frozen tundra, with recent Armageddon like weather…we are ready for spring. We haven't quiet adjusted to the snow piles over our head and I never in my life thought I would hear my kid say, "mom is it EVER gonna stop snowing". Yesterday, the wind picked up so bad my two year olds fell right over when they stepped out the house, all while blasting tiny hard snow balls and I had to go to and from preschool with the all. ERG. So yes….we are ready for spring.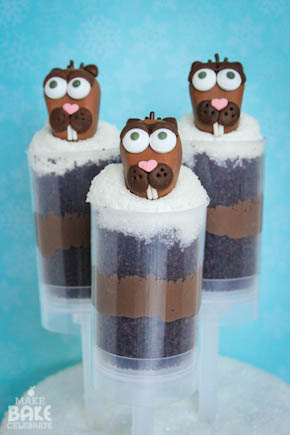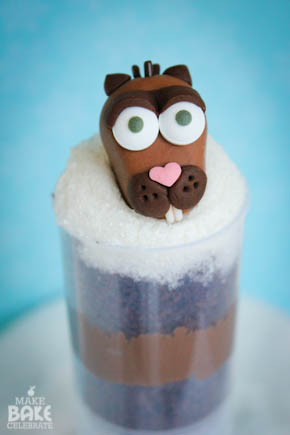 It may also have something to do with the fact that I've had these adorable ever so trendy push up containers for a year, and have never posted with them! So I had to break my routine and bust out these little guys. The push pops are so perfects because as the kiddos raise it up…the ground hog comes out of his snow covered "burrow". Which conveniently consists of cake crumbs, chocolate pudding, buttercream, and sprinkles, pretty yummy and kid friendly stuff! So if you want something kind of cute to do with the kiddos tomorrow how about make some cute little push pops and have a little lesson on the weather? If your thinking man I don't have any push pops…well don't worry…these little guys burrow out of cupcakes just fine! See…..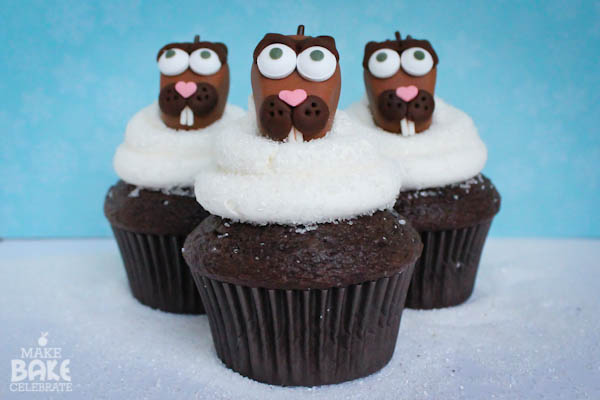 These little guys can be pretty flexible. You can change up his colors or use different little sprinkles and such that you may have to make these guys come to life. Here is what I used ….except the black food marker. Let's pretend that's not in the picture ok? ;)
Brown fondant (10 oz makes about 12 toppers, I dyed about 1/4 of it a darker brown for ears/eyes/cheeks)
edible eyes (or white sprinkles and black marker)
heart sprinkle for nose
jimmy sprinkles for teeth and hair
toothpick
small rolling pin
food safe paintbrush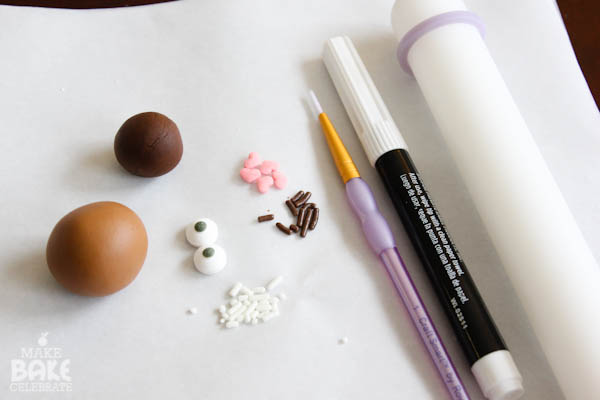 I started off with making a 1 inch ball, then using my fingers to easily squeeze it together and flatten it out a bit.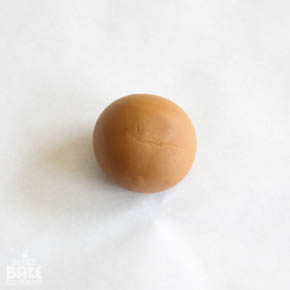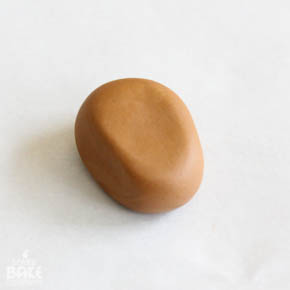 Roll two little balls or darker fondant for the cheeks and press flat, then with a little water and your food brush, apply the teeth and cheeks.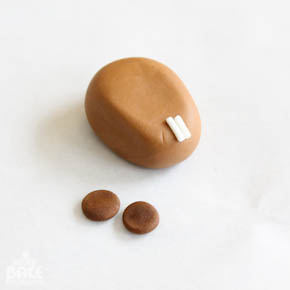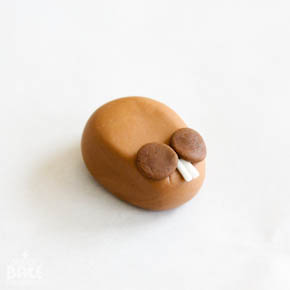 "Glue" on the nose and eyes with a little more water. Then roll out a small strip of brown and cut a long skinny rectangle to become your eye lids.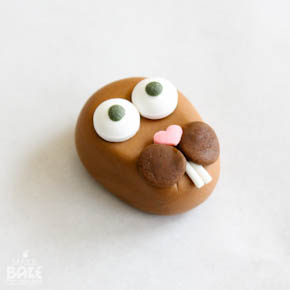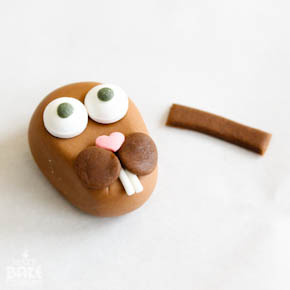 With a bit of water, apply the eye lids on top of the eyes. Then take a knife to press in the centers. Then roll out two more small balls for ears, squish them into little triangles with your fingers and then "glue" on with water.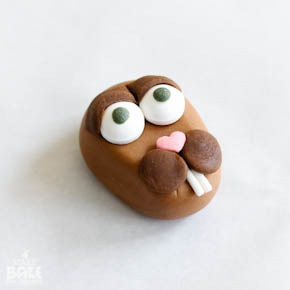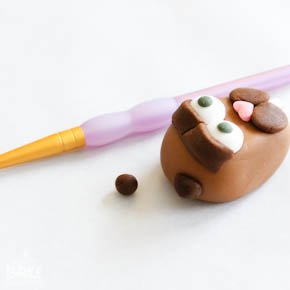 Now finish up by using the toothpick to poke a few hole to stick his "hair" in and a few dots on the cheeks! Not so hard right?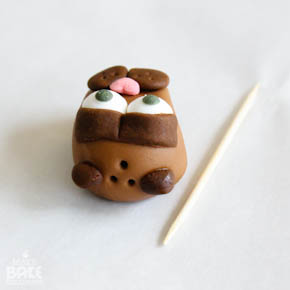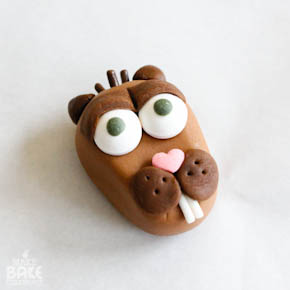 When icing my cupcakes/push pops I used a swirl of buttercream and the covered in sanding sugar to make it look like snow. I think they came out pretty cute…depiste the fact that I had no idea what a ground hog really looked like. I think they look a little crazy and maybe just a bit cranky. Which is exactly how I would feel it people were gathered around me while I emerged from my hibernation. Oh, and in case you were wondering….or little guy did not see his shadow. See! Because we're rooting for the spring but if you're enjoying the cold weather…you can add some cake crumbs or sprinkles to make a little shodow on the back. Not that I recommend that ;).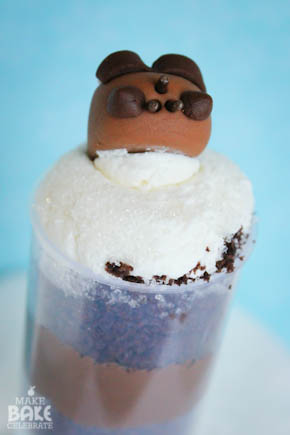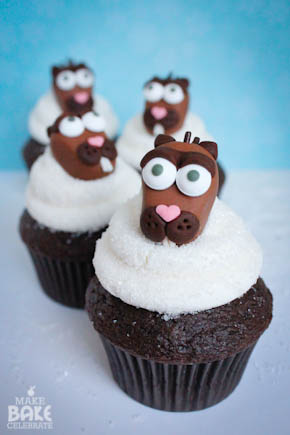 The push pops are available in a ton of different places, I purchased mine at Sweet Lulu's and the greaseproof brown cupcake liners I used came from Sweet's and Treats Boutique of course!