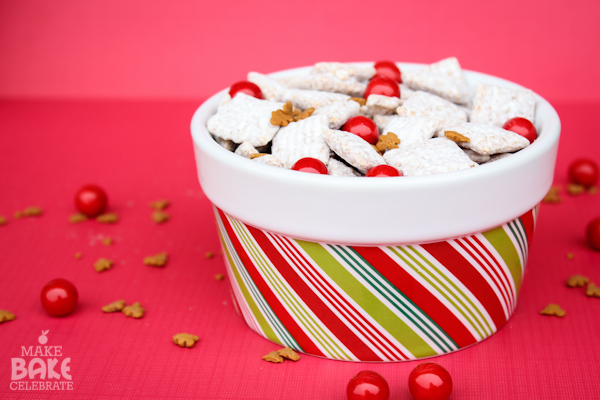 I know the calendar says Christmas is still two weeks away…but it sure feels like Christmas here at MBC! I have a crazy exciting post for you, chalk full of Christmas goodies! Today I'm joining up with 19 other awesome bloggers to bring you "The Gift of Gingerbread". 20 fabulous gingerbread themed ideas all in one place and a chance to win a prize pack valued at $300! But wait there's more – to help you dress up your gingerbread gifts my pal Angela over at Hello,Cuteness! has created a text editable gingerbread tag, just for you!
Man…I'm not even sure where to get started! First up…let's talk about this gingerbread puppy chow! When I recently came across Wilton's Gingerbread Candy Melts I knew I just had to make puppy chow! We aren't real big fans of gingerbread cookies around here but we enjoy other gingerbread flavored treats – this puppy chow was a hit! I spruced it up just a bit by adding red Sixlets and a few gingerbread sprinkles. Not only is it such a fun twist on a well loved treat, it's easy to make, and easy to gift!
After a quick trip to Michael's, I had too many packaging types to chose from! A mason jar makes a perfect teacher gift, while the cellophane bags are a perfect treat for the kiddos. When you add on the adorable tag from Hello,Cuteness…you've got the perfect easy gift to give. Oh – and did I mention these tags are text editable? Yep! If you have handwriting like mine…this is a big deal! ;)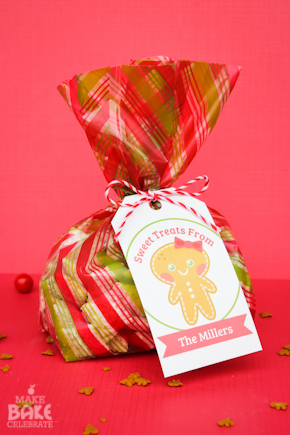 Oh so cute – how to chose?!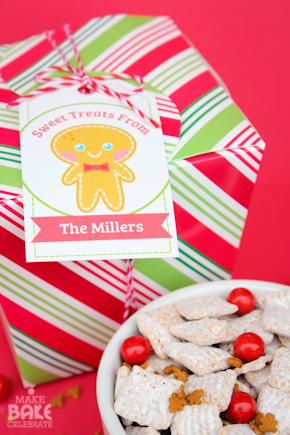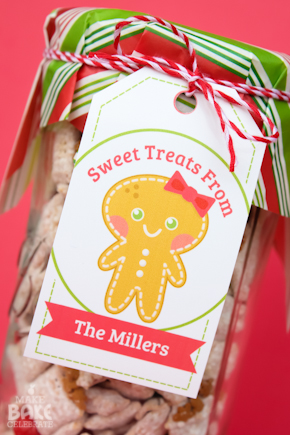 Here's what you'll need:
1 Bag Wilton Gingerbread Candy Melts
6 Cups Chex Cereal
2 Cups Powdered Sugar
1/2 Cup Sixlets OR Red Hots (Optional)
Gingerbread Sprinkles (Optional)
Step 1: Pour Chex cereal into a large mixing bowl.
Step 2: Melt Gingerbread Candy Melts, pour over Chex cereal. Gently stir until cereal is evenly covered in chocolate.
Step 3: Pour powdered sugar in a gallon zip lock bag. Add in covered Chex cereal and shake until cereal is covered in powdered sugar.
Step 4: Pour contents of zip lock bag into a strainer above a large bowl (or sink) to shake off excess powdered sugar.
Step 5: Stir in sprinkles and Sixlets. If you are going to be packaging up as a gift, I recommend adding the Sixlets and sprinkles in while you are pouring into jar/bag so they do not become coated in powdered sugar while being "mixed".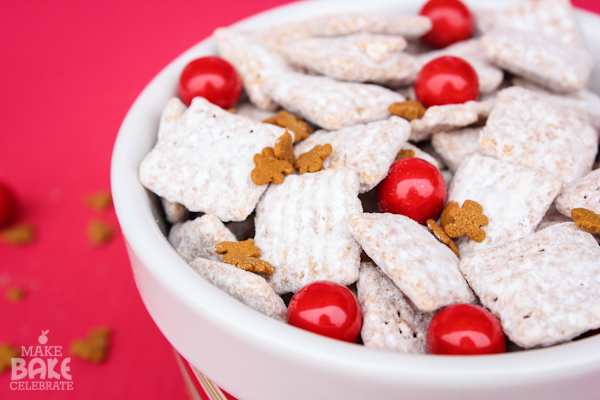 Now that you've got your puppy chow, how about that printable? (Pst! Must be opened in Adobe Reader to edit the text)
For personal (non-commercial) use only.
If you want even more gingerbread cuteness grab your hot cocoa and take a seat! Here's 19 other fun treats for you to check out. After you're done clicking through the cuteness, don't forget to come on back and enter to win the awesome giveaway!
Give the Gift of Gingerbread Blog Hop and Giveaway