It's beginning to look a lot like Christmas! Pinterest is full of DIY christmas decorations and recipes, Instagram is full of holiday cuteness, and Facebook has more pictures of shining trees and happy kids then one can handle! I don't know about you guys but our calendar is super full, it seems there is a children's event or holiday party every few days! It's almost impossible to think about holiday gifts, especially handmade! With these busy bustling thoughts in mind I thought for my Krusteaz recipe this month I would share with you guys an easy gift idea – Gingerbread cookie sticks! These guys are so festive and easy! They make the perfect gift for little kiddos to snack on or adults to dip in that peppermint coffee! You can find them featured on Krusteaz.com here along with 12 other bloggers holiday creations!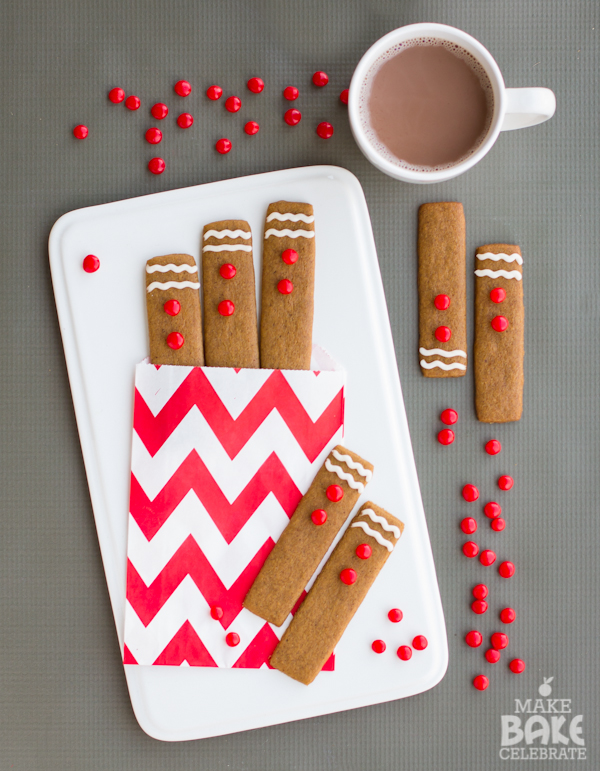 1 package Krusteaz Gingerbread Cookie Mix
1 egg
6 tablespoons butter, softened
1 cup powdered sugar
1 1/4 tablespoon warm water
Cinnamon red hots
Preheat oven to 350°F. Line several cookie sheets with parchment paper.
Stir together cookie mix, egg, and butter until cookie dough forms, hand kneading if necessary. Wrap dough in plastic wrap and chill 15 minutes.
Roll gingerbread dough out no more than ¼ inch-thick. Cut into strips about ¾x3-inches using a pizza cutter or small rectangle cookie cutter. Gently place 2-3 inches apart on parchment paper lined cookie sheets and bake 9-10 minutes. (If cookies are spreading too much, place the cookie sheets in the freezer with cookies already cut on them for 5 minutes prior to baking.)
Once cookies cool, mix together water and powdered sugar. Place icing in a small plastic or piping bag and cut off the tip to pipe icing lines on the ends of cookies. Use small dots of icing to glue on red hots.