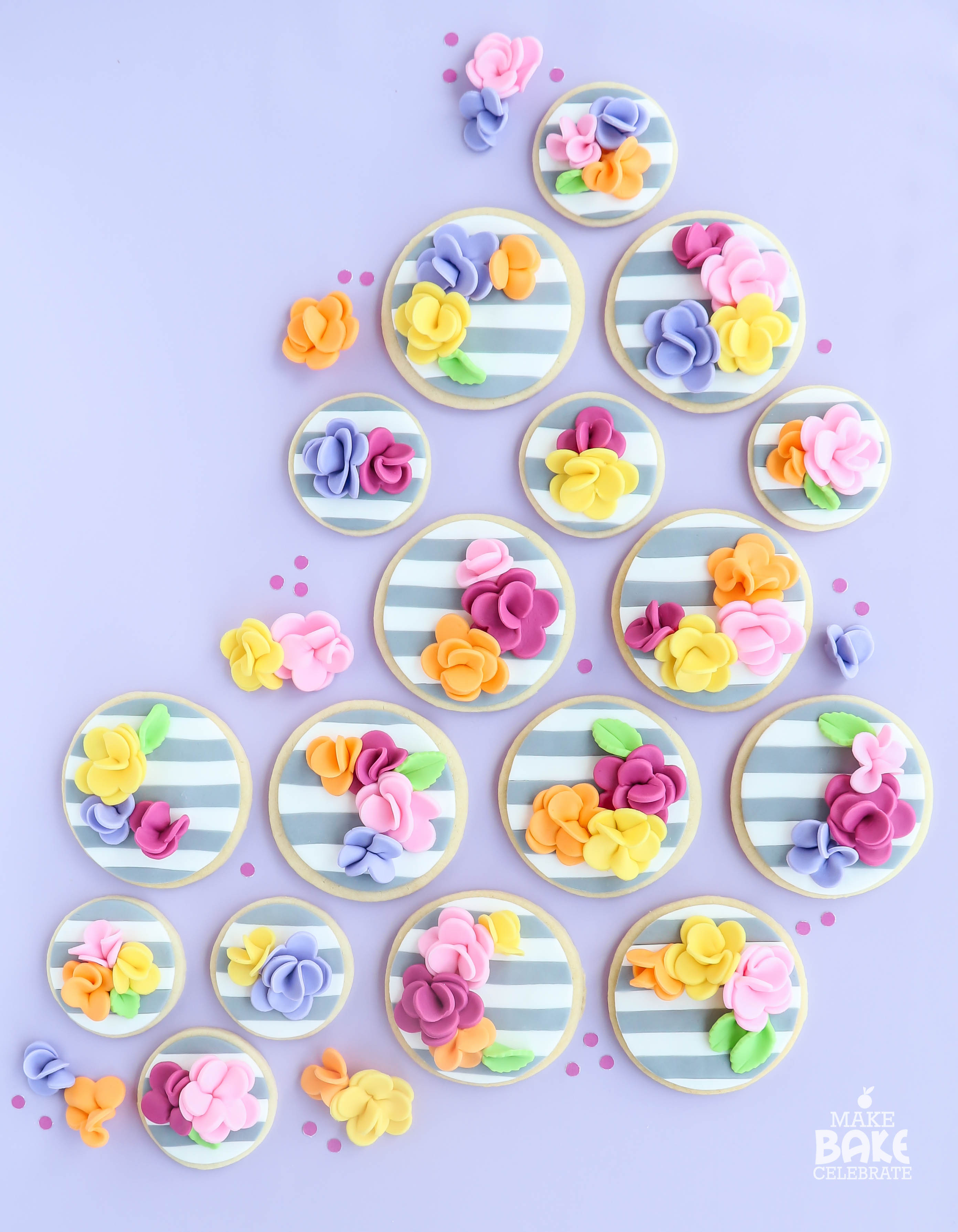 Every once in awhile, there comes a time where I have to throw in a mushy serious post. I mean it can't always be those awesome puns and sprinkles you just love from me can it? Sometimes we have to get right down into life, as I see it. Yes, believe it or not my thoughts do expand past cookies and cakes (generally straight to the pile of dishes I've made). Mother's Day is definatly one of those times. Because the older I get, and the more miles I put on my own mom card, the more I realize just how important mothers, particularly my own mother is.
Mamahood is, well rough, and good lord chaotic, and yet the most precious gift I've ever been given. As mamas we're expected to do 40 different jobs all at once all while keeping tiny humans alive and hopefully happy. We're most often the cleaning lady, the nurse, the cook, the preacher, the teacher, and the counselor amongst others. There are days where I literally question if I can handle another day. There are times where those big sweet eyes look up at me and I just don't have the right answer. But no matter just how crazy it gets there are always those amazing moments that snap me right back into my blessed reality. Sometimes it's the pure inocent giggle of the baby, sometimes it's a little hug before school, a sweet word of encouragement, a report card, or even a doodled up crayon picture which may or may not look like a toilet. (mama tip: always ask for them to explain their picture) It's in those little moments when your mama heart feels like it's going to burst into a million pieces it's so full, you can't hardly hold back the happy tears, and you don't even really understand why.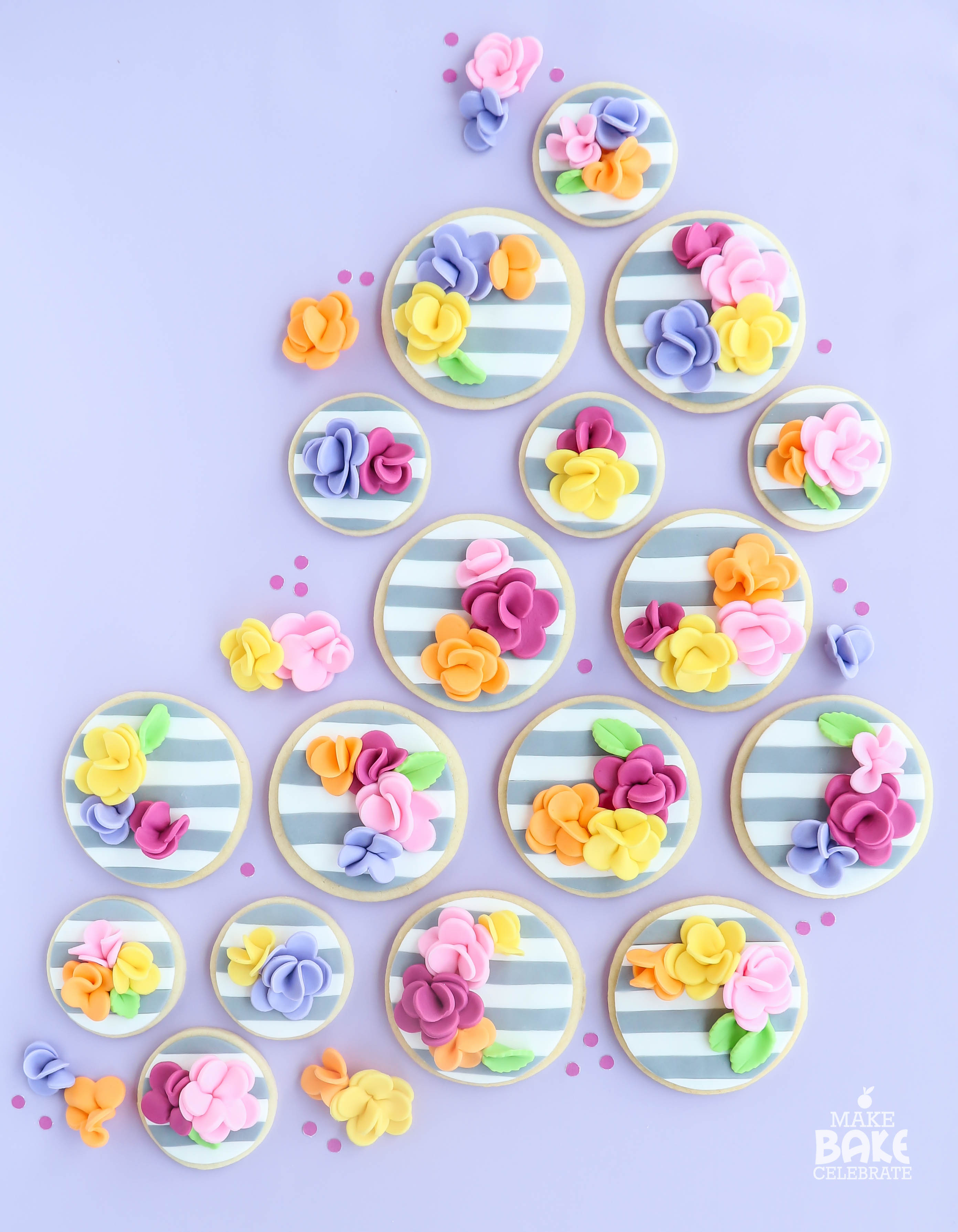 Then I look back and think wow, my mom did all this. All these thoughts, all this chaos, all this LAUNDRY. My mama did all this, and more, and never seemed to flinch. I can't help but want to crawl into her head and hear all of her thoughts as our little lives passed by her eyes. She gave her all when it came to raising us, yet I know the biggest gift I could ever give in return is to return that same favor to my own kiddos. Just incase I don't say it enough, thanks mom!
And with all that said, we'll make our way right back to the cookies! Although I strongly encourage you to go tell your mama just how much your appreciate her, it never hurts to take cookies! For these cookies I really wanted decorate them with fondant, something I don't do enough! The stripes are so easy to make yet bring such an impact, and the flowers are super duper simple.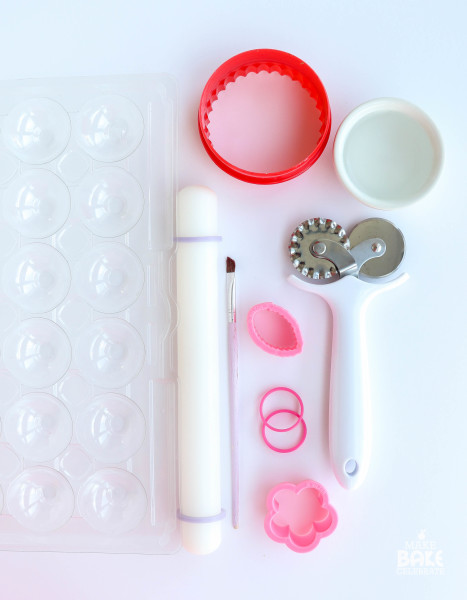 Here is a look at the tools I used. Remember as always you don't have to have exactly what I have, make adjustments to are whats in your own kitchen.
egg carton (to shape flowers)
fondant rolling pin with guides
food safe paint brush
circle cutter (use the same you baked the cookies with OR one small step bigger)
flower cutter
leaf cutter
rollling cutter
water
parchment paper (not shown)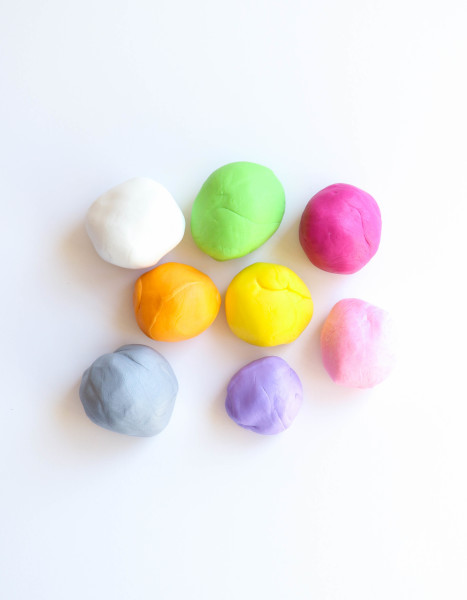 You can chose whatever colors you would like of the fondant of course! Here is what I chose. I colored these with the Wilton color right system. Isn't this such a pretty combo? I LOVE grey.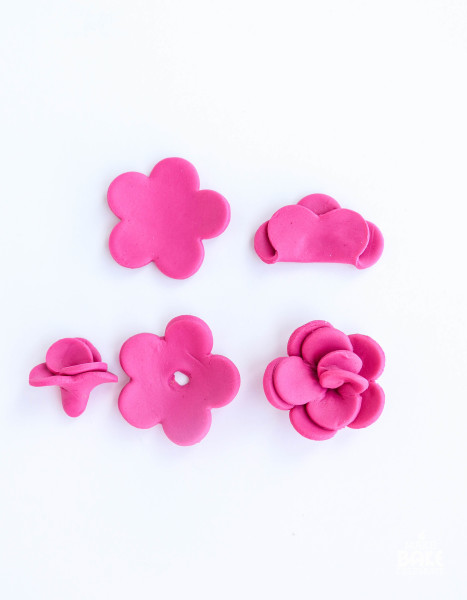 First of course you will want to bake some cookies. If you're in need of a great recipe you can try out mine here.
Now let's start with some flowers!
Step 1: Working with one color at a time roll out the fondant to a thin consistency. I used Wilton's small rolling pin and used the smallest pink guides. Cut out the flowers with the flower cutter and then removed excess fondant from around the flowers. If you just worked your fondant and it's soft I recommend letting the cut flowers sit for 15-20 minutes before moving on to forming. This will let them dry up just a bit and become easier to work with. You can move on to rolling out and cutting the next color while you wait.
Step 2: Gently make a folding motion with the flower, almost in half, then roll/pinch up the two sides. You will have what looks kind of like a bud with two petals in the middle. This is not an exact science, play around until you've got the look you like.
Step 3: Next grab another flower and use a straw or the end of your paint brush to poke a hole in the center. Brush just a tiny bit of water near the center of the flower and then push the stem of the flower center you made through this hole so it's layered underneath. Gently press together.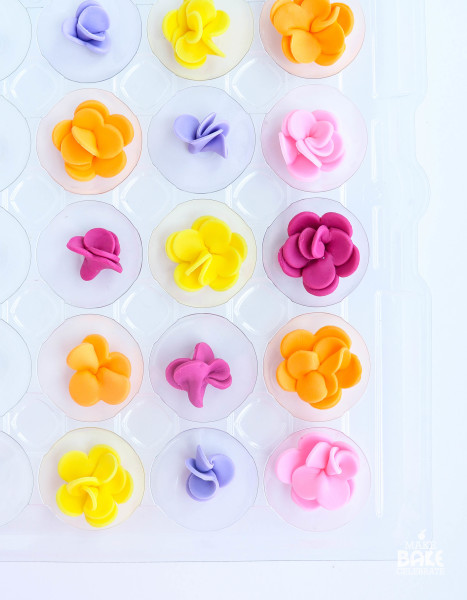 Step 4:Lay each flower in a egg carton or flower drying tray to help mold the flower. Let them dry for at least an hour.
Step 5: If you would like leaves now is a great time to cut them. After cutting them I gently folded them in half and gave them a little curve. Then let them dry with the flowers.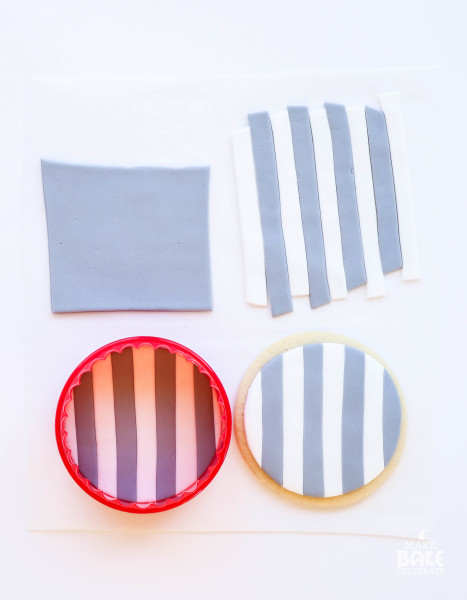 Step 5: On parchments paper, roll out equal amounts of two colors for your stripes. Again, if they are still soft from being worked and colored let them sit for 15-20 minutes to stiffen before cutting. Take the rolling cutter and cut stripes up and down the two colors.
Step 6: Begin to lay the stripes beside each other alternating colors. Once your area is big enough very gently roll with the fondant rolling pin just to "press them together."
Step 7: Use the same cookie cutter to cut the striped fondant into a circle. Very gently flip the circle onto your hands using the parchment paper. Gently swipe with a little water and place on the cookie.
Step 8: Use your food safe brush and a little water to glue on any flowers you have made to the stripes!
And that's it! It really in like play-doh. And you now how much mom loves play-doh? ;)