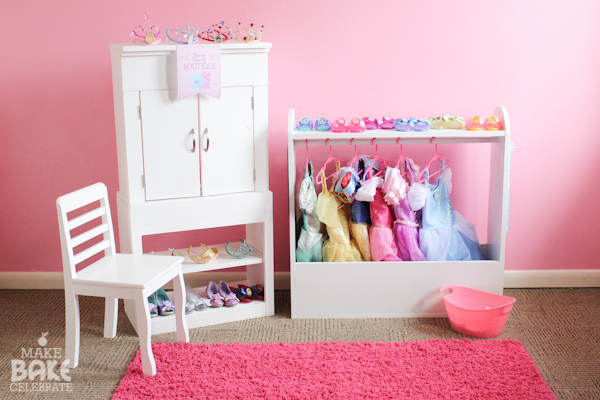 Recently, I shared with you that my twin girls Miley and Bailey turned 3! Although I'm still totally in shock and can't even believe we made it to 3…I did manage to put together a little birthday luncheon to celebrate!
When it came to picking a theme…there wasn't even an option. My girls are princess crazy, let's be real, they are obsessed. They eat, sleep, and breath princess, – it's insane. Our recent trip to Disney World probably did not help the case any. They made it very clear their party had to be princess, but not just princess….Disney princess. Although character parties are a bit out of my comfort zone, not to disappoint my girls, I set out to create them a little princess party, allowing myself to still be a bit creative and use their beloved Disney princesses at the same time. Our girls had so much fun at Disney World I wanted to recreate some of the highlights of their favorite princess filled moments right at home with their friends! From dressing up, eating at the castle, to decorating their own cupcakes!
I started with this line of store bought Disney princess items and just started getting creative with it. The flowers and garden type feel were perfect for a luncheon in the castle garden! My type A really struggled with how to use store bought princess items while keeping it clean and pretty. Not to mention following vacation and site launch, I only had about 2 days to pull it all together. But in the end I have to admit…I love how it came out. And my princesses, absolutely loved every glitter filled moment.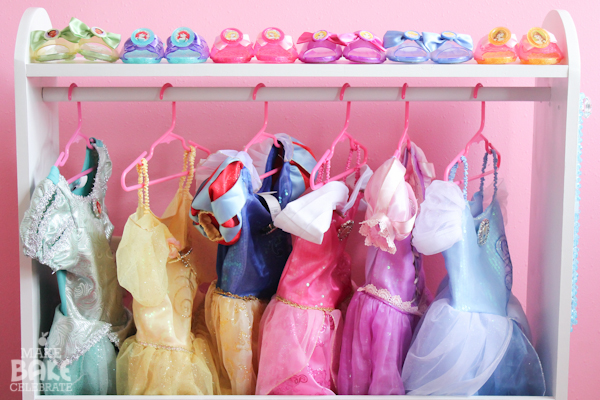 The best part about using this theme was that I could use items we already had right at home! To kick off the party I set up a little Bibbidi Bobbidi Boutique inspired dress up station in their play room! I filled their little store stand with all kinds of Disney princess goodies. Necklaces, nail polish, lip gloss, rings, and even tiaras! Daddy just built this new dress up station for them, and it worked perfect to set out dresses and shoes for the girls to pick from just incase they didn't bring their own. :)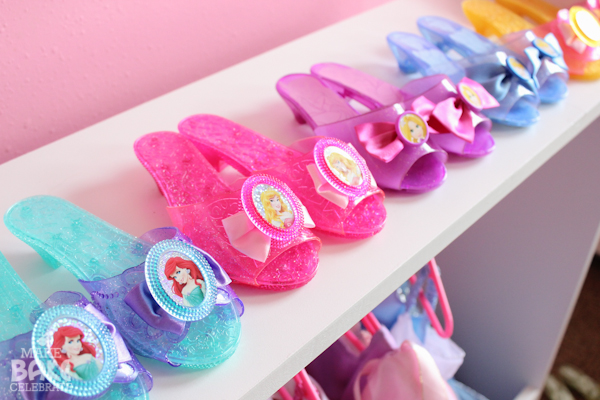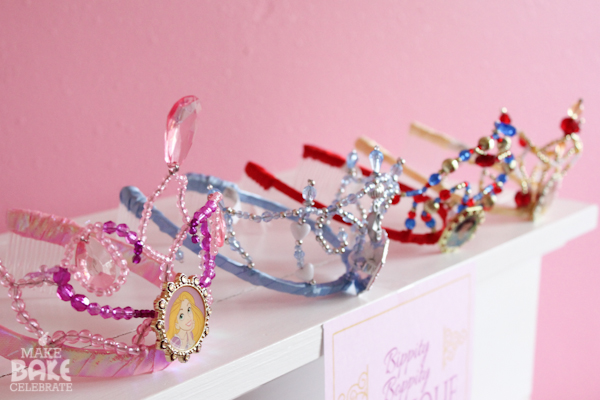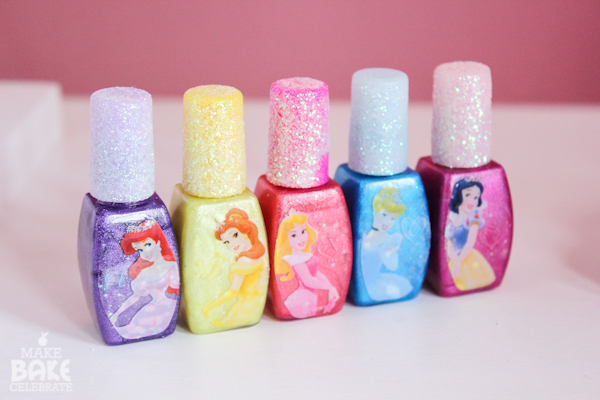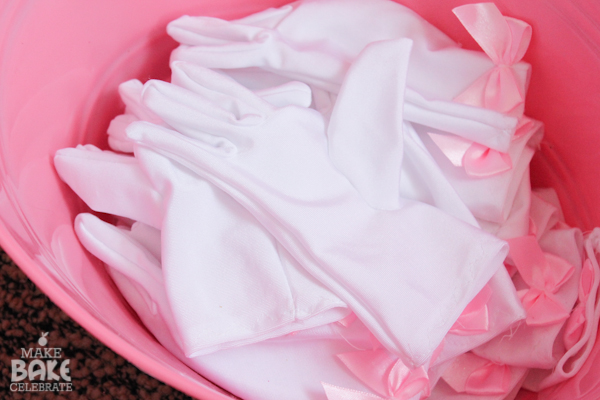 After the girls were sparkling and ready to go they headed down stairs to the "castle garden" for a royal luncheon where I had set up some tables, a kiddo sized dessert table, and a favor station with a faux castle wall in the background. Easily made from foam poster boards and paper! The coordinating banner and signs were whipped up on a flash by my awesome friend Angela at Hello, Cuteness!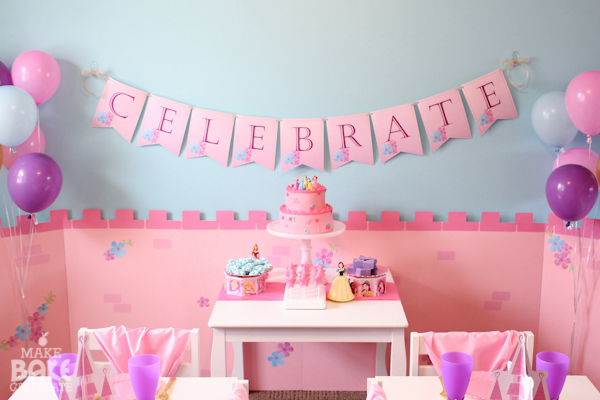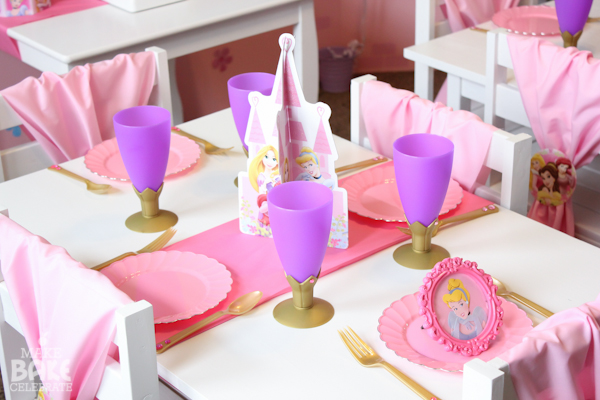 For the tables I mixed in a few princess items with a few solid party items, then added a few touches like the little silverware gems and plain cotton runners/chair decorations. I think they came together pretty well for a clean yet princess filled setting fit for little royals! The tables were also recently built by the hubs, and I couldn't wait to use them for this party!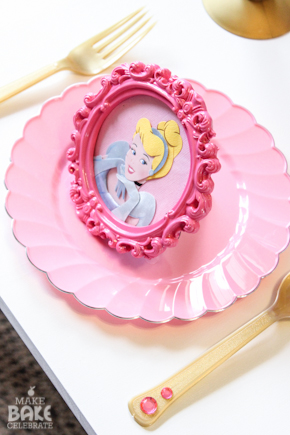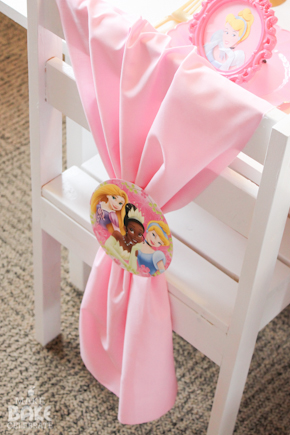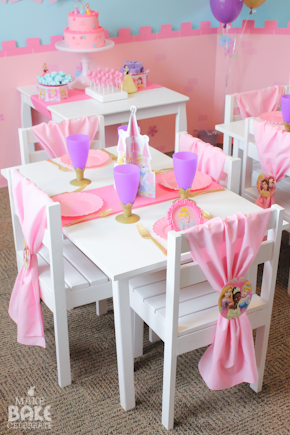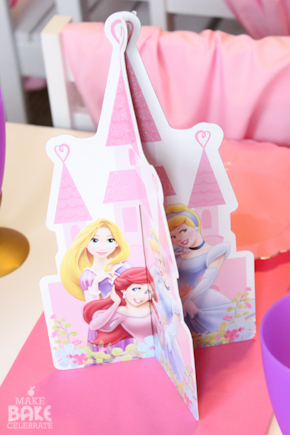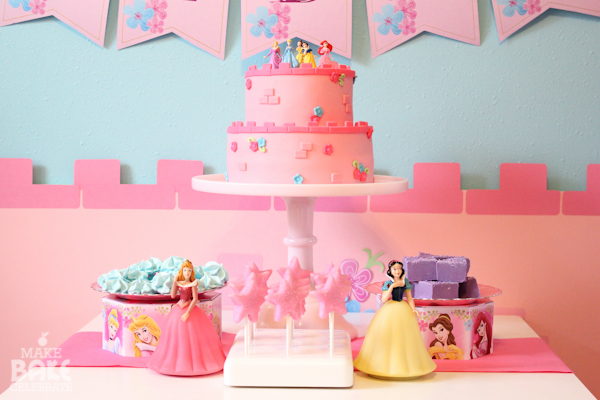 Once the girls sat down we served them a simple and kiddo friendly lunch, featuring my girls favorites! The tiny dessert table displayed a few simple treats: cotton candy meringues, wand cake pops, and white chocolate raspberry fudge.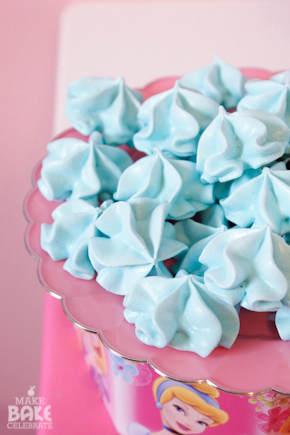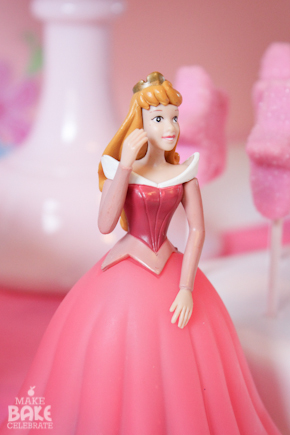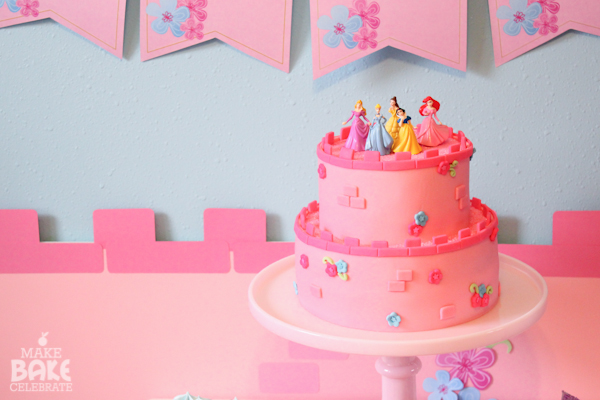 I just love how the cake came out! I kept it pretty simple by mimicking my "castle wall" and adding some tiny little princesses on top! It took everything in me to use plastic princesses on the cake! But in the end I think it was the best option :).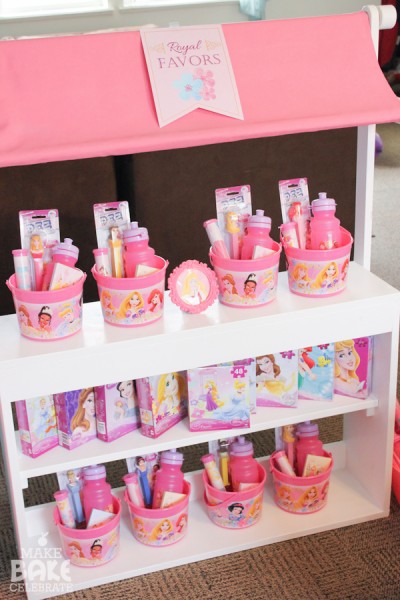 There was no shortage on favor ideas! You can pick up small Disney princess items just about anywhere! I chose these buckets then filled them with an assortment of princess items. The girls also took home a princess bubble wand, puzzle, gloves, and their jewelry. As well as a bag full of princess goodies from the piñata!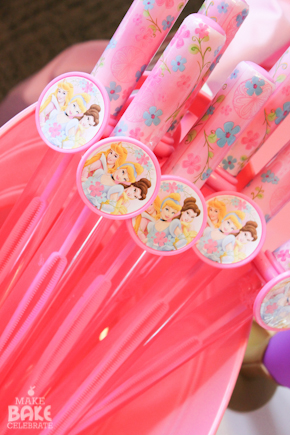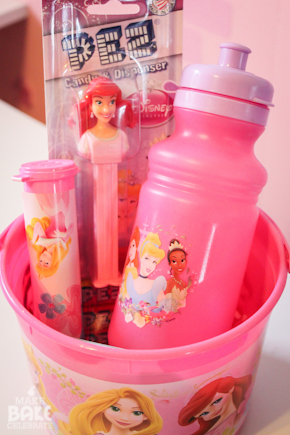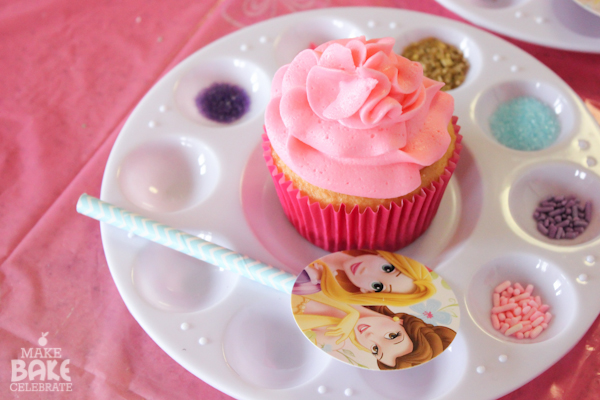 The princesses were also able to decorate their very own cupcake. This is something the girls did at Cinderella's castle and it was a highlight of their trip! (making mama proud!) I set out cupcakes and sprinkles on little paint trays as well as a easy cupcake topper assembled from paper plates and paper straws! The cupcakes were followed by magical wand making!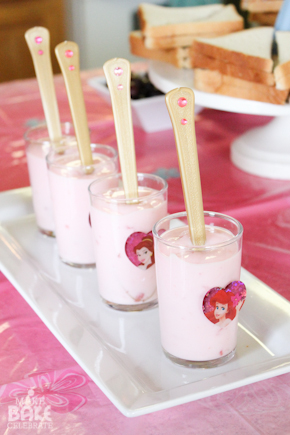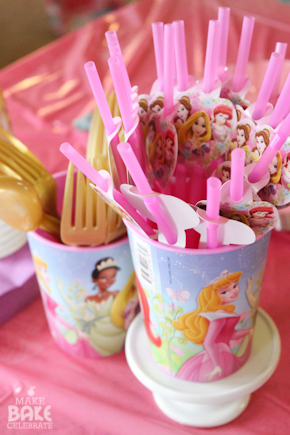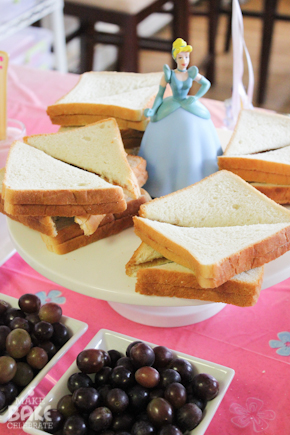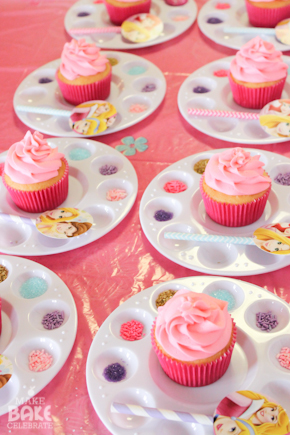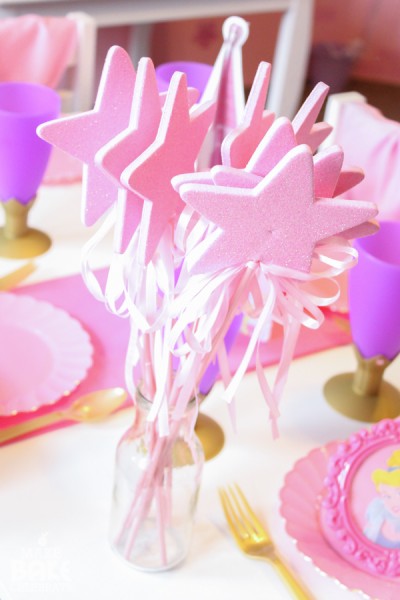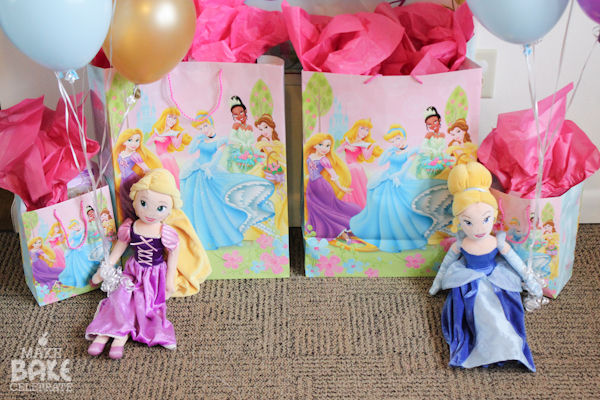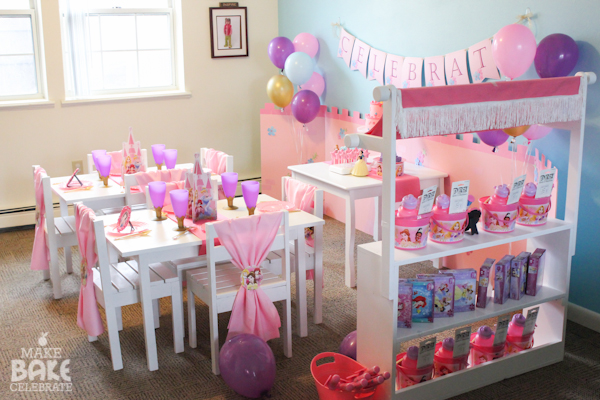 Ready for a few shots of the princesses enjoying their luncheon?
Here are the royal guests of honor, the birthday girls themselves!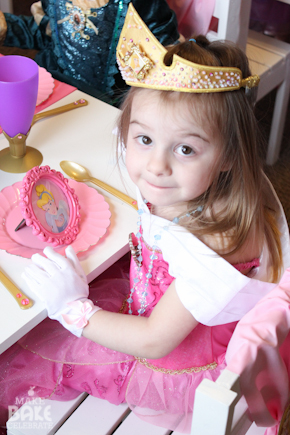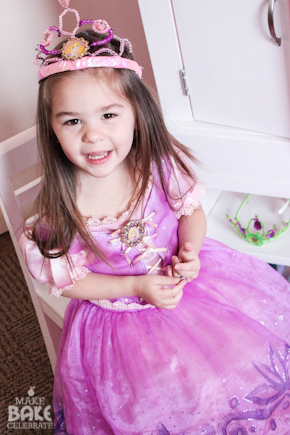 Enjoying lunch and company!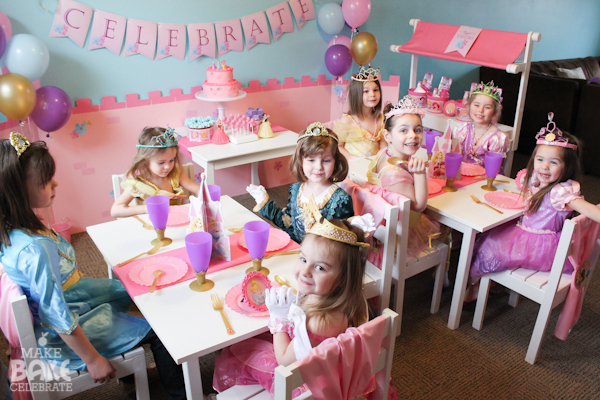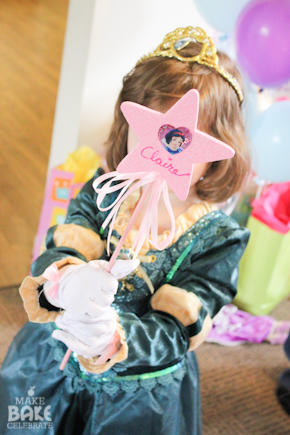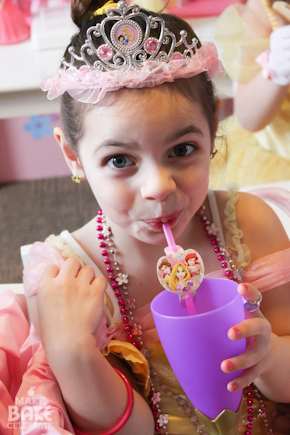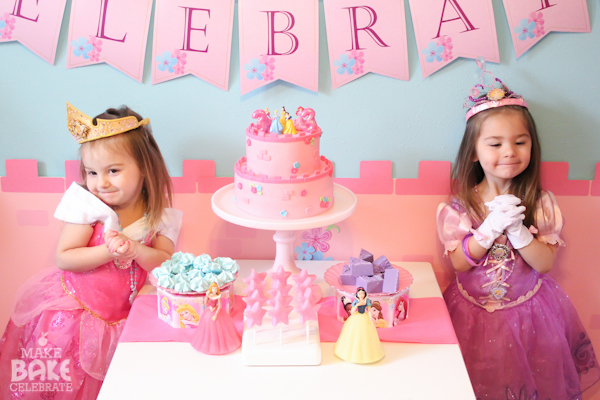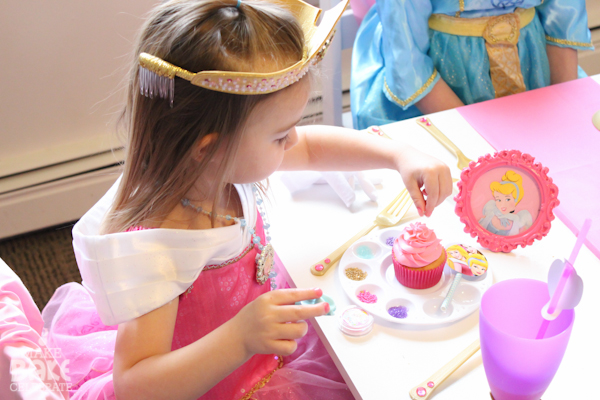 I also took photos of each girl to give to their moms!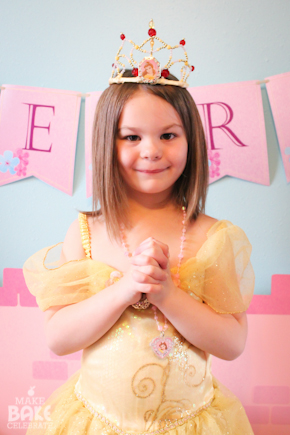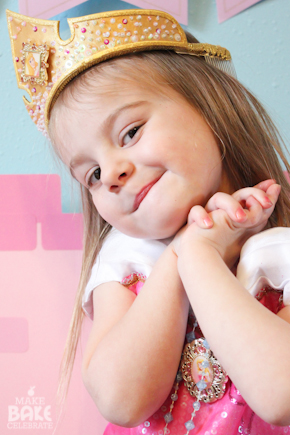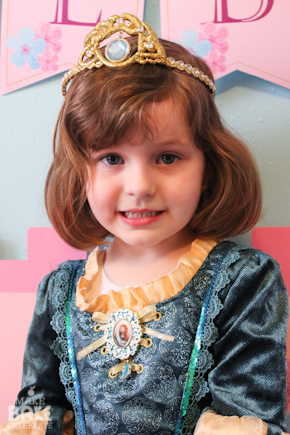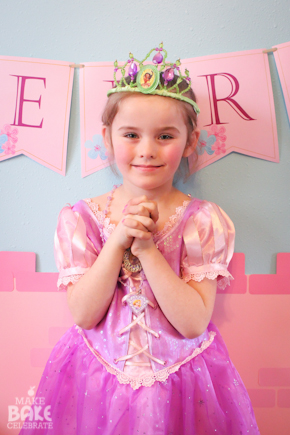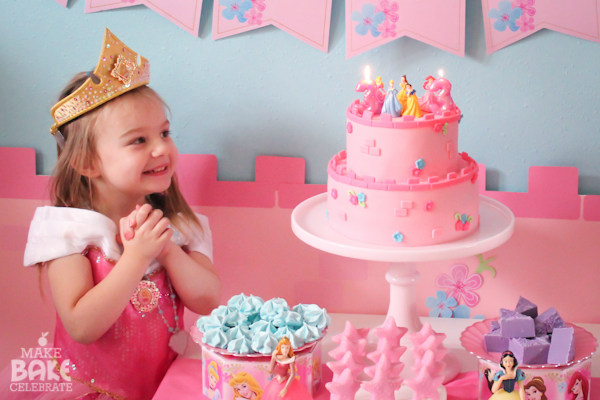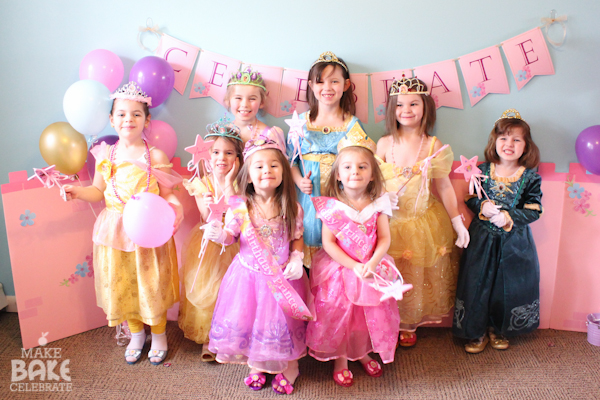 The party was a sparkling success! The princesses had a great time. I think this is one day my girls will be talking about for quite some time…and I know I'll be scrubbing glitter out of my living room for just as long!